As many of you may know I have an affinity towards the weird and strange. I love all things ghost, cryptid and paranormal related. I read and collect books about the oddities in the world around us. I've outgrown my bookshelves and am patiently waiting for Alan to build a new wall bookshelf for me to display my Ghost, Weird, & Paranormal books.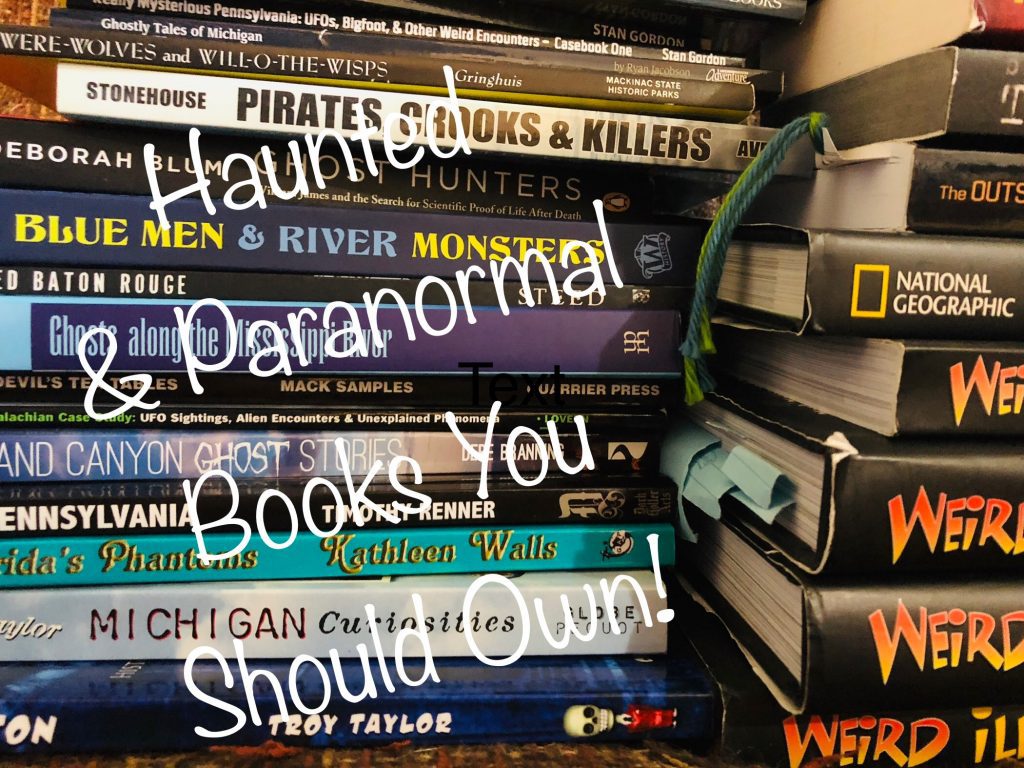 This is a peek into my bookshelf. I'll be adding more books as I buy and read them. Bookmark this page and come back and visit it on a regular basis as I'll, hopefully, be updating it monthly. If there is a book you think I should add to my collection drop a comment below. If you are an author or publisher that would like to have a book added to my bookshelf please contact me at deb at justshortofcrazy dot com.
Note–All books are linked to Amazon. If you make a purchase a very, very small percentage of your purchase is shared with me which helps keeps this site alive and well. THANK YOU!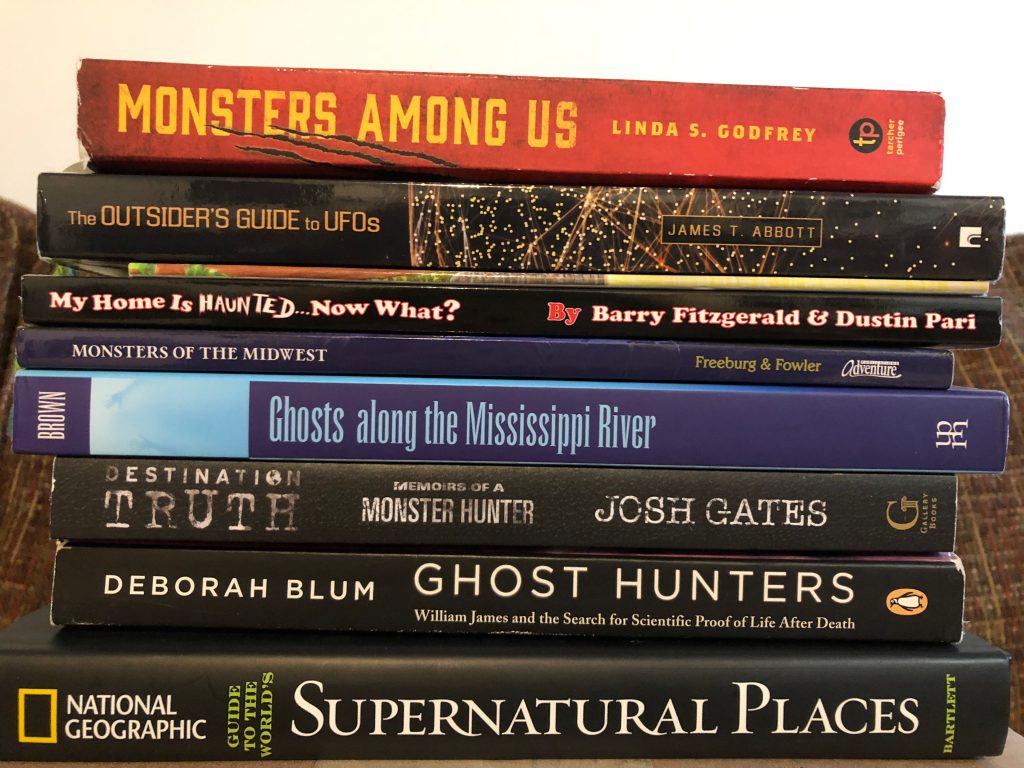 Ghost, Paranormal & Weird General Books
The Outsider's Guide to UFOs – James T. Abbott
Guide to the World's Supernatural Places – Sarah Bartlett
Ghost Hunters: William James and the Search for Scientific Proof of Life After Death – Deborah Blum
Ghosts along the Mississippi River – Alan Brown
The Totally Ninja Raccoons Meet Bigfoot – Kevin Coolidge
My Home is Haunted…Now What? – Barry Fitzgerald & Dustin Pari
Monsters of the Midwest: True Tales of Bigfoot, Werewolves & Other Legendary Creatures – Jessica Freeburg & Natalie Fowler
Destination Truth: Memories of a Monster Hunter – Josh Gates
Monsters Among Us: An Exploration of Otherworldly Bigfoots, wolfmen, portals, phantoms, and odd phenomena – Linda S Godfrey
Ghost, Paranormal & Weird Books By State

ARIZONA
Grand Canyon Ghosts Stories – Debe Branning
FLORIDA
Finding Florida's Phantoms – Kathleen Walls

ILLINOIS
Haunted Alton: History & Hauntings of the Riverbend Region – Troy Taylor
Weird Illinois – Troy Taylor
LOUISIANA
Haunted Baton Rouge – Bud Steed

MICHIGAN
Ghost Tales of Michigan– Ryan Jacobson
Michigan Curiosities: Quirky Characters, Roadside Oddities & Other Offbeat Stuff – Colleen Burear
Were-Wolves and Will-O-The-Wisps: French Tales of Mackinac Retold – Dirk Gringhuis
Pirates, Crooks & Killers: The Dark Side of the Great Lakes – Frederick Stonehouse
Weird Michigan – Linda S. Godfrey

OHIO
Secret Cleveland: A Guide to the Weird, Wonderful & Bizarre – Deb Thompson & Tonya Prater

PENNSYLVANIA
Bigfoot in Pennsylvania – Timonth Renner
Haunted Western Pennsylvania: Ghosts and Strange Phenomena of Pittsburgh, Erie, and the Laural Highlands– Patty A Wilson
Astonishing Encounters: Pennsylvania's Unkown Creatures Casebook Three – Stan Gordon
Really Mysterious Pennsylvania: UFOs, Bigfoot, and Other Weird Encounters Casebook One – Stan Gordon
Weird Pennsylvania – Matt Lake

WEST VIRGINIA
The Devil's Tea Tables: West Virginia Ghost Tales and Other Stories – Mack Samples

WISCONSIN
Blue Men & River Monsters: Folklore of the North – John Zimm
Weird Wisconsin – Linda S. Godfrey & Richard Hendricks
Pin Best Paranormal Books to your Pinterest Boards