Trying to stay on budget for our kitchen remodel has been challenging, but not impossible. My original estimated budget was $300, but after getting to work in the kitchen I knew I was going to have to up it some. Our new goal is to keep it under $500. In order to do that we had to find a very budget friendly way for a countertop makeover. Enter Giani, with their kit you can paint countertops in a weekend and enjoy new countertop and have money left over.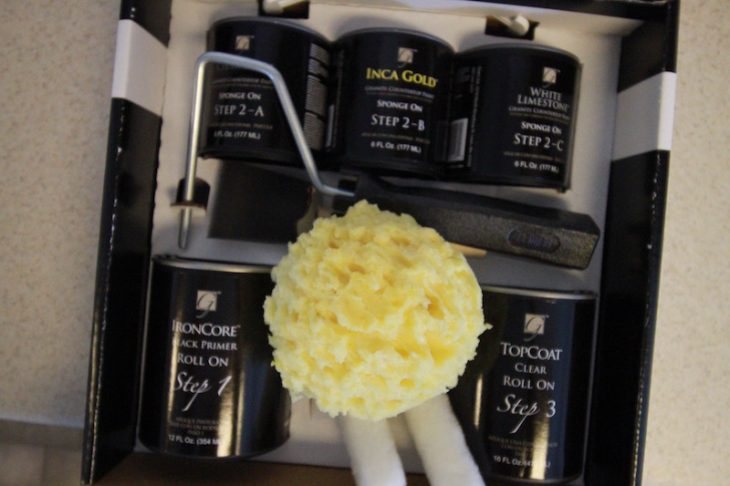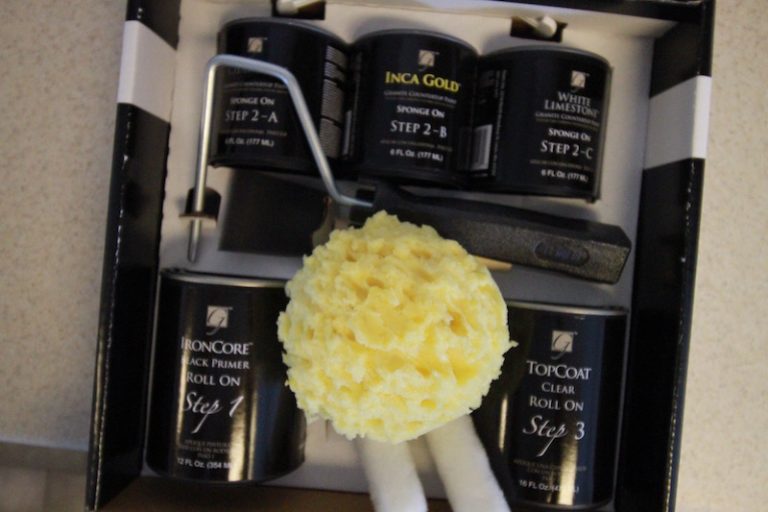 The Giani kit comes complete with just about everything you need for your project. You'll need to add some paint tape and a paint tray to the kit, but we had those items at home so didn't have to go out and buy them.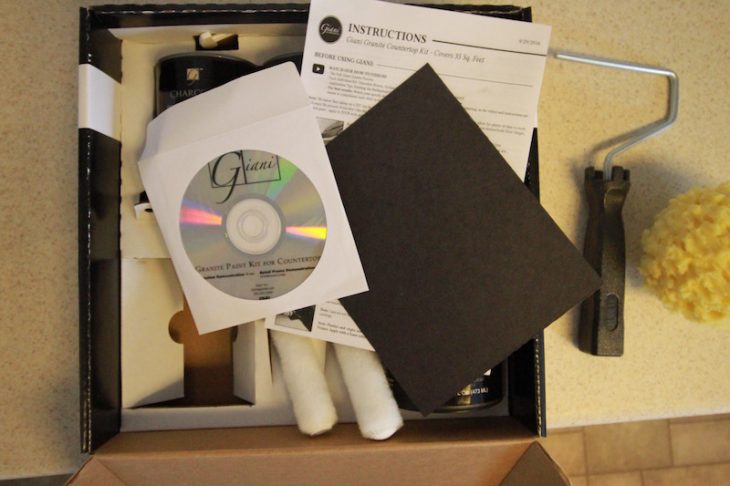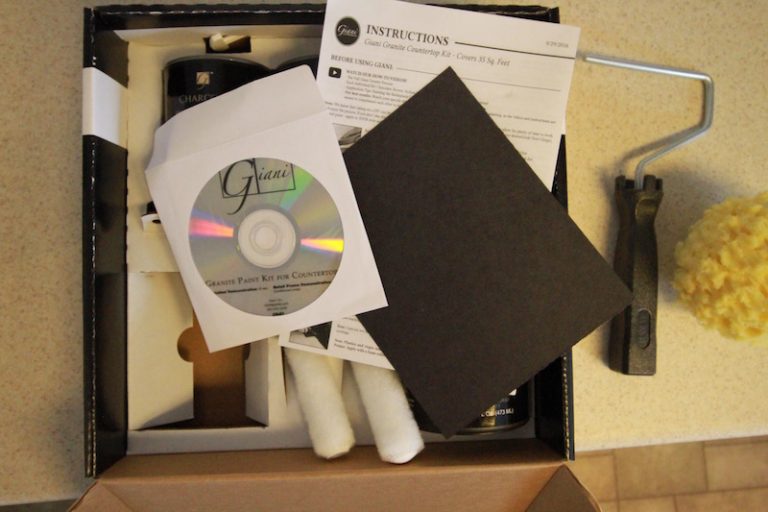 Included in your kit is a CD. Take time to watch the CD, the videos are also available online. I watched the videos a couple times because I wanted to make sure I did it right. After watching and rewatching I took the next step and tried painting on the included black cardstock. Once that was done we felt pretty confident that we were ready to take on the countertop.
PAINT COUNTERTOPS STEP 1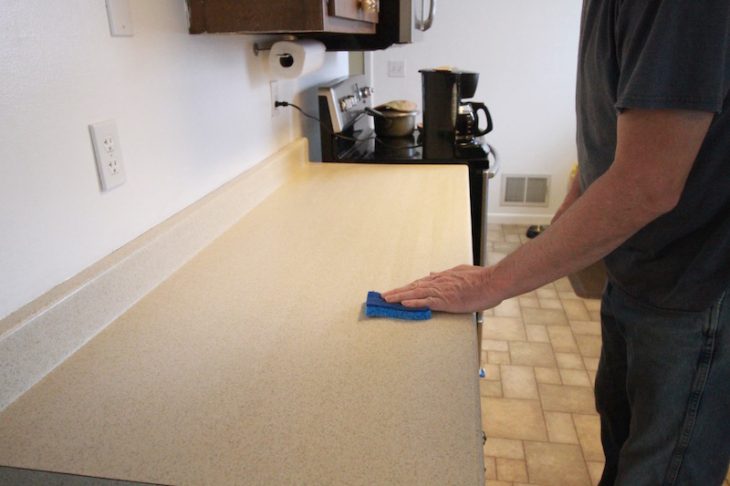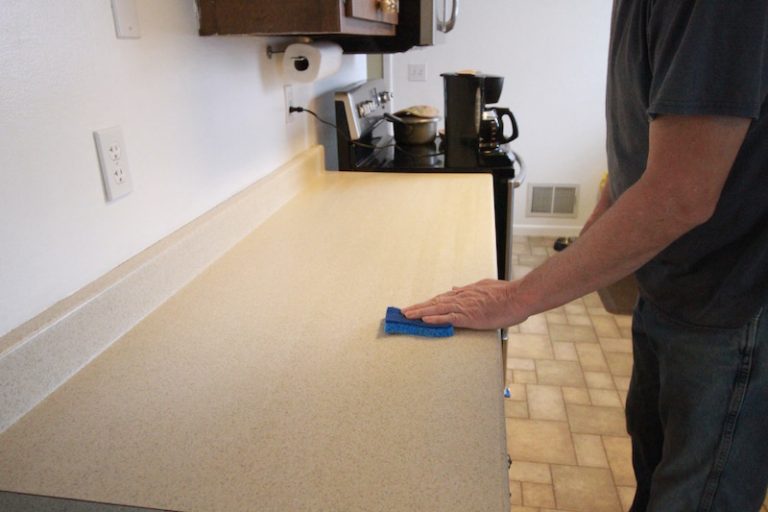 Wipe your countertops down with an SOS pad or similar and then wipe down with a wet sponge. You want to make sure that the countertops are completely clean and dirt/grime/grease free.
PAINT COUNTERTOPS STEP 2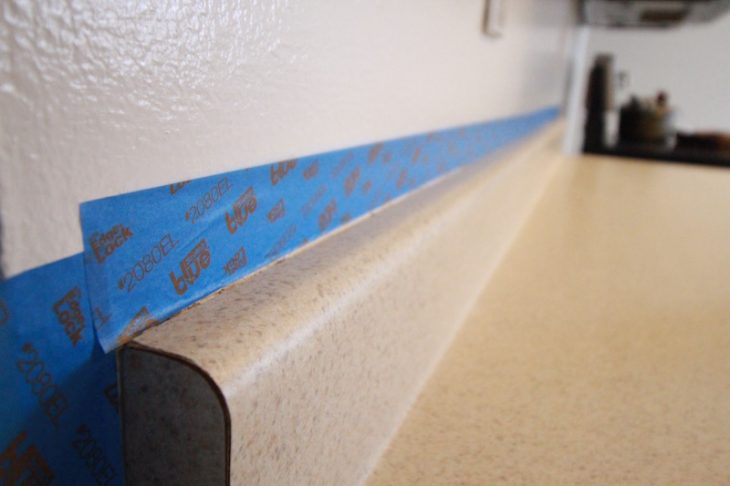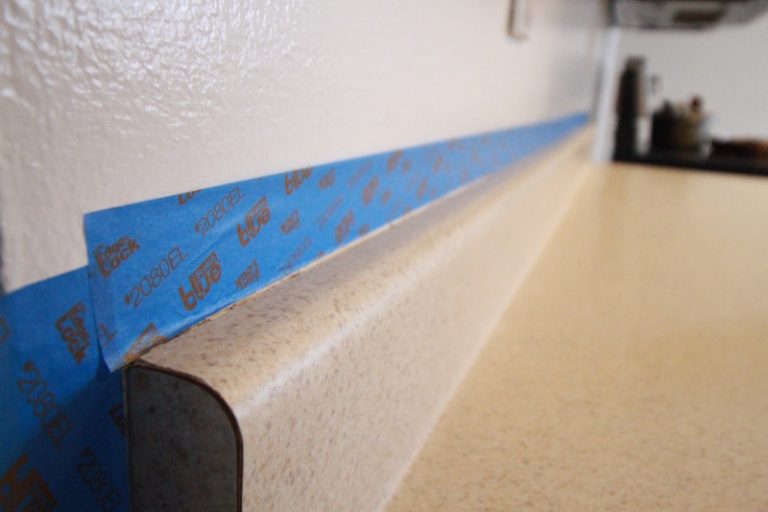 Next, tape off where the countertop meets the wall. We only went one strip of tape high, but if we were to do it again we would go two strips of tape high on the wall. We were a little messy with the paint and got countertop paint on the wall, thankfully, a magic eraser removed the paint from the wall.
PAINT COUNTERTOPS STEP 3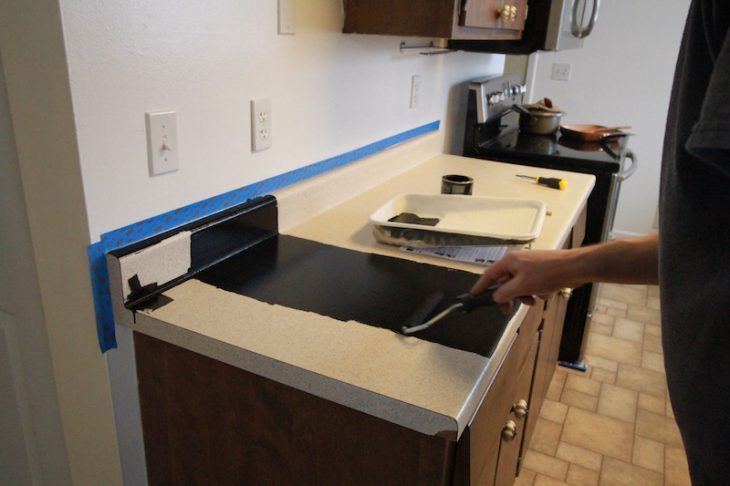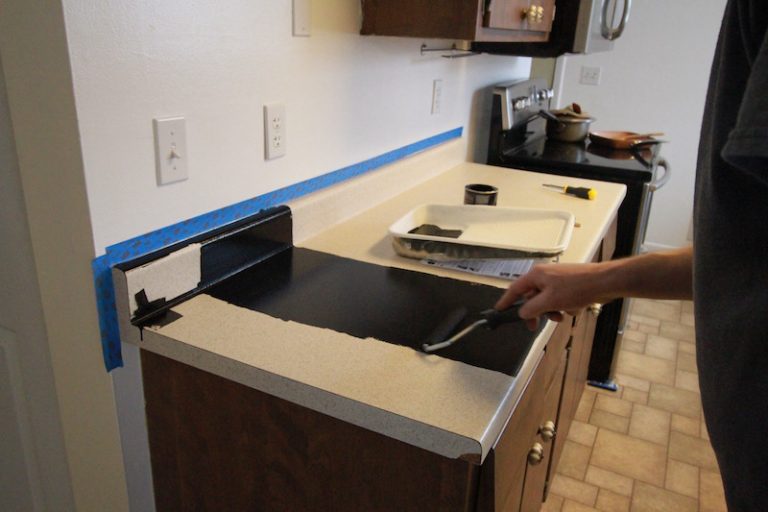 Next, break out that black paint and go to town. You'll need the roller for the majority of the countertop and use the included foam brush for the countertop creases and along the top.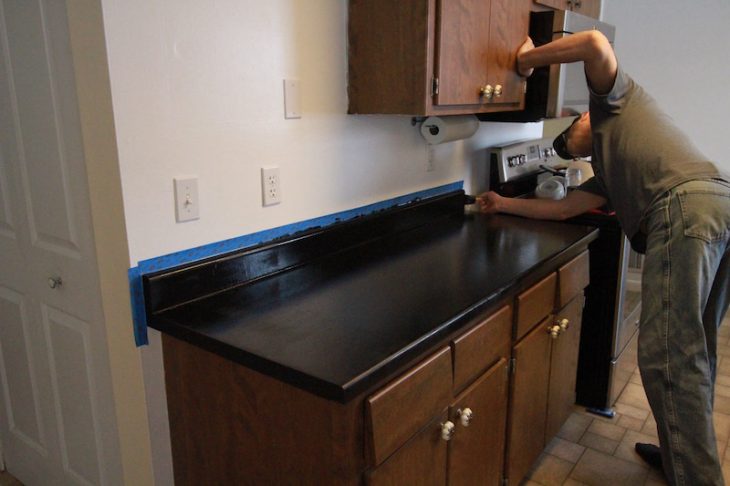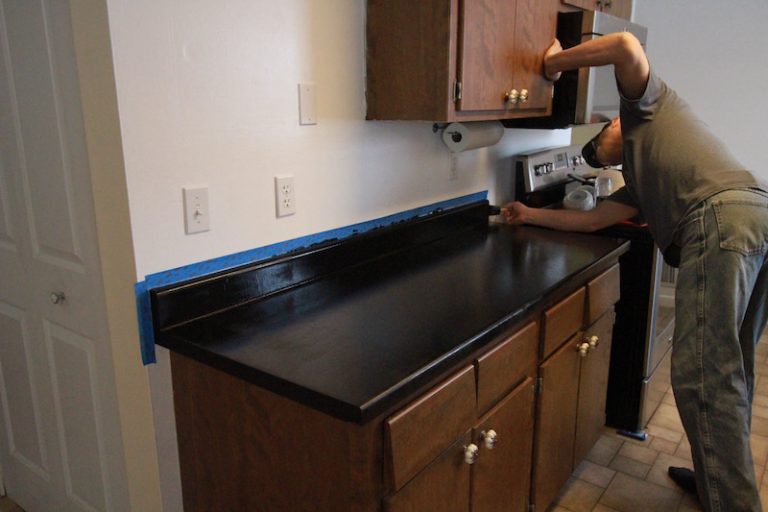 This is the hard part. After you have painted the entire countertop you must wait a full eight hours for the paint to dry. Don't start the next steps until you've waited for the entire eight.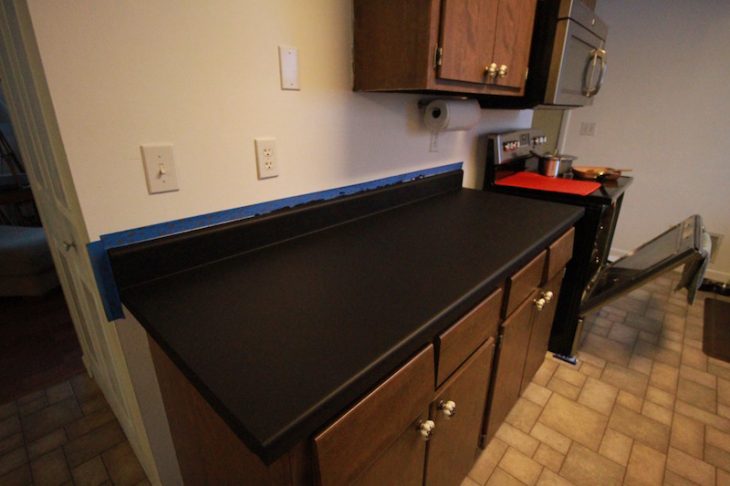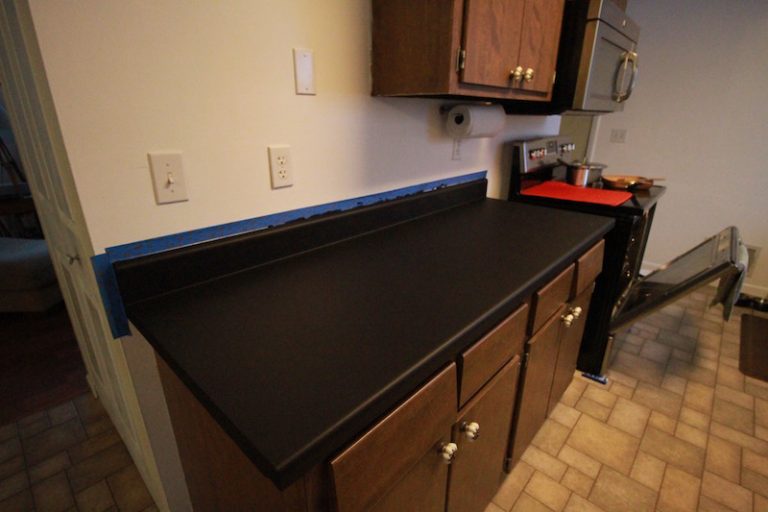 It will be hard, you'll want to start the next step when the paint looks dry, but eight hours is the suggested time for a reason. We waited about 12 hours because I wanted to make absolutely sure before we took the next step. The most interesting part will be making meals without using your kitchen counter. Get creative, we used the table and the stovetop. At one point I even pulled out a drawer and put a cookie sheet on it to use as a faux counter.
PAINT COUNTERTOPS STEP 4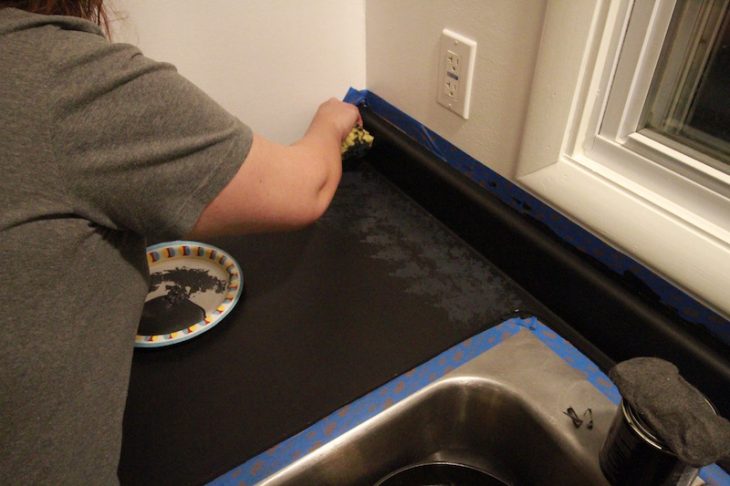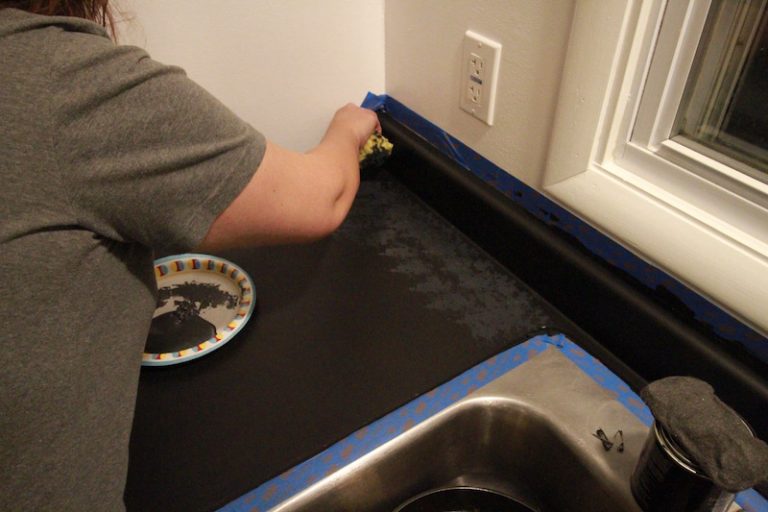 When it was time to start sponging on the paint we started in a corner that isn't in the main focal point of our counter and the area where we'll have the coffee corner. It was a little intimidating doing the first color of paint (there are three) but after a bit of practice, it was pretty easy.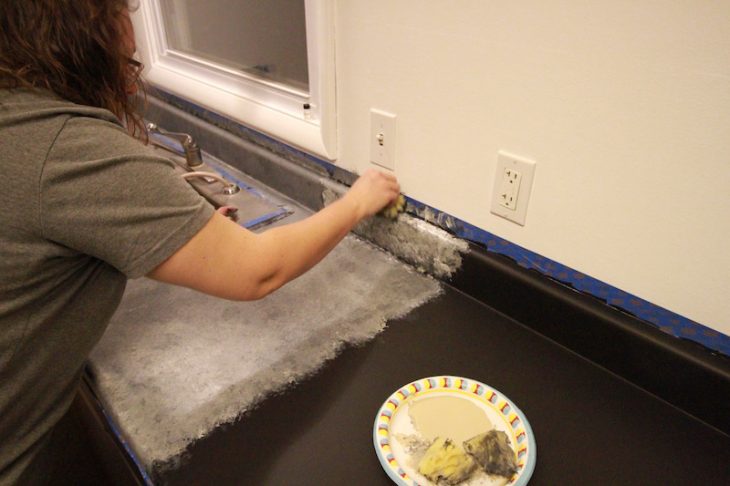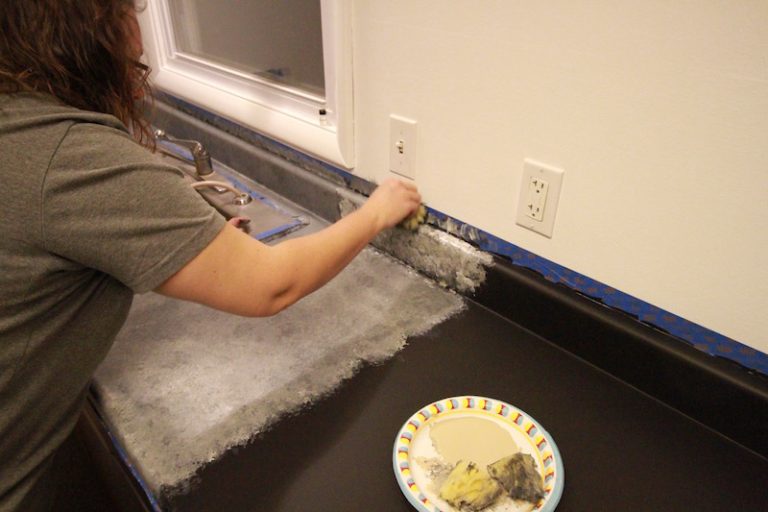 We used paper plates as our paint holders for the sponging process which worked pretty well. The hardest part is being consistent with each color.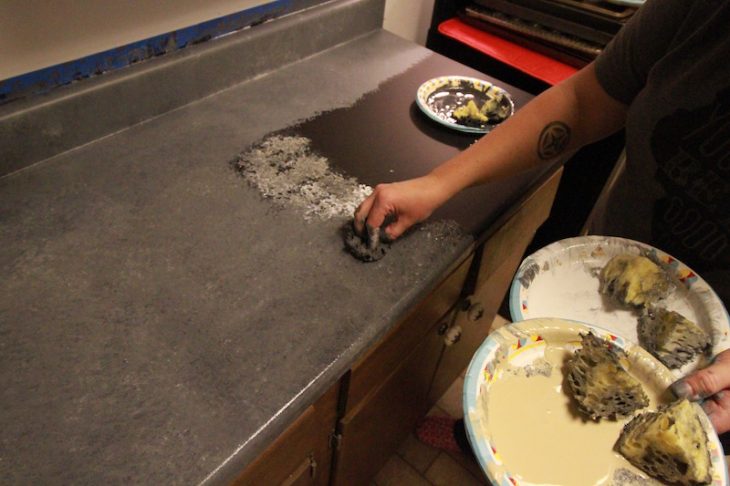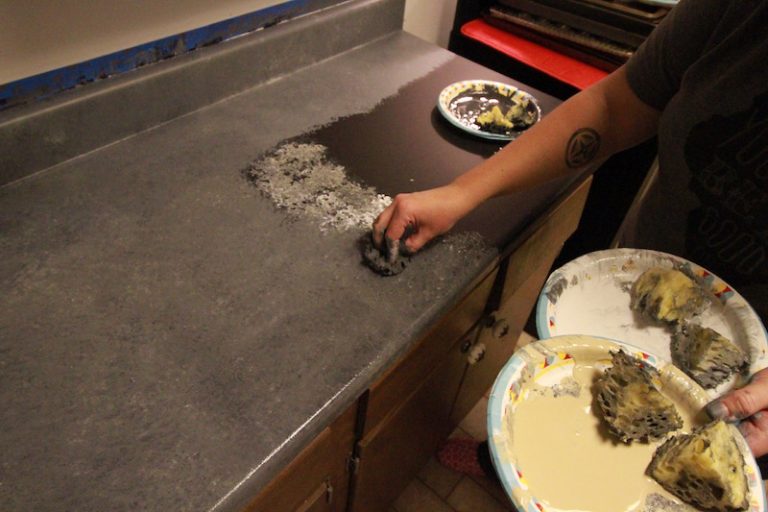 After we had the countertops completely sponge painted we waited a full four hours for it to dry. I then went back over areas we didn't like added colors to make the countertop look more evenly colored.
PAINT COUNTERTOPS STEP 5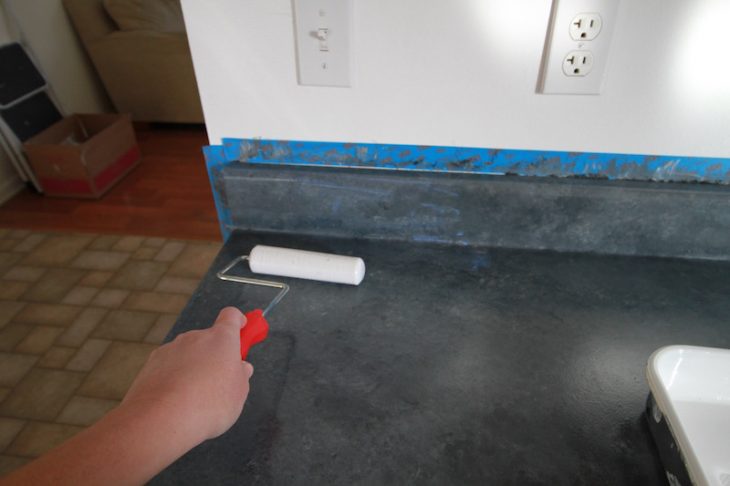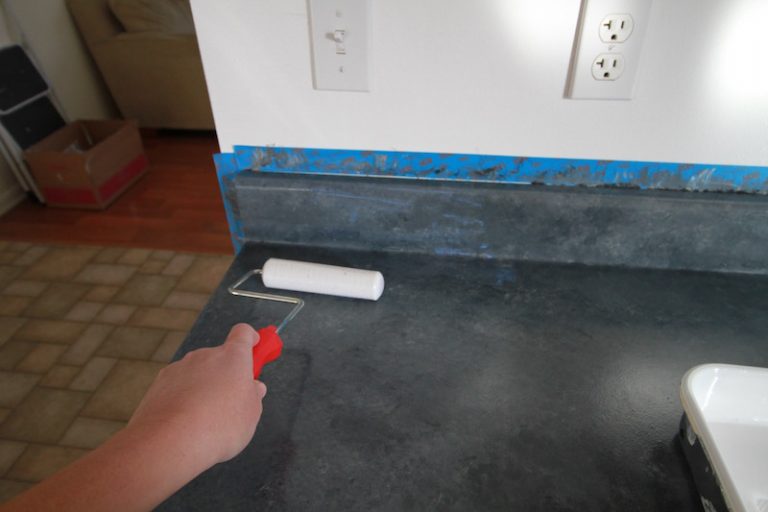 Once it is dry and you are happy with how it looks its time to roll on the glaze coat. Works the same as the first black coat you painted, but this time it's clear. This is what gives the countertop the shiny look. Follow the instruction wait times before placing items back on your counter. We waited about 4 days before we started using the counters again and a solid week before putting the coffee pot back on it.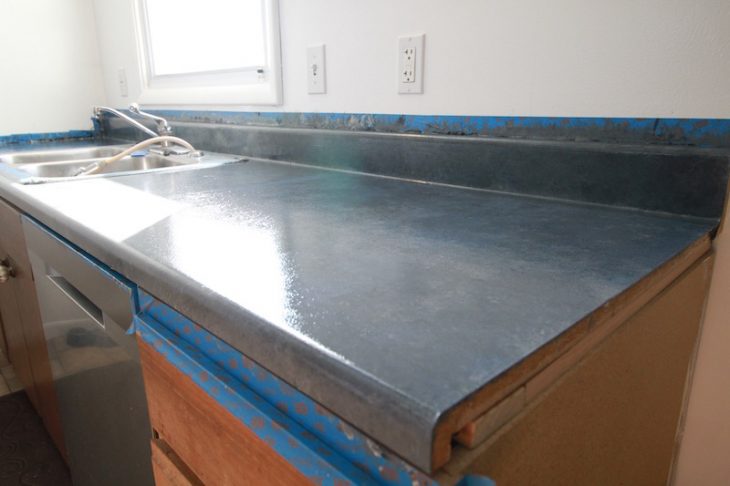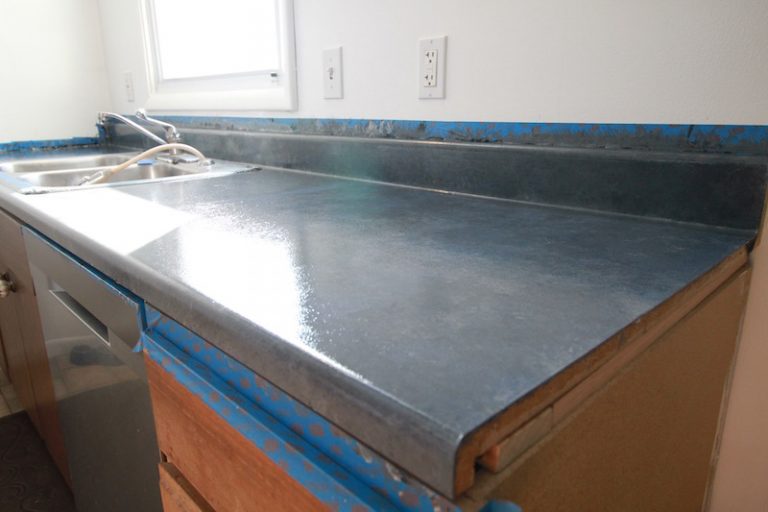 When you peel the tape off its a good idea to run a razor blade between the tape and the counter.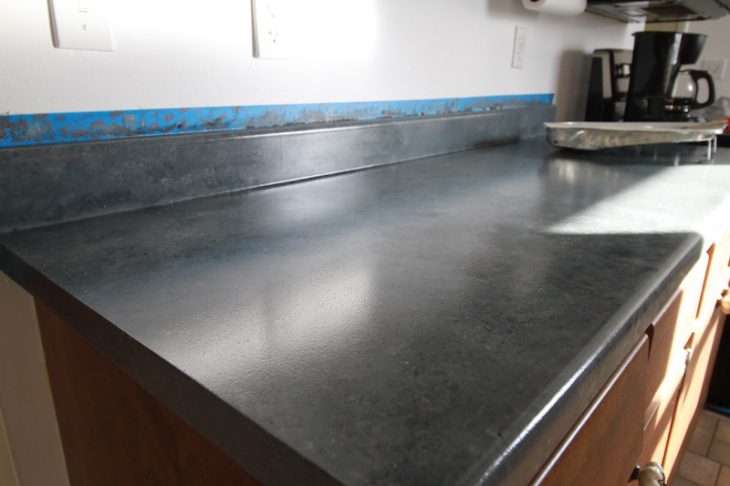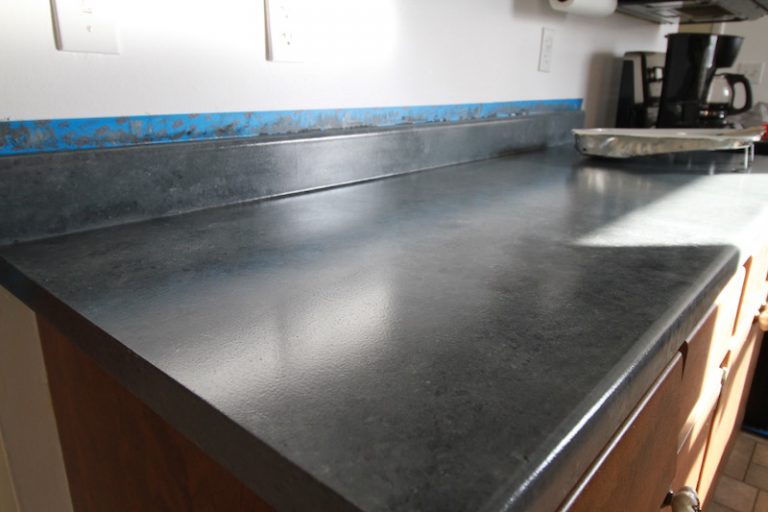 It's been about 2 weeks since we finished painting our countertops and we are really happy with how they look. Instead of spending hundreds on a countertop makeover we were able to complete them for a mere $80. Money well spent.
PAINT COUNTERTOPS DONE!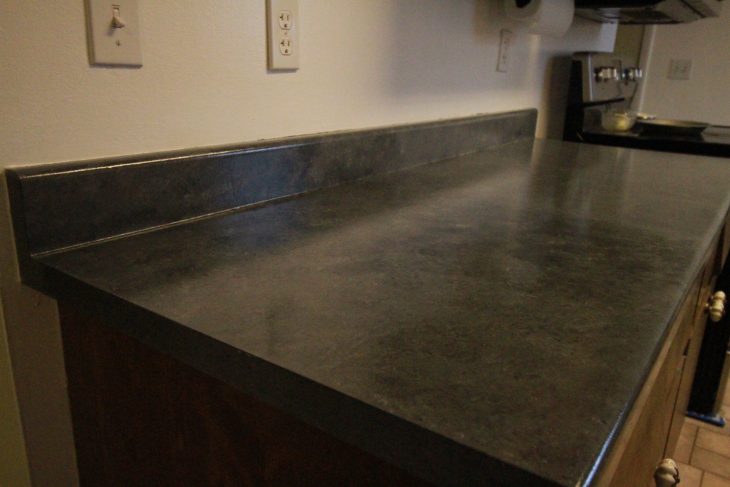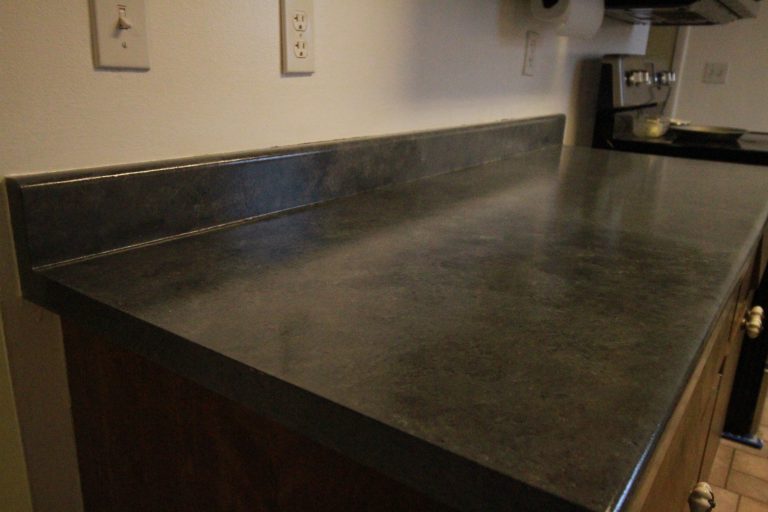 The kitchen is coming along nicely. Shelves for the coffee corner are built, the wine rack is almost done and the cabinets will be painted next.
Follow along with our Small House Living challenge to make each room Pinterest worthy on a budget!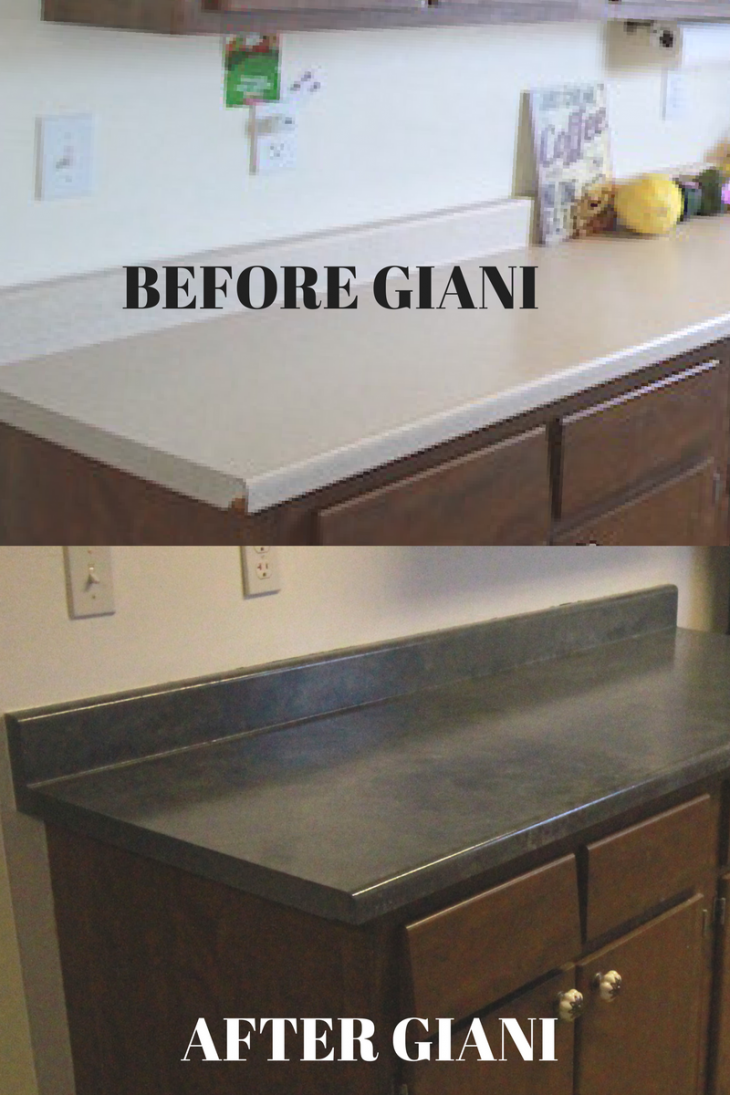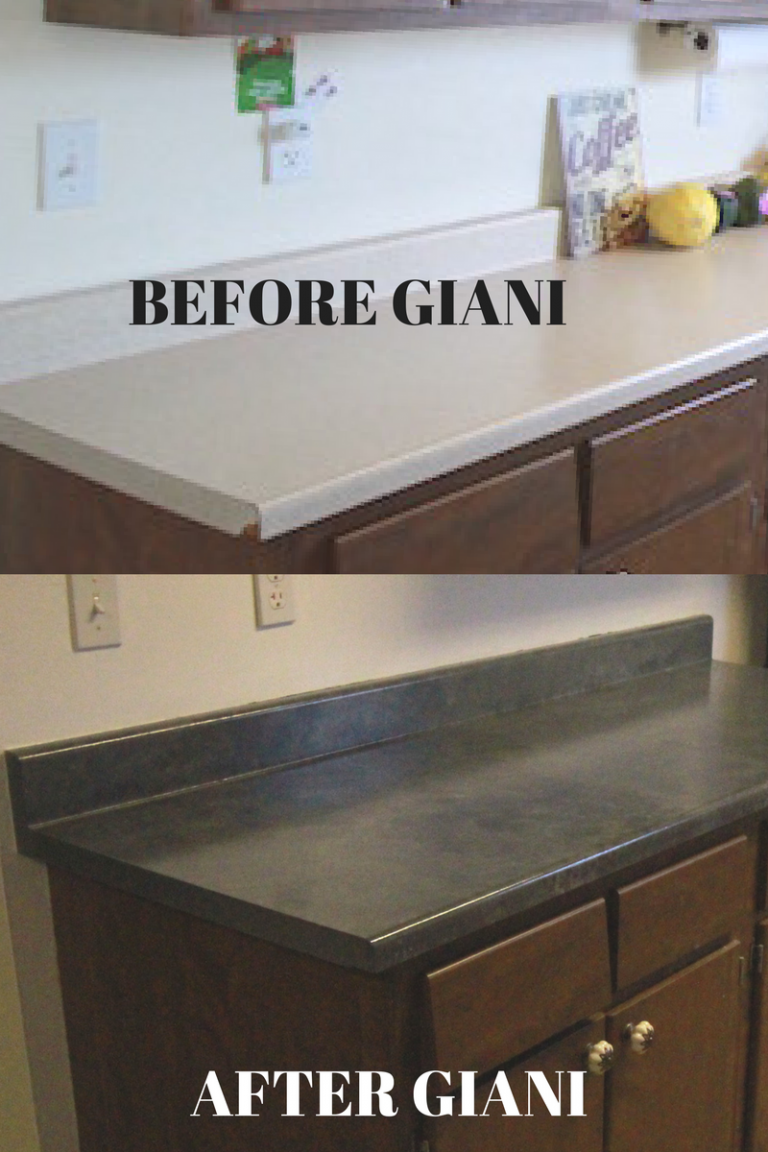 Thanks to Giani for providing the paint for this makeover.