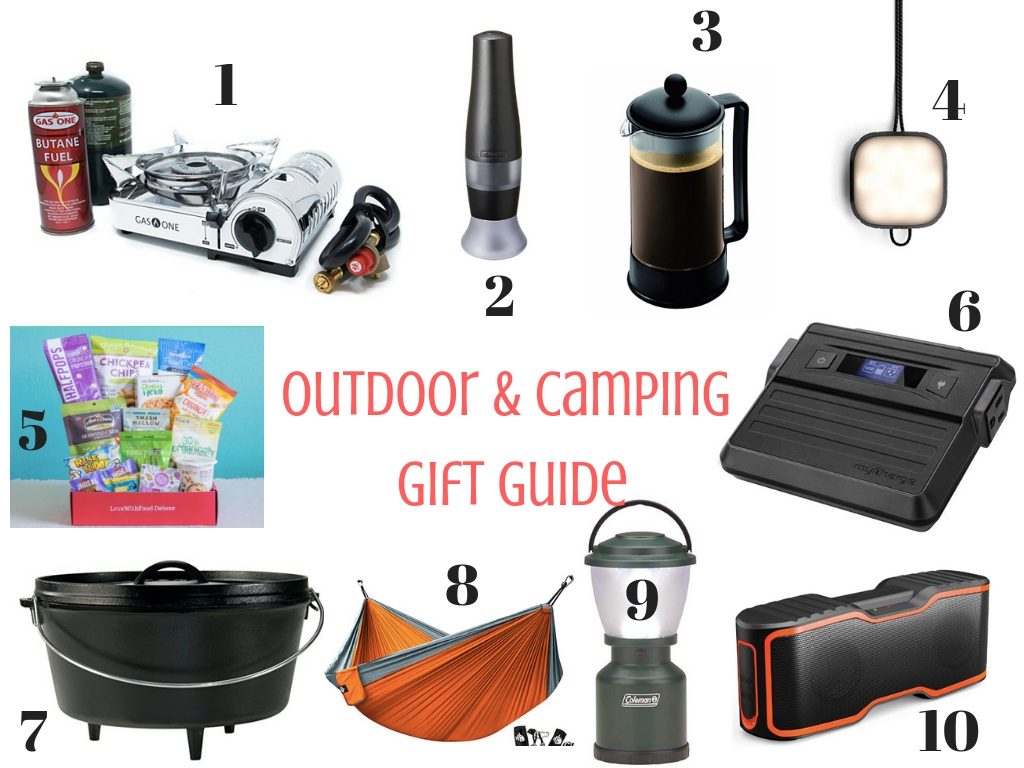 For all the outdoor aficionados and camping fans this list is curated just for them. Wondering what to buy? We've got you covered with this list. These are our favorite things that are always in our camping gear box.
1. Gas One Mini Portable Stove–Not for family camping but if there is just one or two this is the perfect addition to your camping kit. We traded our big Coleman camping stove in for this and we LOVE it. It got a lot of use this past camping season and highly recommend it.
2. Portable Coffee Grinder–The latest addition to our camping kit is a portable coffee grinder. Yes, this is for those that are serious about their coffee. We have a Kyocera, downside, it doesn't grind much coffee at one time, but we aren't usually in a hurry and grind a couple batches before making coffee. $67.49
3. Bodum French Press–This is the perfect gift for the outdoor lover that also has a slight addiction to coffee. We never camp without our Bodum French Press and love having it with us when we camp (we tent camp and make sure to always pack this!)
4. Cairn Rechargeable Lantern + Powerbank-This is on the pricier end for a gift, but I love how it has color changing options, is a powerbank AND can be controlled from your phone. LOVE!
5. Love with Food Subscription Box – This makes our outdoor & camping list because it has a great selection of snacks prepackaged in travel size, for the most part. We took a box on our road trip and had a lot of fun passing the mile by trying new snacks. $19.95/month
6. myCharge Adventure Ultra Portable Charger -I take this everywhere. Travels, camping, use it in the house, in the car, etc. It charges my phone, multiple times, charges a tablet or a small computer. $179.99
7. Lodge Dutch Oven-Perfect for those that don't have to hike to a camping site lol. It's pretty heavy, but we really love using the Dutch oven to cook over a campfire. Be sure to buy one with the feet on it. $65.82
8. Legit Camping Double Hammock – If you follow my Instagram stories you know how much time I spend in my Hammock. This is the hammock that I use all summer long. In fact, Alan just put the hammock up for the winter (there may have been a few tears–lol). It's so comfy and is perfect for an adult plus small child, but I would hesitate to put two adults in it.
9. Coleman Lantern – We use the old school gas  Coleman lantern, but as I was researching this gift guide I stumbled across this LED lantern and thought it would be perfect!
10. AOMAIS Portable Wireless Speaker – Great for listening to stories around the campfire or just enjoying some music outdoors. Plus, it's a great price! $25.99
Pin Outdoor & Camping Holiday Gift Guide to Pinterest