Note: This post contains affiliate links.
I'm always looking for a small camera to take with me when I travel so when Ritz Camera asked if I'd like to give the Olympus TG-4 a try I jumped at the chance. This tough looking 16MP Digital Waterproof Camera arrived at my door in a fun red color and, thankfully, didn't need a memory card to work due to its internal photo storage option. There are lots of features on this camera that made it great for travel and may just be perfect for your next trip as well.
I loved all the settings available on the Olympus TG-4:
Intelligent Auto (iAUTO)
Program Auto (P)
Aperture Priority (A)
Scene Modes includes Portrait, e-Portrait, Landscape, Interval Shooting, Live Composite, Hand-Held Starlight, Night Scene, Night + Portrait, Sport, Indoor, Self-Portrait, Sunset, Fireworks, Cuisine, Documents, Beach & Snow, Snow, Panorama, Backlight HDR
Microscope includes Microscope, Focus Stacking, Focus Bracketing, Microscope Control
Underwater
There is even  a nice selection of Art filters:
Pop Art
Soft Focus
Pale & Light Color
Grainy Film
Pin Hole
Diorama
Dramatic Tone
Fish Eye
Sparkle
Reflection
Fragmented
The zoom feature worked great as well. Taking photos around Cleveland the camera zoomed right in on far away statue features. Of course, manual was an option if I wanted to set the aperture and shutter speed myself.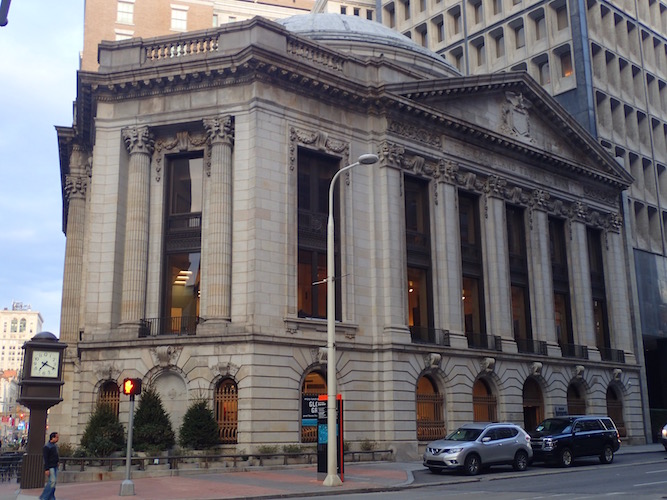 I think the Olympus TG-4 does a great job taking travel photos. The colors are spot on and all the different mode features make it easy to get the perfect photo every time.
This is inside Heinen's Fine Foods in Downtown Cleveland. This epic grocery store has an awesome domed ceiling and a fantastic food court. Note the 2nd floor balcony has wine tastings…..swoon.
Regardless of the light the Olympus does a great job of capturing the scene. I was walking around downtown Cleveland and taking photos as night was starting to fall and the camera took fun photos in fading light.
Of course, it's just as important to have a camera that is small enough to fit in my hand and/or pocket and the Olympus TG-4 does both. The size of this camera means it doesn't take up much room in my carry-on bag, purse or coat pocket.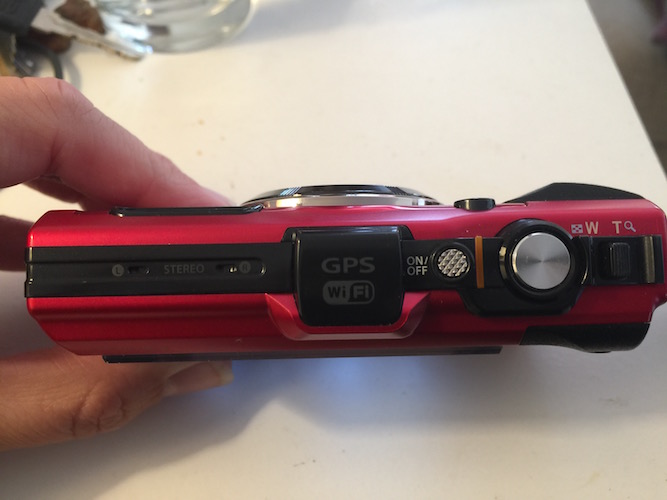 Plus, it fits perfectly in my hand. Not too small that it's hard to change the settings but not so large that it's big and bulky. I'd say Olympus got it just right.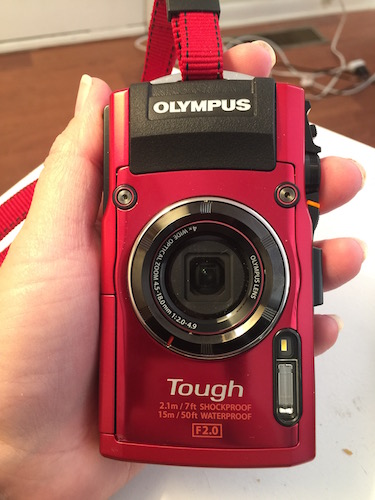 I'm thrilled that Ritz let me take the Olympus TG-4 for a test run. It was fun taking photos with it and is a perfect addition to any camera bag or backpack. The Olympus Tough cameras are available at Ritz Camera.
***PIN ME***