Over the course of 94 years, 154,000 inmates passed through the doors of the Ohio State Reformatory, a gorgeous stone structure that looks more castle than prison.
Pulling up the driveway towards the building you can't help but be impressed by the architecture of the building.
As with most prisons at the end of the 19th century and early 20th century, things were less than pleasant. Executions, diseases, and mass deaths all affected the lives within these prison walls.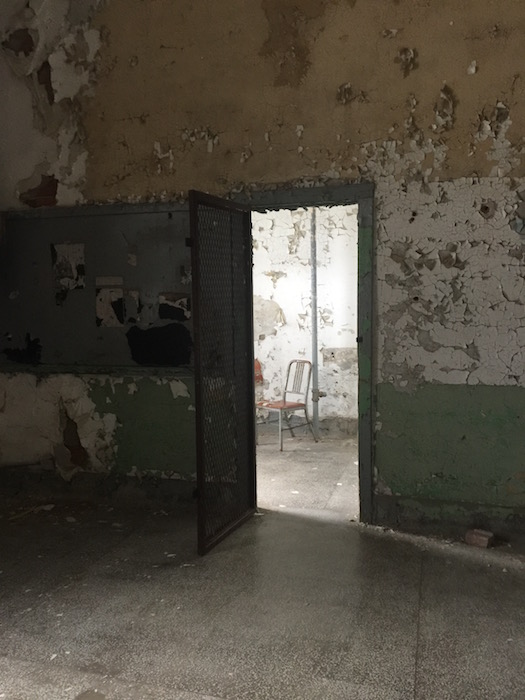 OSR was officially closed in 1990 and through twists and turns it was finally opened for the public to tour and for Hollywood to use for filming some pretty fantastic movies, Shawshank Redemption anyone?
Today, the Ohio State Reformatory is host to hundreds of visitors, some living and some that have decided to stay long after they've died.
Stories of footsteps echoing throughout the building when the last employee in the building is locking up, hearing voices when no one is around, and being touched are just a few of the ghost stories that surround this historic building.
I happened to be in Mansfield, OH and decided to stop by and wander through the prison. Tonya from Travel Inspired Living joined me but I had to swear we wouldn't have any ghostly experiences.
We took a self-guided tour and I thought we would be there about an hour, three hours later we made it back to the car.
The building just pulls you in as you explore it with all your senses. It wasn't too incredibly busy when we visited so we would, oftentimes, be in large parts of the building by ourselves.
We spent our time walking the cell blocks, wandering through solitary confinement, and exploring the different chapels.
Of course, a large portion of time was spent photographing the interior. I was hoping to catch something, anything, paranormal with my camera or to have an experience while I was there.
Sadly, I was disappointed that neither happened.
However, that just makes me want to go back for a ghost hunt. Even though I left without a paranormal experience I loved my time at the reformatory.
The building itself is an impressive display of history and architecture and well worth the visit.
In addition to private ghost hunts, the Ohio State Reformatory offers a variety of other tours daily, from historic to ghost walks to Hollywood to self-guided.
From Oct 12 – Nov 5 the reformatory hosts the very scary Escape From Blood Prison.
Before visiting be sure to check their website to confirm they are open. They do shut down for filming days as it has become quite a hot spot for Hollywood films.
They are also closed in January and part of February as the building has no heat.
There is more fun in Ohio. Check out some of my favorite places here.
Are you brave enough to visit Ohio State Reformatory?