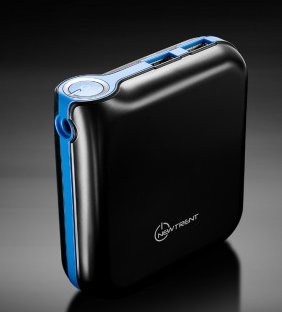 Do you ever find yourself in a situation where you really need to charge your iPhone or iPad yet there isn't an outlet to be found anywhere? Road trips, airports, conferences, etc are all places that I'm forever searching for outlets and never able to find one. It can be frustrating to say the least.
The days of searching are over. I now carry the New Trent iCarrier Mobile Power Pack with me when I travel. Its small and compact so I just toss it in my day bag and then I can charge my phone on my schedule and not at the whims of hidden outlets. It has been a great addition to my travel bag. I love knowing I can charge my phone whenever I need to.
In addition to charging iPhones and iPads the iCarrier charges most Smartphones and the following products:
Nook COLOR
Kindle & Kindle Fire/HD
Nexus 7
Galaxy Note/NOTE2
PSP
PS Vita
Nintendo DS/DS lite/3D/XL
This lovely little gadget has a life of 9-11 charging hours before it needs to be recharged and can be recharged 500 times. It weighs in at just 10 oz so doesn't add much weight to your day pack.
Learn more about the iCarrier Mobile Power Pack here. They are also on Facebook and Twitter.