Please welcome the lovely Elena Sonnino to Just Short of Crazy. She has written us a fabulous article about mother and daughter travel Enjoy!
Mother daughter relationships can be very tricky for even the best pairs. One solution to fostering a better relationship with my own eight year old (going on sixteen year old) daughter is to make time for mother daughter trips. I thought that our trips and adventures would help us bond, without errands to run or other family members to answer to, but something else happened that was even more surprising. My daughter quickly became my favorite (shhh, dont' tell my husband) travel companion.
Something about being away, just the two of us, brought out the perfect travel buddy.
Except that I realize that I should enjoy this moment of being perfect travel companions now, in the moment. Because five or six years from now, when she is a teenager, I may be the last person on the earth that she would like to travel with. I imagine that our mother daughter trips might be confined to me driving her to sleep away camp. But now, at ages 38 and 8, we have the opportunity to make memories, explore, and who knows…maybe enjoy it so much that we can travel right through the teenage years.
Four Keys to Mother Daughter Travel Success
Research
While it can be fun to be spontaneous and just explore without a plan (we are big fans of walking and getting lost in a new place), I have found that mother daughter travel necessitates pre planning and research. My daughter and I sit together at the computer looking at virtual tours of cities or sites, we read about the experiences of other traveling families, and we start to carve out an itinerary based on the information. This is especially helpful when you are going to a big city or destination like New York City where you cannot possibly get to everything in one trip. Warning: if your daughter is very organized and procedurally minded, good luck making a change to the itinerary once it is set! Which is why part of our schedule and plan always involves a "we'll see" time where we can explore with the intention of getting lost, or adjust things based on fatigue, interest, weather, or…mood.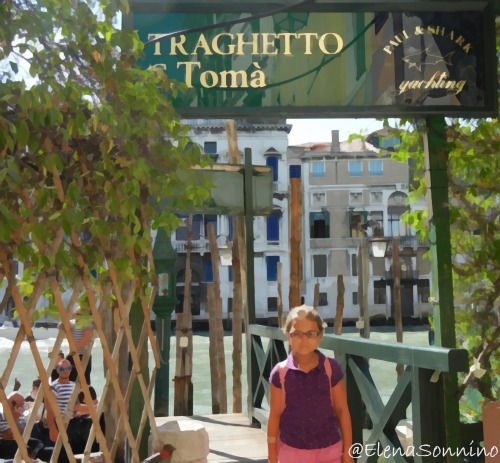 You Pick, I Pick
Travel means exploring, and with every destination there are things that interest me more than my daughter and vice versa. Maybe I want to see the Statue of Liberty but my daughter wants to spend the entire day at the American Girl Doll store. Which is why we use a "you pick, I pick" strategy to make sure that each of us has a say in what we see and do. After we spent time researching our destination, we each make a list of the things that we want to see. We then compare our lists for similarities and then each of us picks one from the remaining sites or activities. Not only does this mean that we each will have at least one experience that we really care about, but it makes my young travel companion feel like she is part of the planning and a meaningful partner in our adventure.
Pampering
I adore great room service. Whether it is a late night dinner after a long day, or a scrumptious breakfast, something about ordering room service is just decadent. So one of the things we try to do once during every trip is order room service. My daughter's favorite is breakfast so that she can enjoy the full breakfast in bed (while watching television!) experience. Another way to pamper yourselves is to plan for one nice dinner or meal. While this depends heavily on your daughter's eating habits, a great meal that you can enjoy together can be very memorable. You might even decide to make dessert an entire meal (this is possible at Franklin Fountain in Philadelphia!) We like picking restaurants that we can walk to for dinner that way we can digest a bit after dinner on our way back to the hotel.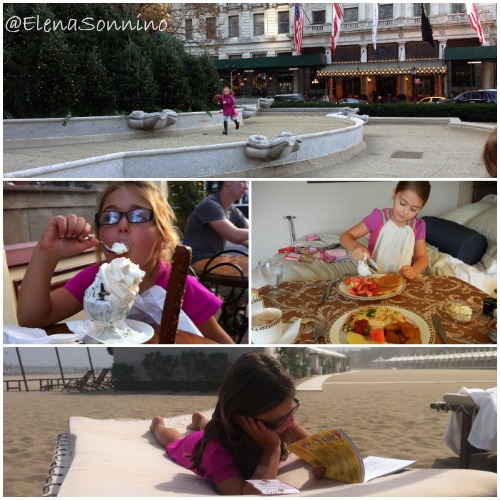 Down Time
One of the keys to our successful adventures is to not overplan the trip. Overplanning means exhaustion. Overplanning means grumpy daughters (and grumpy moms). Give yourself a break in the morning and sleep in or take an hour (or two) to hang out in the hotel pool, on the beach, or at a local park. We also pack our bags with books (on our e-readers) and journals to jot down our experiences. You could even bring nail polish and do each other's nails to combine the pampering and down time. Another down time activity is public transportation. Taking the subway or trolley can be a great way to break up a lot of walking.
Whether it is a trip to historic city or town, amusement park, big city, or outdoor destination, my favorite travel companion surprises me each trip with her flexibility, curiosity and patience. Having my daughter as my travel buddy and partner has helped our mother daughter relationship by leaps and bounds and will hopefully be something that we continue to do even through the dreaded teenage years.
bio:
Elena Sonnino is a freelance writer, instructional coach, motivator, runner, and chaser of dreams. She empowers others to make every moment matter at LiveDoGrow.com and to live the dolce vita while traveling at TravelingMom.com. You can also find her on twitter as @ElenaSonnino or on Facebook.