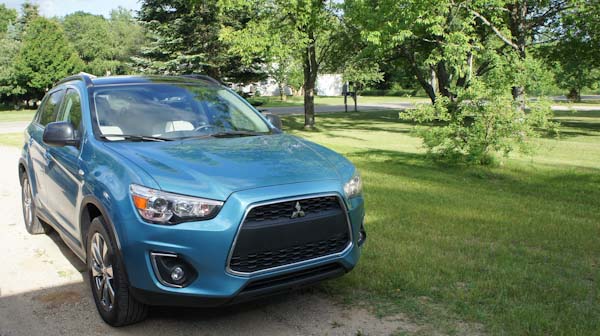 This is a review of the Mitsubishi Outlander Sport. Mitsubishi provided the car for me to drive for a week. All thoughts and opinions are my own.
The Mitsubishi Outlander Sport is such a fun car to drive. This cross over vehicle has plenty of room for a family, but is also perfect for just one or two. There were lots of things that I enjoyed about the car including the gorgeous blue color. I was very sad when I had to send the car back.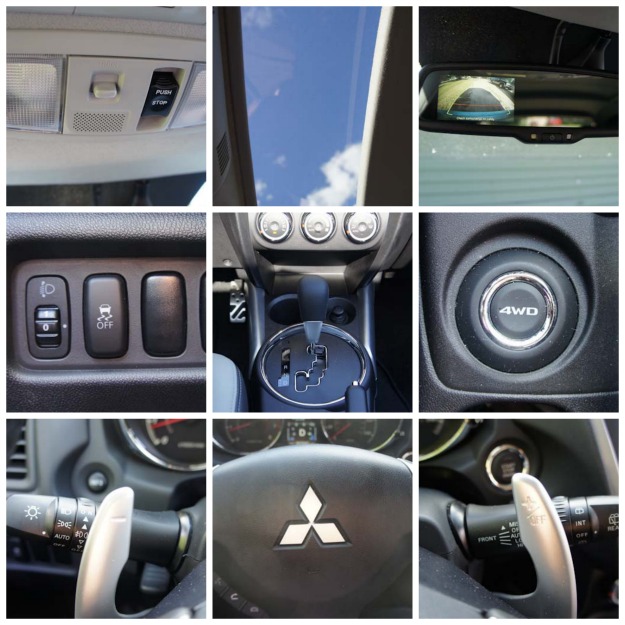 The Mitsubshi Outlander Sport has some great features. Here are some of my favorite features about the Outlander Sport.
1. Panoramic Roof Window: The window doesn't open, but it provides a huge glass window so that even the back seat passengers can enjoy the view. I love letting in extra light. At night there are LED lights that frame the window and look pretty darn cool.
2. Back Up Camera: The back up camera is in the rear view mirror which makes it easy to see what is behind me in both the mirror and in the camera.
3. Keyless Start: I'm loving the push button starts in the newer cars. Plus, if the key fob is not nearby there is an error message displayed on the dashboard.
4. Navigation System: It should be a must in every car. Easy to use and very accurate.
5. Storage: There is plenty of room for my luggage, groceries and even my camping gear.
6. Mitsubishi Multi Communication System: This handy little system provides GPS, Sirius Radio, plays CD's AND, the coolest thing ever, plays DVD's.  Now, before you panic, it doesn't play DVD's while the car is in drive. It only works for DVD's when the car is in park. However, I can see it being a handy feature for keeping little ones entertained while waiting at school, sports park, airports, etc, etc. Just think of all the places you have to sit and wait to pick someone up. Heck, Alan & I used it at the laundromat to watch a movie while we waited for our laundry to be done. (yes, our washer is still broke. I'm still impatiently waiting for Alan to fix it.)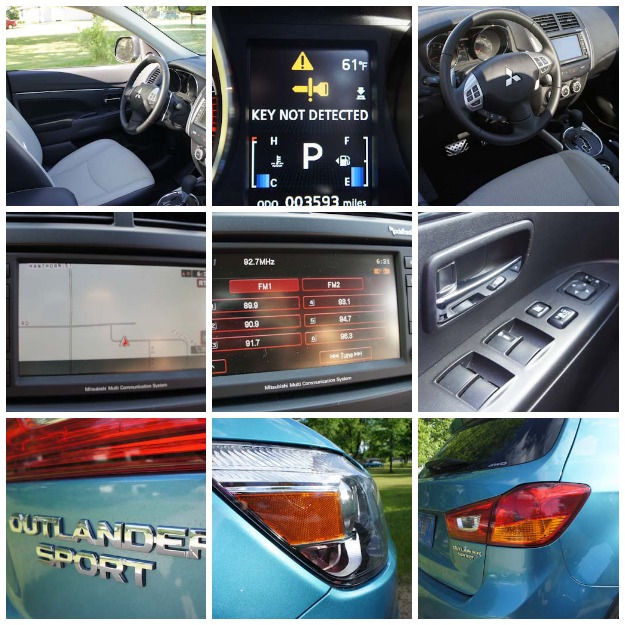 Of course, performance is important as well. There are always a few things I look at when I test drive a new car. No matter how good a car looks or how many great features it has if it can't perform than it's not worth buying.
Curve Turning Performance: I really like cars that can hold tight to a curve and the Mitsubishi Outlander Sport does exactly that. Breezing around corners was very easy and required little to no braking.
Quick Acceleration: If the ECO system is engaged the acceleration is very, very slow. However, when the ECO system is not engaged is has fairly good pick up and go.
Interior Noise Levels:Â Road noise was limited in the Mitsubishi. I appreciate that I don't have to speak louder or yell so the people in the back seat can hear me.
Legs Room/Comfort Level:Â Lots of leg room is available and the Sport is really comfortable to sit in. The longest drive I took was 2 1/2 hours from my parents to my house and I wasn't uncomfortable at any time.
Gas Mileage:Â I averaged, according to the car system, about 24 MPG. Not too shabby for a cross-over vehicle.
The Mitsubishi Outlander Sport scores a 7/10 on fuel economy and greenhouse gas rating and a 5/10 on the smog rating. Â The government 5-star safety ratings give this car 4 stars.
The car that I drove has an MSRP of $30,915. Not too bad of a price in today's car market.
What is your favorite feature in a car?