With the insane number of video games that are released on a yearly basis it's next to impossible to keep up and most are forgotten almost as soon as they come around. However, every once in awhile a game will come along to captivate gamers of all ages and be destined to go down in the video game hall of fame. Minecraft is one such game and lucky for us it's available at Best Buy. This game has already proven that it can stand the test of time, being 5 years old at this point, while maintaining its fan base and sucking in new players constantly. This is an easy task considering Minecraft can be played on just about everything with a screen.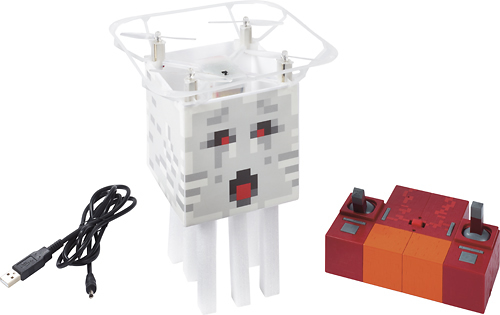 Minecraft originated on the PC but is now available on Playstation, Xbox, Nintendo, Android, and Apple. Microsoft even has a Minecraft bundles for Xbox and PC, I mean come on. So if you can't find time to get your fix you're doing something wrong.
Minecraft is a fairly simple game with a fairly simple concept. You are basically playing in a giant world of Legos where everything is made out of 1×1 blocks that represent different materials/elements (yourself and monsters included). Within this world you can create and destroy anything and everything with the only restriction being your imagination and willpower (does that make you a Green Lantern?). There are also 2 ways to play: Survival Mode and Creative Mode. In Survival mode you start the game with nothing and work to collect resources and build shelters to survive the creatures of the night (Creepers, green monsters that explode when they touch you. Playing survival mode can be extremely rewarding knowing you worked your way from the bottom, collecting all the necessary materials for your grand endeavor. Be that a self-sustaining city (plants and animals included), the castle of your dreams, a spaceship, etc…
The list literally goes on and on, check out these amazing creations http://www.gamespot.com/gallery/17-amazing-minecraft-creations-that-will-blow-your/2900-84/4/. Now thankfully for those of you who don't have the patience (like me) to harvest all the materials, there is creative mode. In this mode you have full access to unlimited amounts of all materials and can just build to your hearts content. This is really a great way for people of all ages to explore and build upon their creativity.
To top that all off, Minecraft garnered such a large following that it was able to branch off into non video game merchandise much of which can be found at Best Buy. Now you can imagine yourself in your Minecraft world without even having to turn on the game. There are even Minecraft Lego-esque play sets (ha, remember how I said it was like playing with Legos?). Other great additions are collectible Figurines and a cool stop motion kit that enables your kids to shoot stop motion films straight from your phone or tablet.
Best Buy carries a large assortment of Minecraft products – this includes an Xbox One S console bundle, additional Minecraft games and Minecraft toys and collectibles.