There is a friendly argument going on between Michigan and New York. Ask Michigan apple growers who the 2nd largest apple grower is in the U.S. and you'll receive a resounding "Michigan is second". Ask New York apple growers and they'll say the same thing. I like to think that Michigan and New York are tied for second with, Washington, of course, being the number one apple grower in the country.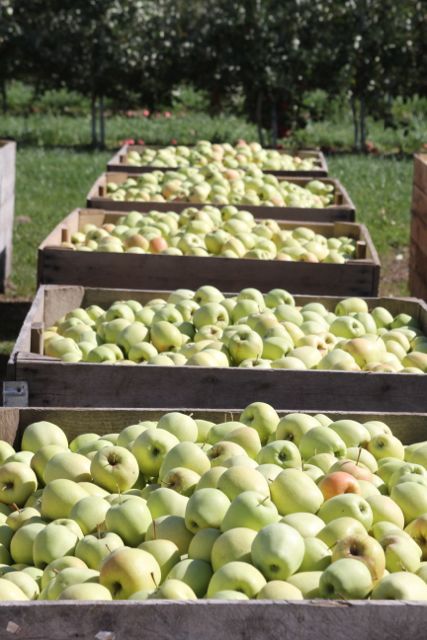 Regardless of who is first, second or third, there is no denying that Michigan apples are delicious! I recently spent a day learning about Michigan apples and exploring Michigan apple farms.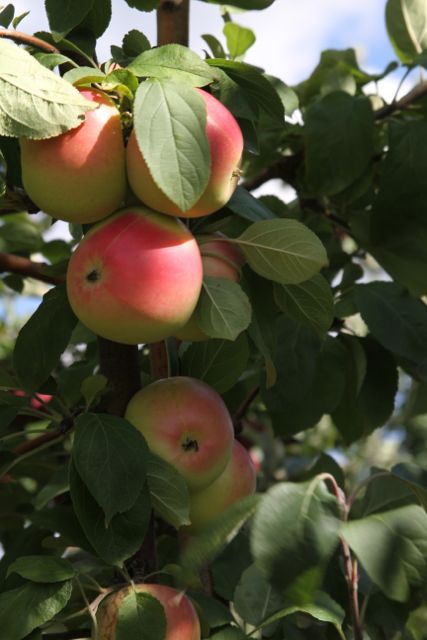 I'm not really an apple snob, but I have to say that I've spent my entire life eating Michigan apples. When I was a child I remember going to an apple orchard with my mom to pick apples. After we brought them home she would turn those beautiful bright red orbs into a mouth-watering apple pie. I think those childhood memories are one of the reasons that I love fall and visiting apple orchards every year.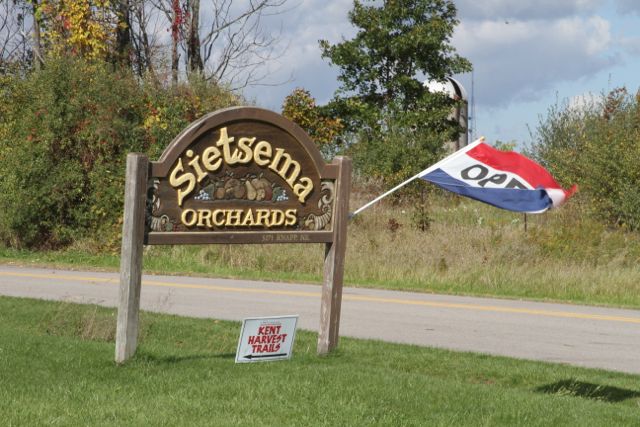 My day exploring started at Siestsema's Orchard in Ada, Michigan. Siestsema's is a small, boutique family orchard that is famous for it's farm-to-table dinner events and Siestsema's Hard Cider.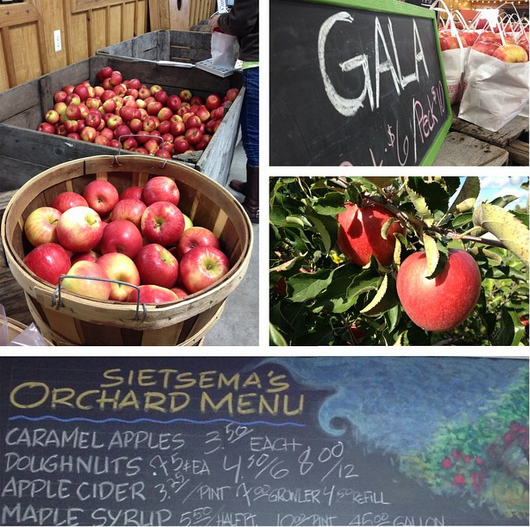 At Siestsema's you can enjoy a glass of cider while walking through the orchard. Andy Siestsema wants to "offer the consumers a different experience" at the orchard and he guarantees that "you'll never see a bounce house here or a petting zoo".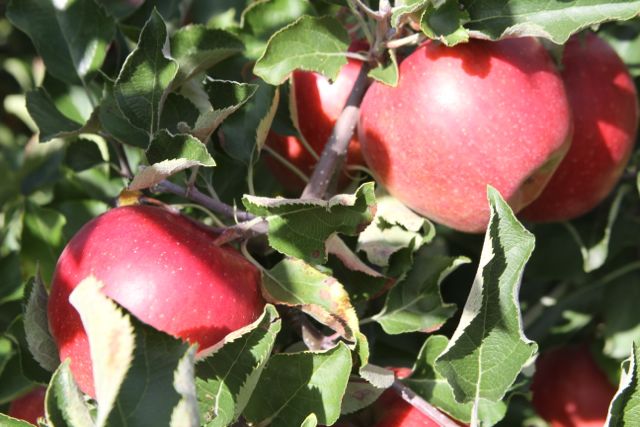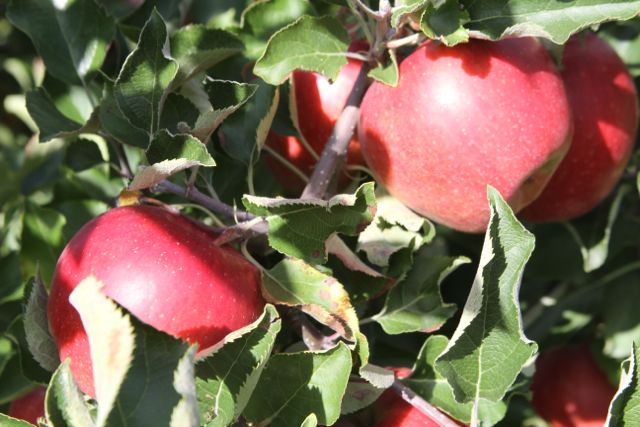 He knows that those attractions have a place at other orchards, but that is not the direction that Siestsema's wants to go. They want to spend their time and energies educating the consumer.  Siestsema's grows 149 heirloom apples on their farm and the one non-heirloom apple,Honey Crisp, which outsells all the other apples 20 to 1. The apples are sold for fresh eating, apple cider or used to make one of their four delicious hard ciders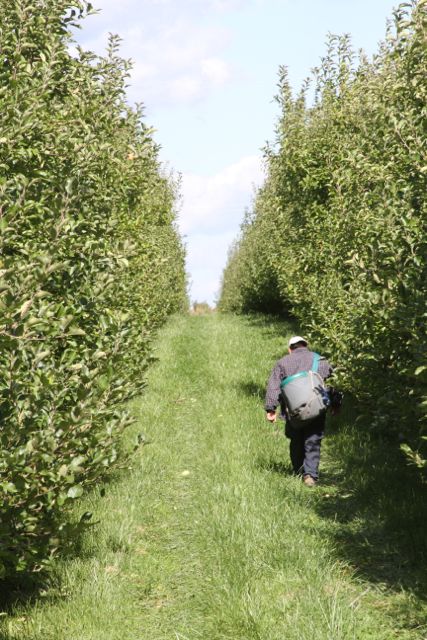 After Siestsema's Orchard I traveled to Mark Youngquist's farm in Kent City, Michigan. The Youngquist's farm is the direct opposite of Siestsema's Orchard. Youngquist's is a large farming operation whose sole purpose is to grows apples that are shipped to stores like Costco and Kroger for consumers.
Mr. Youngquist is a 4th generation apple grower and is full of wisdom and character. While talking about his farming practices he said "really, we are just farming sunlight" At the very foundation of any farm this is so true. Without the sunlight the trees wouldn't grow.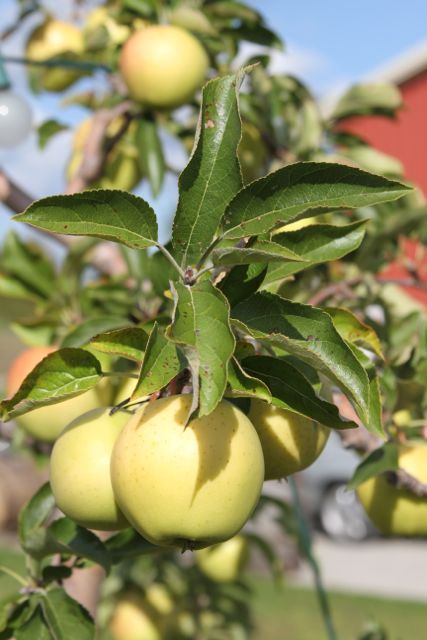 Mr. Youngquist does a very fine job of farming the sunlight and growing delicious apples.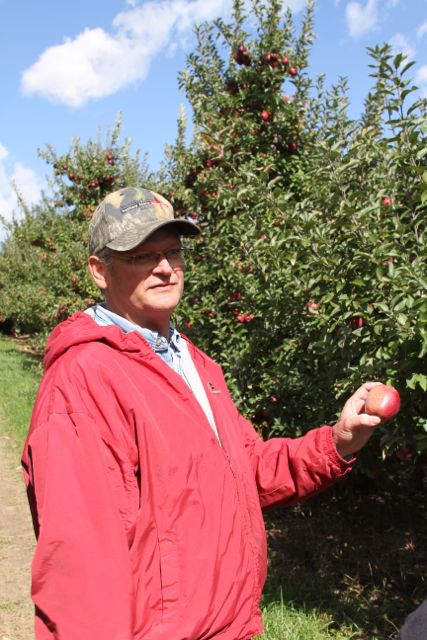 Some of my favorite quotes from Mr Youngquist's include:
"Honey Crisp are valuable, but when they're not they are coming out of the ground." I get the feeling that Honey Crisps are not a favorite of Mr. Youngquist's 😉
"I'd rather deal with weather than deal with the government." Yeah, me too.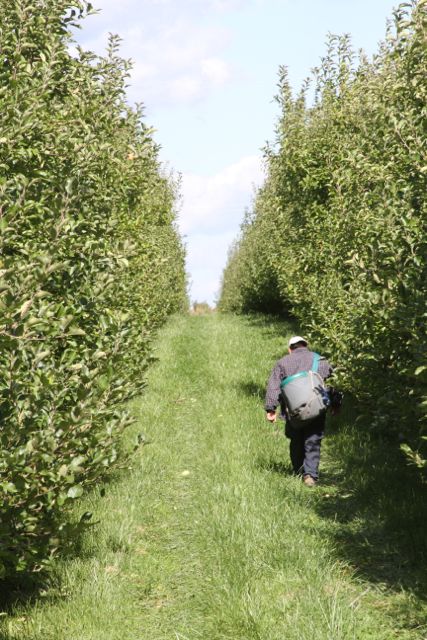 Mr Youngquist is a no-nonsense farmer that respects the land and appreciates the workers that have been traveling from Mexico to Michigan since the 70's to farm his orchards. In fact, the workers are just an extension of his family and he shared stories of going to Mexico to attend family events. I'm forever grateful for the workers that make sure my family has fresh apples to eat every year.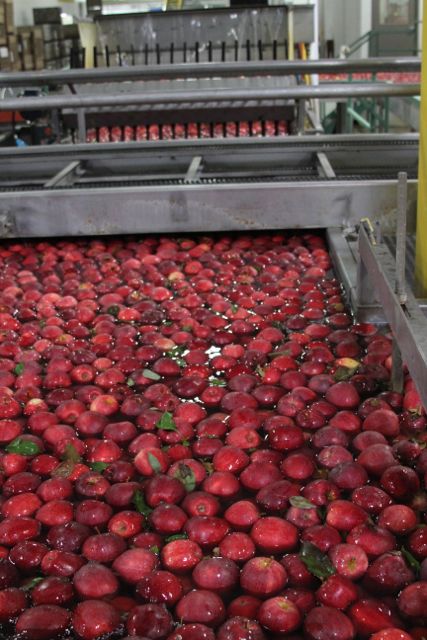 Lastly, I stopped at Jack Brown Produce. This is where all the apples that are grown for grocery stores go to be sorted, packaged and/or stored before shipped to the different stores.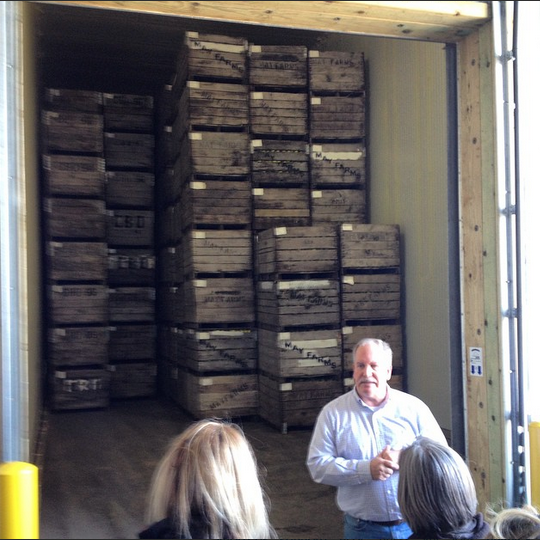 When the apples are delivered from the farms it is determined if they are going straight to the market, which means from farm to table in as short as 24 hours, or into the Controlled Storages Atmosphere which, in essence, puts the apples to sleep until they are needed.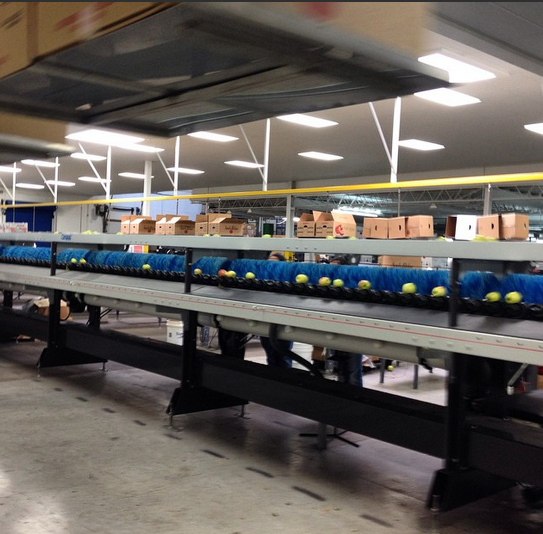 Fun Apple Facts About Michigan Apples:
Michigan Apples can be found in 26 states and 18 countries.
There are 850 family owned orchards in Michigan. This is NOT corporate farming.
Controlled Atmospher Storeage puts apples to "sleep" until they are ready for the store which is why you enjoy farm fresh Michigan apples in July.
A missing apple stem is an injury to the apple.
All apples are hand picked and 1 worker can pick 20 bushels (one large orchard crate) in 45 minutes.
All the apples for an entire year are picked, BY HAND, in a 7 week harvest season.
When an apple falls on the ground at an orchard or apple farm they are considered "bad" and aren't allowed to be picked up and sold.
I really enjoyed my time learning more about Michigan apples.
Read what others are saying about the Michigan Apple tour:
http://milocalfoodbeet.com/2014/10/19/the-mother-of-michigan-apple-production/
http://milocalfoodbeet.com/2014/10/17/farming-the-sunlight/
http://milocalfoodbeet.com/2014/10/15/sietsema-orchards/
http://www.week99er.com/new/apples-are-in-season-check-out-how-they-get-from-farm-to-your-table-michiganapples
http://www.girlichef.com/2014/10/michigan-apple-growers-youngquist-farms.html
http://www.ahealthiermichigan.org/2014/10/17/michigan-apples-take-a-tour-with-us/
http://www.staceysays.com/2014/10/michigan-apple-secrets-revealed/
http://katieserbinski.com/2014/10/13/michigan-apple-blogger-tour-a-look-at-apple-production/
http://www.ahealthiermichigan.org/2014/10/19/on-the-apple-trail-farming-michigans-abundant-orchards/
http://mommaof4cutiez.com/2014/10/michigan-apples-blogger-tour/
http://www.azestybite.com/michigan-apple-orchards/
What is your favorite Michigan apple and/or apple recipe?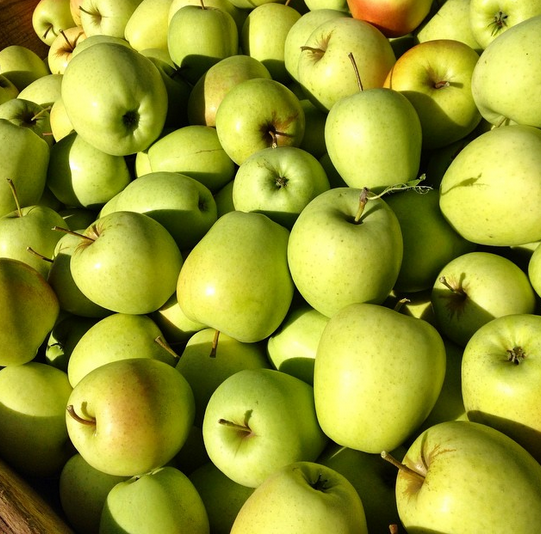 Disclaimer: I recently took part in a Michigan Apples Blogger Tour, sponsored by the Michigan Apple Committee. This is not a compensated post.