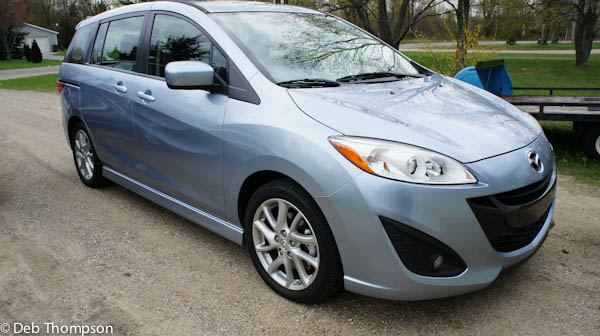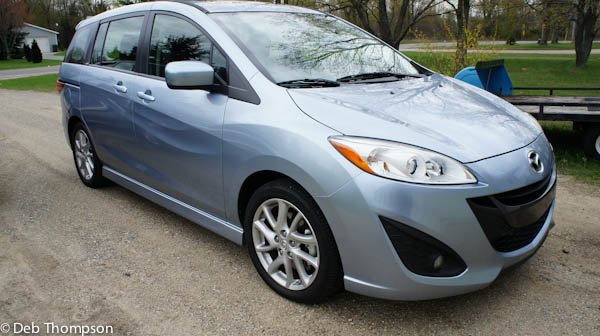 Driving the Mazda 5 is so much fun. The comfy leather seats, easy handling capabilities, heated seats, and a snazzy sunroof made me want to plan a quick week-long road trip just so I could spend more time driving the Mazda 5 Grand Touring edition and yes, the Zoom Zoom song constantly played in my head as I was driving 🙂 "Zoom, Zoom, Zoom"
Look at this beauty from the outside. Just like any good cross over the vehicle the Mazda 5 Grand Touring has a 3rd-row seat and seating for 6. Although, the 3rd seat is probably only suitable for small children.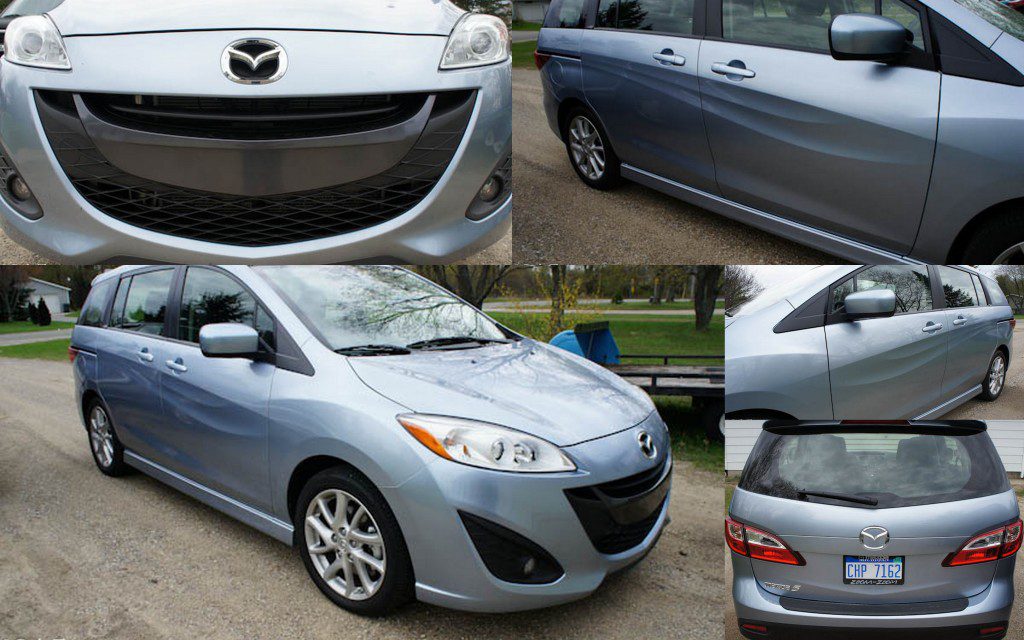 The back doors slide back which makes it very convenient for loading and unloading. PLUS, the windows on the sliding doors open. I love that option on this car. The back windows on our minivan don't open and it makes it miserable when you want some additional air in the back of the vehicle.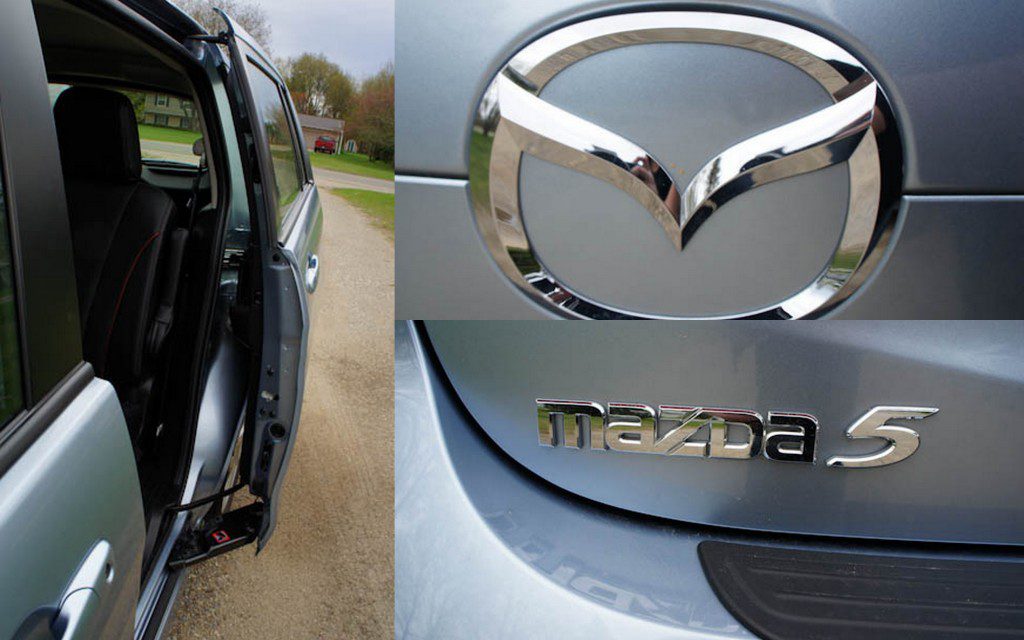 From the middle seat: Â There is a ceiling mounted video player which is fantastic for long road trips. The bonus? The video player has headsets so the adults can talk while the kids watch their videos. Heat and air can be controlled by the passengers in the back and there is a nice console between the middle seats, perfect for gadgets and drinks. Oh, and there are, what we like to refer to as "oh, crap" bars, above the driver, front passenger and two middle passenger doors. The middle and third-row seats all fold down to make lots of room for hauling stuff.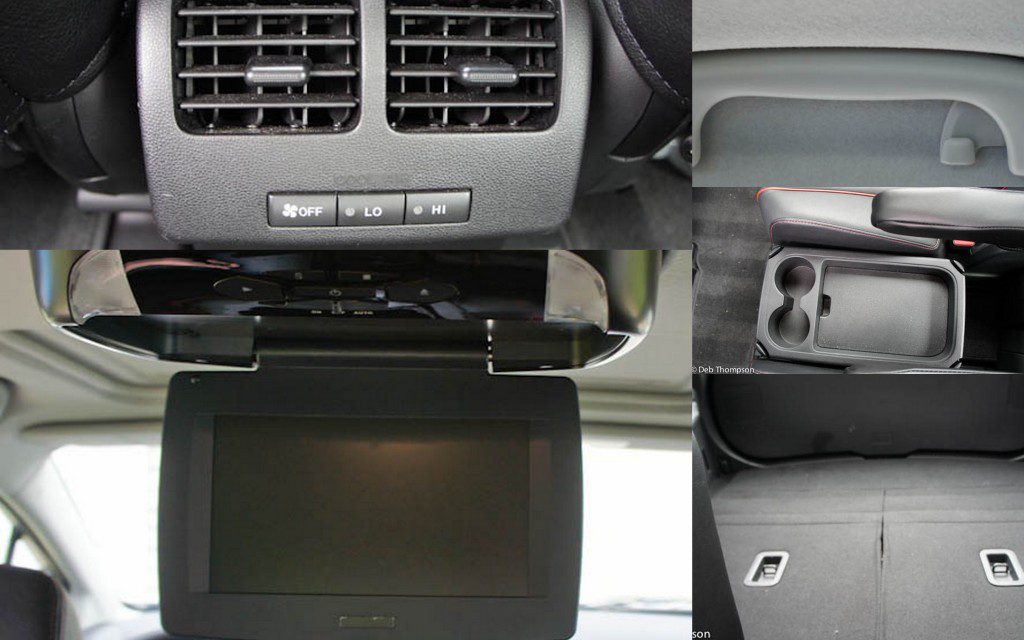 From the driver's seat: Everything is within easy reach of the driver. The steering wheel has controls for radio, cd, phone calls, and cruise control. The gear shifter sits between the driver and passenger seats, which makes it feel a bit more sporty.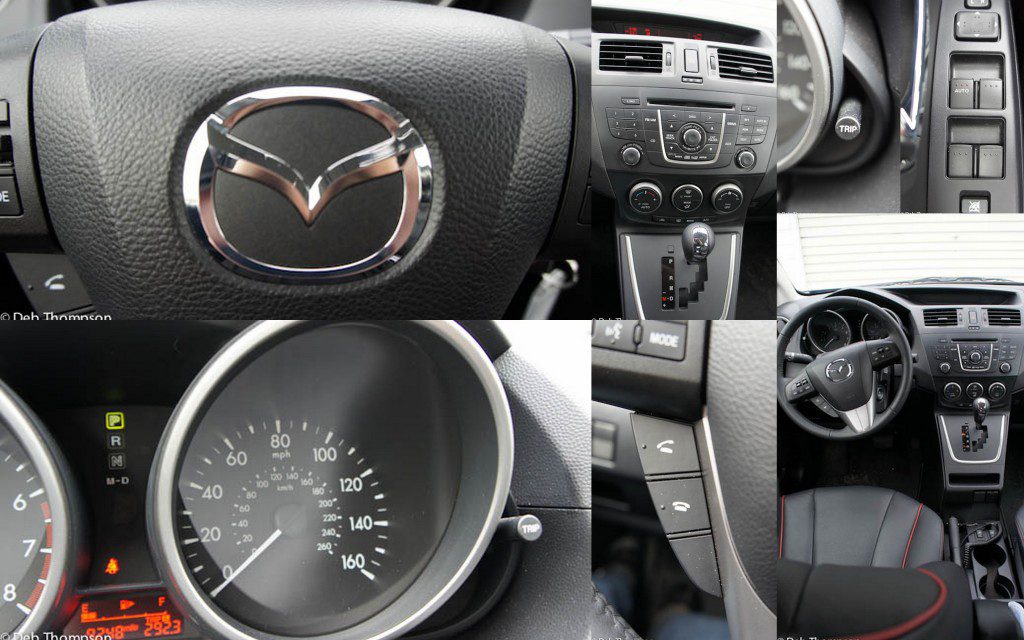 Some additional perks: Sunroof, cubby for cell phone, the heated seat buttons are right below the gear shifter and immediately above the handy drink holders, there is an aux plugin and also a lighter style plugin for phone charging. There are also mirrors on each visor, although they are a bit on the small side. Speaking of the visor, it would be nice if there was an extension that pulls out to add some additional sun coverage.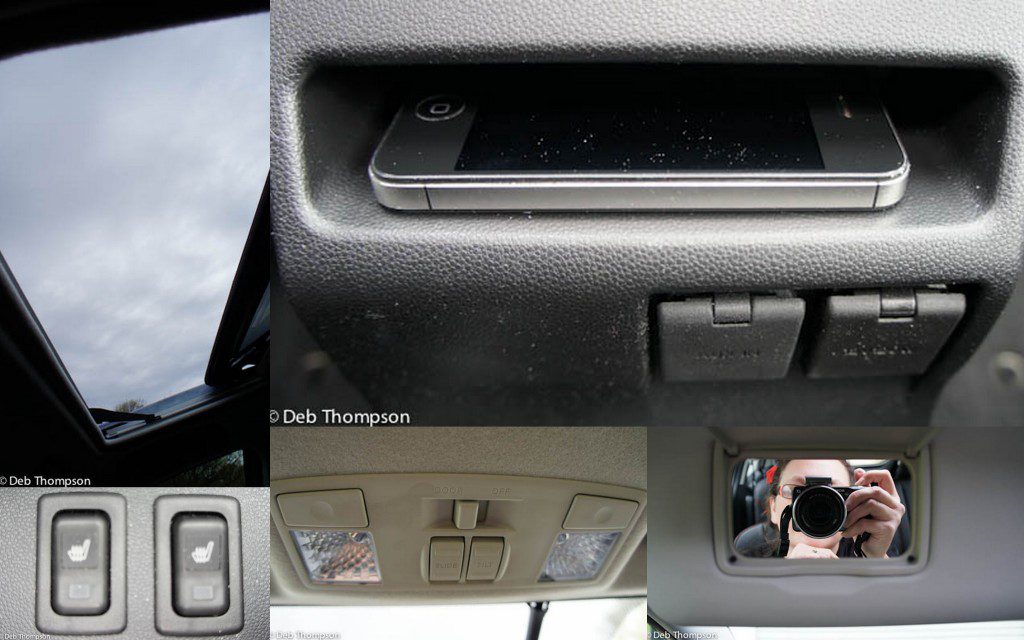 This car may be beautiful on the inside and out, but more important than looks is driving performance and gas mileage, especially with gas being $4+ a gallon right now. Â So, I took this Mazda 5 for a short road trip because I wanted the opportunity to open it up a bit on the freeway. Let's just say this cross over can move and it drives very, very smoothly. Another important factor for me is the level of road noise in the car and the Mazda 5 doesn't disappoint.
Want some details? Here you go:
The engine is a 2.5L, 5-speed automatic transmission, 157 HP with 163 LB-FT torque and front-wheel drive. What that means is when you push on the gas this car is going to move!
Some fancy features that come standard:
Rain-sensing front wipers<<–Yep, you read that right. The wipers KNOW when there is rain and keep your windows clear.
Tire pressure monitoring system
There is also a digital control panel that shows your average miles per gallon and how many miles you can drive on the gas remaining. I love knowing how many more miles I can drive since I'm horrible at remembering to stop for gas.
Lucky for me the Mazda 5 can go on average 28 MPG. Not too shabby. The car arrived with a full tank and I drove just over 300 miles and there was still gas left in the tank.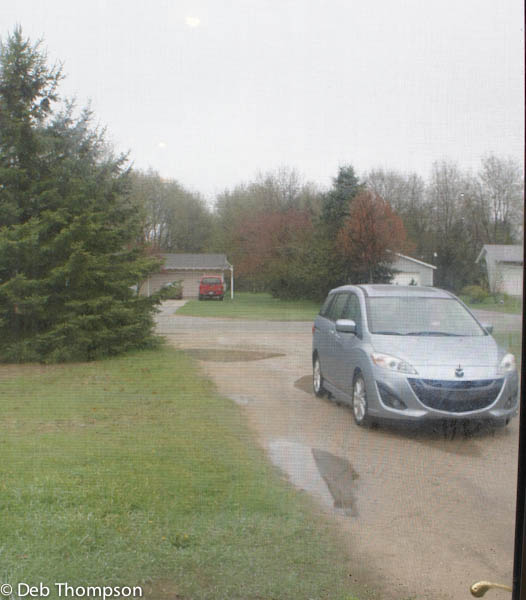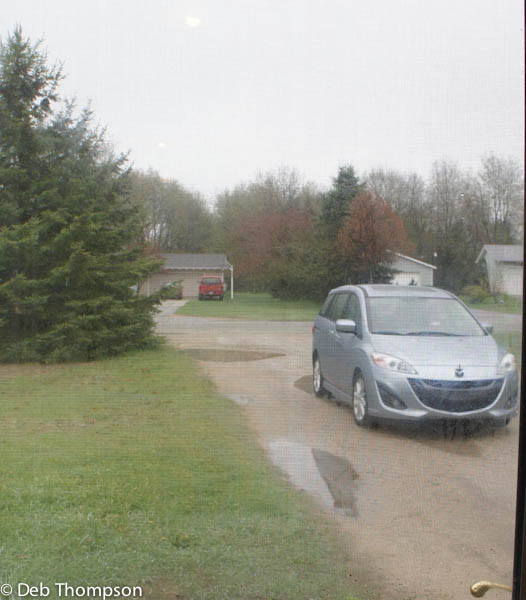 I had a lot of fun driving the Mazda 5 and shed a few tears when the car was picked up and taken away. If you are looking for a cross over vehicle that is fun to drive AND has lots of room you don't need to look any further than the Mazda 5 Grand Touring edition.
disclaimer: I would like to thank Mazda for the opportunity to drive the Mazda 5 Grand Touring for a week.