I hate to admit it but I didn't read the book or watch the movie, but from what I understand both were hits! SO, when the opportunity to review (affiliate link—>>) How To Live Like A Crazy Rich Asian crossed my desk I was intrigued, because honestly, now you are speaking my language. Tell me how to do something, not just show me how others are living. Right?
Packed with beautiful photographs, fun facts about Singapore culture and country. This book is sure to delight any armchair traveler or those wanting to live like a crazy rich Asian.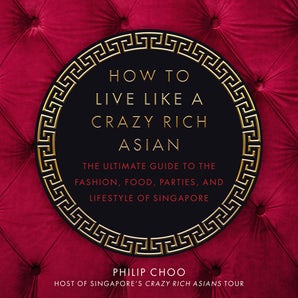 How To Live Like A Crazy Rich Asian Book Synopsis:
Philip Choo has been running a Crazy Rich Asians tour in Singapore since 2014—and this book will transport you directly there.
As a local, he has insider knowledge of the real-life Singaporeans who inspired characters and places featured in the movie, as well as tons of fun facts about the country and culture.
Being the creator of the first Crazy Rich Asians tour, he was even invited by the Singapore tourism board to host media and influencers prior to the movie launch.
Split into six chapters covering Weddings, Homes & Neighborhoods, Food, Parties & Fashion, Pets, and Amazing Architecture, this book brings Choo's Crazy Rich Asians Tour to you.
Each chapter is packed with gorgeous photos and features on stylish clothes, homes, food, weddings, and parties . . . and sidebars about local gossip. With this you'll learn the ins and outs of all things Singapore!
Author Bio:
Philip Choo is a 4th generation Singaporean and the original creator of the Crazy Rich Asians Fan Tour in Singapore.
He has been in the travel business for ten years specializing in custom made private tours for clients who want something unique and tailored to their interests.
He founded the tour in 2014, inspired to share his love of the novel and country with others. Phil and his tour have been featured in Cosmopolitan, ABC News, and CNN.
When not playing "Peik Lin" to his visitors, he loves to eat, read the gossip columns, and eat some more.