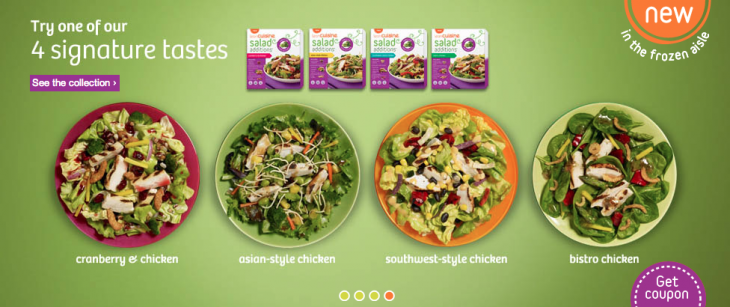 Working from home you would think that I have all the time in the world to whip up a healthy lunch and enjoy it. The truth is that I seldom stop working long enough to have lunch so keeping quick and healthy meals in the house is important to me. The healthy part is really important since I've been working hard at eating no "junk" and no breads, rice, or noodles.  Sometimes its hard to come up with a non-sandwich quick lunch so I'll run out and grab a restaurant salad that offers something more than just lettuce (my typical home salad). However, with winter here I seldom brave the vicious cold weather to step outside. Fortunately, I found Lean Cuisine Salad Additions. 

Lean Cuisine Salad Additions lets me have a restaurant style salad at home with little fuss and hardly any clean up–yay! This little treasure can be found in the freezer section of Walmart and comes in four different varieties: Cranberry & Chicken, Asian-Style Chicken, Southwest-Style Chicken, and Bistro Chicken.
I purchased one of each to give them a test run. I don't have an image of the Cranberry-Chicken, we had that for dinner the other night and I forgot to grab a photo of it. Just add your own lettuce, I used green leaf lettuce, give is a quick rinse and chop. While you are rinsing and chopping the lettuce pop the salad additions in the micro for 2.30 minutes. When its done toss with the lettuce, add the topping and dressing and you are done. Ta da. Less than 5 minutes and lunch is ready to eat.
I compared my Lean Cuisine Salad additions to my usual restaurant salad on three key points: quality, taste, & value. Â My usual restaurant salad rates a good for taste and a fair for quality & value. Restaurant salads are way overpriced in my opinion.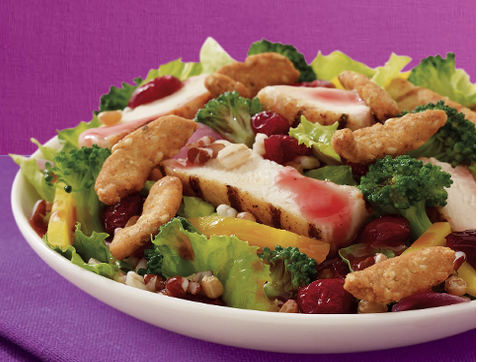 Image courtesy of LeanCuisine.com
CRANBERRY & CHICKEN SALAD ADDITIONS
I served this with dinner the other night and everyone liked it. I would wait for the topping to cool down a bit before serving it next time. The topping came out of the micro hot and we were hungry so I just went with it, but as a rule, I, personally, don't like hot toppings on a salad, warm if fine, but not hot. I really liked the veggies, sesame sticks and the raspberry vinaigrette dressing <<<—-so good!!!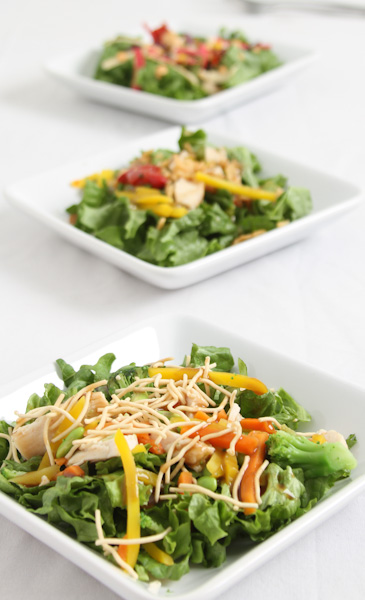 I made up all three of the remaining Salad Additions so that Alan and I could have a taste test and share both our opinions about the salads. Â Please note that I only used about half of the salad additions on each of these salads. I'm saving the other half for lunches this week.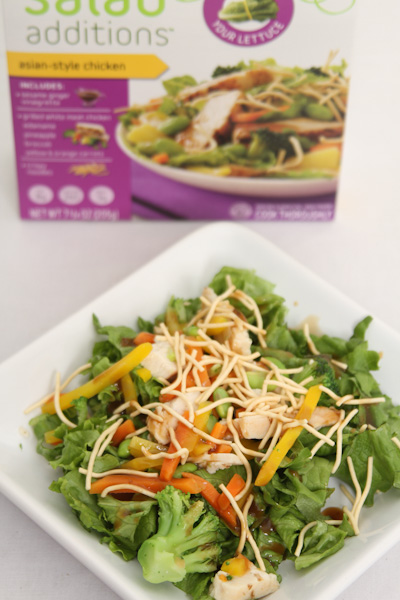 ASIAN-STYLE CHICKEN SALAD ADDITIONS
Tasty seseame ginger dressing and overall tasty salad, however, this was our least favorite out of the four. We still ate it and would buy it again, but it wasn't the overall first place winner. It wasn't that it was a bad salad, we just preferred others over this one.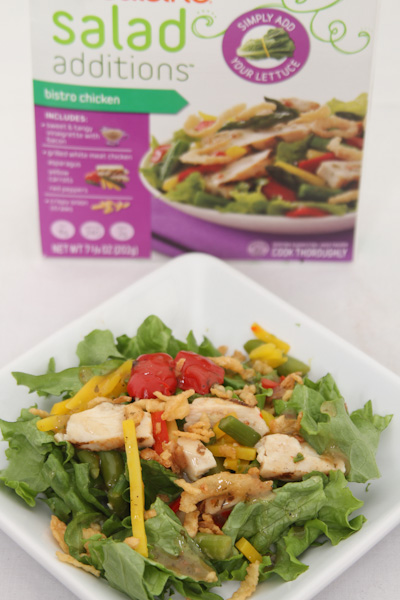 BISTRO CHICKEN SALAD ADDITIONS
I loved this salad. Of course, it has a bacon vinaigrette for the dressing and as far as I'm concerned if it has bacon its a winner.  The taste of the overall salad was very good as well and reminded me the most of my restaurant style salad. This however, tasted better and was a much better value.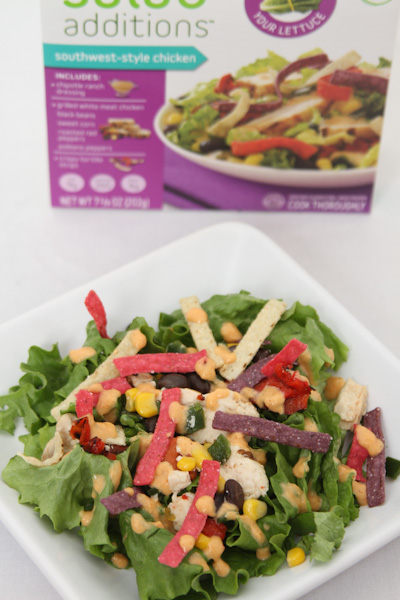 SOUTHWEST STYLE CHICKEN SALAD ADDITIONS
This was Alan's favorite. The chipotle dressing has just a bit of a kick and the flavors are very yummy! Alan prefers this style of salad when we order out and he said this one tasted better than his restaurant salad.

The overall quality and taste of the salad additions is very good. I appreciate the fact that the toppings taste exactly how the are suppose to. Sometimes with frozen foods the foods lose their flavor. That did not happen with any of the Salad Additions.
As far as value you can't go wrong. One box of salad additions easily made enough for the two of us. That means it was less than $4 per salad which is about half of the cost of my restaurant salad. I love saving money like that. It means more money in the travel fund. 🙂
What is your favorite style of salad?

I am a member of the Collective Bias®  Social Fabric® Community.  This shop has been compensated as part of a social shopper insights study for Collective Bias®  and NESTLE #CBias #SocialFabric