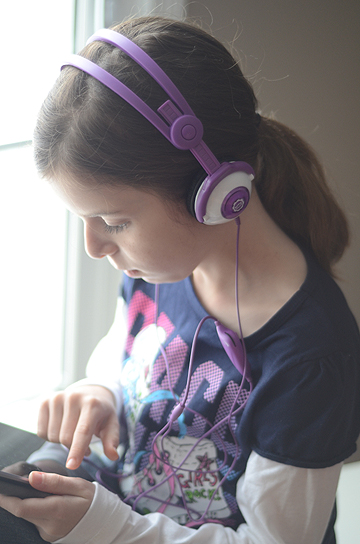 **The following review is by Nancy**
As parents, your child's safety is your number one concern. This most definitely includes your child's hearing. At Christmastime we purchased some earbuds marketed for children for our oldest daughter to use with her tablet. She wanted to be able to listen to her music.
Right away we realized they were not going to work out for a few reasons. Number one is that when she listened to the music we could all hear the music every word of it! We had to keep reminding her to turn it down or she was going to hurt her hearing. Number two they really didn't fit her ears all that well. I'm so glad that we have the opportunity to try Kidz Gear Wired Headphones!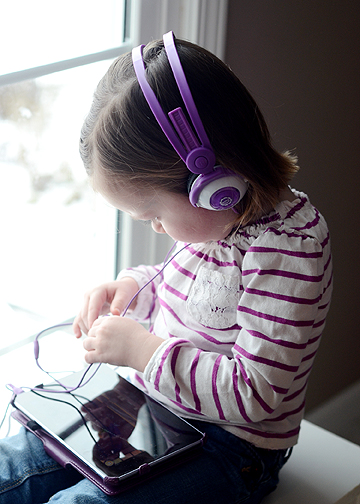 We were so excited to try out Kidz Gears wired headphones for kids because they come with an independent Volume Limit Cable to limit audio volume to approximately 80% (~ 20dB lower) of original maximum volume. This is HUGE! No need to worry about the kids turning up the volume too loud! When we used the headphones for the first time I knew the kids didn't have them up too loud when they could still hear what was going on around them during usage. In fact my daughter could hear the steam mop turning on and that thing really isn't that loud.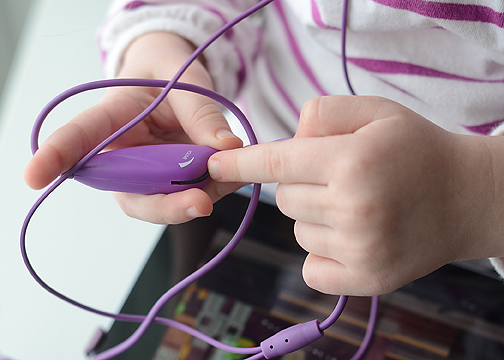 The headphones really do fit small ears. That was the first thing my oldest commented on was how well they fit and also how comfortable they were. They really have a nice, soft, cushy feel to them.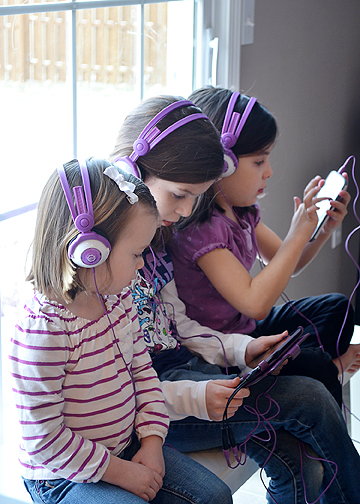 I wish I would have gotten a picture but I caught my husband using these headphones.  He commented on how comfortable they were. He was also quite impressed with the sound quality. Although marketed for children Kidz Gear is quick to point out that the headphones are not at all toys and are built with the same quality components you would find in adult headphones.  My husband said he wished he had a pair of headphones as nice as the kids Kidz Gear headphones.  Says a lot if you ask me.  Truth be told I snuck them and used them to watch Downton Abbey one night on the laptop. The sound quality really is very good and they are quite comfortable too.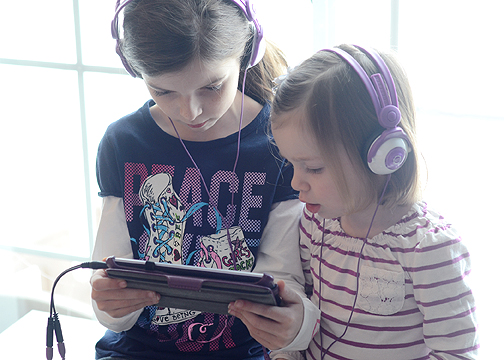 There are also some really great accessories available from Kidz Gear. They sell a splitter cable so that more than one child can listen to one device at the same time. How handy is that? Now two of the kids can say watch a movie in the car together and we don't have to also listen to it!  One other really, really nice feature of the Kidz Gear headphones is they have a 4.5 cord. The kids don't have to be sitting very close to either each other or the device they are using!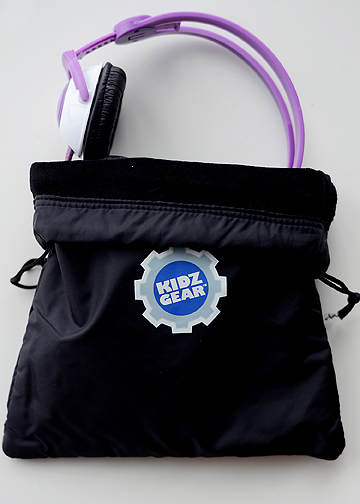 They also sell a headphone carrying bag to protect your headphones. I try to be really honest and when I first saw the bag I was skeptical at how nice it would be. I've seen other bags for protecting things and they have often been of poor quality.  I was pleasantly surprised upon inspection of the bag how nice it really is.  The bag is lined with a velvety material and the entire bag has a nice sturdy feel to it. The drawstrings make it perfect to be able to be hung up somewhere on a hook in a child's room for safe storage.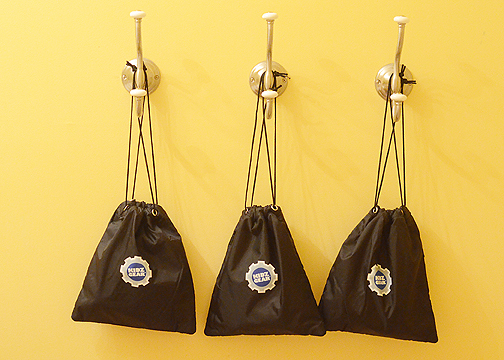 What We Love About The Kidz Gear Wired Headphones
~Volume Limit
~Super long cord -4.5ft!
~Nice cushiony earphones that actually fit kids ears
~Really good sound quality!
You can learn more about Kidz Gear Headphones here or purchase here. These are a great price at under $20 a pair.
disclosure: headphones were sent to facilitate this review, no other compensation was received. aff link included in post