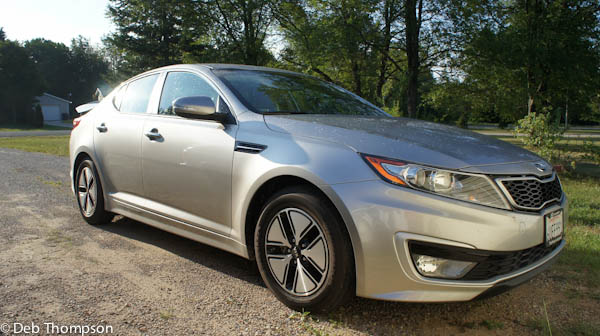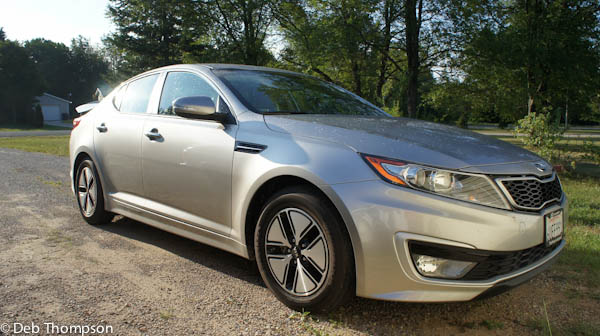 Looking for a sporty little 4 door sedan to tool around in? How about something that moves fast, but still has excellent safety ratings? Want to one up that? How about a hybrid car that is all that and more?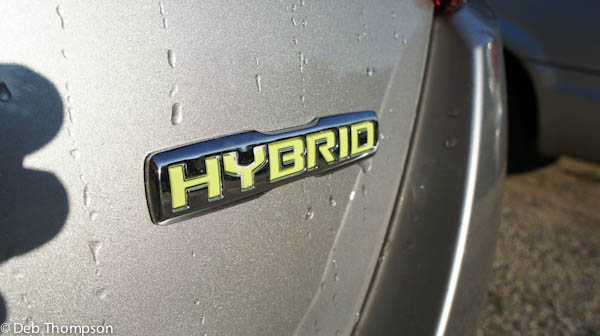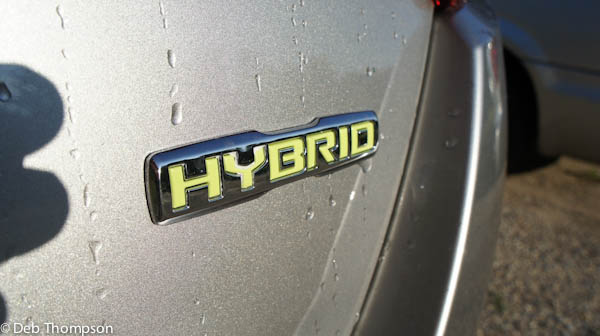 Last week I traveled around in the new Kia Optima. A hybrid car that is actually considered a mid-size sedan, but I think it looks pretty sporty. Â To really understand how this car runs and rides we decided to take it on a road trip to Ohio.
First stop Cedar Point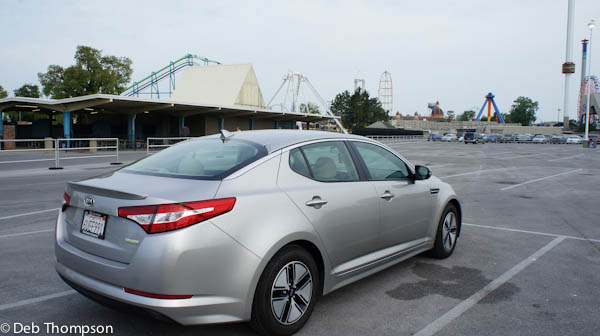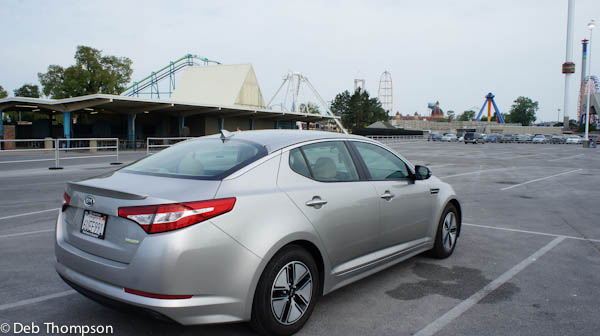 Second stop African Safari Wildlife Drive Thru Park (yep, we drove the Kia through the wildlife)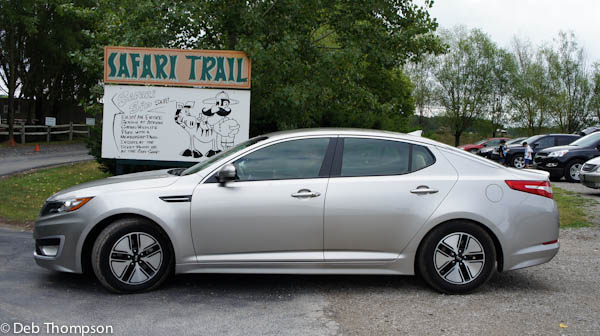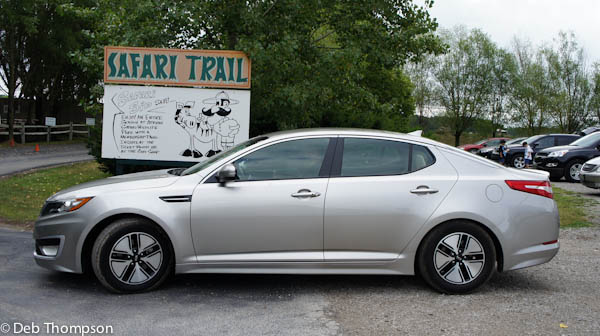 I drove the Optima for almost a 1,000 miles and really got a feel for how the car handles. There are certain things that make me like one car over another. How it handles on curves, quick acceleration, noise level inside the car, leg room/comfort and gas mileage.
Curve Turning Performance
I adore how the Kia Optima hugs curves. It stay nice and tight on the inside of the corner without making me feel like I'm going to go up on 2 wheels. I tried corners at various speeds and even on the freeway at 75 MPH, where I've had to slow down in other vehicles, the Kia nicely moved into and out of the curve with no hesitation and without a change in speed.
Quick Acceleration
Now, I in no way endorse exceeding the speed limit, but I really needed wanted to see how quickly the Optima would move. Let's just say it went from 0 to really freaking fast in no time at all. Quick acceleration is important if you need to quickly get out of the way of other vehicles.
Interior Noise Levels
In some cars it difficult to carry on a conversation with the people in the back seat while you are driving down the road due to all the road noise inside the car. I did not experience that in the Kia. It was nice to be able to drive and chat with the family without having to yell.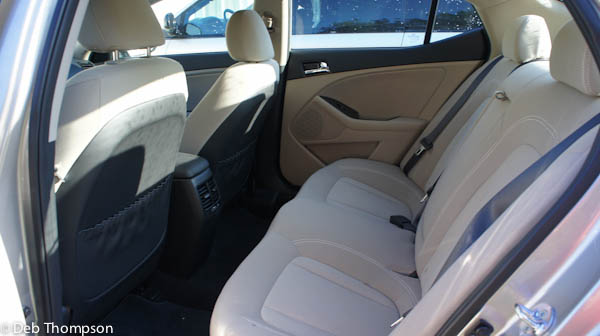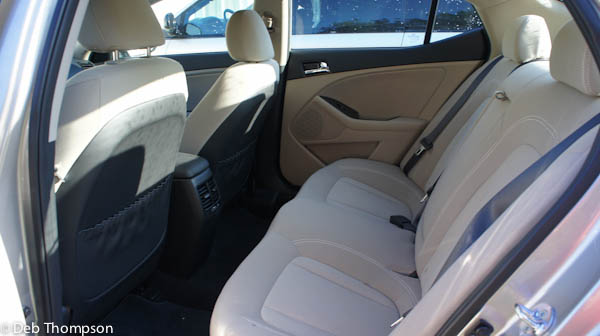 Leg Room/Comfort
When we all travel I need everyone to be comfortable and that means having appropriate leg room. My husband stands at 6'2″, my son a few inches taller and my daughter is about 5'8″…its a family of tall people (well, except for me). Leg room matters. Leg room in the back seat matters even more. I was pleasantly surprised at the amount of leg room available.
Gas Mileage
The car arrived with a full tank of gas and we only put an additional 20 gallons of gas in the Kia to drive the 1,000 miles. Our average miles per gallon was 35. In my vehicle I average about 20 miles per gallon. I loved the additional mileage the Kia Optima gave us.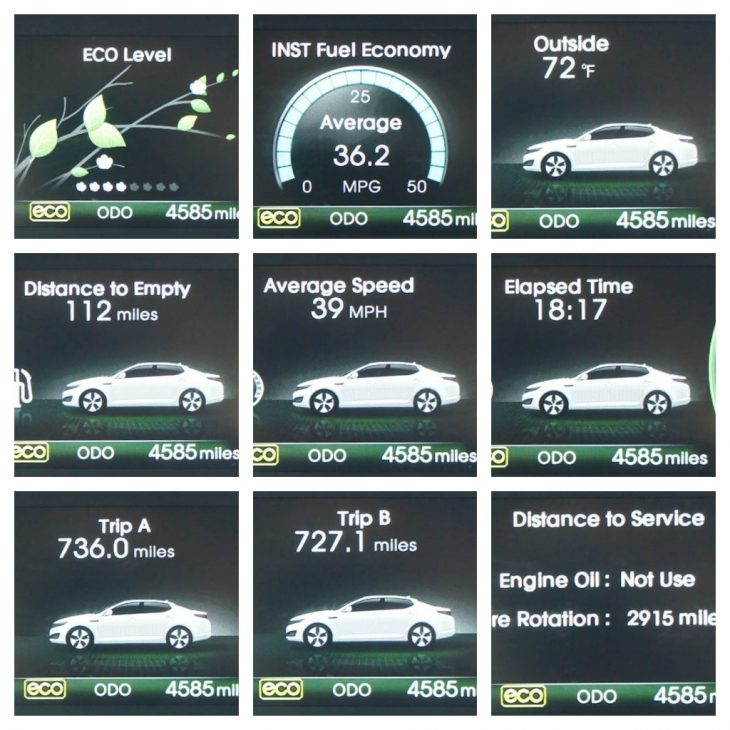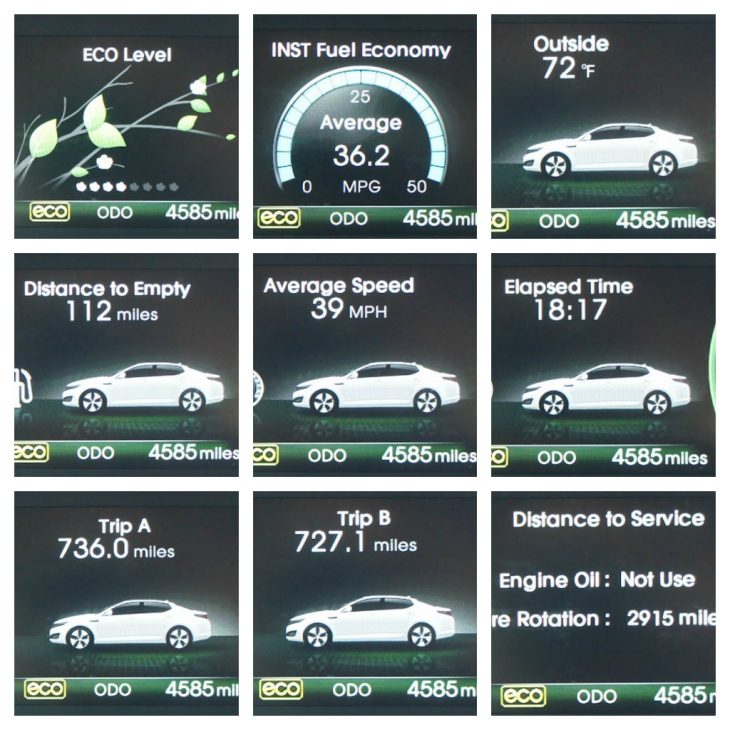 The Kia has a nice dashboard screen that you can scroll through to see how the car is performing. Everything from ECO, miles per gallon, and when you need to have the oil changed next.

The controls to scroll through the screen are at your fingertips on the steering wheel along with controls for radio, cell phone and cruise control. I really like having the controls on the steering wheel. It's a nice safety feature and allows me to keep full control of the car while answering the phone or changing the radio station.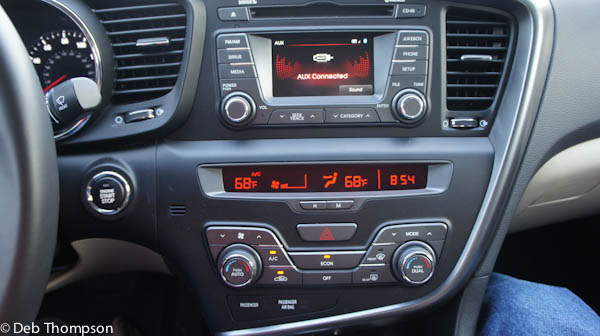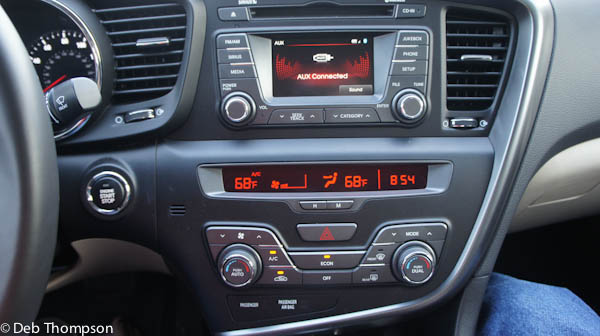 Speaking of radio stations the sound system is very nice in the Kia. AM/FM, CD, Sirius, and you can sync your iTunes from your iPhone/Pod to the system. Â Load up your favorite tunes, start up the car and head out on the highway to enjoy one heck of a ride.
disclaimer: Kia provided me with a Kia Optima to drive for a week to facilitate a clear and thorough review.