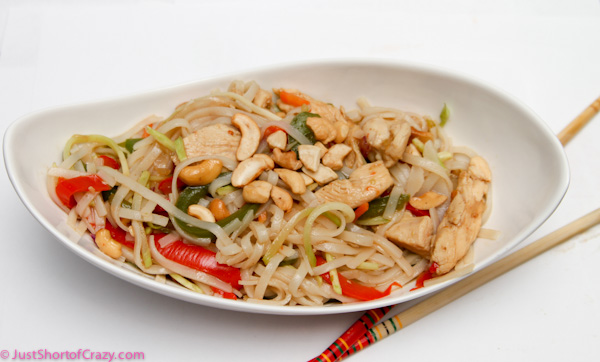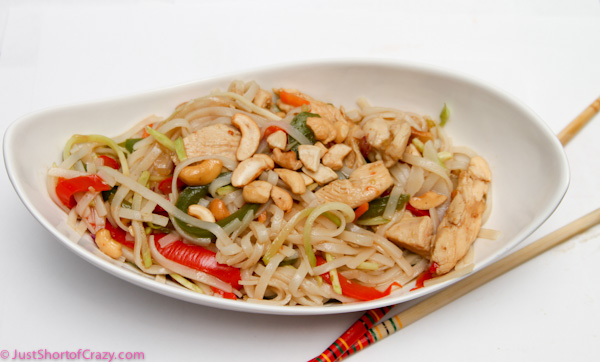 Remember the lovely Kia Sorento that I test drove? Part of the agreement was to create a Kia inspired recipe. My idea: Kia Asian Noodles, because it's a fast dish to make (fast like the Sorento) and fun to eat (like the Sorento was fun to drive).
This goes from stovetop to dinner table in about 30 minutes. Can't beat that!
Kia Asian Noodles Recipe
Kia Asian Noodles Ingredients
1T. olive oil
1 pound chicken breast, cut into strips
1 green pepper, cut into strips
1 red pepper, cut into strips
1/2 medium onion, cut into strips
3/4 C. Asian Seaseme Dressing
4 T. soy sauce
1/2 t. garlic powder
2 C. broccoli slaw
1/2 C. cashews
1 package of rice noodles
Kia Asian Noodles Directions
Heat olive oil in large skillet. Add chicken and stir fry 5 minutes or until done.
While the chicken is cooking, cook the rice noodles according to package directions.
Add peppers & onions to skillet. Stir fry 8-10 minutes or until vegetables are at desired tenderness.
Stir in dressing, soy sauce, and garlic powder. Cook 3 minutes. Turn heat to low & gently stir in rice noodles. Remove from heat and mix in broccoli slaw and cashews.