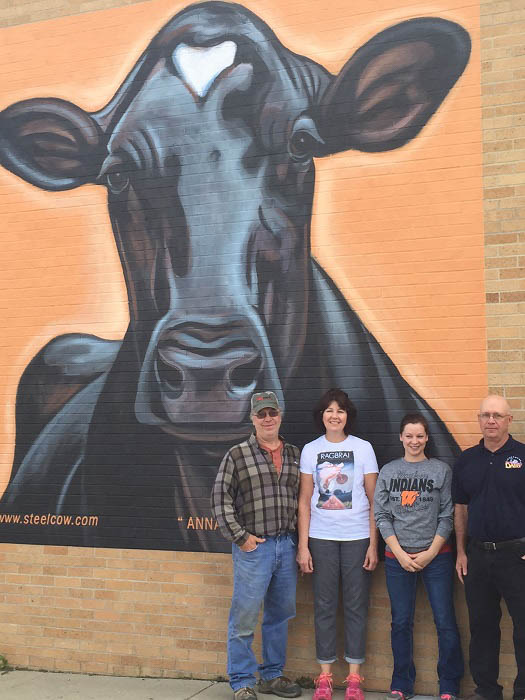 Meet Anna, she loves country boys and pickup trucks… she's really just a farm girl at heart…
One of the best surprises about my visit to Decorah, Iowa was finding Steel Cow murals on many buildings in the greater Decorah region. The murals, ranging in size from 9 feet to 25 feet, pop up in the most unexpected places. The story behind the Steel Cows is even more fun then discovering them in the first place.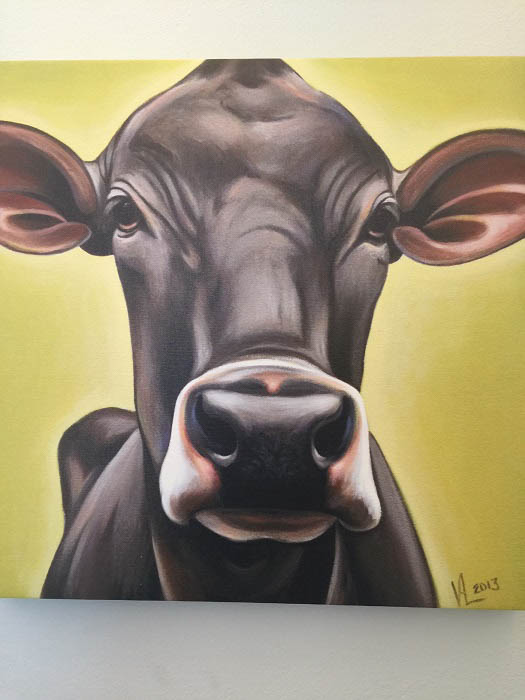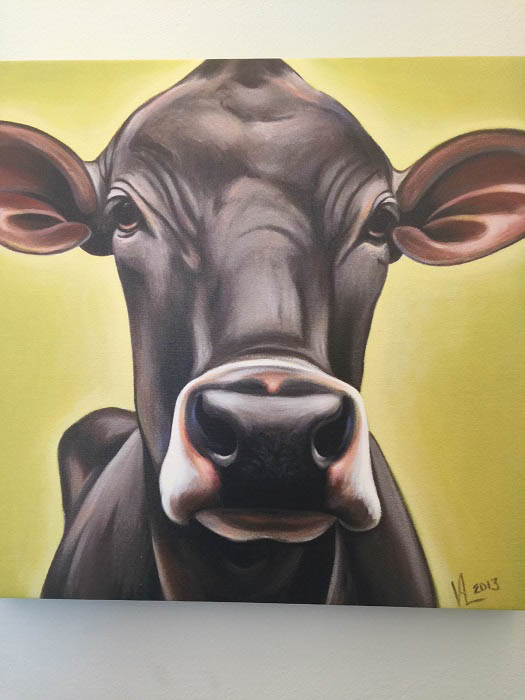 Meet Zoey, sbe love farmers markets and fresh vegetables.  She usually wears funky eyeglasses.
Created by Iowan artist Valerie Miller, the Steel Cows each have their own personality and are painted portrait style to give each cow individual attention. Each cow is a delight and their creator uses a special kind of artist magic to bringthem to life. I didn't have the opportunity to meet Valerie, but from the stories I heard about her she considers each of these cows one of her girls and treats them as such. She creates stories about each of them and talks about them as if they are her girlfriends. I have to say I love her passion for her art.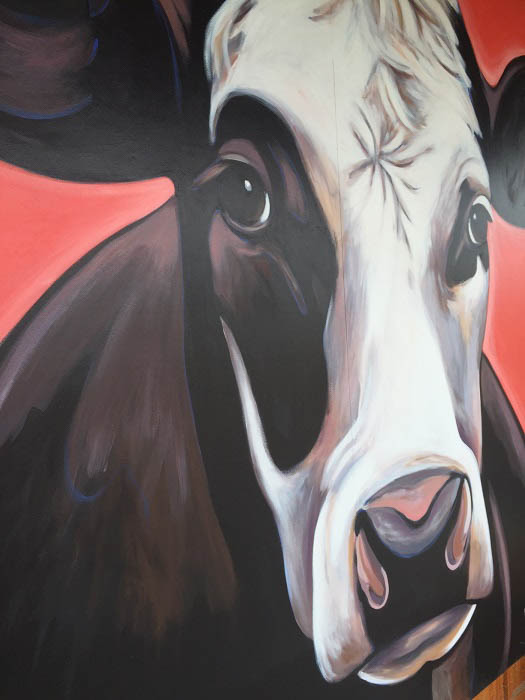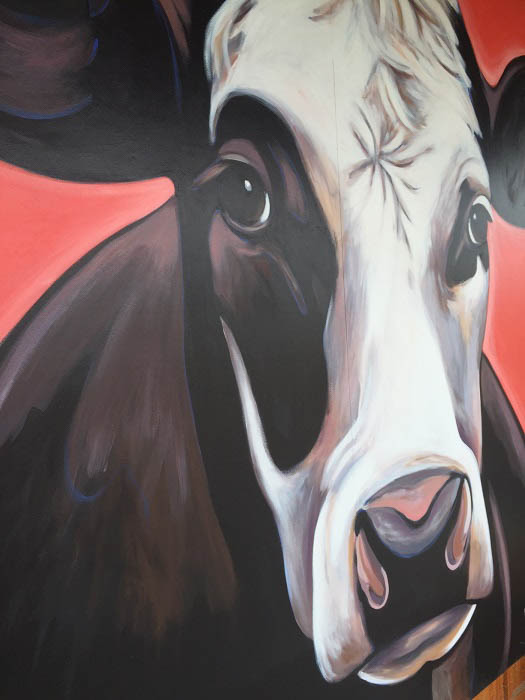 Meet Jackie, she love the smell of the mountains in the summer. She dreams of open spaces and loves the west.
The town of Decorah and the greater region has embraced the Steel Cows. During my visit I spotted Steel Cows in the most surprising places including Culvers, Oneota Food Coop, Seed Saver Exchange, and WW Homestead Dairy. It was so much fun discovering cows along my travels. I know that there are a number of other Steel Cows in the area. I wish I would have had more time to search out more of them. Although, having more time seems to be a common theme when I travel. I guess it just gives me an excuse to go back.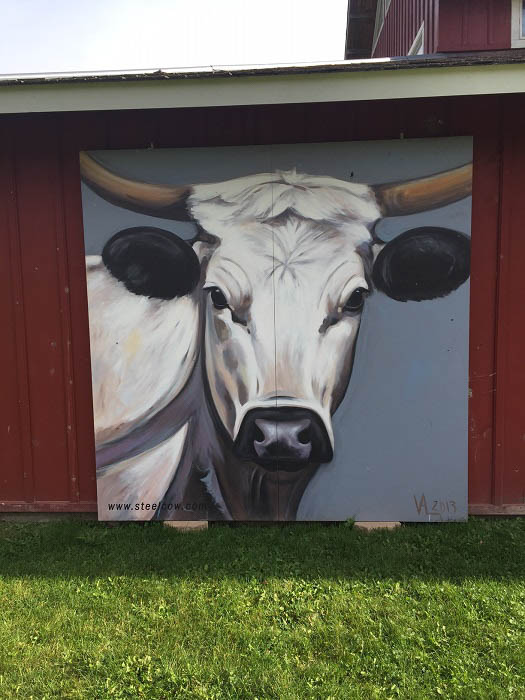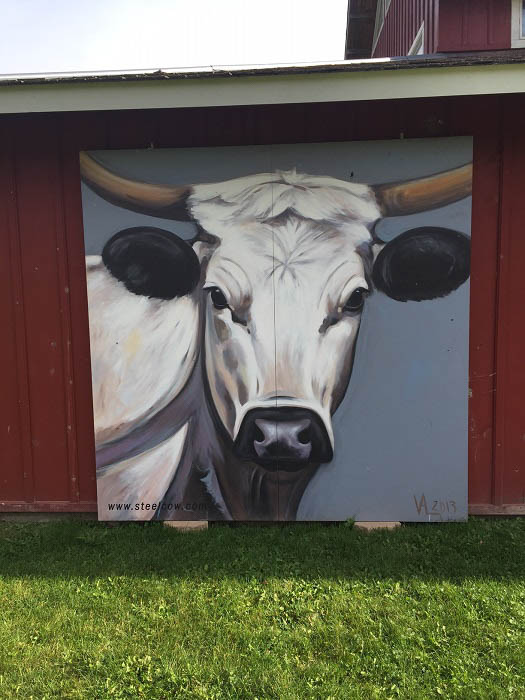 Meet Lina, she likes to be first…and she LOVE beans…
Now, I know you all want a Steel Cow of your own. As luck would have it, Valerie offers Steel Cows in home print size as well as coffee mugs, cards and tote bags. She's even added a few other animals to her line up including Walter the Pig (yay!!) and Benton the Rooster. I'm thrilled about Walter because he'll match the yard pig I searched so diligently for a couple years back and well, any Rooster is a fun reminder of my favorite blog post ever, And That's Why You Should Learn To Pick Your Battles by the ever hilarious, The Bloggess.
By the way, if you've been married for any amount of time, I think you'll appreciate the above linked blog post. Warning….there may be a few cuss words dropped during the post so don't let the littles read along with you and be prepared to laugh, a lot.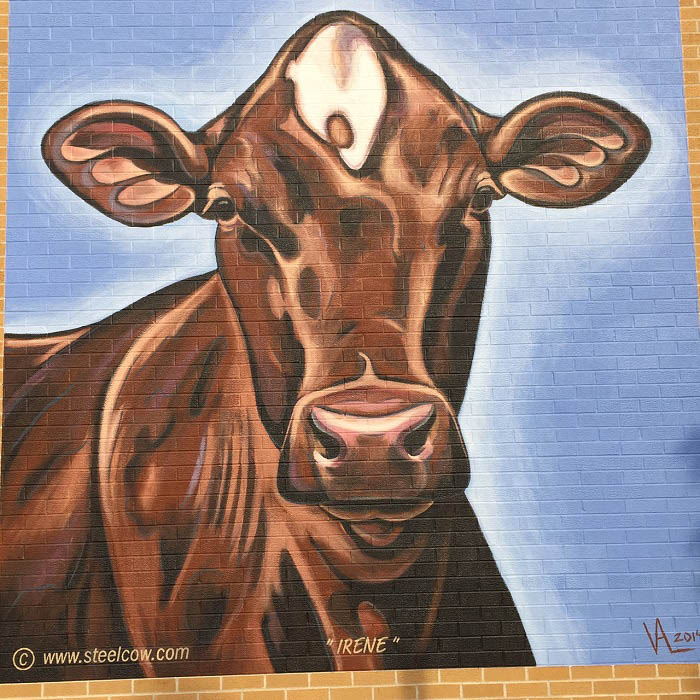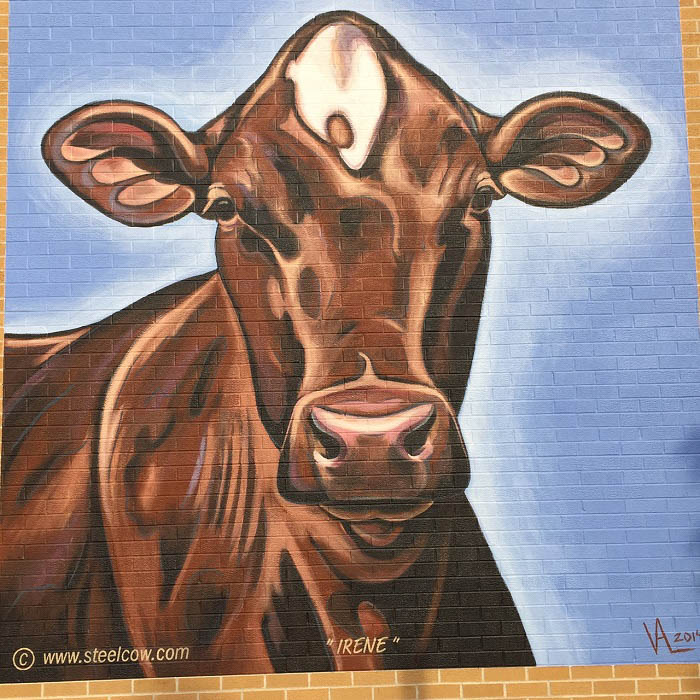 Meet Irene, she enjoys bowling and making pillows. Sunflowers are her favorite flower.
I hope you have the opportunity to visit Decorah soon. I'll be writing more about this unassuming town in the middle of America's heartland. Who knew all the discoveries I would find in this little corner of Iowa? I love that destinations still have the ability to surprise me. It just proves the point that there is still so much to discover across America and reaffirms my decision to travel as much as possible.
When you visit Decorah be sure to take your camera and see how many Steel Cows you can find as you explore the area.
A few other articles for places to visit while you are in Iowa
Family Travel to the Quad Cities
Le Claire, IA, Home to American Pickers
Learn more about Steel Cows and Decorah here:
Steel Cows by Valerie Miller
Disclaimer: I was a hosted guest of Iowa and Visit Decorah. All thoughts and opinions are my own.