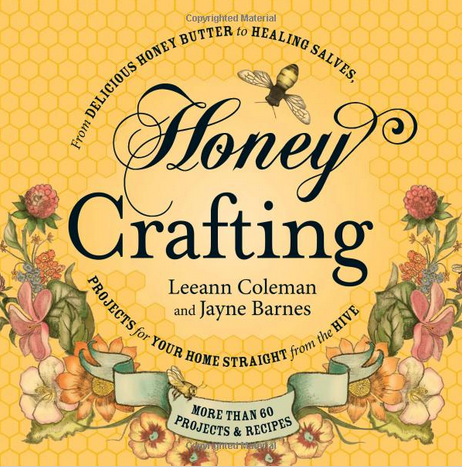 i received a free copy of this book to facilitate the review.
I recently came across a book called Honey Crafting by Leeann Coleman and Jayne Barnes. I really enjoyed the book and the projects and crafts offered in it, as I am a big fan of using organic and natural ingredients as much as possible.
There is not a section in this book that I did not fall in love with, it is divided into three different areas crafting for you home, body and kitchen. In the home section they offered a variety of ways to make different candles and ornaments for your home. My favorite section by far is the body section as the authors offer up a different types of soaps and scrubs you can make for the body as well as lip balm body creams and healing salves. Even better is their section on cold and healthy heart syrup as it gives you an alternative to the cold syrups in the store, which half the time you can never read the ingredients.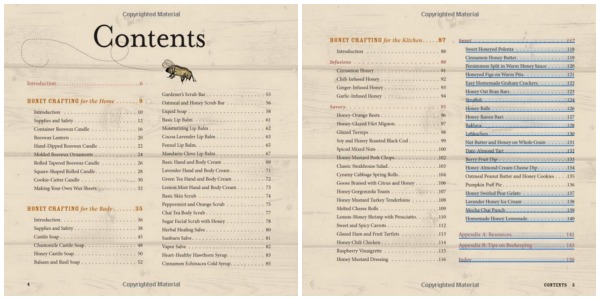 In their last section crafting for the kitchen oh yummy is all I can think. Offerings of infused honey, savory and sweet recipes  just make your mouth water. One of my favorite recipes is the Honeyed Figs on Warm Pita, not only does it taste good but it is not bad for you. The recipe calls for yogurt, pita bread, honey and figs. Let me say the minute you add figs to a recipe I am there. Essentially what you do is take the yogurt and remove the water creating cheese. Using a warm pita spread the cheese add honey and figs to the top. Oh is very good and if you want to make it just a little bit better add some crispy bacon to the top. It is so yummy.
Honey Crafting: From Delicious Honey Butter to Healing Salves, Projects for Your Home Straight from the Hive is available at Amazon.com for $12.07. It's well worth the investment.