Today in part 2, see part 1 here, of our holiday games guide, we are going to go over games for a slightly older but not necessarily more experienced gaming crowd (we will go over those in part 3). These games will be targeted towards a slightly older crowd thematically or have a slightly higher learning curve, in my opinion. Now, as I said in the last guide, I did not personally get a chance to play all of these games at Gen Con. However if I didn't get a chance to play them I at least was able to see them played and/or talk with people who did play them.
Holiday Games Guide: Costa Rica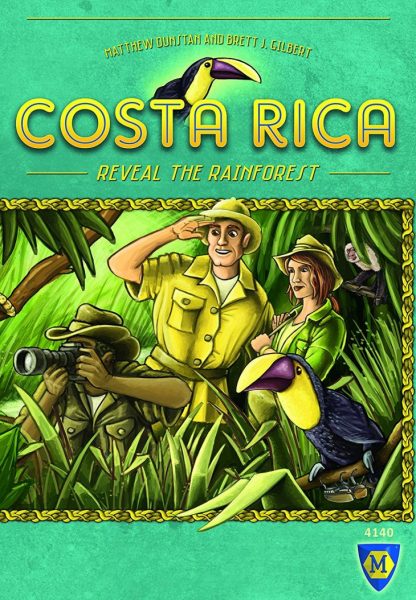 This is a risk management game from the same company that brought us the ever popular game "Settlers Of Catan", so you know it has to at least be kinda fun. This is not a crazy in-depth game but because of the risk management aspect I decided to include it in this list rather than the first one.
In this game you take on the roll of a scientist exploring the vibrant rainforests of Costa Rica. The game board itself consists of 3 different types of tiles: mountains, marsh/water, and mountains, that you arrange randomly every game. Each turn, each player gets to lead an expedition around the board with the intention of flipping over tiles to "research" the local wildlife, each type of tile is associated with certain animals or insects, but beware if you reveal mosquitoes they cause you to fall ill and fail the expedition.
Another challenging part of the game is that as you're leading the expedition each other player gets a vote in whether you carry on or not. If someone chooses not to carry on they actually end up reaping the rewards of that current expedition rather than the party leader. Great way to stab your friends in the back don't ya think? The end goal of the game is to collect as many matching groups of critters as you can. Each type of critter is also worth a different amount of points so make sure you pay attention to where you're exploring and try not to let others steal your credit.
Holiday Games Guide: DeadFellas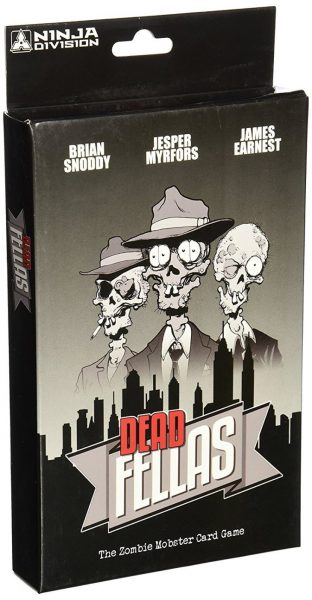 This is a quick and fun game where each player takes on the role of a zombie mob boss who is trying to send his goons to "whack" the rival mob boss. For this game you set 2 decks of cards within reach of all players. One deck is the Mafia deck which includes a few different card types: weapons, disguises, and getaway vehicles. The other deck is the Mook deck which is where you will recruit your goons. Now in order for your goons to be able to make someone "sleep with the fishes" they're gonna need 3 things: a weapon, a disguise, and a getaway vehicle. Once you have these things you add up the total number of bullets on those cards and are able to whack anyone with the same number of bullets or less. However, whenever you do that you have give up one of the pieces of evidence (mafia cards) in order to avoid being caught. Choose wisely though, because as your number of bullets decrease you are in turn easier to get whacked.
Now if an Italian themed Mafia Zombie game sounds at all fun to you, or someone you know, this game can be picked up for really cheap.
Holiday Games Guide: Harry Potter Hogwarts Battle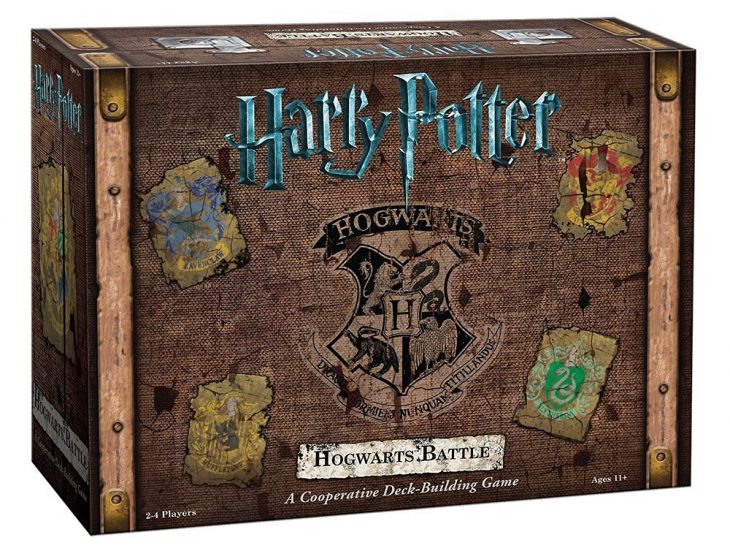 This was one of the most anticipated games at Gen Con this year, which is awesome, but meant that next to no one was actually able to pick up a copy of the game. The sales were limited to 50 a day over 4 days and were first come first serve. This meant that they sold out each day within about 10 minutes of opening and only 200 out of approximately 60,000 people actually got a copy. I was not one of them in case you were wondering. To make matters even worse, they also put a limit on the demos for the day. Guess what, I'm not waiting in one line all day to maybe get to demo a game.
At a convention with that much to see as it is, not happening. Though I did not demo or buy this game I was able to talk to some people that picked it up. That feedback and the fact that it's Harry Potter made me want to add it to this list.
This game is a cooperative deck building game, which means (for the cooperative part) that instead of playing against each other you are playing against the game itself and (for the deck building part) you start with a basic deck and buy resources from the game to increase the strength and size of your deck as you go.
Each player takes on the role of 1 of 4 characters (Harry, Ron, Hermione, or Neville) with which you try to defeat the forces of evil that would work against Hogwarts. The game is divided into 7 "books" with increasing levels of difficulty for you to play through. Now what I gather from talking to people is that each book is roughly based on its novel counterpart, which is pretty cool right.
Another cool feature of this game is that it's designed with non-gamers in mind. What that means for this game is that the first book or 2 are designed to teach non-gamers the basics of a deck building game. While this is a cool feature it may also be a turnoff for people who don't want part of the game to be a tutorial, which is why it's on the part 2 list rather than the part 3 list.
However, I personally feel that, if you already know how to play deck builders and enjoy Harry Potter it's a very small thing to get over. I mean I know how to play deck builders, enjoy Harry Potter, and plan on getting this as soon as I have a little extra change in my pocket.
Check out the game here.
Holiday Games Guide: Exploding Kittens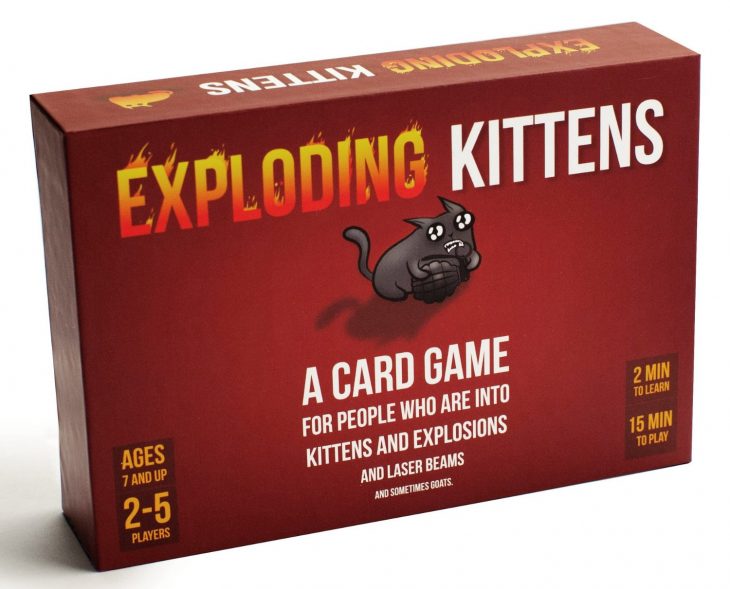 This game did not release at Gen Con this year, however, it did have a new expansion release there called Imploding Kittens. This is a very quick and simple card game that is also a blast to play (couldn't help myself, sorry). The goal of the game is, simply put, to not explode. Within the deck are a number of exploding kitten cards equal to one less than the number of people playing, if you draw one you lose.
The only way to not lose when you draw those cards is to play a defuse card, which stops you from exploding and allows you to put the Exploding Kitten anywhere back in the deck. Other aspects of this game include go fish-esque card matching (if you play a matching pair of cards you get to steal a card from an opponent) and uno-esque cards such as skip and attack (think draw 4).
While the base game is suitable for a younger age group you can add a NSFW expansion pack, one card of which features a crack smoking owl, that will make it more entertaining for adults. This game is fun for a quick little pick up game or to burn time at the beginning of a game night while you wait for your friends to get their shit together.
If you think you might like making kittens explode, check out Exploding Kittens here.
Holiday Games Guide: Imhotep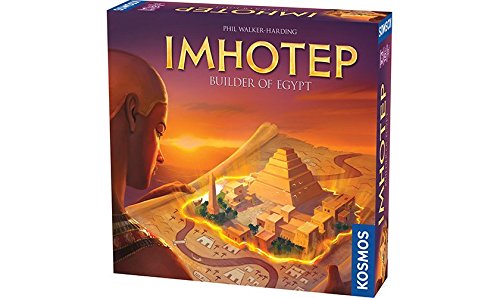 This was one of the games I did actually demo at Gen Con this year. Albeit, a very fast demo that didn't really give me an opportunity to test the game but I knew going into the Con that people were eying this as one of the better games of the show. The game is obviously Egyptian themed and is based on resource management.
In Imhotep you want to be the best architect that you can be, while also sabotaging your fellow architects. To do this you and your opponents must transport stones from the quarry to 1 of 5 building sites. Sounds easy, no? The real challenge comes with the placement of the stones, not only on the boats, but also at the construction sites themselves. How you place your stones in the boat will directly affect where they end up in a construction site but you may not always know which site they will end up at. Any player may choose to sail any of the loaded boats to any of the available sites regardless of whether they actually have any of their stones on said boat.
If you think you have what it takes to be the best Egyptian architect there is, you can find out more here.