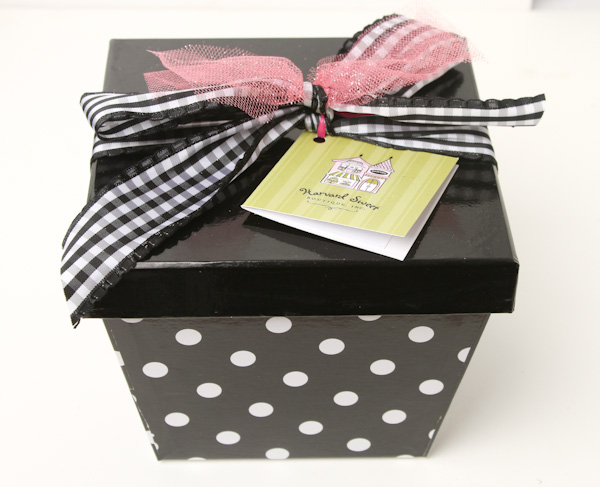 Harvard Sweet Boutique is a gourmet all-natural dessert company that offers hand-made treats for all occasions Artisan brownies decadent cookies, and melt-in-your mouth toffee is all available online and can be shipped to friends, family and even business associates for any occasion. Harvard Sweet Boutique even offers low-carbohydrate and gluten-free treats for those with special dietary needs.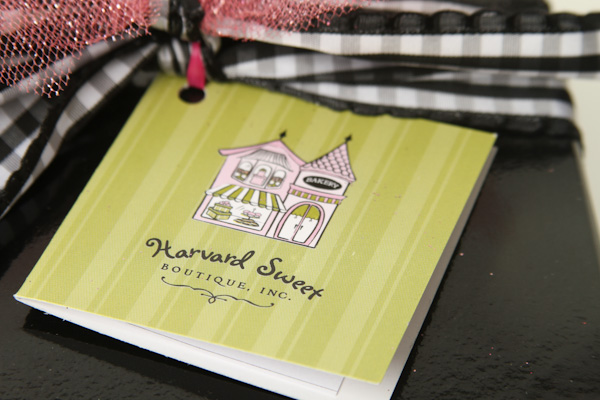 I was lucky enough to be sent a delightful box filled with all kinds of delicious goodness. As soon as Em saw the box she yelled "DIBS" and then said "It's all about the packaging and they have done it right!" Yes, I've trained her well. We both fully believe that a well packaged product is half the fun and were thrilled to see this black and white box and ribbon with pink accents.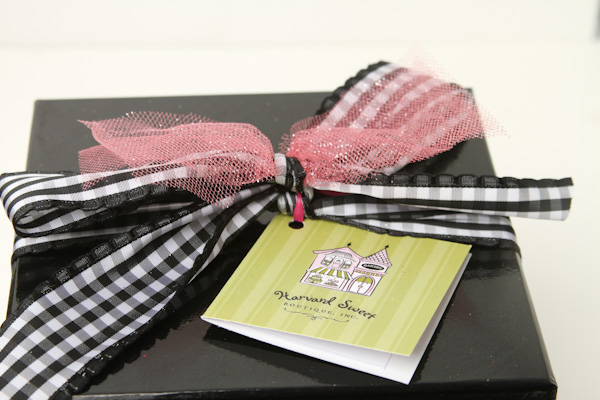 Opening the box is a treat as well. Pretty folded pink tissue paper awaits you to discover the treasures underneath. Anticipation is building on what we will find…..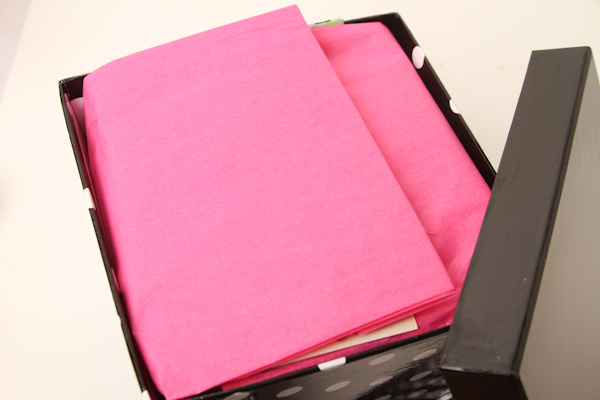 Pulling back the first fold of tissue paper and we find a photo card about the company and treats.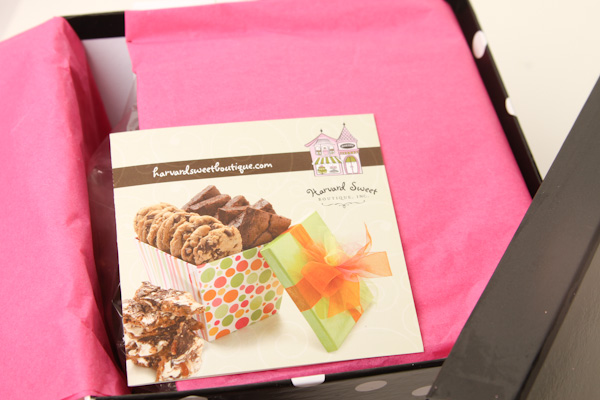 Unfolding the second layer of pink tissue paper reveals all kinds of yummy goodness. Tied up neatly with a pink bow is a bag filled with cookies, brownies, and toffee.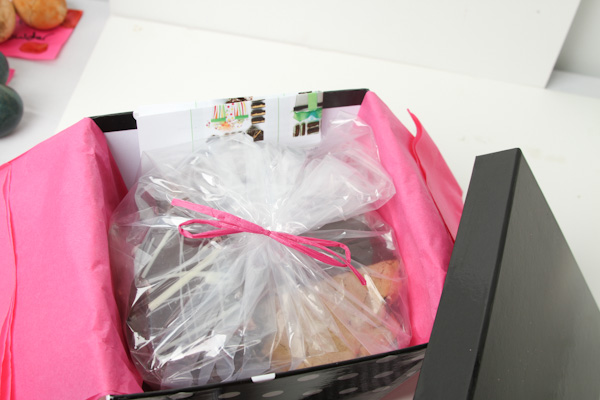 Each treat is individually packaged to maintain its flavor and freshness.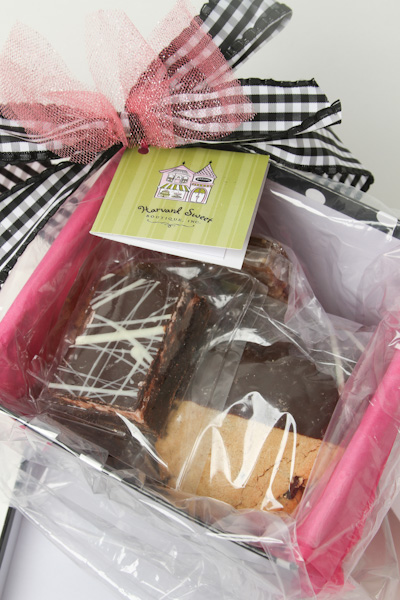 These are the treats that were in the box….
Are you starting to drool??? Now, you all know that, as a rule, I've been avoiding all sugars and carbs, but Em & Alan still indulge, plus I requested a few gluten-free option so we could have my sister's opinion as well.
I was ok with saying no to everything in the box until I spotted the white chocolate macadamia nut cookie. Don't get me wrong. It all looked great, but I've had my eye on the prize of losing a few more pounds before going to Italy, but once I spotted the white chocolate macadamia nut cookie resistance was futile.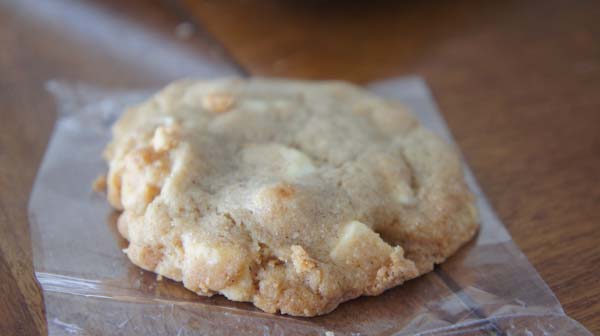 That being said, I ate the cookie and savored every bite and I'm not ashamed to admit it. Everything in moderation, right?
This cookie was everything I thought it would be, chewy with just the right amount of chocolate and sweetness. I was thanking my lucky stars that only one of those arrived because it would have been cruel to be taunted by a second one.
Alan & Em taste tested the other treats for me and found them all to be very good. My sister gave the gluten-free option two thumbs up. If you thought baked good couldn't travel well and still arrive tasting good and fresh think again, because Harvard Sweet Boutique has perfected the shipment of baked goods.
Shopping at Harvard Sweet Boutique is the perfect solution if you don't want to bake, but still want to send a gourmet baked treat to someone. When you shop at the online site you can shop by occasion, price, product, flavor or best sellers. There really is something for anyone on your gift giving list OR, more importantly, something for you to treat yourself!
Be sure to stop over at HarvardSweetBoutique.com to see their selection of delicious gourmet baked goods.
Enjoy!