October is absolutely our favorite time of year and Panama City is one of the greatest places to celebrate the Halloween season and get in the Halloween spirit.
From haunted houses in hauntingly historical buildings to bicycle riding witch parades, you'll find the spirit of Halloween around every corner.
You're not going to want to miss a thing!
7 Unique and Fun Ways to Celebrate Halloween In Panama City, Florida
Stroll Around Historic St Andrews and Downtown Panama City
Downtown Panama City and Historic St. Andrews are two must-see places to get you in the Halloween mood.
Local businesses don't take Halloween in Panama City lightly, decorating their storefronts early in October for all to enjoy.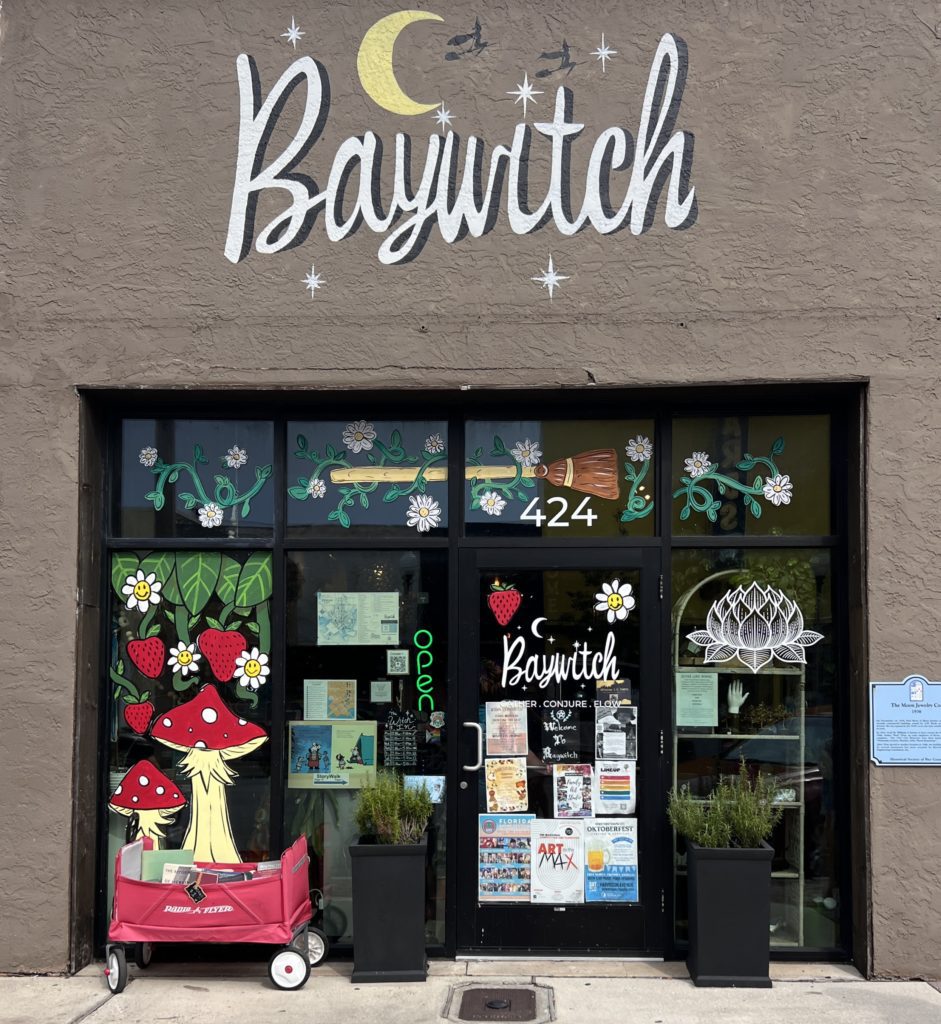 Visit A Mystical Store
Expand your knowledge about all things magical at one of the metaphysical boutiques in Panama City, Florida.
From crystals to tarot and everything in between these shops are perfect for the curious to the practicing witch.
There are four great shops to visit:
Baywitch – 424 Harrison Avenue
Located in downtown Panama City, Baywitch was born from the friendship of two witchy women and their love for all things magical and wondrous.
Their mission is to hold a space for true connection, magic and movement, together.
They have witchy gifts, organic tea & herbs, jewelry, crystals, books, hand-crafted & Fair Trade items, and local art.
Spellbound offers the largest selection of products, tools, ingredients, books, and resources for all your magical needs. Whether you are a practitioner or walking a spiritual path, their staff is dedicated to helping you on your journey.
Their apothecary is stocked with fresh, organic herbs and they also offer in-house black teas, herbal teas and elixirs, poured hot and ready to serve, or boxed for home brewing.
They also have aura photography and reiki healing.
Note, aura photography is so cool and I highly recommend.
In Spyrit Metaphysical – 401 East 23rd Street, Suite G
At In Spyrit Metaphysical you'll find metaphysical supplies, herbs, stones and more for healing, spells, rituals and ceremonies. They also offer paranormal counseling.
They hand-select the best healing crystals, healing stones, herbs, spiritual supplies, woods, Palo Santo, sage, spiritual mini kits, and more. They'll even make you a custom kits tailored to your exact wants and needs.
For you or for a gift they have homemade bath salts and scrubs created with the safest and best ingredients.
And, if you have a need they also offer paranormal counseling.
Located in charming historic St. Andrews you'll find a beautifully curated store. A fantastic selection of crystals, candles, jewlery, and oils.
The store is complete with everything from hand-crafted artisanal wares to spiritual support.
Be sure to watch their facebook page for special events.
Get An Oracle or Astrology Reading
If you're in Historic St. Andrews and you're interested in a reading be sure to stop by Gypsy Willow.
Not only is this store absolutely charming Nicky Starr has a booth for Oracle and Astrology reading. I've not personally had a reading by Nicky, but if I was in the area I would definitely stop by and let her give me an Oracle reading.
After your reading, if you're interested in learning more about oracle readings swing by one of the stores listed above and pick up a deck of cards.
Witches of St. Andrews Charity Bike Ride
Don your witch costume and witch hat and join the witches of St Andrews as you ride your bike through the historic streets of St. Andrews.
In addition to bring a little magic to town the true purpose of the witches bike ride is to raise money to fight pancreatic cancer.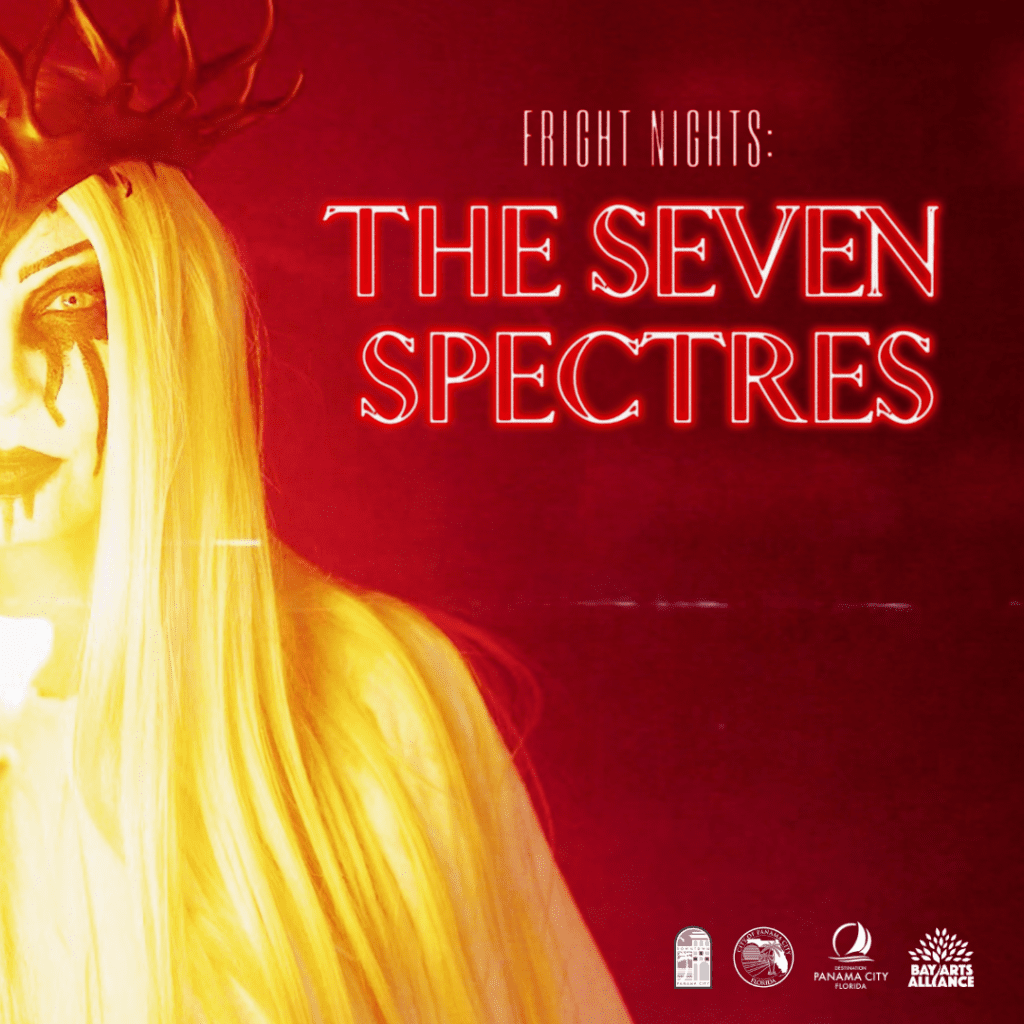 Fright Nights | Center for the Arts Haunted House
Fright Nights
returns for its second year and the whole Center for the Arts will be converted into an immersive haunted experience during October. The center is transformed into the Raven Queen's Carnival of Souls, an immersive haunted house experience.
Brace yourself for heart-pounding scares, spine-tingling thrills, and unforgettable moments of pure terror. Brave souls can step into the past and allow yourself to be immersed in a world of horror and insanity.
From the moment you enter, you'll be surrounded by a meticulously crafted atmosphere and a captivating storyline that will send shivers down your spine.
Every corner holds a new terrifying surprise, as you navigate through haunted corridors, encounter ghastly creatures, and face your darkest fears. FRIGHT NIGHTS is not for the faint-hearted – it's a pulse-pounding journey into the depths of horror.
This experience is recommended for ages 13 & up. 12 & under must be accompanied by an adult.
Fright Nights will be held on the following dates:
Dates:
Oct. 13 – 14
Oct. 20 – 21
Oct. 26 – 28
Oct. 31 (HALLOWEEN Blackout Night!)
I have a feeling October 28th and October 31st will sell out!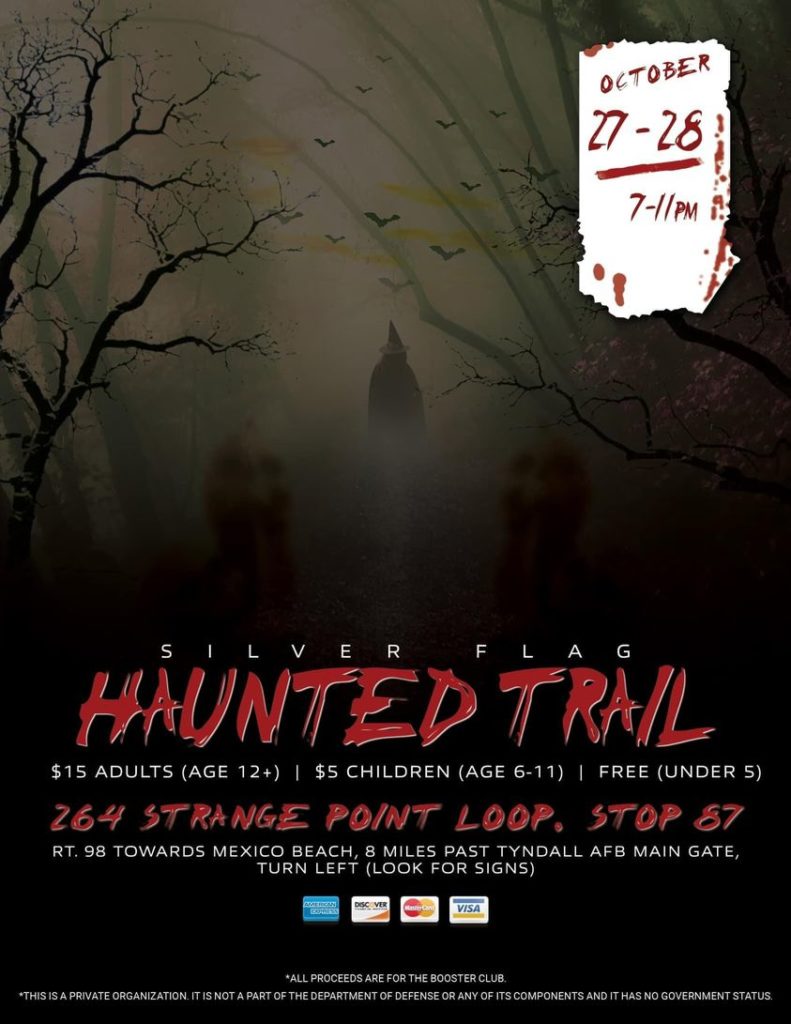 Silver Flag Haunted Trail
Enter at your own risk because this is not for the faint of heart. The Silver Flag Haunted Trail is two nights (October 27-28) of screams, chills, and thrills for anyone ready to conquer their worst fears.
Ask any local and they'll tell you that this is one of the scariest haunted trails they've ever experienced, and an absolute must if you're celebrating Halloween in Panama City.
If you're not too scared to eat, food trucks will be on site!
Create Your Own Walking Ghost Tour
While Panama City doesn't have an organized ghost tour we know of a few haunted buildings and recommend making your own downtown walking ghost tour. You can find the full haunted stories here or buy a copy of Haunted Panama City.
Martin Theater – People claimed to have heard footsteps in the empty halls and would get glimpses of shadowy figures out of the corner of their eyes. One photographer even captured a photo in the mirror of a figure standing right behind him. The stories go on with these sightings in the Martin Theatre.
Old County Jail – The Panama City Center for the Arts now sits at this location. People have claimed to have heard footsteps pacing back and forth inside the building in what used to be the prison cells. People also have told of a feeling of being watched and hearing voices.
Millies Café – There have been many sightings of Millie's hauntings. A ghost, some say the spirit of Millie, the owner's mother, has been spotted inside of the café several times from outside. The owner, Dave, has witnessed several of the café spoons fly off the racks across the room.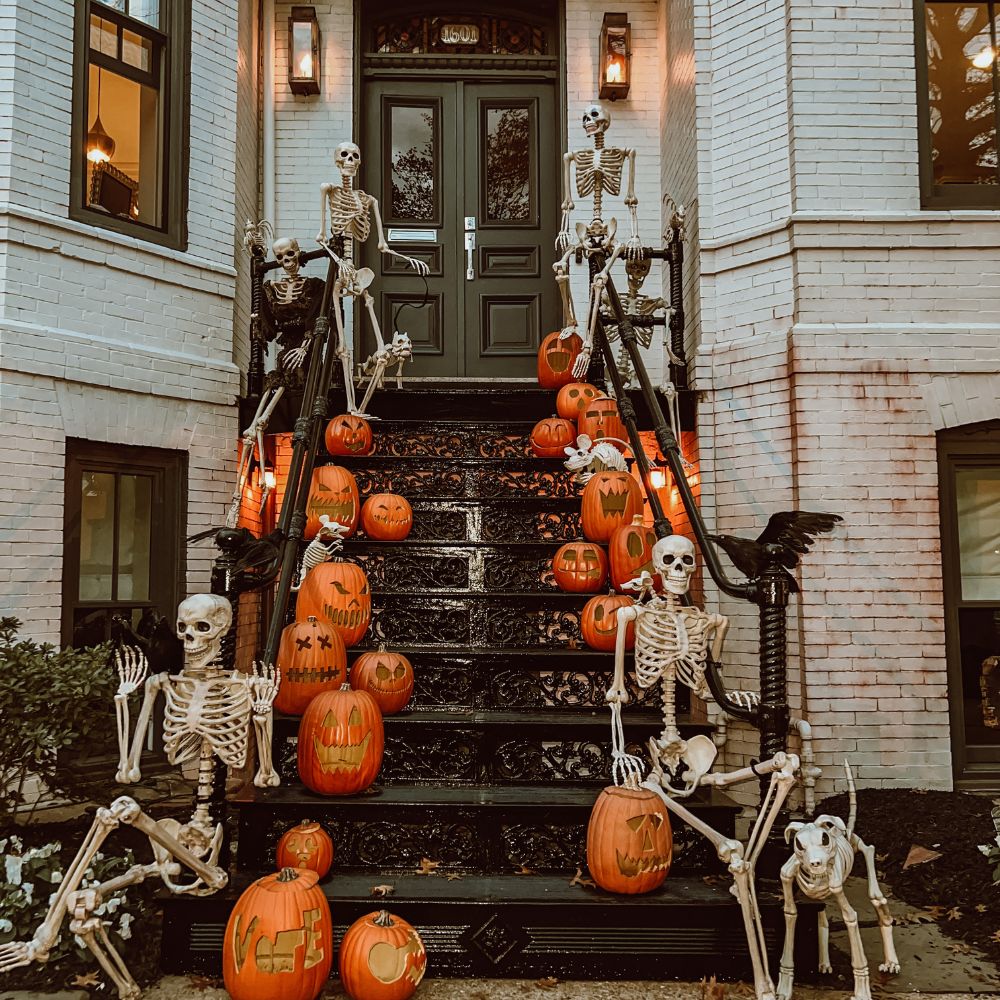 More Halloween in Panama City Activities
There are a number of other Halloween events happening in October in Panama City.
Be sure to check out Destination Panama City's event calendar to find everything from trunk or treats to Halloween parties for the whole family.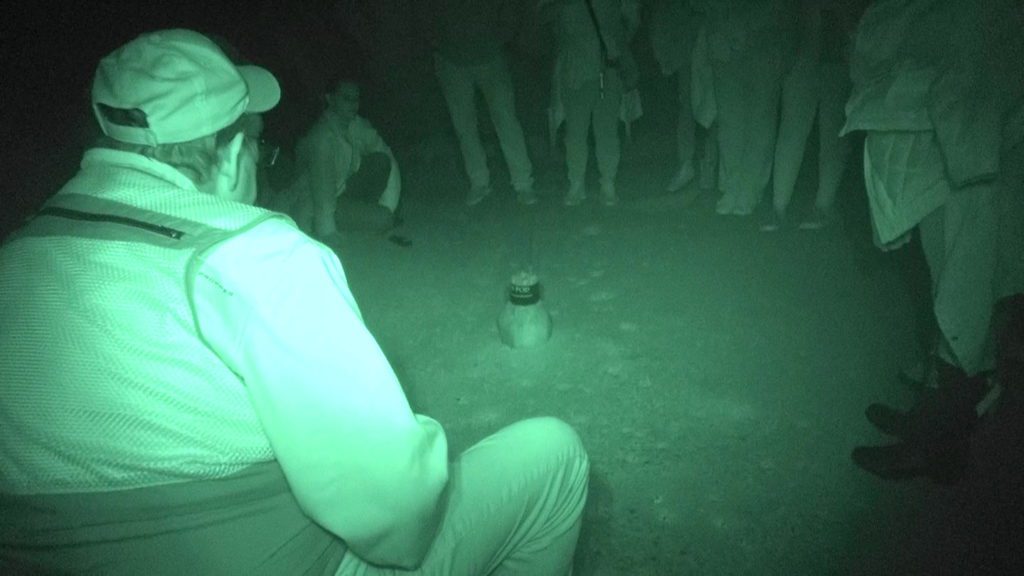 Bonus: Paranormal Investigation at Florida Caverns State Park
It's a short day trip from Panama City to Florida Caverns State Park. Located approximately 60 miles NE of Panama City, if you have a car, some extra time, and just happen to be around on an investigation date, this is a great opportunity.
This is a real paranormal investigation . You are invited to attend, use their equipment, and be a part of their research in the Caverns. E.C.P.C is the only Team ever allowed to officially investigate the Caverns.
Dates: Saturday, Nov 4,11,18, and Dec 2nd
Pin To Pinterest