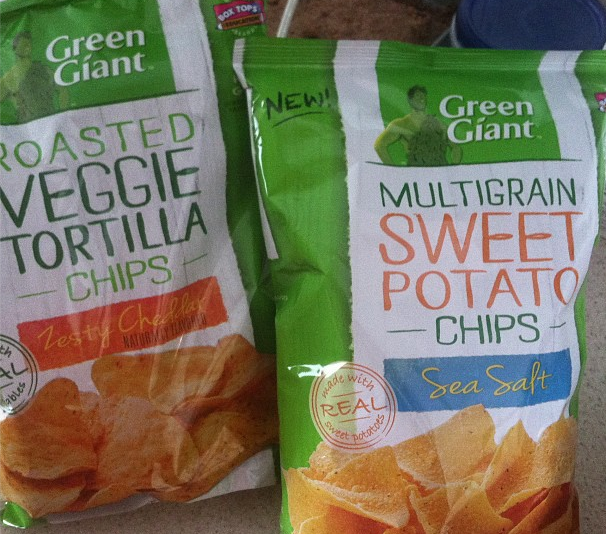 It's big news!!! Green Giant has a very giant surprise! They are now offering Veggie Snack Chips. ((insert party music here))
We have been carefully watching everything we eat and haven't had snack chips in the house for a while. Occasionally, I'll buy tortilla chips, but not very often. Potato chips and the like have been off the grocery list for months due to their high fat and calorie count. That's probably why Em was thrilled to see these arrive at the house.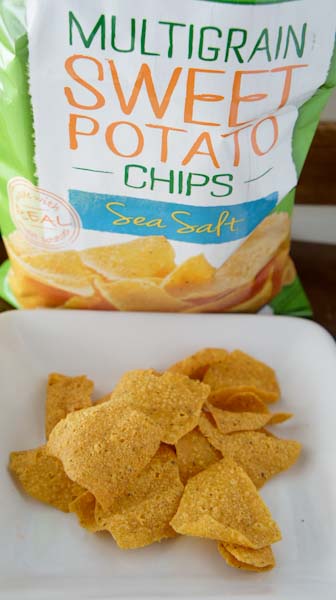 We tried the Sweet Potato Chips with Sea Salt first. I place a serving, according to the nutrition facts on the package, on a plate (photo above) to show what a serving looks like. There are 16 chips per serving which is a pretty healthy amount. Â There are 14 grams of whole grain per serving and 0 grams of Trans Fat AND they have 40% less fat than regular potato chips.
Nutrition Facts Per Serving
Calories: 140 <<—love any snack that keeps it under 150!
Total Fat: 6g
Total Carbohydrate: 19g
What We Thought
Me: Salty and crunchy. I was a little disappointed that there wasn't more sweet potato flavor
Emma: Didn't like them. She didn't like the flavor or the saltiness.
Alan: Liked them and reminded him of potato chips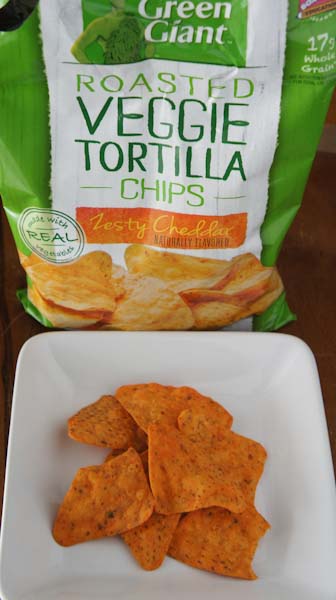 Next up was the Zesty Cheddar Roasted Veggie Tortilla Chips. Another serving on the plate, 10 chips, which is almost 1/2 the serving of the Sweet Potato Chips. However, there are a whopping 17 grams of whole grain and still remain have 0 grams of trans fat. Plus, they have 30% less fat than regular potato chips.
Nutrition Facts Per Serving
Calories: 140 <<—fewer chips, same amount of calories
Total Fat: 7 grams
Total Carbohydrate: 18 grams
What We Thought
Me: A little to zesty for me, but love the flavor
Emma: Loves them. Has claimed the bag as hers and doesn't want anyone else near them 🙂
Alan: "They weren't too bad, they have a similar flavor to a popular snack chip, but I like the Sweet Potato chips more."
http://youtu.be/BfHUBT9vKVU
I will definitely add these to the weekly grocery list. If I'm going to have snack chips in the house I prefer a healthy alternative and these fit that requirement.
Be sure to stop by the Green Giant Facebook page to share your surprise.
Have you tried Green Giant Snack chips yet? Are you looking forward to trying them?
Thank you to The Green Giantâ"¢ for being a sponsor. Show the Giant your surprise talent at www.facebook.com/greengiant