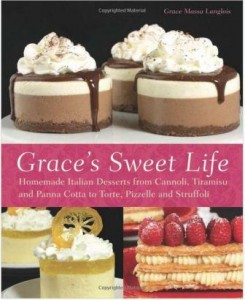 I'm slightly obsessed with Italy so anytime I receive a pitch to review an item that has Italy or Italian in the title I'm usually in. I can't help myself. I need to get to Italy sometime in the near future. I'm pretty sure it won't be this year (unless Publishers Clearing House shows up on my porch), but, if things go well, I'm hoping that towards the end of next year I'll go.
Grace's Sweet Life: Homemade Italian Desserts from Cannoli, Tiramisu, and Panna Cotta to Torte, Pizzelle, and Struffoli reinforces my burning desire to visit the country. I'm pretty sure I gained a few pounds just looking at the lovely images of desserts.
The book has 7 sections for desserts. Yum! The recipes are well written and explained in easy to follow instructions. Life has been crazy and I've been on the road a lot recently so I haven't tried any of the desserts, but when I get home I'm trying this one right away.
Sorbetto al Lampone (Raspberry Sorbet)
sidenote–all recipe titles are in Italian with English subtitle, perfect for perfecting your language skills
1 cup bottled water
1 cup superfine sugar
4 cups raspberries
1 1/2 tablespoons freshly squeezed lemon juice
2 ounces vodka (oh….yes, it has vodka)
1 large egg white
1. To make the sugar syrup, in a small saucepan over medium heat, bring the water and sugar to a boil, stirring to dissolve the sugar. Set aside to cool.
2. In a blender or food processor, process the raspberries and lemon juice to a smooth puree. Strain the puree through a fine-mesh sieve to remove the seeds (discard the solids).
3. Stir the puree into the cooled sugar syrup, and then stir in the vodka.
4. Transfer the mixture to medium bowl, cover, and refrigerate until cold, at least 2 hours, or preferably overnight.
5. Immediately before churning the sorbet, use a handheld mixer to beat the egg white at high speed to stiff peaks. Fold the whipped egg white into the cooled raspberry mixture.
6. To ensure a seed-free or almost seed-free sorbet, strain the mixture again through a fine-mesh sieve into a pourable container.
7. Pour the raspberry mixture into an ice cream maker and process according to manufacturer's instructions. The sorbet will still be fairly soft but it will become firmer as it freezes.
8. Transfer the sorbet to an airtight container. Cover and freeze until firm, at least 2 hours.
9. To serve the sorbet at its best, remove from the freezer and transfer to the refrigerator 15 minutes before serving. Sorbet should be served slightly soft, with a creamy consistency similar to that of soft serve ice cream.
My Rating: 5/5
ENJOY,