Sometimes it is tough finding the perfect gift. Birthdays, Mother's Day, Christmas, Just Because days (my favorite kind of gift day) it can be a really struggle to find something that she will love. Well, I'm here to help. I'm not much of a collector (unless its stamps in the passport or road trip miles on the car) and maybe the one you are buying for isn't either. However, there is a common theme that all women usually have a need for and that, in one way or another, is a way to haul all our various stuff with us. I'm sharing the best way to do this with gift ideas for her from Thirty-One Gifts.
GIFT IDEAS FOR HER
SLING-BACK BAG
This sling-back bag is one of my favorite go-to bags from Thirty-One gifts. It's especially great for travel but also for everyday use. It can fit my Canon 7D with a lens, my phone charger, a notebook, wallet and a few other smaller items. The mesh side pockets will hold an umbrella and a water bottle. The front zipper pockets are great for keys and small items (i.e. lipstick, makeup mirror, etc).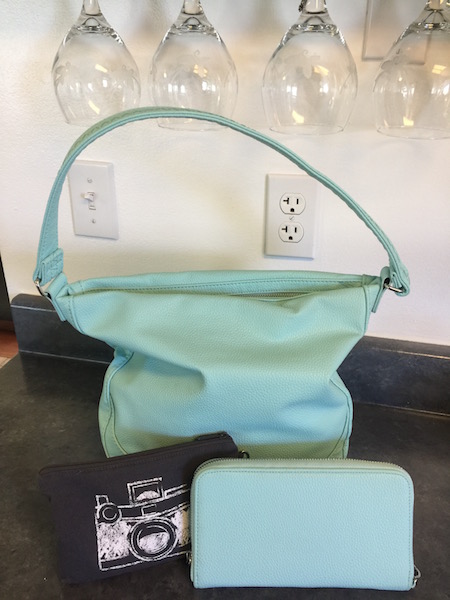 Midway Hobo
This Midway Hobo bag is great for everyday use and I adore the color. It goes with just about everything and screams of springtime which is especially nice after a long winter. It's roomy and easily fits the All About The Benjamins wallet (this is the same wallet I use in the above-mentioned sling-back bag) and mini zipper pouch. This is what I use when I'm home and running errands around town. There is a mini pocket on the back of the Midway Hobo that my keys fit perfectly in which saves me from digging through the bag when my hands are full of shopping bags.
EXPAND A TOTE BUNDLE
This is a hostess only gift so you'll want to contact a local consultant but the expand a tote is so fantastic for a weekend getaway that you'll want to do what you can to secure one. Keep it expansion zipped closed to pack for the weekend and then after the weekend is over unzip and expand the tote to bring home all your souvenirs. The bundle includes a makeup bag (which fits a ton of items) and another zipper pouch which is great for packing undergarments.
Zippered Pouches
I love these for keeping my handbags and totes organized. The camera pouch is the mini zippered pouch and comes in a vareity of styles (I really want one of each but don't NEED one of each..lol). The mini zippered pouch goes from mini makeup kit to holding random small things. I change it up depending on what I'm doing but it gets a lot of use.
My Carpe Diem Zippered Pouch is much larger than the camera mini pouch. This pouch is also available in many different style and, as you can see, can be personalized. I like using the larger zippered pouch for my notebook and pens but it would be great for baby or kids items so you can easily grab them.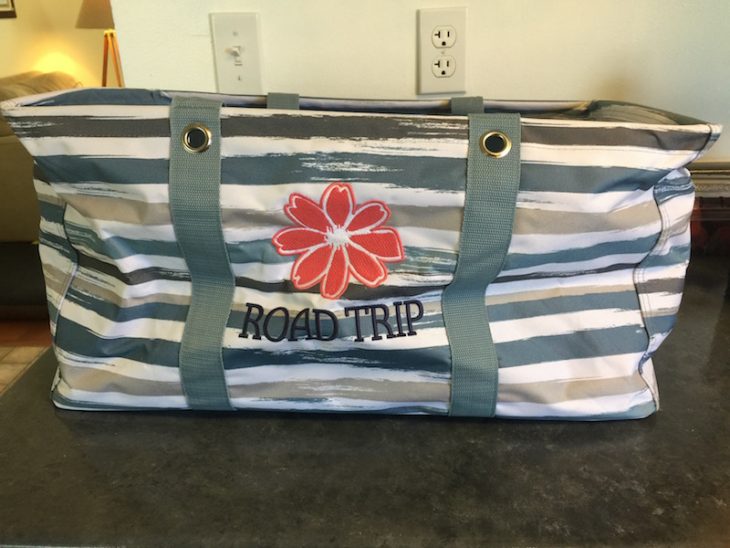 DELUXE UTILITY TOTE
My Road Trip Deluxe Utility Tote goes with my on every road trip. It can hold my various bags and I've even been known to pack clothes in it to use as a mini dresser if I'm going on a multi-week road trip. Again, available in various designs and, like almost all Thirty-One Gifts, can be personalized. Oh, and this bag has an optional top to help keep everything inside nice and clean.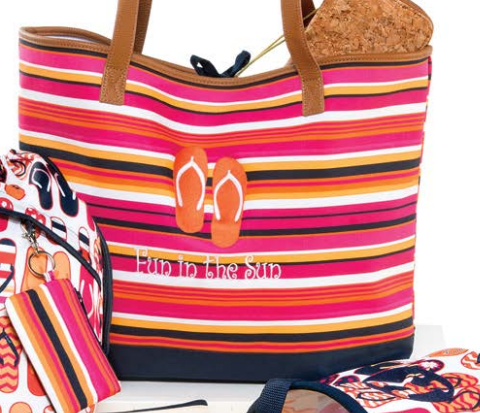 LAKESIDE TOTE
Ok, I don't own this Lakeside Tote (yet!) but I adore Thirty-One totes and know I'll love this one as well. The summer colors and design makes me very happy and I can't wait to take this on my trips this summer. I'm deciding what personalization I'd like on the bag and once that is figured out it will find a new home with me.
These are all great gift ideas for her. Busy moms will love the totes, sports moms will really like the utility totes for hauling all the sporting gear and traveling moms or moms that have their hangs full with babies and bags will enjoy the sling-back tote. All moms will like the Midway Hobo and the zippered pouches. Really, you won't go wrong with any of the above gift ideas for her.
***PIN GIFT IDEAS FOR HER***