Summer is almost here and that means shorts, skirts, tank tops and strappy dresses. That also means keeping skin nice, smooth and worthy of showing off. Personally, I get lazy about shaving (yes, I just admitted that), but I'm too frugal to pay for wax or laser treatments. Waxing, lets admit, would just be painful and laser treatments would be painful to my checkbook. Luckily I found an affordable, pain-free option.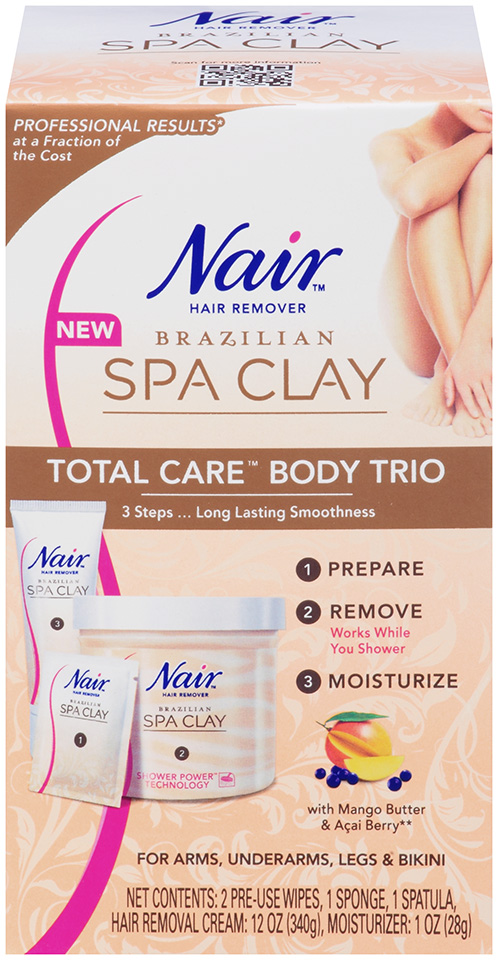 Nair sent me the Brazilian Spa Clay products to try and I must say I was impressed. I haven't used Nair in years. However, when I was asked to try their products the 1980's tv ad "Who wears short shorts? We wear short shorts" jingle popped right into my mind and I've been singing it ever since. That, my friends, is some seriously good jingle writing!
I received the Nair Brazilian Spa Clay Total Care Body Trio and the Face Trio to try. They are the newest depilatories to join the popular Brazilian Spa Clay Line. I love that each of the products has mango butter and açai berry which is known to moisturize the skin, and mineral-rich clay known to purify the skin.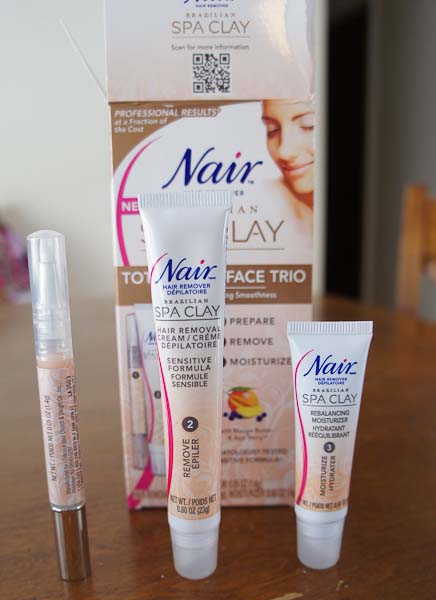 Getting smooth skin really is as easy as 1, 2, 3.
Here' are the basic steps for the Nair Brazilian Spa Clay products:
Step 1: Use the pre-balm, which coats the skin to help minimize irritation and redness.
Step 2: The second step is the depilatory.
Step 3: After removing the depilatory product, apply the moisturizer.
The Face Trio and the Shower Total Care Body Trio each have a suggested retail price is $13.99
My Face Trio Experience: Well, it's actually a friend's experience since she struggles with some facial hair. Her hair is very thick and coarse and, sadly the spa clay did not remove it. However, she has even tried laser treatments without success so we were pretty sure it wouldn't work, but we thought it was worth a try. That being said, she really liked how the clay felt and how easy it was to apply and remove. She thought if she had finer and/or thinner hairs it would have worked like a charm.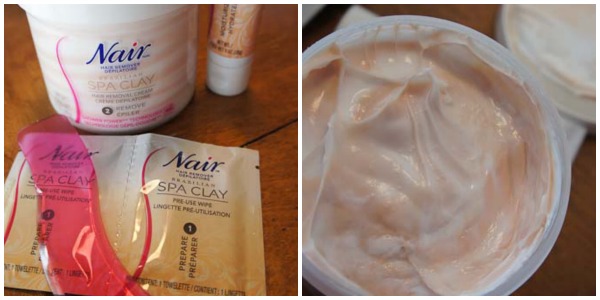 My Shower Total Care Body Trio experience: This was very easy to use. The texture of the clay is smooth and the scent isn't overwhelming at all. I'm very sensitive to smells and this one didn't bother me. After using the Brazilian Spa Clay my legs were silky smooth. (Note: Your experience may differ depending on the type of hair you are removing. I removed fine hairs)
To learn more about Nair's full line of summer hair removal products please visit http://NairLikeNeverBefore.com
disclosure: I want to thank Nair for sending me product and a small stipend to 
facilitate this review. As always, all thoughts and opinions are my own.