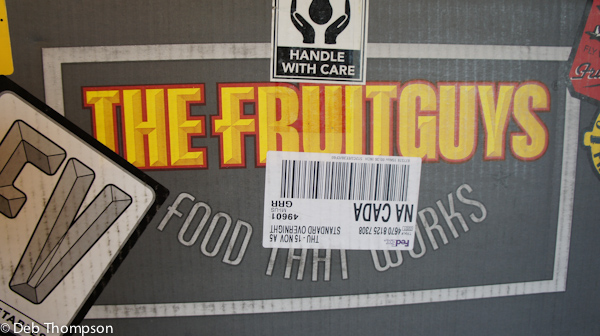 We love eating fresh fruits and veggies. It's so easy during the summer and early fall months to buy locally grown goodness. However, as winter starts to set in it gets harder and harder to find fresh, grown close to home, produce. During the summer and fall we enjoy fresh grown lettuces, tomatoes, squash, garlic, onions, potatoes and so much more. During the winter I'm stuck with buying produce at the big box stores, which is ok, but its still not as good as home grown.
The other day I happened to come across the Fruit Guys, a company that sends fresh fruits and veggies all year long. Â Reading through their website I learn that the Fruit Guys support small family farms by purchasing the produce from local regional farms as much as possible and deliver it the next day in environmentally friendly fruit crates. Plus, the produces comes with a 100% guarantee.
I thought, "well, that all sounds great, but I live in the middle of nowhere would this actually work for us?" Actually it does, there are four regional hubs across the U.S.; South San Francisco, Phoenix, Chicago, and Philadelphia. We are only about 5 hours from Chicago plus I know there are lots of great farmers in that region so I was thrilled to see a hub relatively close to my home. I clicked on the link that allowed me to see what is being delivered in my area (A nice touch because who wants to receive weird produce?? I sure don't) and found a delicious array of goodness available for delivery. This is what is available right now: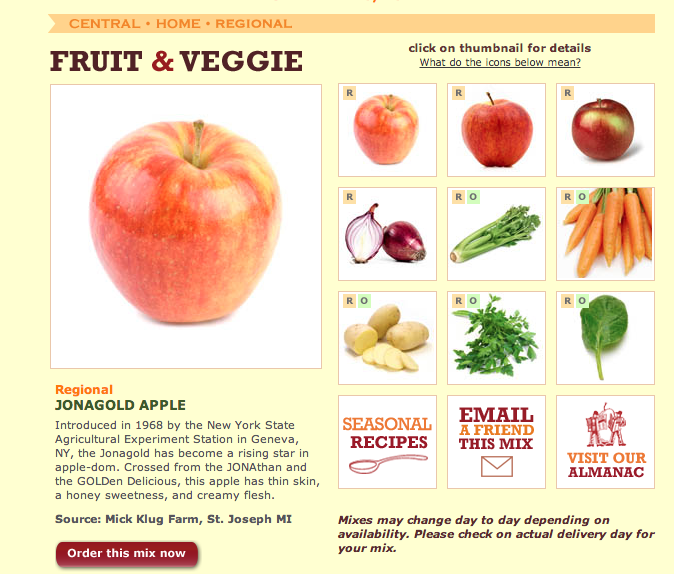 Here's what I love about the Fruit Guys, they show the source of the produce under each item. I know exactly what farm it came from  and what town. I really like knowing that it is grown nearby. Unlike the produce at the store that may come from 1,000s of miles away.
My regional box arrived via Fed Ex and I found lots of yummy goodness inside.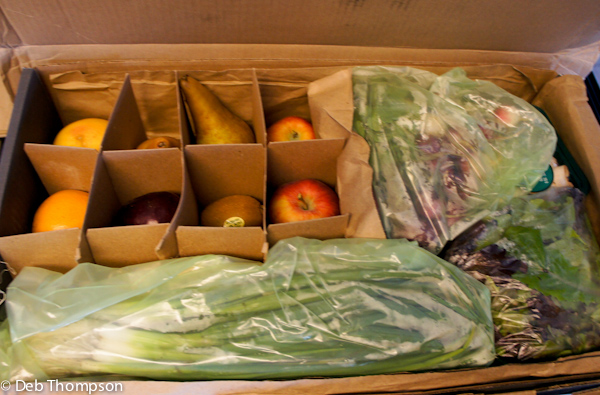 Apples, pears, kiwi, oranges, grapefruit, green onion, radishes, spring mix, mushrooms, sweet potatoes, and horseradish root. Now, some people might be weirded out by the horseradish root and not know what to do with it, but I was thrilled because I use it to make super tonic to combat the cold/flu season.
Everything was so good. The fruit was perfectly ripe and the veggies made a delicious addition to our meals.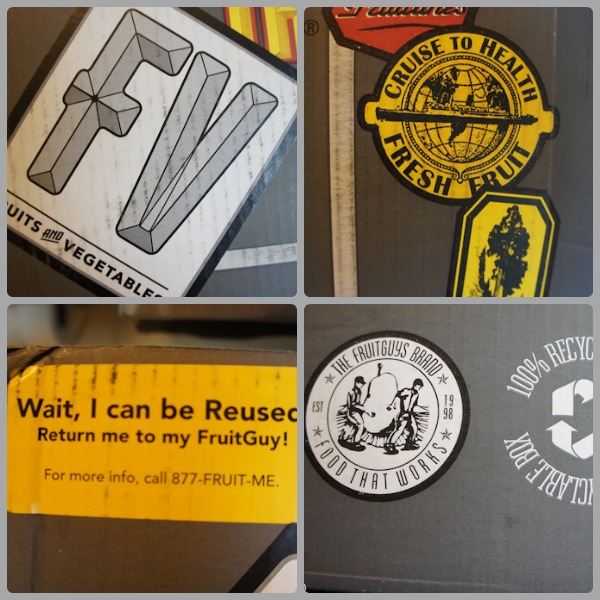 An added bonus is that the box is complete recyclable and can be returned to the Fruit Guys, plus it looks really cool! Of course, the embellishments remind me of travel stickers so that may have swayed my love for the box just a bit.
If you enjoy fresh produce and would like to enjoy it year round check out the Fruit Guys and see what they are delivering in your area.
GIVEAWAY
I'm hosting a giveaway for farm-fresh organic fruits and veggies delivered directly to your door.
The giveaway ends November 30th.
a Rafflecopter giveaway

disclaimer: I received a fruit & veggie box from The Fruit Guys to facilitate this review.
Good Luck