Do you ever go swimming and end up with the dreaded pain of having water trapped in your ear? The pressure just pushes on your inner ear and makes you shake your head like a dog trying to get the water out. It is so frustrating and annoying. In the past I've always just suffered until the feeling went away. Well, not anymore. I've found Similasan Ear Drops.
Similasan, a homeopathic remedy, is here to help relieve that clogged ear! The ear relief drops can help clear water that is trapped in your ears and the ingredients in Similasan help stimulate your body's natural ability to soothe the ear and reduce that clogged feeling that is caused by water in the ear.
I suggest tucking a bottle of ear drops in your beach bag so that the next time you are at the pool or beach you have instant relief to ear pain. Similasan has children ear drops that can be used on children as young as 2 years old.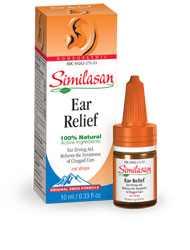 In addition to ear drops there are other homeopathic remedies that Similasan offers and you can use a handy tool on their site to help you decide which remedy will work best for you. You can find that tool here.
Find more information about Similasan on Facebook and twitter.
Did you know- Similasan Ear Relief was the #1 Pharmacist Recommended ear drop formula for the 10th year in a row!
** I wrote this post while participating in a blog tour conducted by Burst Media on behalf of Similasan. I have been compensated for my time commitment to the program, but my opinions are my own. **
Happy Swimming,