I have been loving my gear from 31 Gifts. So many of their items are perfect for travel! It seems like every time I pack for a trip, regardless if it's via air or car, most of my bags are from Thirty-One Gifts.
For example, on a recent trip to Mardi Gras in Lake Charles, Louisiana, this is what I packed: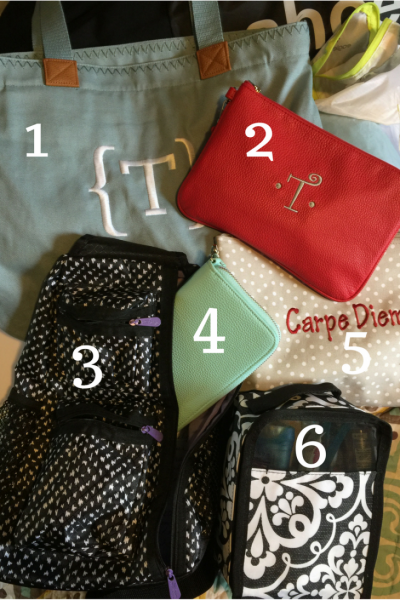 1-Wander Tote, personalized2-Rubie Mini, personalized
2-Rubie Mini, personalized
3-Sling Back Bag
4-All About The Benjamin Wallet
5-Zippered Pouch, Taupe Dancing Dot, personalized
6-Glamour Case
The Wander Tote held all my tech, work and stuff I needed on the plane. The Rubie Mini held my jewelry. I packed the sling back bag to use in Louisiana and it easily held my DSLR, extra lens, All About the Benjamin wallet, notebook and pen. I tucked all my tech cords in the zippered pouch and all my makeup in the glamour case. Everything was nice, neat, organized and I loved it!
March is the perfect time to begin planning for spring break travel and 31 Gifts have the perfect tote, bags, and purses designed to make packing for your next trip easy. I'd love to share more of those products with you and help you plan your family's next vacation during a fun one-hour long Twitter party.
Join Me for a #31Travels Twitter Party on Thursday, March 16th from 3-4 p.m. EST and you could win one of the great prizes offered by Thirty-one Gifts!
What you need to do:
Follow our sponsor @thirtyone and co-hosts @tatanishapw @debthompson @theadventuremom @trvlngpraters.
Participating is easy. You only need a Twitter account, RSVP, and show up and interact with our sponsor, co-hosts and other participants using the #31Travels hashtag.
This is your chance to learn more about Thirty-One Gifts, ask questions and possibly win one of the prizes*!
Winners will be randomly selected from the RSVPs.
#31TRAVELS TWITTER PARTY DETAILS
WHEN: Thursday, March 16th
TIME: 3-4 p.m. EST
HASHTAG: #31Travels
RSVP BELOW FOR THE #31TRAVELS TWITTER PARTY.
It's as easy as 1-2-3. Simply put your twitter name in the name field and your twitter link in the URL field and you have a chance to WIN! See you on March 16th!
*Note: Employees and sales consultants of Thirty-One Gifts are ineligible to participate and win prizes during the Twitter party.