I'm not sure exactly when my love of cars happened. I'm thinking it was pretty early in life. Dad worked as a mechanic on a GM assembly line his entire career and always enjoyed cars. Having three girls didn't deter him from teaching us all about them.
When we bought our first cars we had to prove that we could change the oil and tires, I also learned to change my brakes, before we could drive them. I didn't necessarily love those tasks, but it drove me to appreciate the workmanship of cars. Over the years
I continued to fall more in love with the beauty and speed of cars. Today, my love of cars is strong and a visit to the North American International Auto Show provided enough eye candy to give me an automobile "sugar" high for days.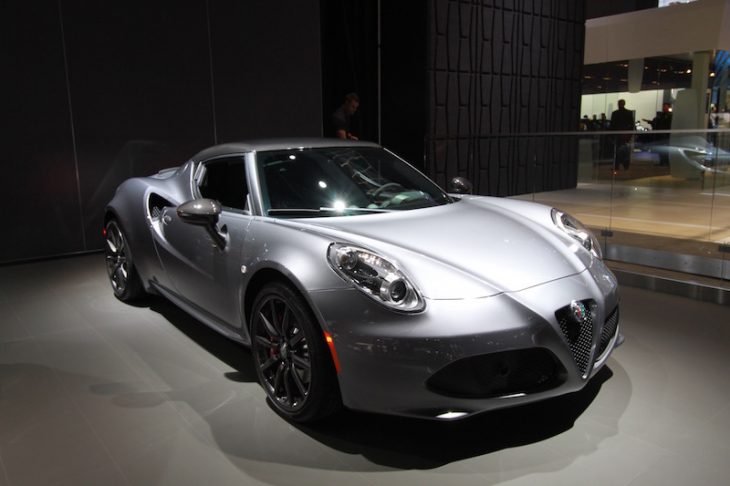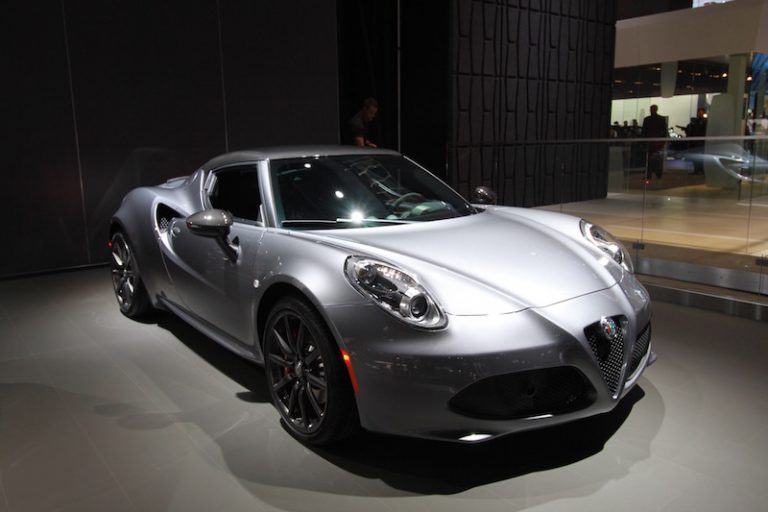 Sigh….some day I am going to go back to Europe, rent an Alpha Romeo 4C and drive along a coast.
I'll admit it. I drive a mini-van, a Chrysler Town & Country (aka Betsy, yes I name my cars) to be exact. I've driven it for over eight years.
I'm incredibly loyal to my cars and drive them until they can no longer be driven. However, that doesn't mean I don't cheat on Betsy (shhhhh). I take any and all opportunities to test drive different cars and I made a very long test drive wish list during the auto show.
Think of it like giving your kid a toy catalog and asking them to circle everything they want. That's me, except with cars.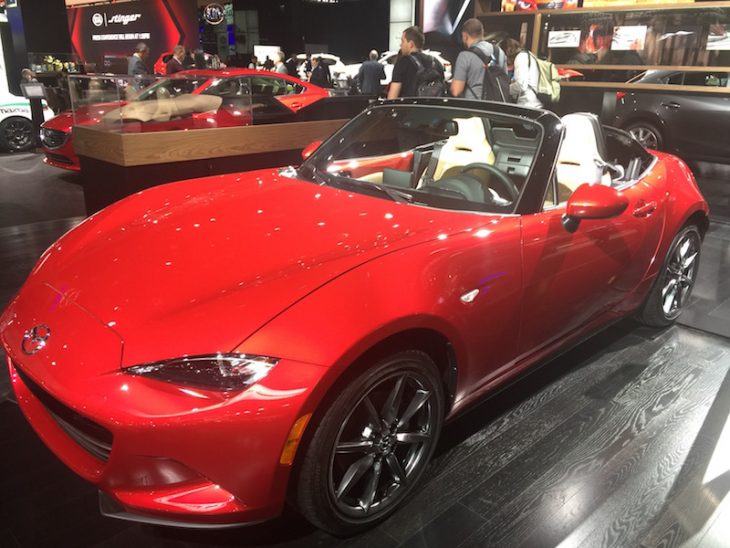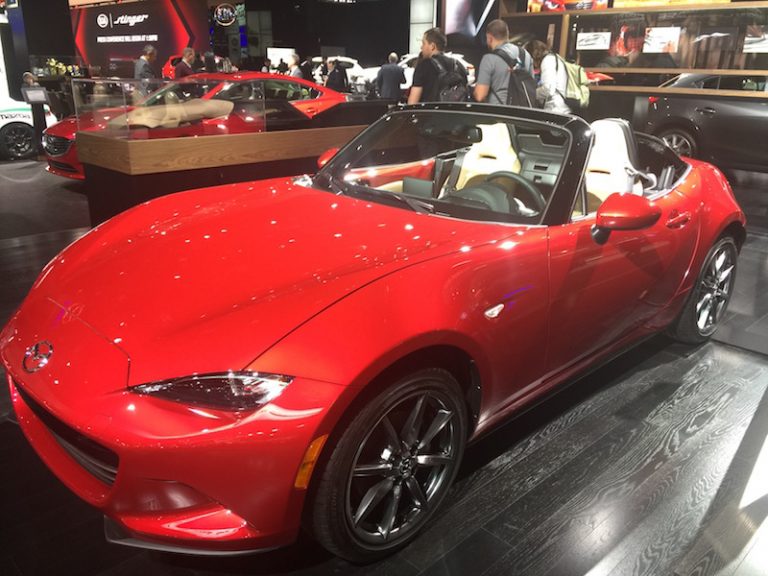 Mazda is at the auto show with one of my favorite sports cars, the Miata
Beyond looking at the beautiful cars if you pay close attention there is actually a lot to learn at the show. One of my biggest concerns is finding cars with high safety standards and ratings. I road trip a lot so having a safe car is key. As I start to shop for my next vehicle I know I'll be looking for one that uses steel in the construction and there are a few reasons for that.
Steel is sustainable which speaks to the "green/eco" side of me.
Today's steels are as much as six times stronger than steels of a decade ago. In my mind that equates a much safer car.
Steel is three to four times stronger than the latest aluminum alloys on the market. Again strong frame = higher safety, imo.
There were also some very clear trends happening at the auto show that you'll want to check out while you are there. Self-driving, aka autonomous, and eco-friendly cars are all the rage. Almost every manufacturer had at least one of those two, if not both, on display. I'm intrigued by both ideas and can't wait to see where the industry goes. Week99er has a great article on the trends from this years show. 
NORTH AMERICAN INTERNATIONAL AUTO SHOW FAVORITES
NISSAN ROGUE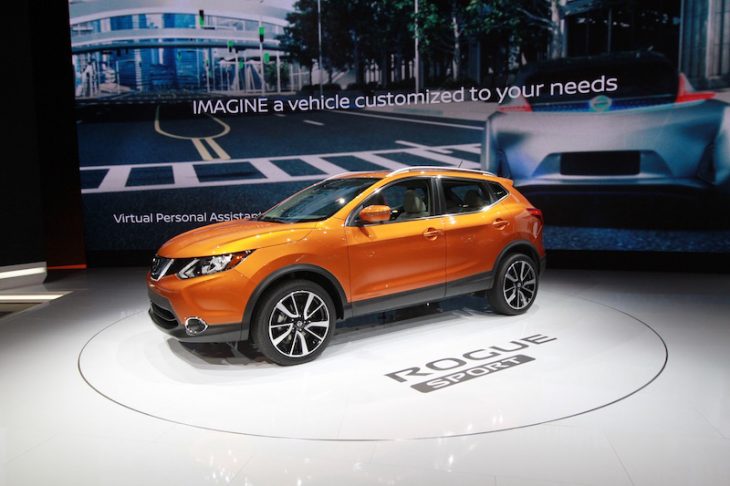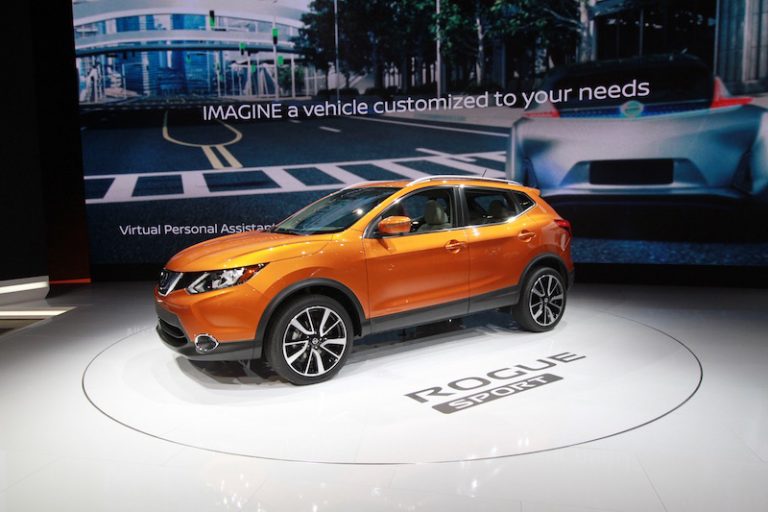 The Nissan Rogue received the "2017 Family Car of the Year" award by Cars.com during the auto show. There is a good reason for that. The Rogue has a sleek style wrapped in steel which will keep your family safer, plus it has all the bells and whistles we love on cars.  Driving aids include High Beam Assist headlights, Blind Spot Warning, Lane Departure Prevention and Lane Departure Warning, and Around View® Monitor with Moving Object Detection. NissanConnect Services offers customizable alerts via email, text message or automated phone call and so much more. The list of all the awesomeness that is included with the Nissan Rogue is too long to include here, but jump over to Nissan and click on the feature details link to read an in-depth review.
NISSAN VMOTION 2.0 CONCEPT CAR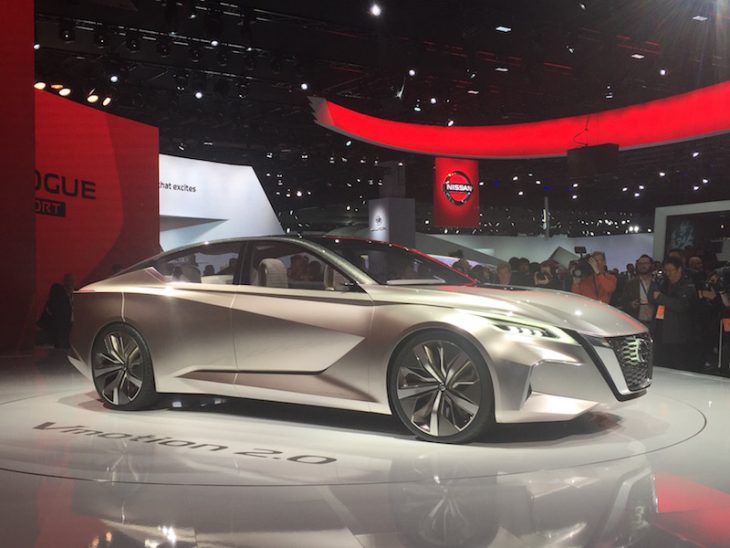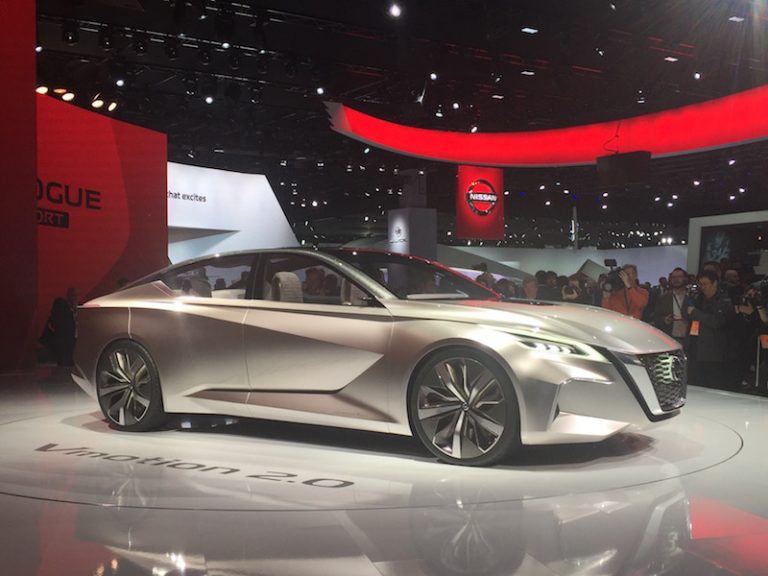 When Nissan unveiled the VMotion 2.0 I was seriously impressed. The newest sedan to the Nissan family has sharp edges, perfect angels and let's admit, it just looks stunning.  If you aren't really ready to trade in your sports car for a family car the VMotion 2.0 is the way to go and I really hope these go to production.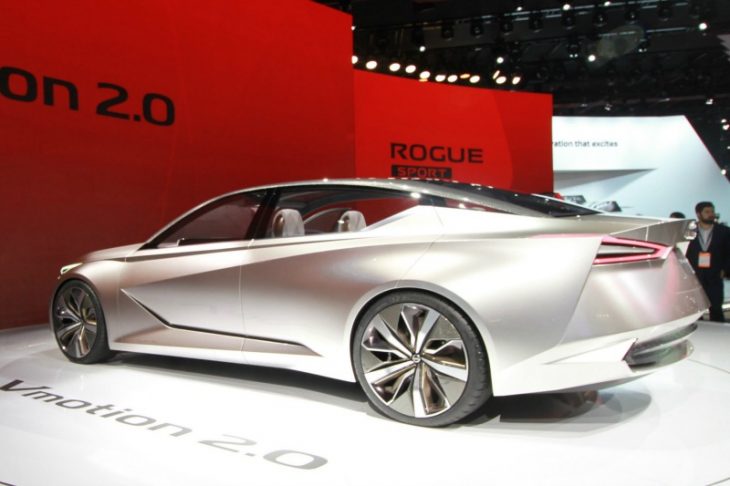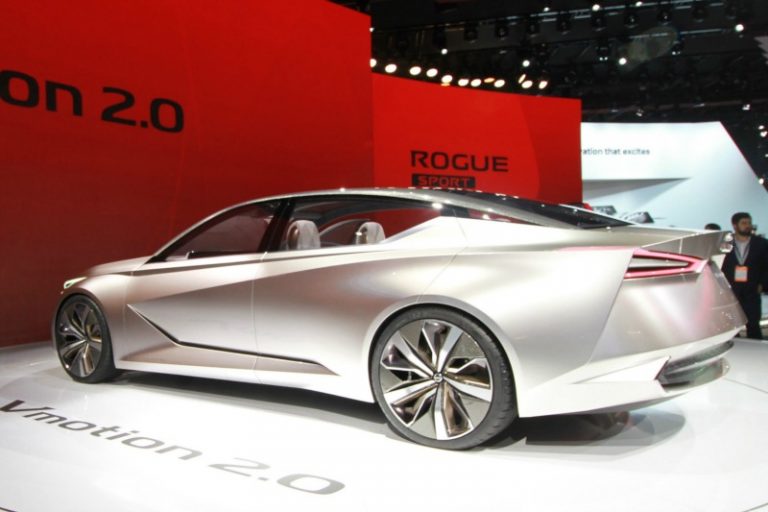 This car is so slick that is won the EyesOn Design award for best concept vehicle at the auto show. Nissan said the "Vmotion 2.0 was created to showcase Nissan's new sedan design direction – fresh, dynamic and cabin-focused." If this is the direction they are going they are definitely a contender for my next vehicle purchase.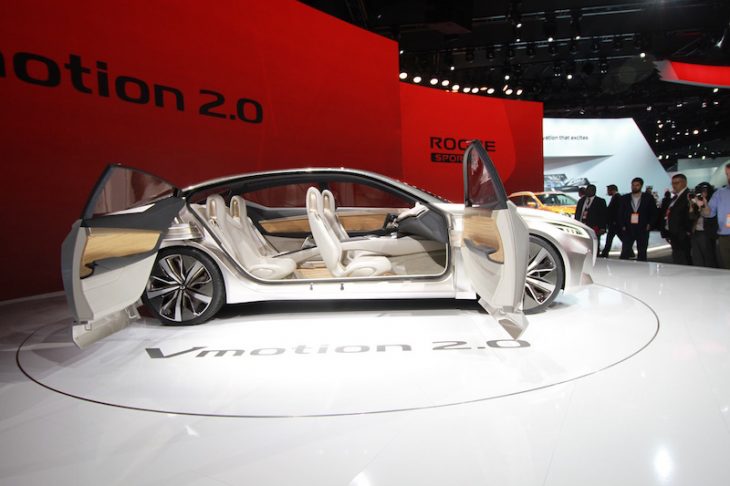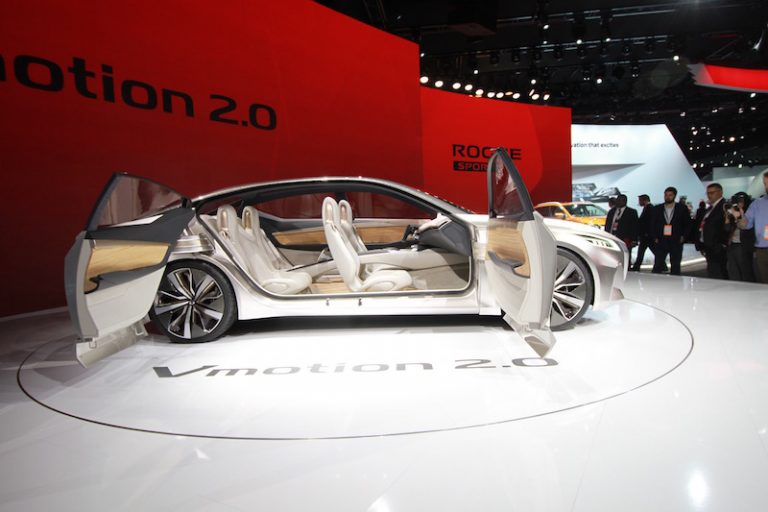 GENESIS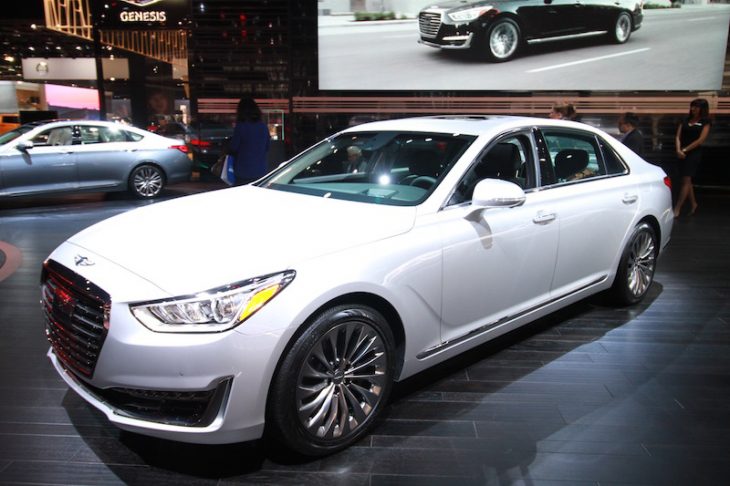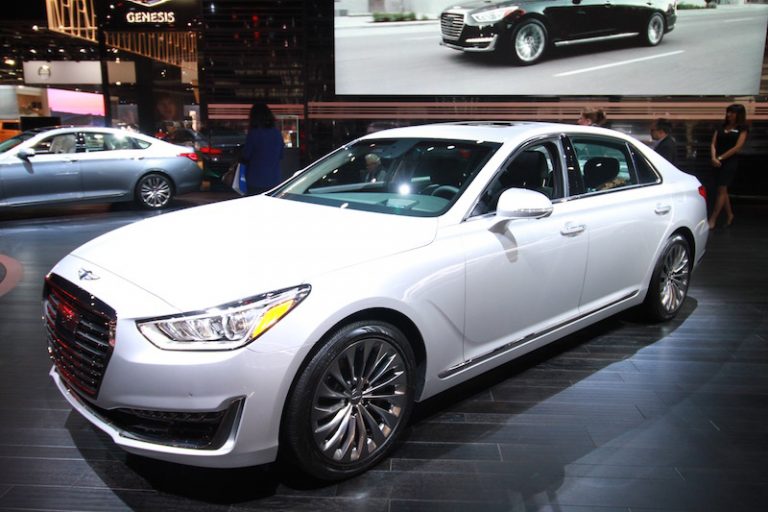 Genesis is the newest brand in the luxury car industry. There is something to be said about riding around in luxury and I'm not opposed to it. They tend to be quieter on the inside and they usually have a very smooth ride, both of which are important to an enjoyable driving experience.
What I really liked about the Genesis G90 is its rigid body structure that is more than 50% Advanced High Strength Steel along with 650+ feet of advanced structural adhesives, similar to those used on jet aircraft. The more I learn about car body structures, the more I want my next car to have a solid steel foundation.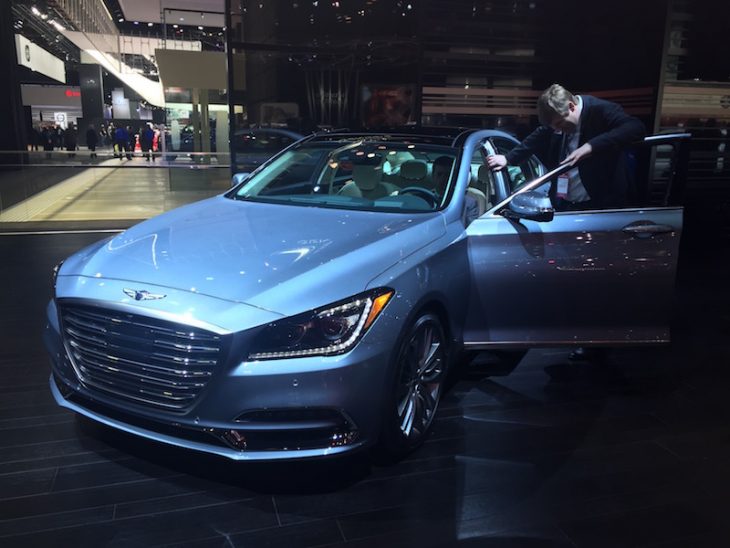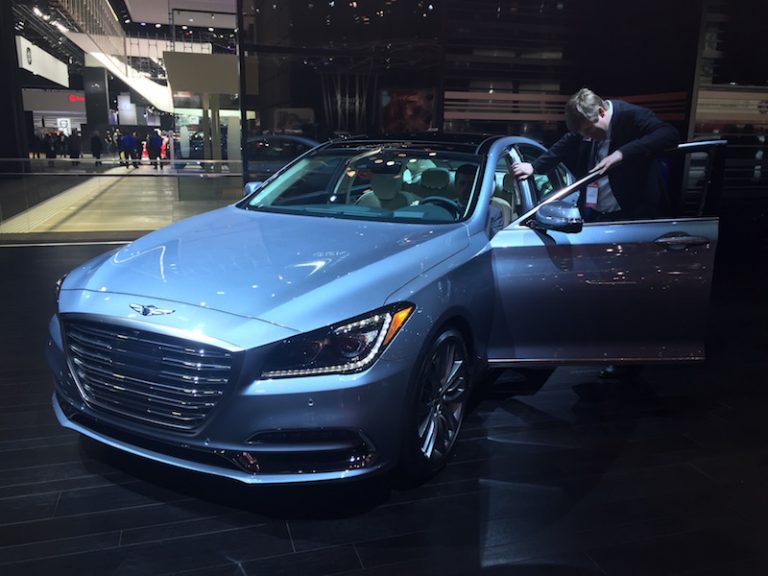 Of course, luxury cars are usually equipped with the best sound systems and that is a must for road trips. I really like the Genesis cars style and comfort. I'd love to see what they do on the open road and hope to set up a drive to share more with you soon. Oh, and I have to say I'm loving the analog clock in the Genesis, I think it gives it a nostalgic touch of class.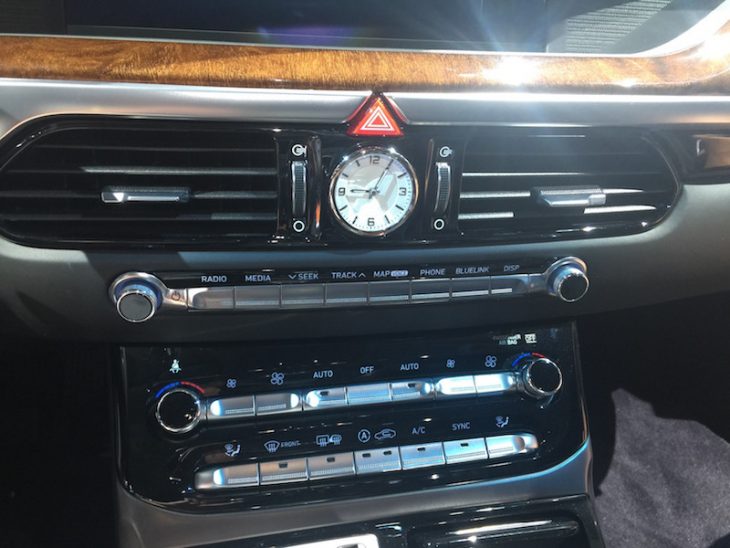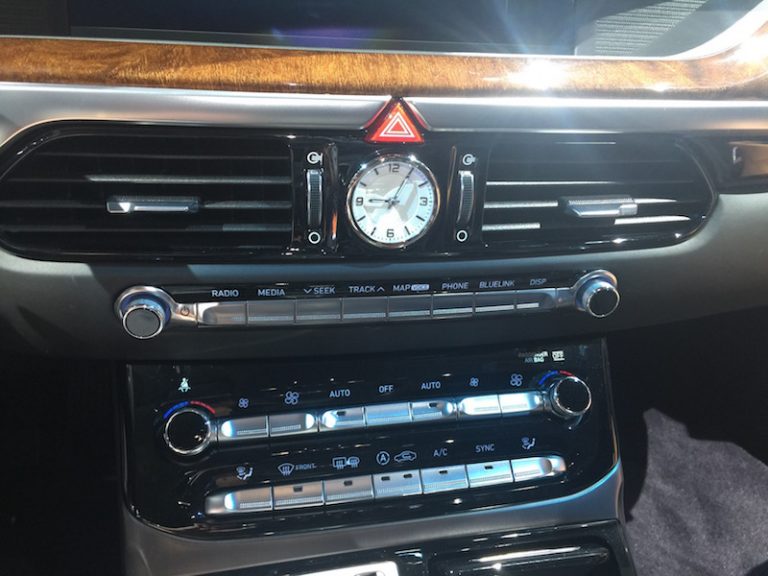 KIA STINGER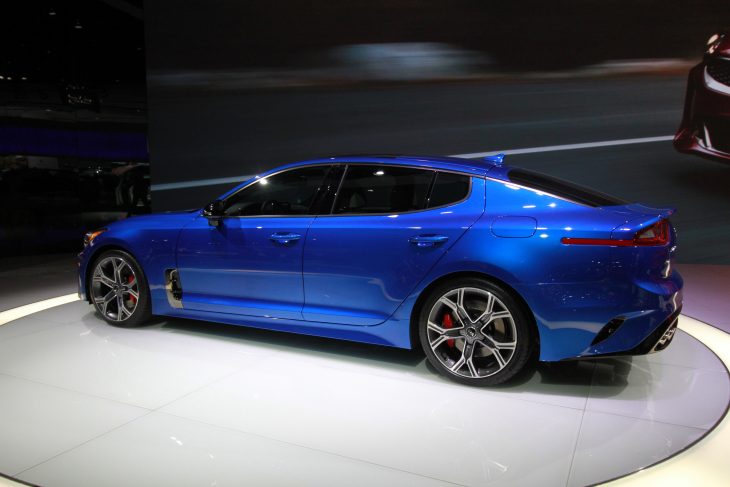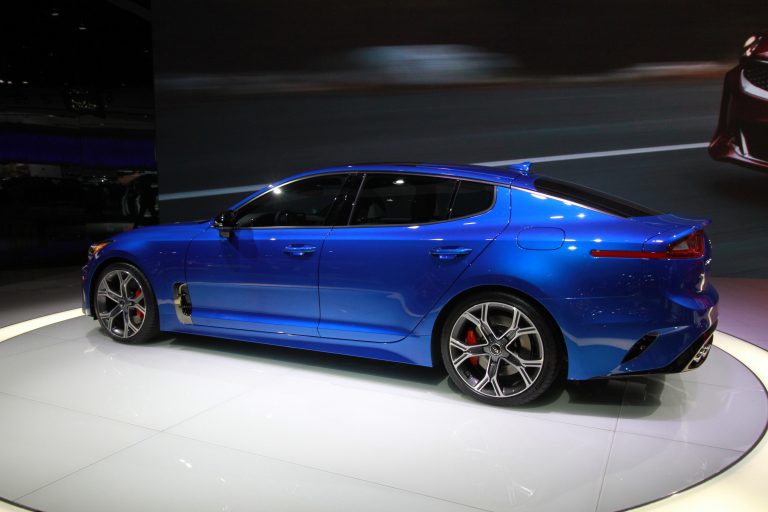 The Kia Stinger is a pretty five-passenger fastback sports sedan. I love the look of this car and think it is set to give other sedans a run for their money. Kia's goal was to create a car that was "nimble and fast while also luxurious and quiet.  It had to achieve the perfect balance of ride and handling and seat five comfortably with room for luggage."
It looks like they have succeeded on all accounts. These are slated to go into production later this year and soon after that I hope to give it a solid test drive.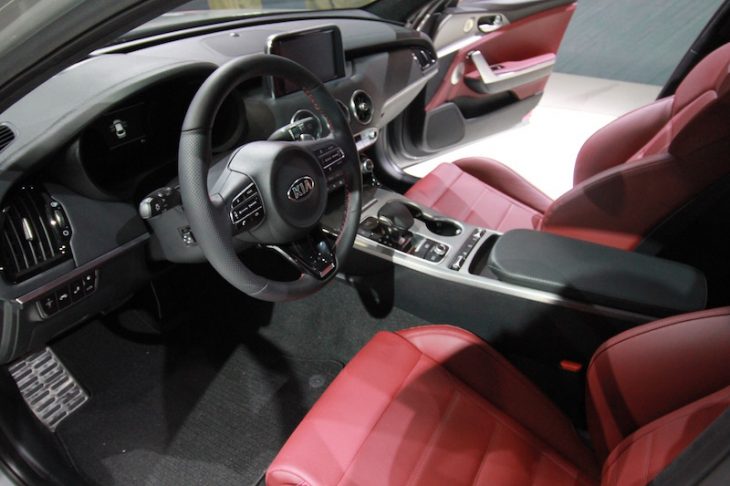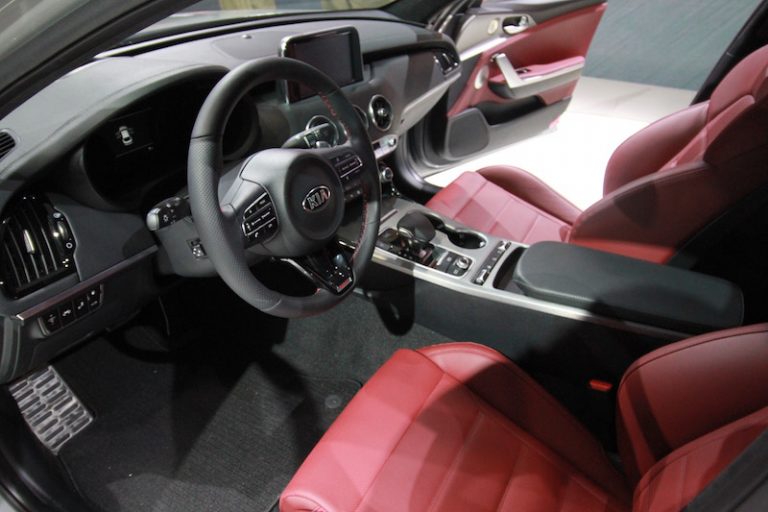 VOLKSWAGEN I.D. BUZZ CONCEPT CAR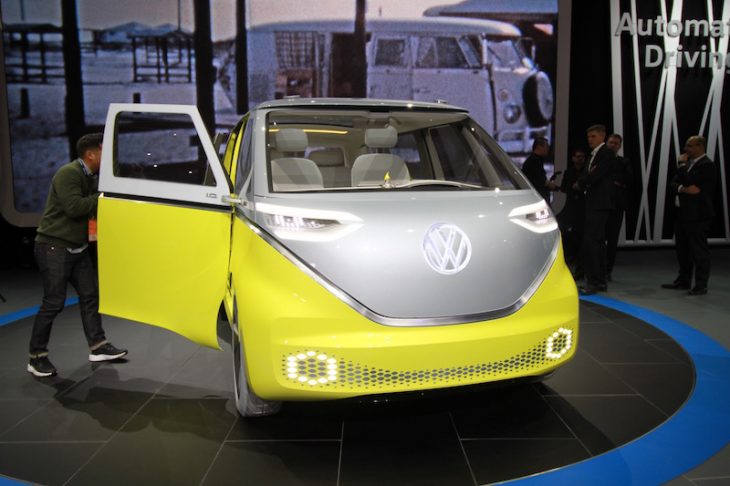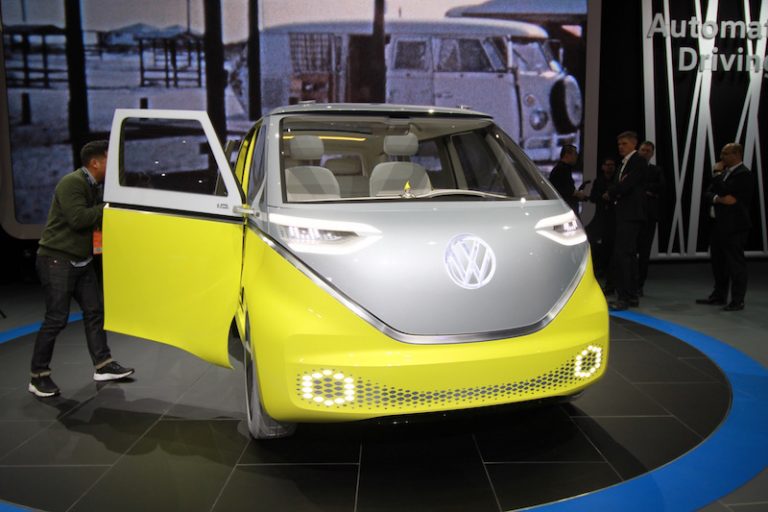 The Volkswagen Bus has been my dream car since I was a teenager. I keep saying that someday I'll buy a vintage bus, turn it into a traveling camper and hit the open road for months. I'm sure the dream is much more romantic than the reality, but it sure sounds like fun. Of course, stumbling across the I.D. Buzz at the auto show renewed my need for a VW Bus. This is a concept car, but it sure did wow the auto show attendees.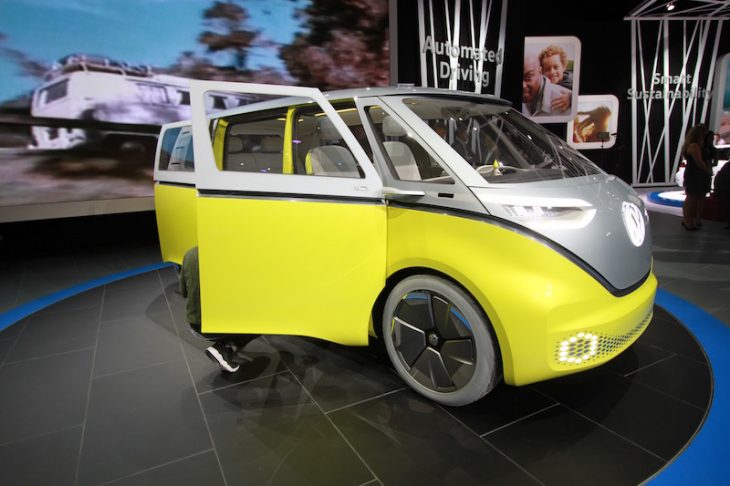 The I.D. Buzz is an electric vehicle with "369 hp and a time from 0 to 60 mph of 5 seconds flat." I do love a car with serious get up and go. VW estimates that the van could travel approximately 275 miles before needing a recharge which they anticipate happening in about 30 minutes.
Perfect for road trips because it forces you to get out and stretch and explore something new while waiting for a recharge. Again, hopefully, VW brings the VW bus back to life soon.
There are so many more cars to see at the show. The best way is to head over to Detroit for the show.
ATTEND THE NORTH AMERICAN INTERNATIONAL AUTO SHOW
If you haven't checked out the Hyndai Santa Fe lately be sure to stop by and take a look!
The North American International Auto Show is open to the public through Sunday, January 22 at Cobo Hall in downtown Detroit.
Dates and Times
8 a.m. daily – Early access for handicapped individuals
Enter at the Hall C Entrance only
Saturday, January 14 – Saturday, January 21, 2017
9 a.m. – 10 p.m. (no admittance after 9 p.m.)
Sunday, January 22, 2017
9 a.m. – 7 p.m. (no admittance after 6 p.m.)