I decided to go to GenCon this year and it was my first time going. I was so excited to go because I heard all good things about it and it's another new con to go to. I got the 4 day ticket a little late so the price was higher than what it would be when tickets first came out. Sadly, that also meant a lot of the classes were filled or sold out, which was a bummer because there was a lot of good classes I wanted to take. However, it was all good I still took some seminars. Two of the Gen Con workshops I took was Cosplay Patterns and Weapons and Props.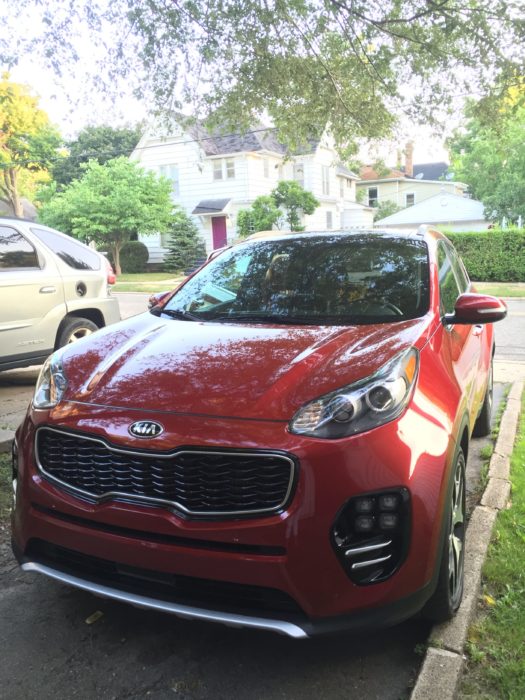 I caught a ride to GenCon in the Kia Sportage….comfy, fun and lots of room to bring stuff home! We loved the great gas milage, meant less money on travel expenses, more money on fun.
GENCON WORKSHOPS
I was glad that i was able to take these two classes because I want to get into cosplay and I thought this was a good step in the right direction. The more information I have the better, right?
The cosplay pattern class was great for first time beginners, but if you are more advanced then this seminar is probably not for you.
Costume Cosplay Tips
Tip 1: If you have a dress form and it's not the right size in the chest put one of your bras on and stuff it.
Tip 2: If you can't find the pattern you're looking for in the stores look on Ebay. They will probably have the one you want.
Tip 3: Use butcher block paper to make your own patterns it's cheap and you can usually get a lot of patterns from it.
Tip 4: Need a special pattern but you can't find it anywhere, take apart different patterns to make up what you need.
Tip 5: If you are you using fabric glue don't use it on the chest, hips,or butt it will just peel right off your outfit.
The weapons and props seminar I thought was great if you would like to learn more about that kind of stuff but as I said about the cosplay pattern I wouldn't recommend it for people who are advanced in that area.
Weapons and Props Cosplay Tips
Tip 1:Go to the Foam Cave for patterns and tutorials.
Tip 2: Go to Harbor Freight to but all of your tools, it's cheap and they work just as well as the expensive stuff.
Tip 3: When you are molding the foam dont heat just one side of the foam heat both of the sides.
Tip 4:When making armor out of foam put cardboard on the back side of it so it's more stable.
Tip 5: Great inexpensive paint to use for foam weapons and props is Apple Barrel Acrylic paint. I believe it's $1 at walmart.
Share your Cosplay tips with us in the comments below.