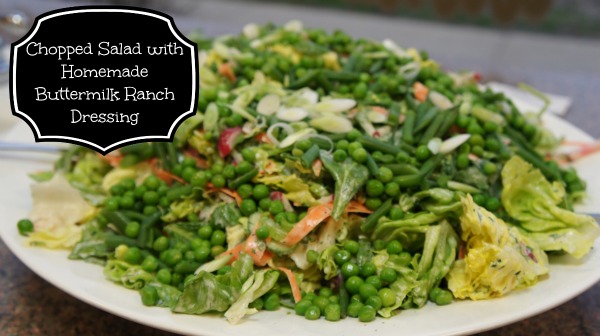 At a recent cooking event hosted by the United Dairy Industry of Michigan I had the opportunity to work with the fabulous chefs at Ann Arbor cooks on incorporating more dairy into family diets. Ann Arbor cooks came up with this delicious salad recipe and, even better, they shared a recipe on how to make your own buttermilk ranch dressing. No more need to buy bottled dressing from the store. Homemade is always better.
This is a great salad for summer get-together. Just make sure to keep the bowl on ice so that it stay fresh and good.
Serves 6-8
SALAD INGREDIENTS
2 heads of butter lettuce, picked into bite-sized pieces
2 heads of other baby lettuces, picked into bite-sized pieces
2 c. baby spinach
3 ribs of celery (including leaves), thinly sliced diagonally including leaves 1⁄2 bunch of radishes, sliced and cut into match sticks
1 c. haricot verts, blanched and diagonally sliced into 1⁄2-inch pieces
2 carrots, peeled and then peeled into individual ribbons
3 baby cucumbers, thinly sliced
1 c. fresh peas (or frozen and thawed, if not available)
3 spring onions, thinly sliced on the diagonal – white and pale green parts
DRESSING INGREDIENTS
1 clove garlic, finely chopped and pasted 1 T. dill, finely chopped
3 T. chives, finely chopped
3 T. flat-leaf parsley, finely chopped
1 t. lemon juice
1 c. full-fat buttermilk
1⁄4 c. mayonnaise
1⁄4 c. plain Greek yogurt
salt and pepper, to taste
DIRECTIONS
1. To make the dressing, combine all ingredients and whisk together or shake in a container; taste for seasoning and adjust with salt and pepper, as necessary.
2. To blanch the haricot verts, bring a small sauce pan of well-salted water to a boil; add beans and cook for about 1 minute.
3. Remove beans and transfer to a nice bath(bowl of ice and water)to stop the cooking process and set the color; when cool all the way through, remove and dry; cut on diagonal into 1⁄2-inch segments.
4. Combine all ingredients, except peas and spring onions,into a very large bowl; toss with dressing and transfer to a platter.
5. Sprinkle the top of the salad with the peas and spring onions–enjoy!