The Chicago Toy Fair was packed full of fun and games for the entire family. Held on Navy Pier in downtown Chicago we found all kinds of games for the family.
For game loving families it is a great fair. There was everything from online games to card games to board games. There was a little bit of something for everyone. PLUS, they had Star Wars characters. Darth Vader greeted us at the door which is pretty cool. Other characters were walking around the show floor and stopping for photos. My nephew was there and he loved seeing all the characters.
We spent a lot of time investigating all the games. Bananagrams was a sponsor and it was fun learning more about their product. We brought home Pairs in Pears and Zip-It. I love word games so enjoyed exploring the different games in this family of fruit.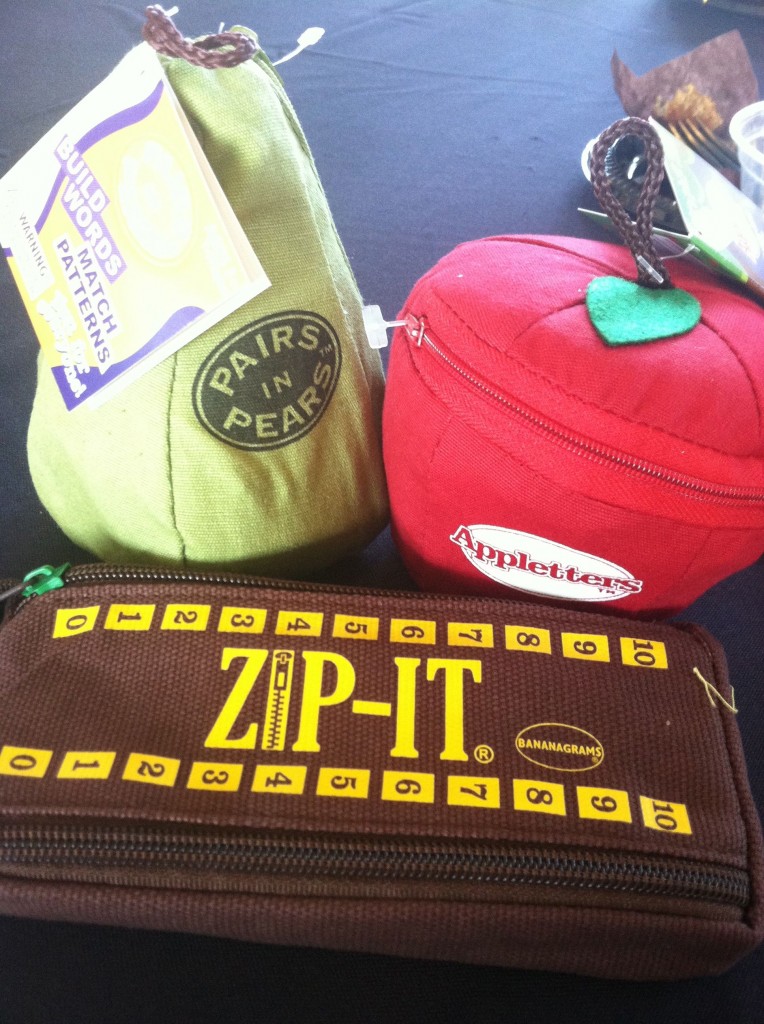 We also talked to the creators of Smash or Trash who also have another great game called Befuzzled which looks like a lot of fun as well.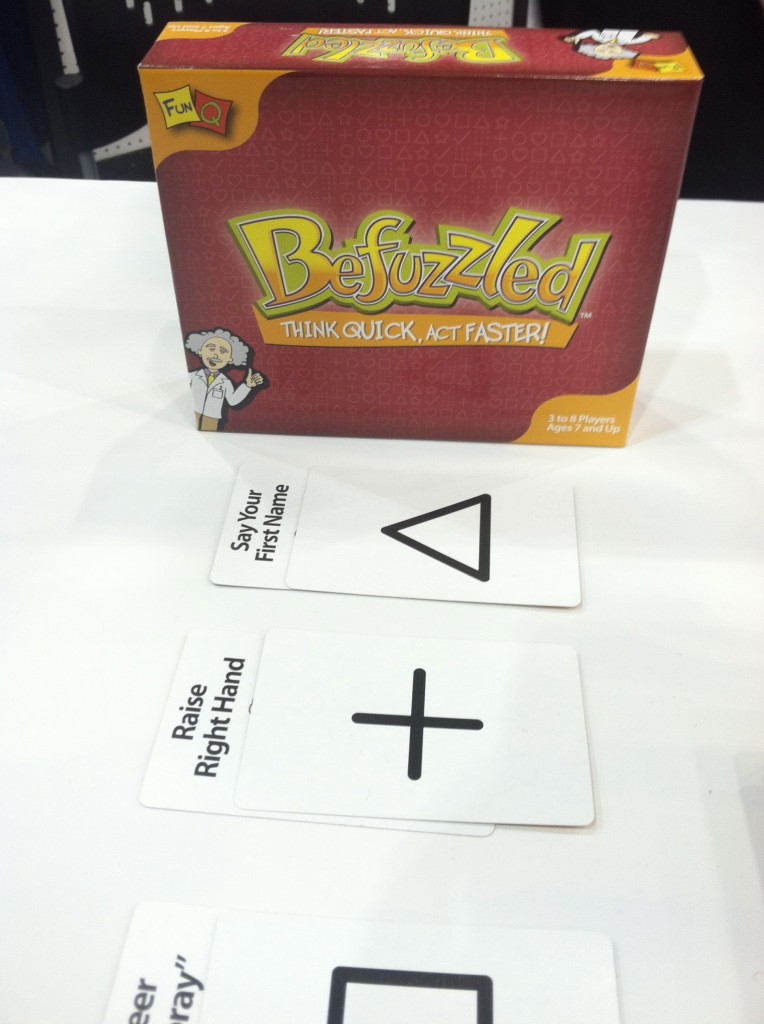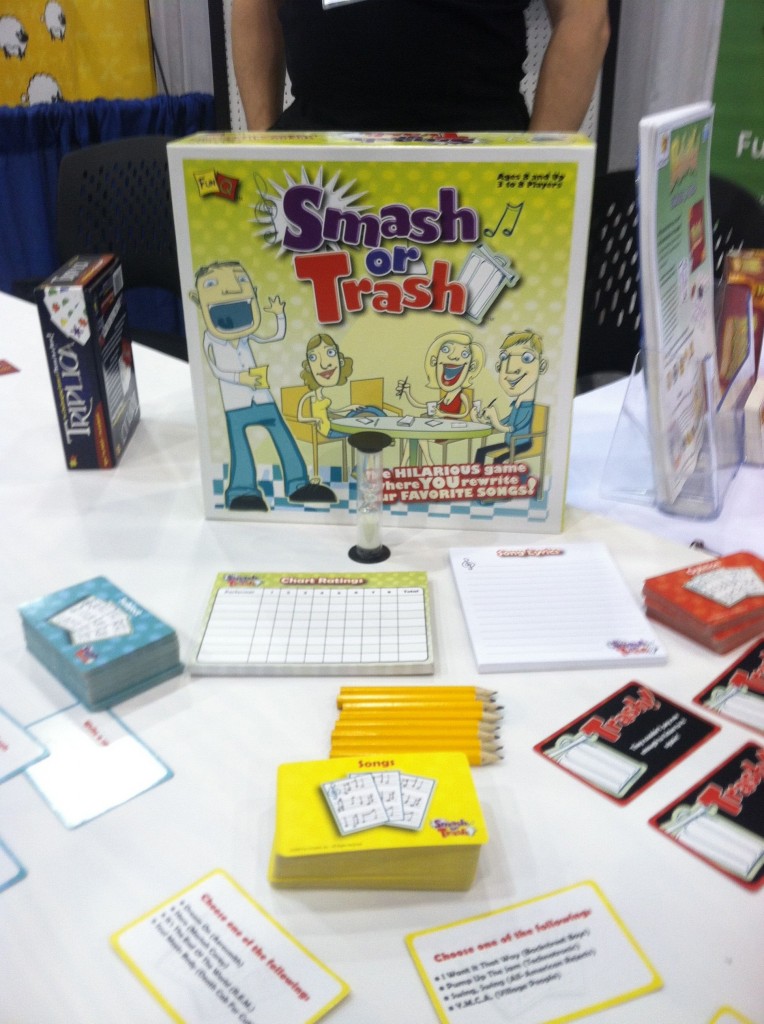 We played Smash or Trash with Dlyan & Em and it was a riot. The games works like this. The dealer passes out a song card and a subject card. The song card has a list of available songs on it. Pick one and rewrite the lyrics using your subject from the subject card. To get us warmed up we just rewrote part of the song.
For example. Dylan picked the song Tainted Love and his subject was 'prescription drugs'. His lyrics went like this:
Once I dealt for you
Now I'll buy from you
This drug addiction you've given
I give you all a boy could give you
Take my and money and that's not nearly alll.
drug addiction. drug addiction.
Good times! Good times.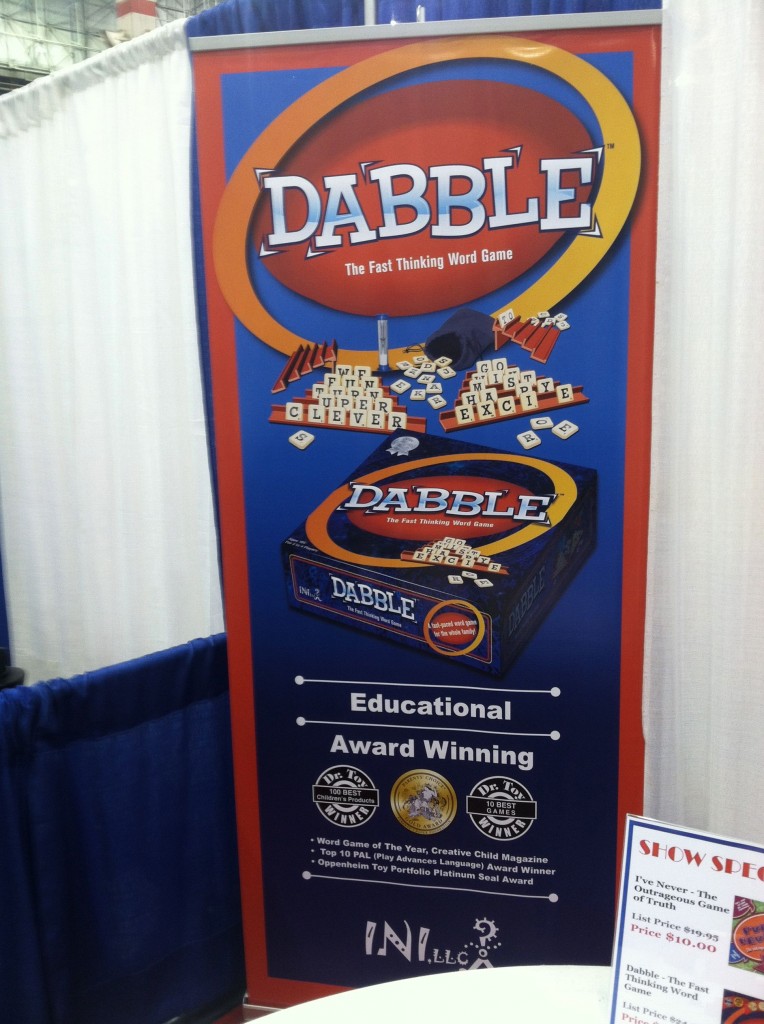 In addition to Smash or Trash I also brought home Dabble, a fun word game. After much cajoling the family agreed to play. Pull 20 letter tiles and create 5 words: 1-6 letter, 1-5 letter, 1-4 letter, 1-3 letter, 1-2 letter. A lot harder than it sounds, but really gets the mind working. A tip to make it easier is to start with the 6 letter word. The good thing about Dabble is that works as a single player game as well.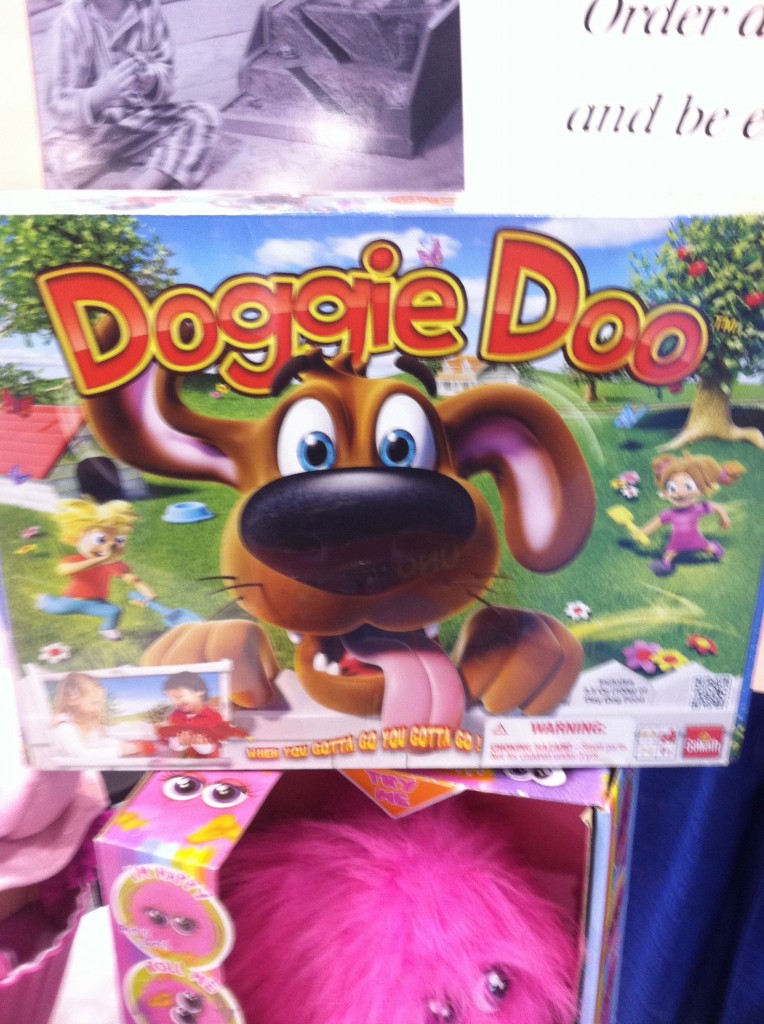 One of the most interesting unique different games there was Doggie Doo. A game that requires the players to move around the board picking up plastic poop. Um, yeah. I'll leave it at that.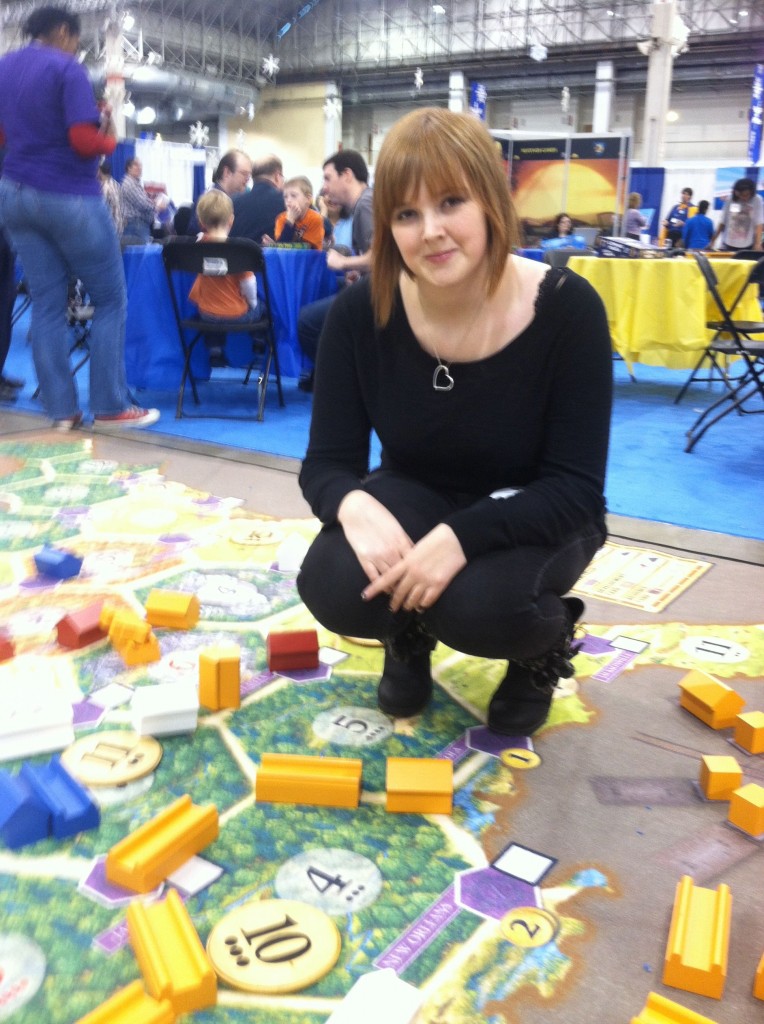 sorry for the blurry photo…was using smart phone without a lot of luck.
Settlers of Catan had a huge display. If you've never played this game I recommend it for older kids, 12+. Dylan & Em love playing this. There was a gigantic floor model that we wanted to take home, but sadly wasn't for sale. Not that it would fit in our house, but it was pretty awesome. During the event there was a Settlers of Catan tournament which was a great opportunity to play.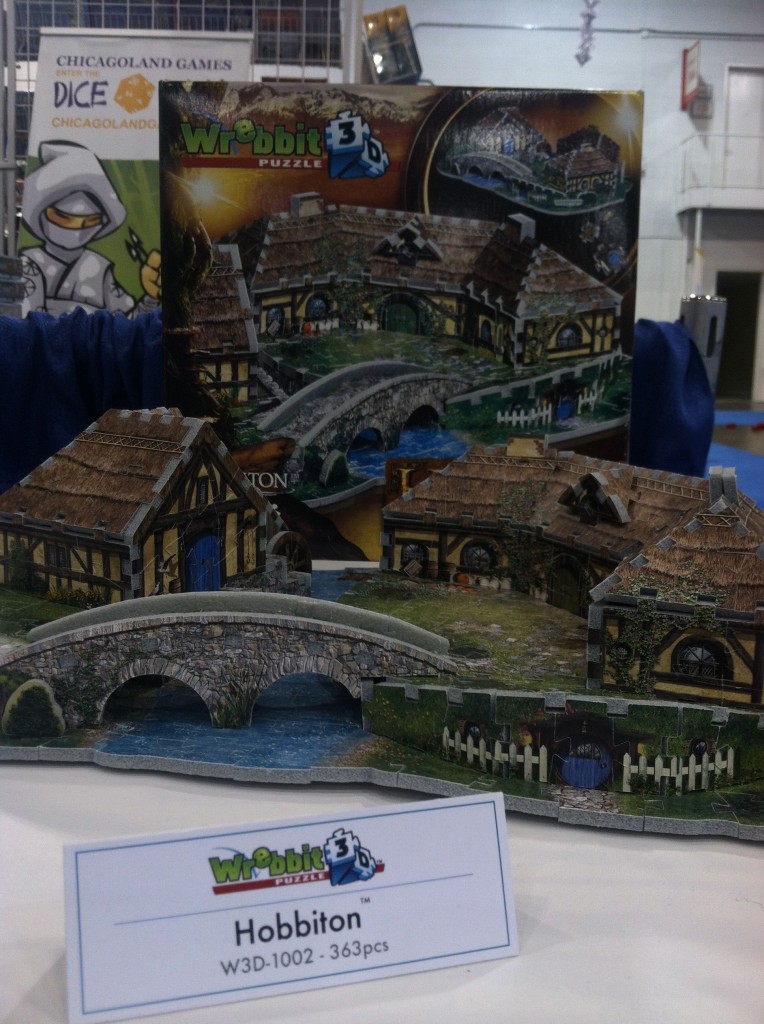 Wrebbit puzzles  had 3-d puzzles on display. These would be great for long winters. The puzzle pieces are a nice thick foam which helps when you have to build vertical. I wish I would have bought one of these. Its the kinda of puzzle you can leave sitting out and just work on when you have a bit of free time.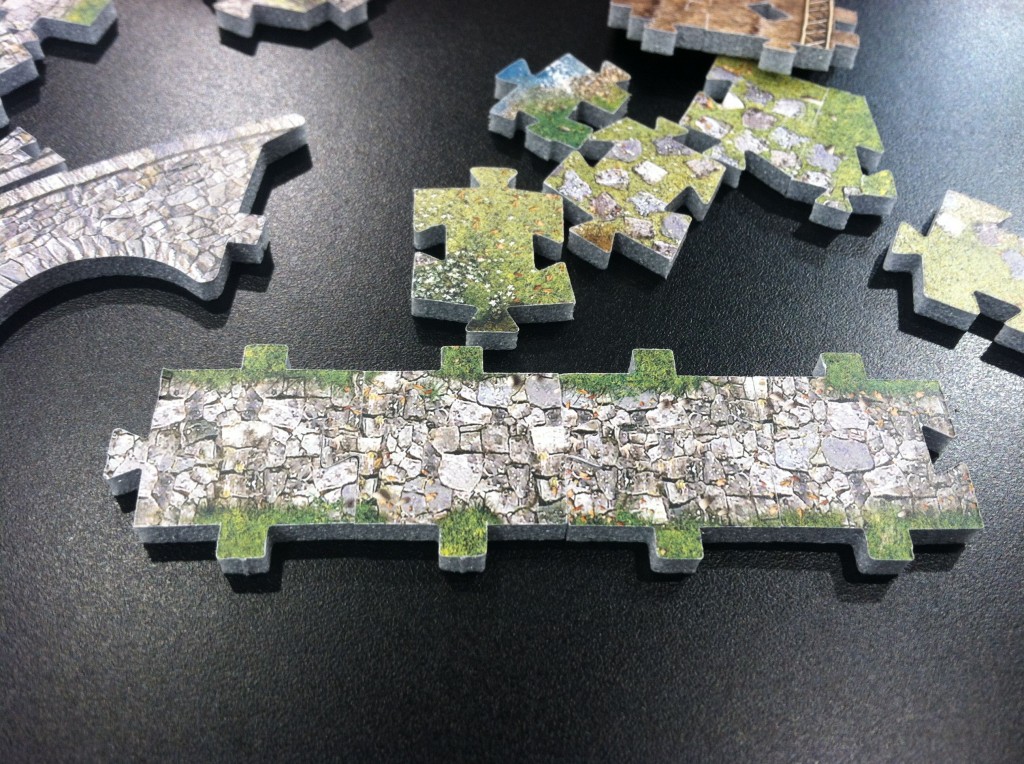 One of the most interesting and creative vendors at the fair was Brickstix. Brickstick are reuseable decals for your legos. These were invested by a 12 year old. Pure genius. They come in BrickStix packs and Mod packs. We bought a couple Mod packs just because they are so awesome PLUS they had a Zombie pack—score! These are a perfect stocking stuffer or gift topper.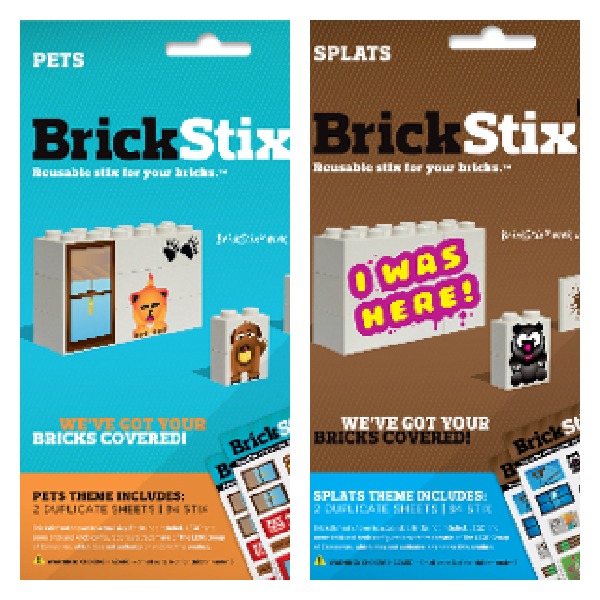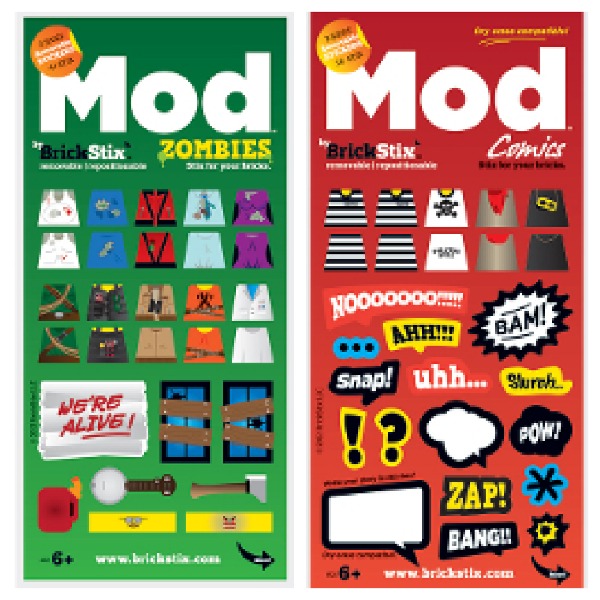 In addition to those mentioned above there were a lot of other great vendors at the event. You can learn more about the Chicago Toy Fair here.
We received complimentary tickets to this event to facilitate this review. aff links are included in this post