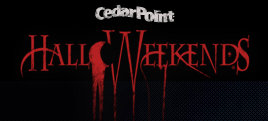 Get ready to be scared!! Now through Oct 28th you can experience HalloWeekends at Cedar Point. During the day the park offers family fun, but after dark the Zombies, Psychotic clowns and other twistedness  take over the park. There are haunted houses, scare zones and the coasters are offering thrilling rides. Additionally, there are 10 scary walk-through attractions and live shows.
Have little ones? Cedar Point has halloween fun suited for their ages. During the day there are parades, costume contest, and lots of treats and tame tricks.
Family Attractions:
Skeleton Crew— An exciting spectacle of acrobatics and aerial acts taking place throughout the day in Cedar Point's new Celebration Plaza!
The Goodtime Ghouls: A Halloween Hullabaloo— An energetic musical revue featuring a mix of rockabilly, swing, pop and disco in the Good Time Theater.
Gypsy Fortune Tellers— Find out what's in the cards for you as you venture into Frontiertown.
Charlie Brown's Funtime Frolics— Join Charlie, Snoopy and the PEANUTS gang for music, stories and spooky surprises.
The Magical House on Boo Hill—Â Whimsical illusions await at every corner in the topsy-turvy house just outside the Blue Streak roller coaster.
Monster Midway Invasion Celebration— Friendly monsters and characters take over the Cedar Point Main Midway with dancing, parade floats and music every day at 4 p.m.
PEANUTS™ Halloween Show and Kids' Costume Contest— Bring your little pirates and princesses for pre-school competitions at 2 p.m. and grade-school competitions at 2:45 p.m. every Saturday and Sunday in the Blue Streak Plaza.
Sideshow: A Carnival of Magic— Step right up for amazing illusions and jaw-dropping suspense!
Enter if You Dare:
Eden Musee'— The wax museum's longtime owner has left his children to run the family business their way, with disastrous results.
Cut Throat Cove— Meet the motley crews of sunken ships, left scavenging on the shores for more than 150 years in Frontiertown.
Blood on the Bayou— Who knows what's lurking in the murky waters of the lagoon? Watch out for the swamp's primitive inhabitants, who don't look kindly on company.
Maniacal, Mechanical Screamworks— Step into a metallic world of science fiction full of gadgets, gears and hollow screams.
CarnEvil— The crazy clowns and sideshow freaks are always recruiting, whether or not you're a willing participant.
Club Blood— This is nightlife like you've never known. Let the intoxicating sights and sounds captivate your senses, but don't let the bloodthirsty dancers get too close…
CornStalkers— Make your way through a twisted maze of terror, where someone is always watching.
Eternity Infirmary— Pack your bags carefully— once you check into this hospital, you won't be checking out.
Edge of Madness: Resurrection— Come to the Red Slaughter Saloon for 80s rock with a dark side.
Fear Faire— A maze of medieval mayhem!

HalloWeekends Park Hours:
Friday: 6 p.m. to midnight
Saturday: 11 a.m. to midnight
Sunday: noon to 9 p.m.
For more information about Cedar Point's HalloWeekends or to purchase tickets visit cedarpoint.com Just a note, you'll save $10 per ticket when you purchase them online.
Enjoy!!