I had a craving for carrot cake the other day and found a delicious recipe that I thought would still taste good after I took out most of the refined sugar. Surprisingly it worked. I made these carrot cake cupcakes in both regular size cupcakes and minis.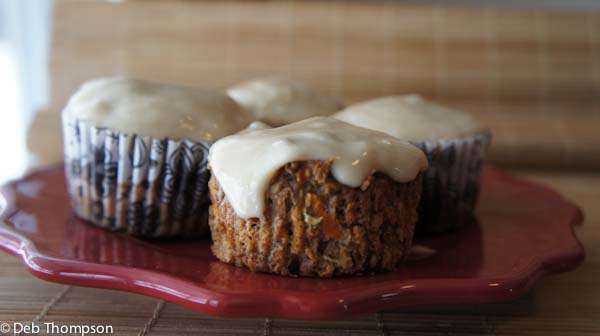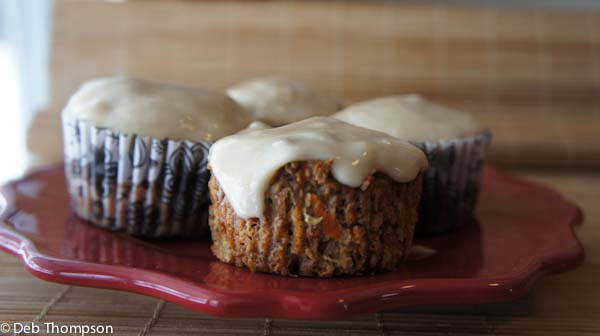 I indulged in a mini cupcake and it was worth it. These are very good. Even Alan, who is a sweet treat addict, liked these.
By the way, he's my true test if a sweet treat is really good or not, he considers himself a bit of a dessert connoisseur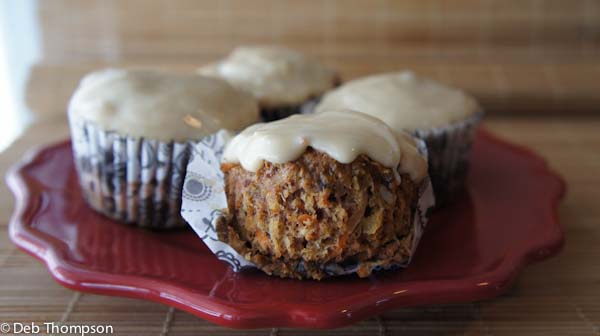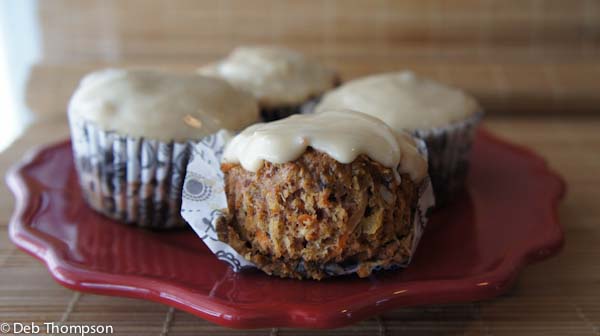 I found the recipe over here, but fine tuned it a bit to suit our family.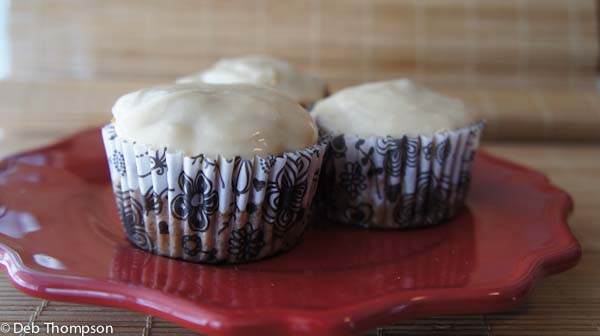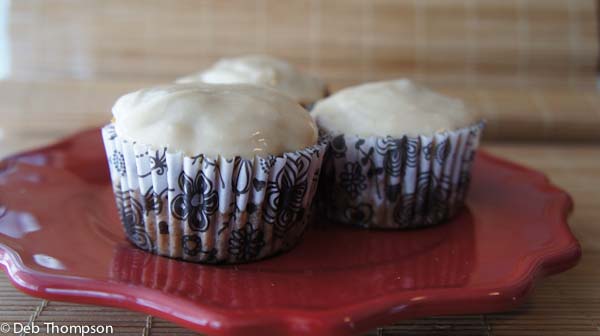 The original recipe called for 1 1/3 cups of sugar for the cake. I read many of the comments that said they reduced the sugar to 3/4 cup with good results.
I took it down to a 1/2 cup and it still tasted really good. The pineapple is sweet which helps.
If you remove the pineapple from the recipe you may want to increase the sugar back to 3/4 cup.
I reduced the powdered sugar in the frosting as well and added milk to make it more or less a glaze.
The original recipe calls for 3 cups of powdered sugar.
I only made half of the batch so should have used 1 1/2 cups. I ended up only using 3/4 cup and we liked it.
In all honesty, it could have probably been reduced a little more.
However, since I've cut most sugar out of my life I'm finding that I don't like things as sweet.
This is definitely something you will want to adjust for your own taste buds.
Carrot Cake Cupcakes
Prep time: 15 mins
Cook time: 30 mins
Total time: 45 mins
Ingredients
Carrot Cake Cupcakes Ingredients
1 1/2 cups all-purpose flour
1/2 cup granulated sugar
1/2 cup sweetened or unsweetened flaked coconut
1/3 cup chopped pecans
2 teaspoons baking soda
1 teaspoon salt
2 teaspoons ground cinnamon
1 teaspoon nutmeg
3 tablespoons canola oil
2 large eggs
2 cups grated carrot
1 1/2 cups canned crushed pineapple, drained
Cooking spray
Carrot Cake Cupcake Glaze/Frosting Ingredients
1 tablespoon butter, softened
4-ounce cream cheese, softened
3 /4 cup powdered sugar
2 teaspoons vanilla extract
1/3 cup milk
Carrot Cake Cupcake Instructions
Combine flour, sugar, coconut, pecans, baking soda, salt, cinnamon and nutmeg together. In a separate bowl mix oil & eggs until well mixed. Add egg, carrot, and pineapple to flour mixture and combine well.
Fill cupcake tins about 3/4 full.
Bake at 350 for about 25 minutes or until a toothpick inserted in the center comes out clean.
Cool on a wire rack.
For glaze/frosting:
Mix all ingredients together. You can adjust the thickness of the glaze by adding or reducing the amount of milk you use. Frost cupcakes.
Enjoy!