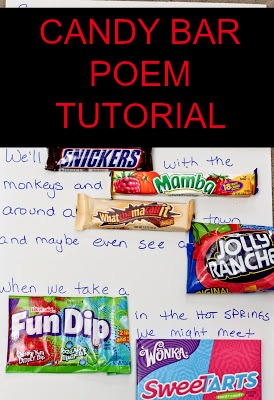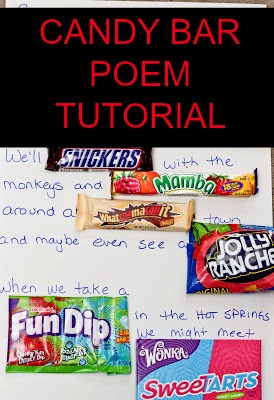 For Christmas I wrote a travel poem for the kids and inserted candy bars for certain words. Thought I would share a mini tutorial here on how to create one. Valentine's Day is coming up and this would make a fun original gift.
Items Needed:
~Candy Bars
~Glue, double sided sticky tape or some type of adhesive
~Foam poster board
~Sharpie marker
Step 1: Define your theme (Valentine's Day, Congrats, Birthday, Travel, etc)
Step 2: Make a list of available candy. Trust me…do this as step 2 or else you may end up at the store having to rewrite your poem. I found candy bars at the grocery store, the gas station, the drug store and the dollar store.
Step 3: Write your poem. Â Need ideas…let me know. I had so much fun with this.
Step 4: Write out your poem on the foam poster board glueing the candy into the appropriate spots.
Step 5: Give to the lucky recipient
Here's my finished product: Â (candy bar names are highlighted)
Emma,
Our trip is a time to Take 5 and have a Razzles dazzle good time now instead of later. We'll snicker with the monkeys and mamba around a whatchamacallit town and maybe even see a jolly rancher.
When we take a fun dip in the hot springs we might meet some sweet tarts.
I hope we see whopper turtles or maybe some sweedish fish.
We'll have amazing views of starburst and the milky way.
This trip is quite the skor and we hope it gives you a 100 grand memories.
Hugs & Kisses,
Mom & Dad
I also wrote one for the my son's girlfriend…she housesat for us while we were gone.
Poem: Please don't
snicker
but you are a
lifesaver
for taking care of our home and going the
extra
mile. We hope you have a
whatchamacallit
of a time, but don't
skor
too much fun. Be
twix
us, you are a
100 grand
.
There you go…easy peasy. Be sure to let me know if  you make one.
Cheers,