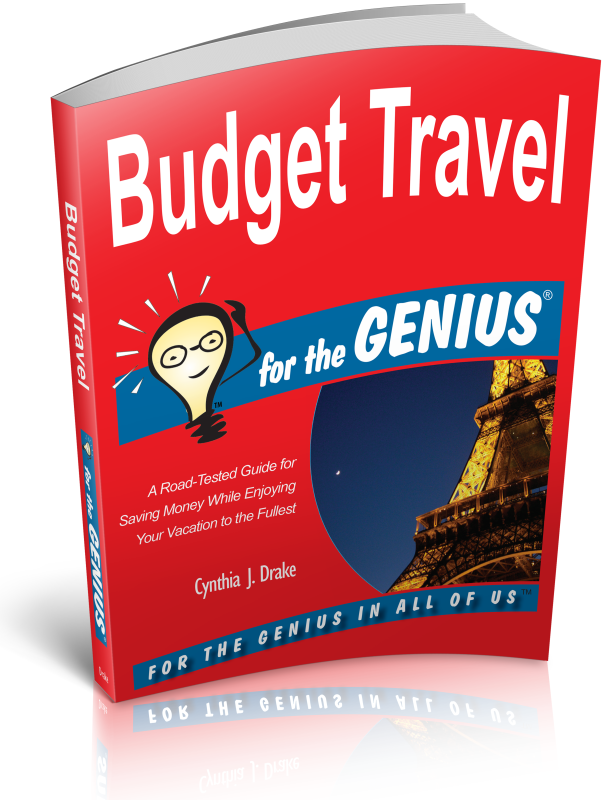 I was thrilled when fellow travel writer, Cynthia Drake, asked me to review her new book, Budget Travel for the Genius: A Road-Tested Guide for Saving Money While Enjoying Your Vacation to the Fullest. This is a subject that is near and dear to me. The majority of my personal travel has centered around the budget travel sector. For me, budget doesn't mean cheap, it means finding ways to stretch the dollar to get the most value for your money. When I planned a 3 week trip to Costa Rica for the family it was done on a budget, but we had a wonderful time and those are memories that we won't soon forget. That is the focus of Budget Travel for the Genius. Traveling while using money wisely.
"…taking advantage of off-season deals can cut the price of an airline ticket, hotel package,
or cruise in half. Getting off the beaten path (away from the chain restaurants and
tourist traps) will net you a substantial savings off your food bill."
Ms. Drake divides the book into easy to reference parts:
Part 1: Before You Go
Part 2: Types of Trips
Part 3: While You're Traveling
Part 4: Special Considerations
I enjoy the layout of this book. It gives the reader the option to read the book from start to finish or select and reference specific sections that they are curious about. The Before You Go section includes a short quiz to help determine which type of vacation you should take. Relaxed and carefree, time with family, maybe you are seeking meaningful experiences or one full of adventures. Whichever you prefer Budget Travel for the Genius has tips and tricks for you.
"So if you have a "bucket list" that includes a few destinations you've always
dreamed about visiting, make a plan now for how to get there. Read this
book to help you develop a basic strategy for ways to cut your costs and travel
economically. Then sit down and map out that dream trip. You'll be there
before you know it. Be sure to send a postcard."
I am really impressed with how Ms. Drake covers every type of travel situation in the book. Camping, cruising, spas, extended stays, getting around, dining on a budget, U.S. destinations, International destinations, couples, families, seniors and so much more. If you want to know how to travel more without breaking the bank this is the book to help you get there.
Even as a seasoned traveler I found many great tips and tricks in this book. I've always said that money doesn't have to limit travel and Budget Travel for the Genius proves my point. Grab the highlighter and sticky notes because you will want to mark up the pages of this book. By far, one of the most practical books I have read about traveling on a budget.
Buy your copy today at Amazon.com.
What is your favorite budget travel tip?