One of my favorite things about living in the midwest is that it is a great budget friendly destination. A friend recently asked me for attraction recommendations in the midwest that cost less than $25 per person. I haven't done a survey, but based on my personal experiences, I would have to say that 90% of the attractions in the midwest fall way below $25 per person. The Quad Cities reinforced my theory by offering up so many great activities that are perfectly fall into the budget family travel category.
The Quad Cities (Davenport & Bettendorf, IA and Moline, E. Moline, & Rock Island, IL) are located on the banks of the Mississippi River in America's heartland lends itself to a lot of family entertainment. How about a Mississippi River tug-of-war, sitting behind the wheel of a huge John Deere tractor, or visiting American Pickers? The Quad Cities offers that and so much more!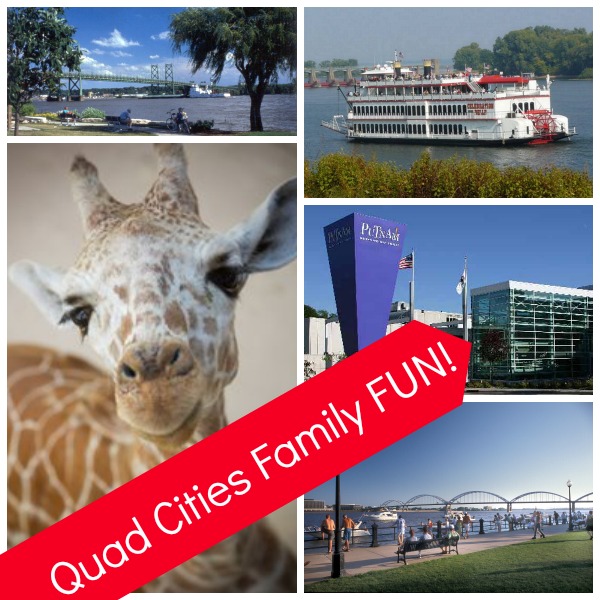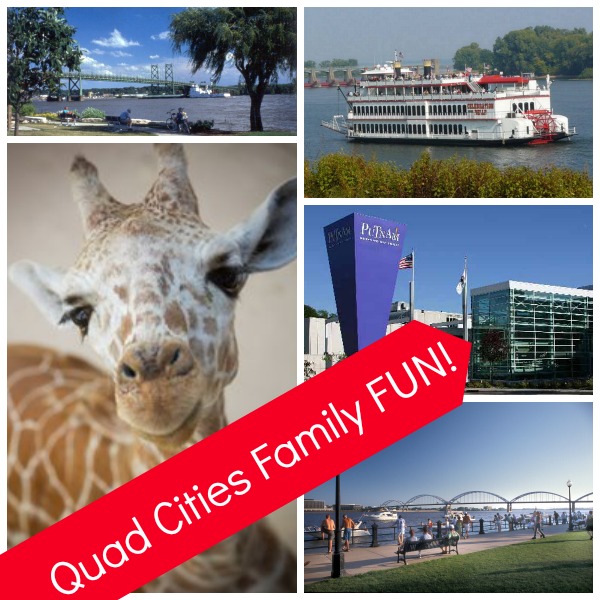 PLAY
Take the kids for a float down the Mississippi River aboard the Celebration Belle. The kids will love the paddlewheel boat. During the cruise you'll see the largest roller dam in the world at Lock and Dam #15. The sightseeing cruise runs for 1 hour 30 minute from April to October. Adults $15; Children $10; Children under 3 are free.
If you aren't up for a sightseeing cruise you can still take a boat ride on the mighty Mississippi. The Channel Cat Water Taxi will take you from between Bettendorf, Davenport and Moline. Tickets are $6 adults, $3 for children 2-10 and are good for the entire day. During Saturday and Sunday the taxi runs from 9a.m. to 6p.m.
Let the kids get behind the wheel of big John Deere tractors at the John Deere Pavilion located in Moline, IL. If the kids love tractors you'll want to plan on spending a couple hours here. Kids can climb on the tractors, virtually drive combine tractors at simulators and interact with hands-on displays. The John Deere Pavilion is one of the state's top attraction and it's FREE.
Take the kids to the ballpark to watch the River Bandits play at one of the best minor league park in the midwest. The ball field is located along the Mississippi River which means you'll have a fantastic scenic view during the entire game. The ball park offers a lot of family entertainment beyond the baseball game. There are inflatables for the kids as well as a ferris wheel. Tickets range from $5-$13 per person. Be sure to check their website to see what promotions are happening the day of your visit.
The Putnam Museum offers something fun for everyone. Science, animals, ocean, space, ancient Egypt and more. There is also an IMAX theater and cafe. Plan on spending a minimum of 4 hours at the museum and longer if you plan on watching a movie. The brand new science exhibit has 45 hands-on exhibits spread over 10,000 square feet so there is plenty of room to play. Traveling exhibits change frequently and fun summer camps are offered. Hours: Monday through Saturday 10 am – 5 pm, Sunday Noon – 5 pm. Prices vary based on activities: Adults $12-$24, Youth $10.50-$19.50.
Family Museum is located in Bettendorf and offers families the chance to play and learn together with hands-on and interactive exhibits. Fox Hollow, Lil 'Ssippi, George's Farm and the Think Shop are some of the permanent exhibits. Traveling exhibits and special events happen year round. Hours vary by day. Prices $7 for ages 2-59, $4 for all others.
A brand new children's garden is set to open at the Quad City Botanical Gardens. The garden will include it's very own Mississippi River with headwaters and a delta. The garden will also have a water feature that kids can play in. Pack lunch, towel, dry clothes and plan to spend the afternoon. Hours vary. Admission: $6.00 Adults (16 years and older), $5.00 Seniors (60+) and Military, $4.00 Youth (ages 6 to 15), $2.00 Children (ages 2 to 5), Toddlers (ages 2 and under) are free!
If the kids enjoy zoos be sure to add Niabi Zoo to your itinerary. At Niabi kids can feed the giraffes, take a jungle trek and step inside an aviary. Other highlights of the zoo include a petting zoo area, train rides and a carousel. Hours: 10am-5pm Monday-Saturday and 11am-5pm Sunday. Admission: Adults $8.25, Seniors $7.25, Kids (3-12) $6.25 and kids 2 and under are free.
No visit to the Quad Cities would be complete without a stop in charming Le Claire, IA. Le Claire is home to the American Pickers, the Buffalo Bill Museum and the popular Mississippi River tug of war (happens every August). You can read more about things to do in Le Claire at American Pickers, Whiskey and Fun in Le Claire.

EAT
Enjoy a delicious breakfast at Fresh Deli, located at the Freight House. Hot breakfast items as well as a great selection of freshly made baked goods are available.
Harris Pizza has been perfecting pizza for 50 years and they use a secret pizza spice blend and a mixture of hand selected cheeses. Be sure to order a pizza with their speciality sausage on top.
Be sure to take the kids to Lagomarcino's, a iconic and nostalgic soda shop in Moline, IL. Lagomarcino's started as a chocolate shop in 1908 and added a soda fountain not too long after. Tasty soups and sandwiches, handcrafted sodas, and handmade ice cream topped with hot fudge sauce are house specialties.
Machine Shed Restaurant is a local favorite with homestyle cooking that is a great place for dinner.  Every Friday they offer a fish fry.
Cafe Indigo serves up American fare for dinner. It's noted as one of Davenport's best kept secrets.
Enjoy a meal along the river at The Captain's Table in Moline, IL. Seafood is the house specialty, but other menu items are just as delicous.
Save room for dessert at Whitey's Whitey's Ice Cream: Told by every local I met to make sure I tried Whitey's Ice Cream I made sure to stop on my way out of town. Whitey's has been making ice cream for over 80 years and they have multiple locations in the Quad Cities. Famous for their upside down shakes and malts. Ice cream is hand dipped and delicious!
Before heading out of town on Sunday be sure to indulge in Sunday Brunch at the Blackhawk hotel. Nominated by locals as the best brunch in the area the Blackhawk has so many delicious offerings you'll have a hard time deciding what to try. Brunch includes endless mimosas and bloody mary's.
STAY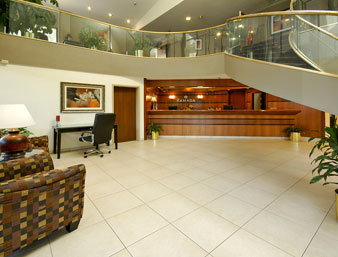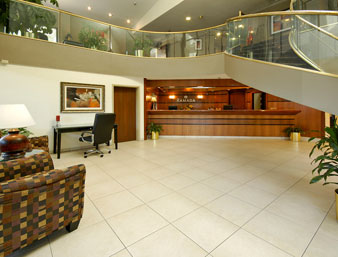 This one is small but has a "fun" pool.
Ramada Bettendorf/Davenport
3020 Utica Ridge Rd
Bettendorf, IA 52722
This one is near many attractions
Hampton Inn & Suites Davenport
5290 Utica Ridge Rd
Davenport, IA 52807