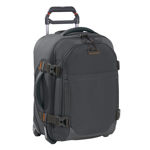 After spending almost 3 weeks on the road with pathetic luggage I decided it was time to search for luggage that is appropriate for a travel lifestyle. I knew I wanted some "grown up" luggage that would endure the next 20+ years and not just another cheap small throw away bag  like I'm currently using. My current bag isn't really a good size for long trips, but I made it work for my Yellowstone adventure. However, I only packed a few items and ended up doing laundry during our trip. (Did you know that Canyon campground in Yellowstone has a laundromat??? Made me very happy to have clean clothes)
I started my research at Google.com and used the search words "adventure travel luggage reviews." The first thing that came up was a review of Briggs & Riley BRX luggage. I searched and found a few more online reviews of Briggs & Riley and it looked like a perfect fit for either an African Safari or a City Safari, perfect for my needs. Well, I'm not sure I have an Africa Safari in my future, but a girl should be prepared 🙂 What I really like about the BRX line is that their Exchange 26 Duffle was named the National Geographic Adventure Gear of the Year 2010. Searching the Briggs & Riley site to check out the entire BRX line I see a few items that I really liked so it was off to the store to take a closer look at them.

REI was my first stop on my quest for new luggage. In my opinion, it is the go-to store for adventure and travel gear. I fully expected them to carry the Briggs & Riley BRX line. Upon arriving at the store I had a bit of surprise.
No Briggs & Riley BRX. Huh? Well, that is odd. An adventure store with no BRX travel gear. Hmmm, ok. I see the REI brand, and Osprey, and Victorinox, but no BRX. I wanted to ask an employee about it, but the store was pretty busy so I just left and headed to another store. REI's loss since I was planning on buying a few pieces.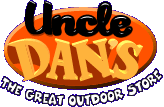 My next stop was Uncle Dan's. I didn't know if they would have the Briggs & Riley BRX travel gear, but I really hoped they would. I was eager to see the luggage up close and personal (hey, when you travel a lot you get excited about new luggage–lol). Walking into the luggage area there is a nice display of Briggs & Riley BRX luggage right under a prominently displayed sign.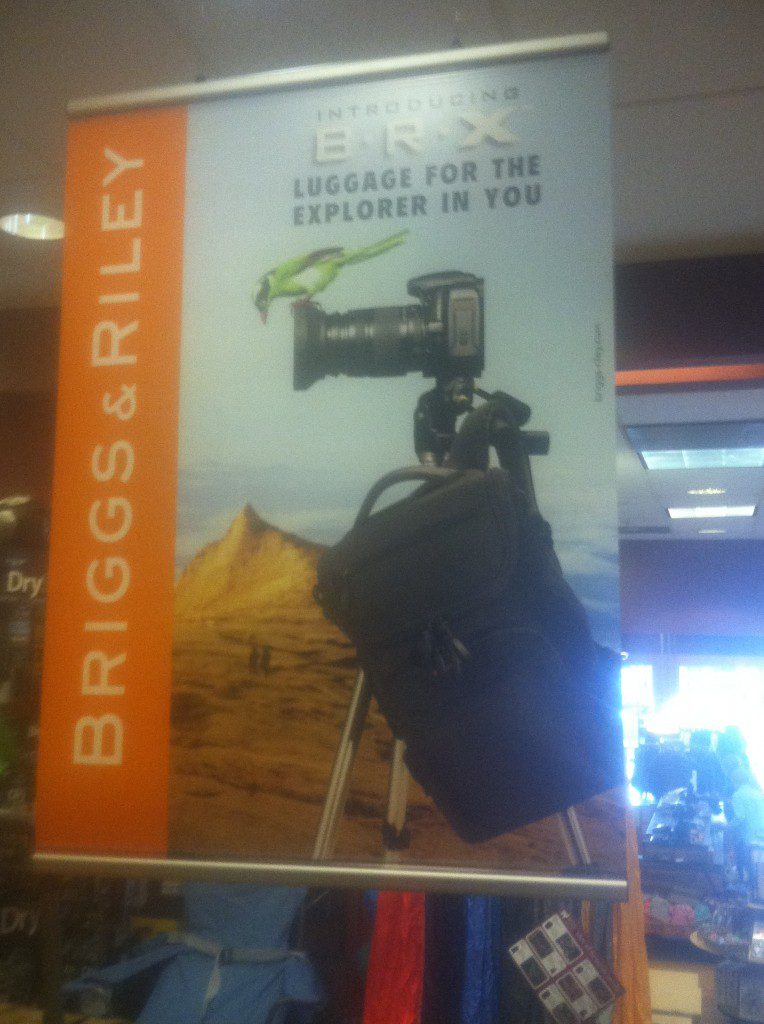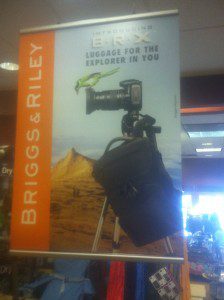 Love that this sign made it so easy to find the BRX line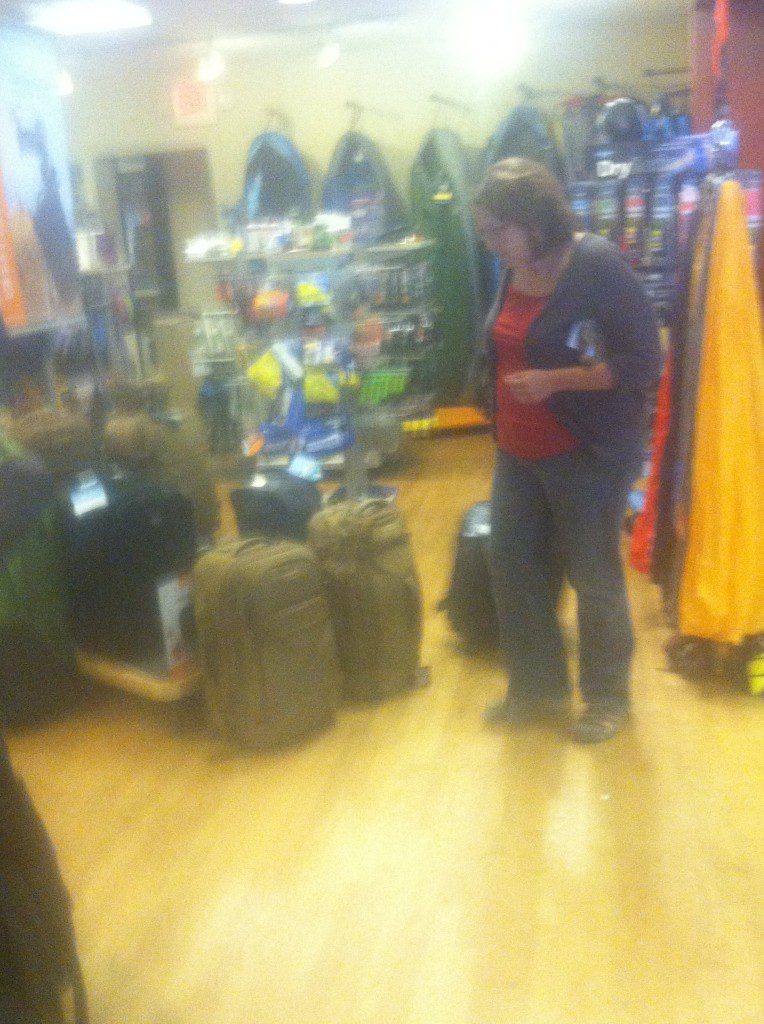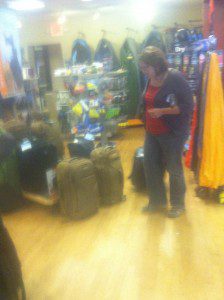 Testing out the luggage. Great wooden floors to try it out on!
Uncle Dan's had the roller bags and the duffle bag, but no backpack or field bags and I really wanted to look at those before making my decision on what to purchase. At Uncle Dan's a very helpful employee let me know that Uncle Dan's doesn't carry either of the bags I was looking for. He didn't understand why the store wasn't carrying the backpack since it's such a great piece of gear.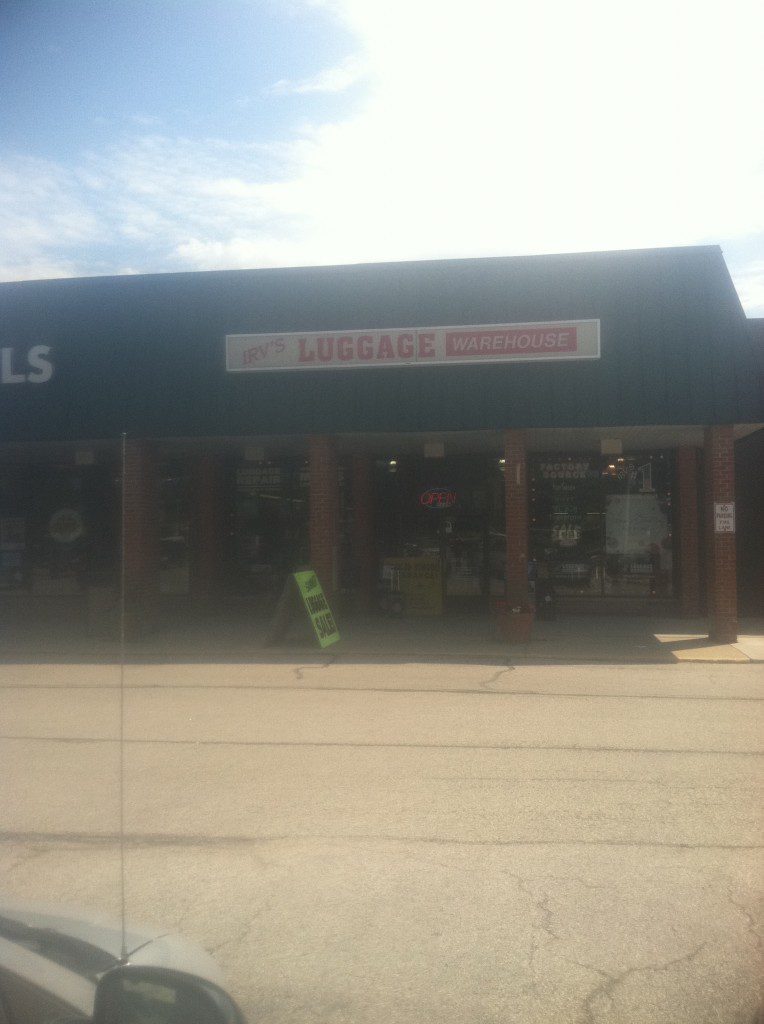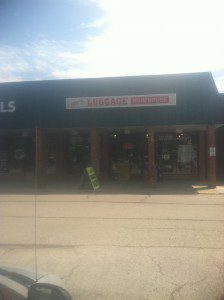 Sadly, I wasn't able to buy my luggage at either sporting goods stores. I really thought I wouldn't have any trouble finding what I wanted at either REI or Uncle Dan's. Oh well, it worked out MUCH better for me by making the trek to Irv's Luggage (local store in Northbrook, IL). At Irv's I found the entire line of luggage, from the toiletry bag to the largest roller bag.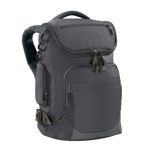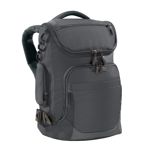 Briggs & Riley BRX Excusion Backpack
I fell in love with the excursion backpack. I knew right away that it would be perfect for all my camera and tech gear for travel.  I was pretty sure that I wanted the excursion backpack, but I still needed to look at a couple other bags.
I checked out the Field Bag next. Swoon….love at first sight. Well, I actually fell in love with it when I opened it up. There is a pocket for your netbook or iPad, a pocket for your cell phone , other pockets for small items and lots of room for all your travel documents and any other travel items you need for your flight.
I think it will also make a great everyday purse. Oh man, the decision on what to buy is going to be harder than I thought!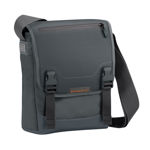 Briggs & Riley BRX Excursion Field Bag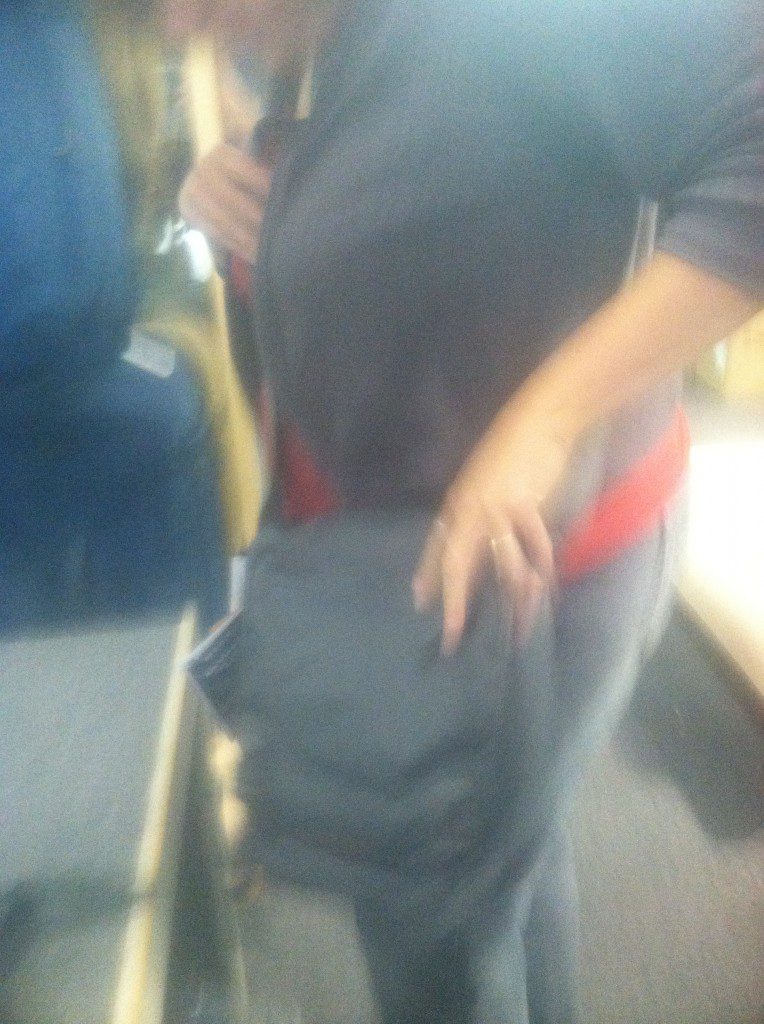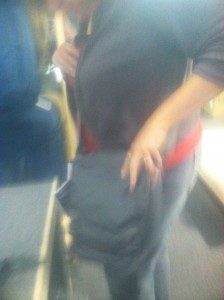 Trying the field bag on to see how it feels (please tell me everyone "tries" on their luggage before purchasing and I'm not just weird???")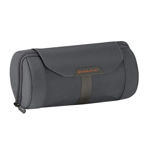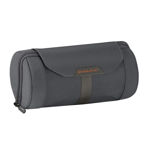 Briggs & Riley BRX Express Toiletry Kit
I figured since I was already going to be picking up a couple new pieces of luggage I might as well add a new toiletry kit to the mix. This will work well for the items I travel with.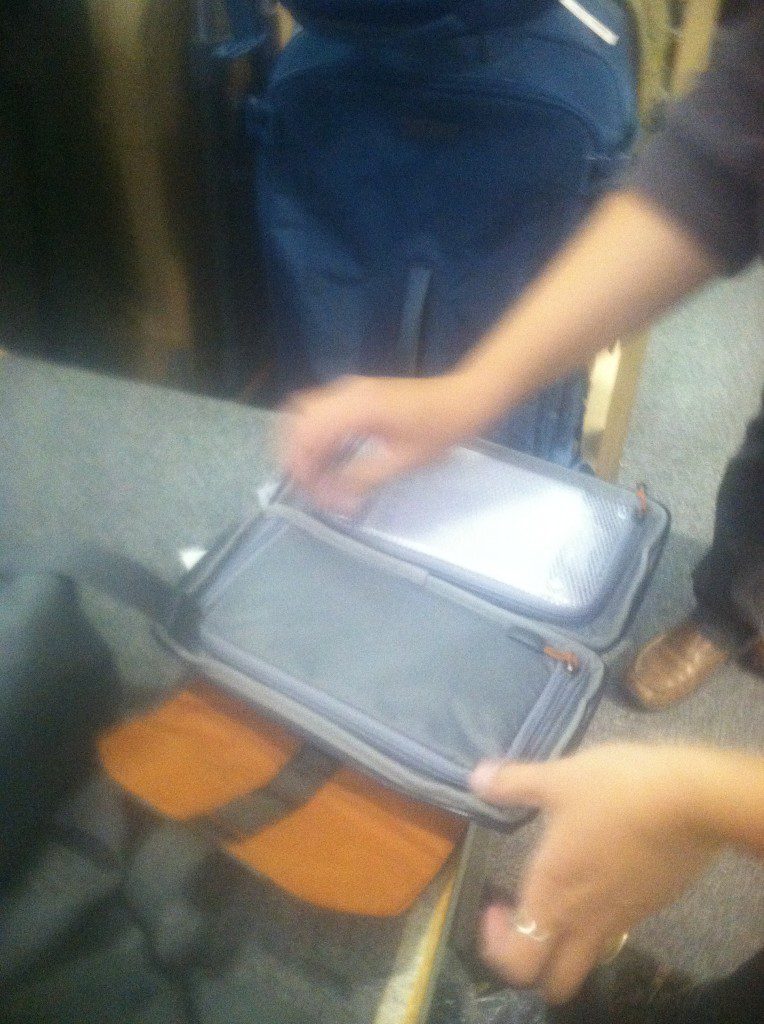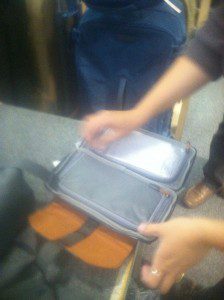 Inspecting the toiletry kit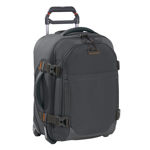 Briggs & Riley BRX Explore 19 Upright Roller Bag
Since the main purpose of my shopping trip was to buy a new piece of luggage I finally got around to looking at the Explore 19 Upright roller bag. It's lightweight and will fit in the overhead storage of a plane (yea!!!)
This was the same piece I really checked out at Uncle Dan's so I knew it was a good fit. The handle is long enough that it is easy for me to pull behind me. I took it for another spin at Irv's to make sure it would be a good investment.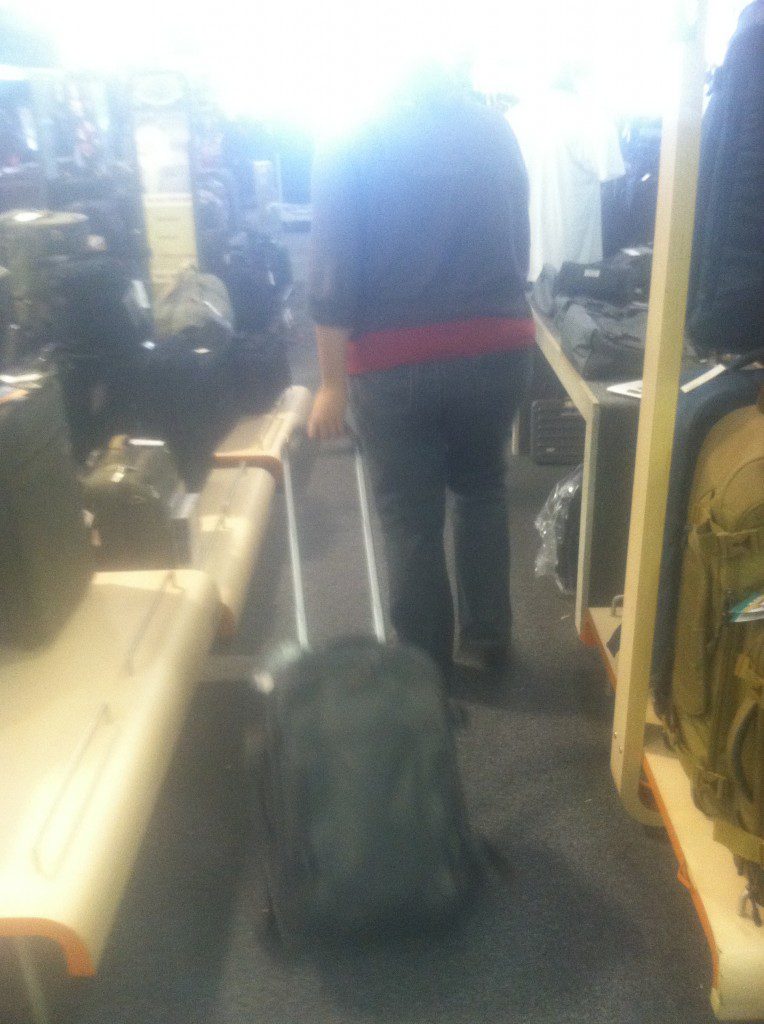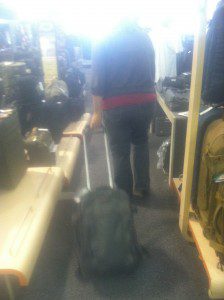 Checking out the inside. I LOVE the orange color inside the bag!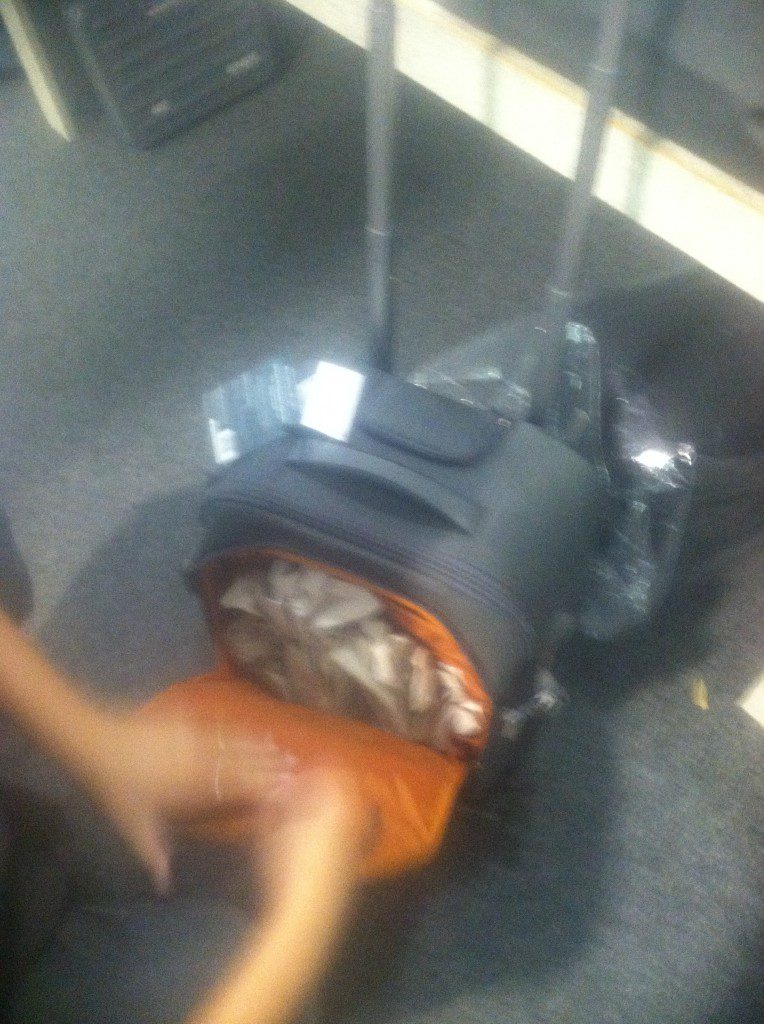 After looking at all the pieces I really had a decision to make. Ideally, I wanted the backpack, field bag, toiletry bag, AND the roller bag. As I stood there trying to decide what to do the store owner said that he could give me a deal on the roller bag.
He mentioned a certain dollar amount off. I appreciated the offer, but it didn't really bring the amount down to a comfortable amount for me. I thought about it a bit more and finally asked him if he would give me a deal if I took all 4 pieces. (Giant swallow…I've NEVER spent this kind of money on luggage!)
So, we ended up working out out a very sweet deal and I walked out with all four pieces. I'm pretty sure REI or Uncle Dan's wouldn't have considered giving me a discount so not finding the luggage at those stores wasn't a complete loss. It did cost me some time, but in the end it was worth it. (That being said, REI really should carry the luggage)
I will be putting the luggage to the test in the near future to see how it holds up. One of the great things about the Briggs & Riley line is that if the luggage is ever damaged, no matter how it happens, Briggs & Riley will repair it FREE OF CHARGE with their Simple As That Performance Guarantee.