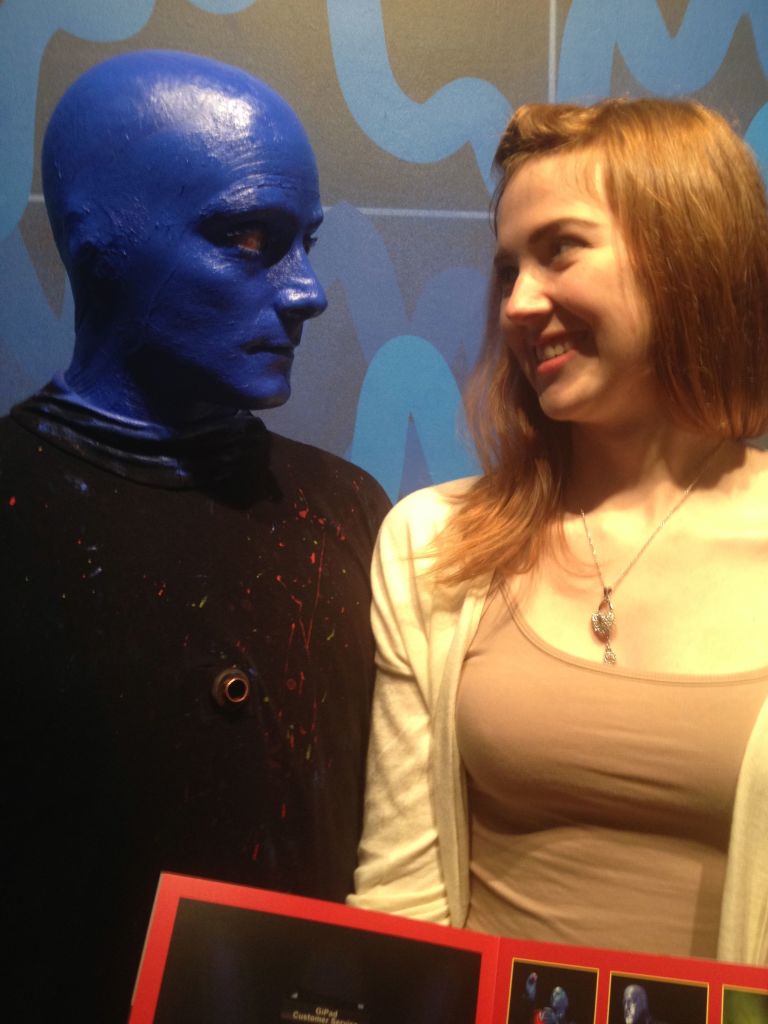 Hands down, this is Em and my favorite thing to do when visiting Orlando. There are many, many things we enjoy in Orlando, but attending a Blue Man Group performance tops our favorite things list. We attended a Sunday night show recently and had so much fun. Who would have thunk that 3 guys painted blue could be so entertaining.
THREE THINGS YOU LEARN FROM BLUE MAN GROUP
1. Rock Concert Moves. That's right. Blue Man introduces you to all the moves you'll ever need when you attend a rock concert. Get ready to master the head bob, one armed fist pump, wave your hands in the air like you just dont care and more. I don't want to give away all the moves. Blue Man does an excellent tutorial during the show.
2. How to shake your booty. The video above shows you how it's done. I have an entirely new vocabulary for buttocks after watching the show. Who knew there were so many ways to describe ones bottom.
3. How to play music with PVC pipes and paint with drums.  Gotta say, music via PVC pipes is pretty cool. There is an entire range of musical notes that they create from different pipes and until you see it for yourself it's kind of hard to understand. After the show I wanted to by some big drums and blue paint just for fun….Em didn't like that idea.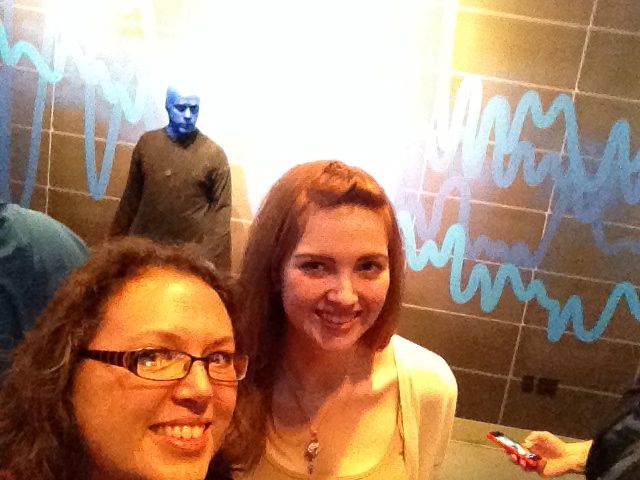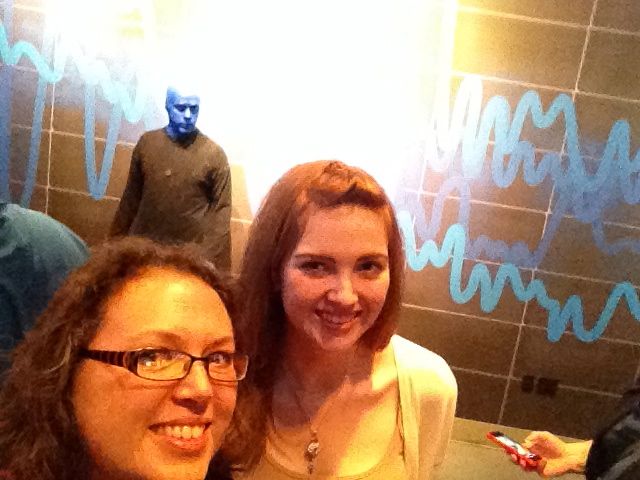 THREE TIPS FOR ATTENDING A SHOW
1. While waiting for the show to start be sure to read the digital scrolling sign above the stage. As the show gets closer to starting the sign guides the audience through a number of interactions.
2. If you sit in the first couple rows you may want to wear the provided poncho. Things can get a little messy close to the stage.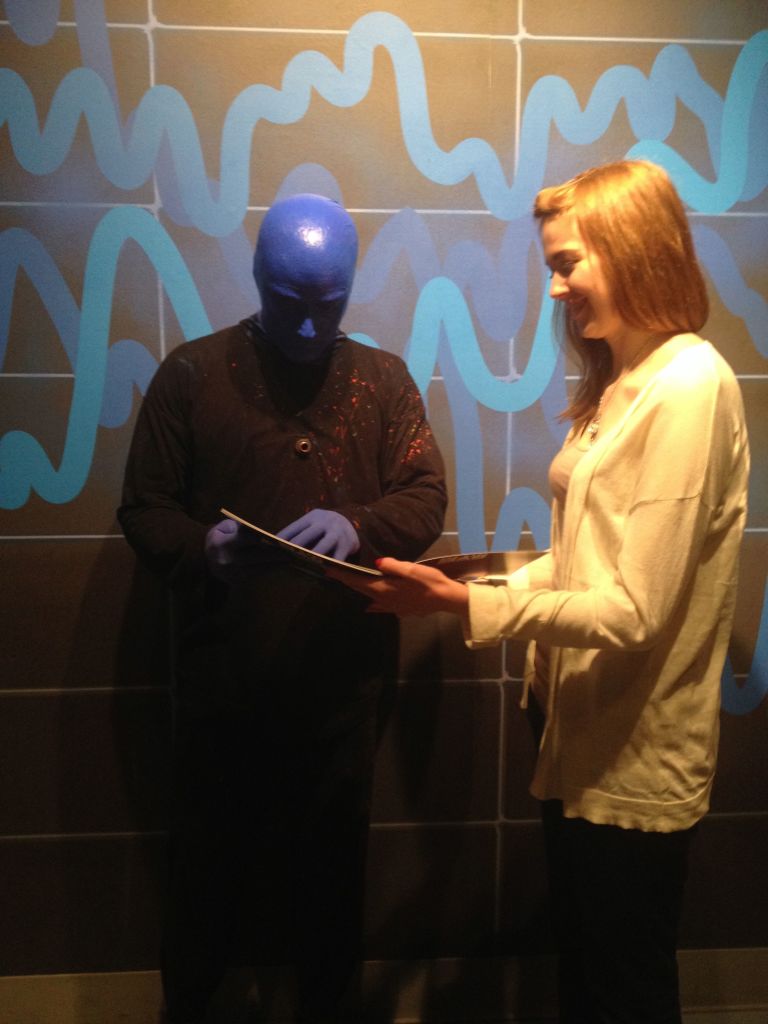 3. Stay after the show for a meet and greet with the band and blue man group. Photos are encouraged. If you buy a show book the blue man will sign it by touching his head and the placing a hand print on one of the pages. NOTE: It takes a very long time for the paint to dry. We have had the book open for almost 3 weeks and it's still wet.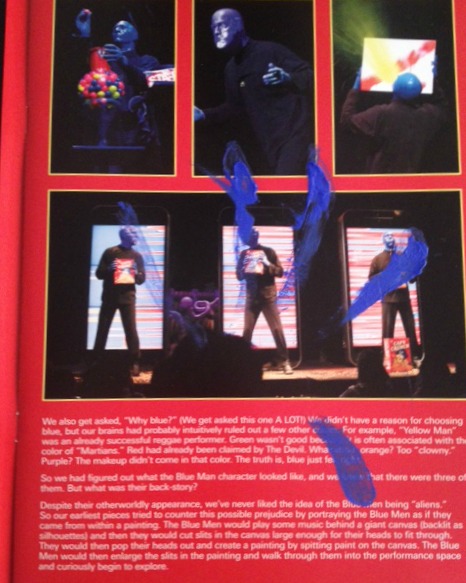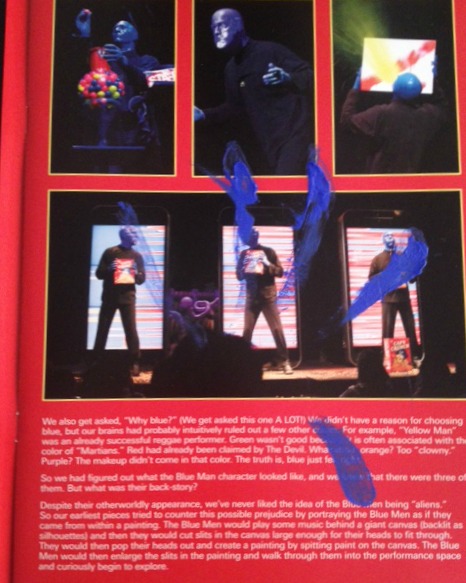 disclaimer: Em & I were hosted by Blue Man Group to share our experience with my readers. All thoughts and opinions are my own.