Bilger's Rocks in Clearfield County, PA is the perfect stop on your next road trip to get out and stretch.
Yes, it's a short detour off of I-80 but its so worth it and you won't regret it.
Let me tell you why.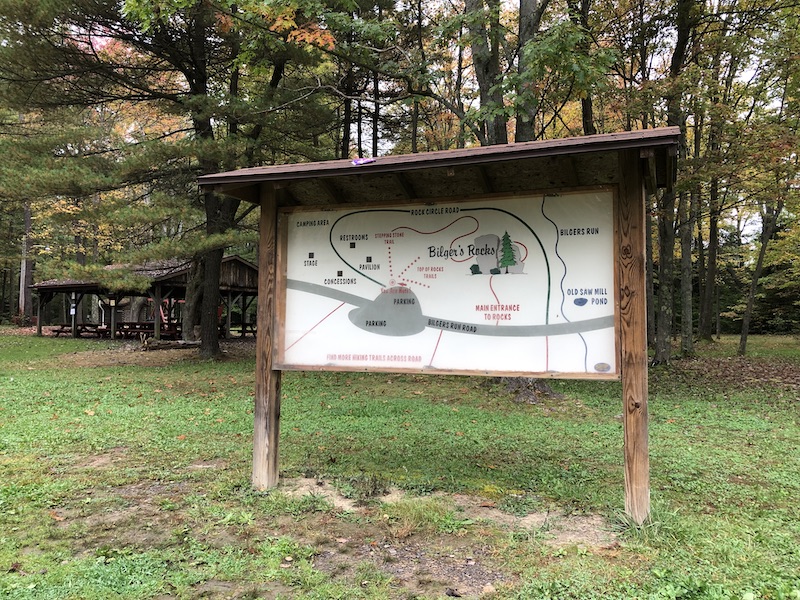 It is the perfect outdoor playground all for the low cost of FREE (although donations are appreciated).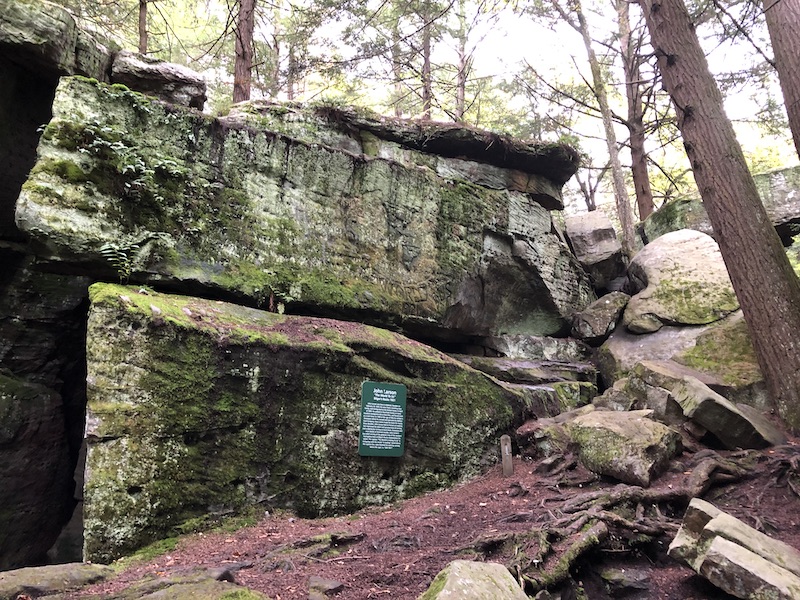 The park is located at 1921 Bilgers Rocks Rd. Grampian, Pennsylvania, United States., between Clearfield and DuBois. If you put the address in your map it should take you to park without any issues.
Why Visit Bilger's Rocks
Now, I haven't visited all the rock outcroppings in Pennsylvania, but so far this is one of the best ones, in my opinion.
There are hallways, great rooms, crevices, and even an ice cave.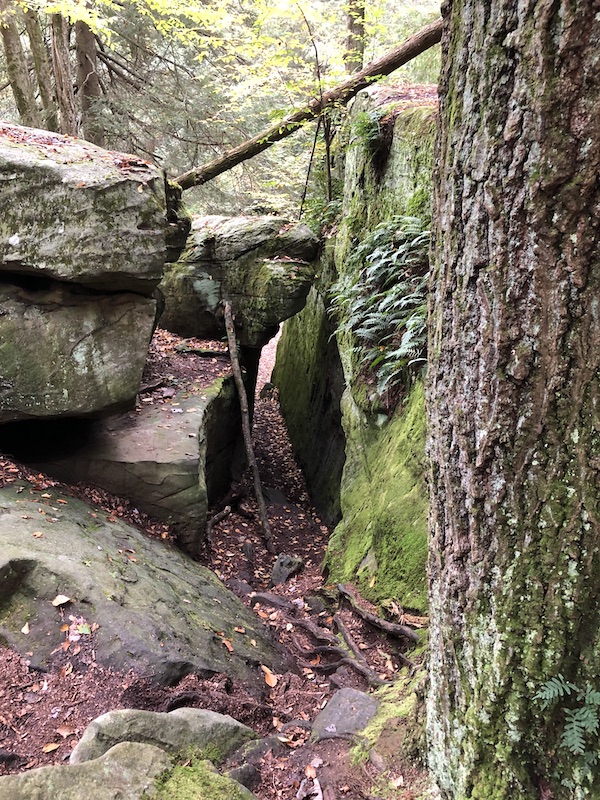 Yes, an ice cave. Named because of how long the ice stays in the cave after the spring thaw.
There is also a cave to crawl through that plunges you into pitch black for 25 feet.
You just have to go forward on faith until you see a crack of light at the opposite end.
This would be a no from me, but I know people love that stuff.
Some of the rock outcroppings you almost have to crawl through to get to the other side and there are places that require a bit of a squeeze (well, for me anyways).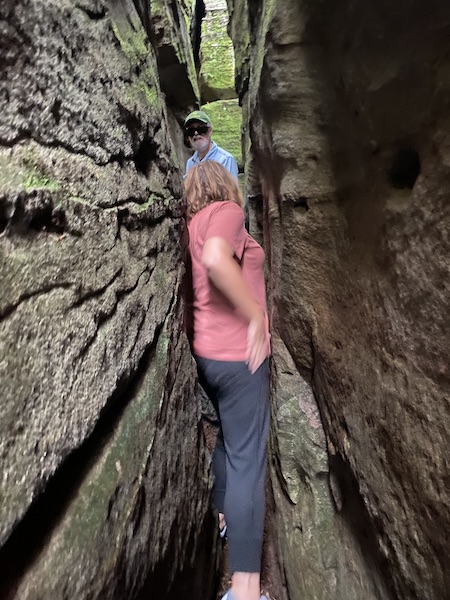 If you love scrambling around giant rocks and exploring nooks and crannies this is the place for you.
Side note, there is also camping, scroll down for more details.
How old is the "rock city"?
The old rock formation is over 300 million years old and made from sandstone.
This is a place that has been used for centuries. Look closely at some of the rocks and you'll find engravings in them from long ago.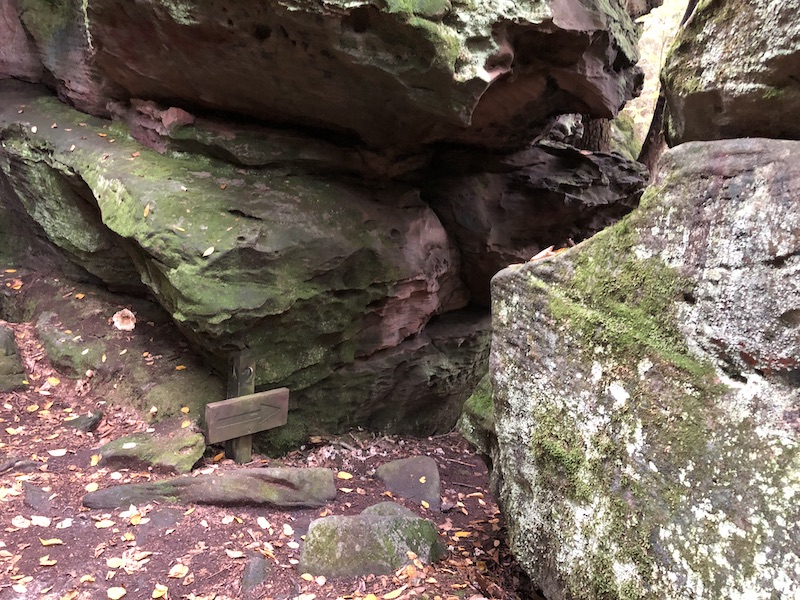 However, please DO NOT add your own marks to the stones.
How To Explore The Park
There is a large parking area at the top of the outcropping.
Any time I've visited parking has not been an issue, but if the lot is full the visitors center is across the road with additional parking.
There are a few amenities at the park including porta potties and picnic tables.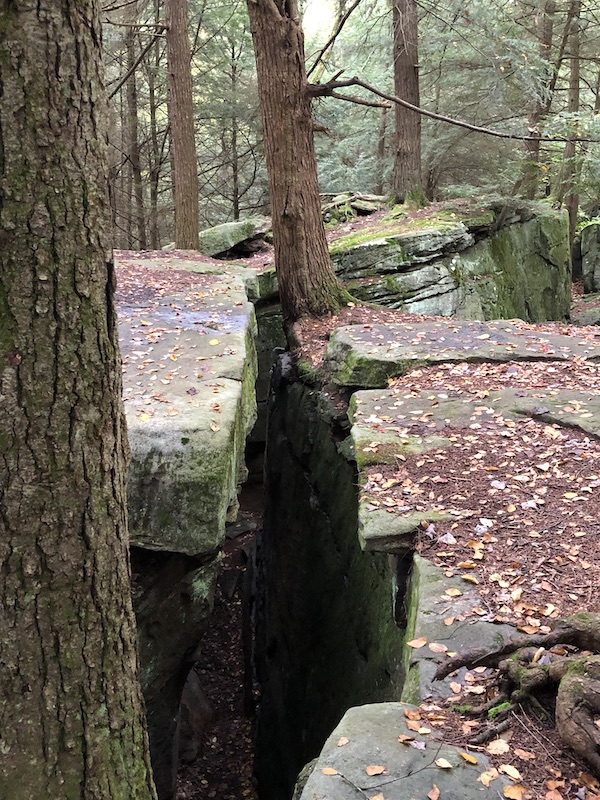 Once you've parked your car walk out to the road and go left.
Take a short walk down the hill (be careful because your walk will be along a winding road with traffic) and around the curve.
Towards the bottom of the hill, before you curve back to the right again, start watching for trails on your left.
This will take you to the base of the rock outcroppings.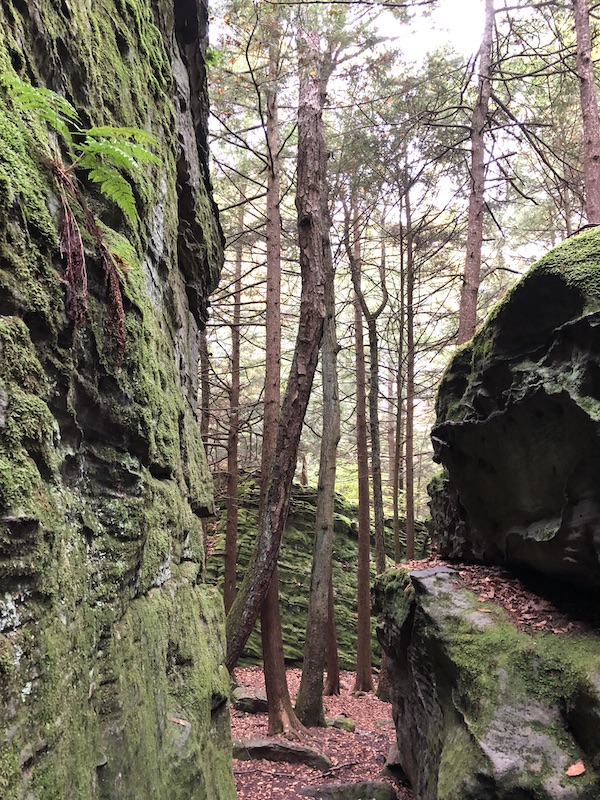 You can't really get lost so just start exploring.
Squeeze through rock formations to enter large rooms, duck under table rock to take a short cut to another area of the park.
Walk around and see how many different unique rock formations you can find.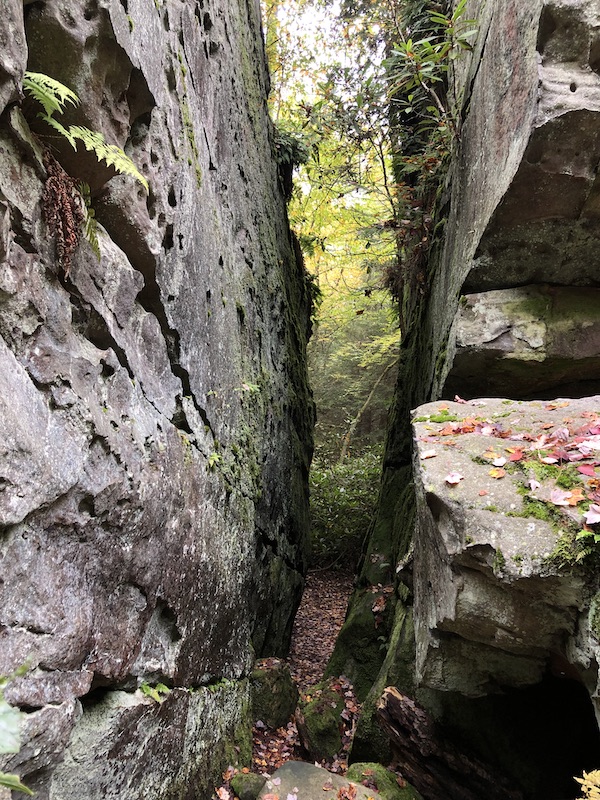 You'll eventually find a path that will take you to the top of the outcroppings.
If you have children with you please make sure they watch where they are walking as there are deep crevices all around the top.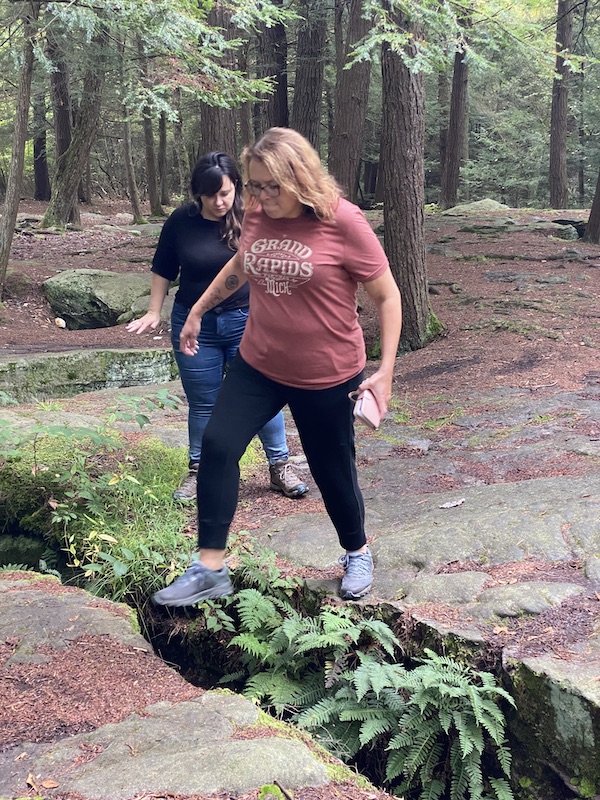 The views from the top are fun and it's interesting to see the rocks from a different perspective.
I would plan on spending at least 2 hours at the park, longer if you really love playing in the outdoors or want to enjoy a picnic while you are there.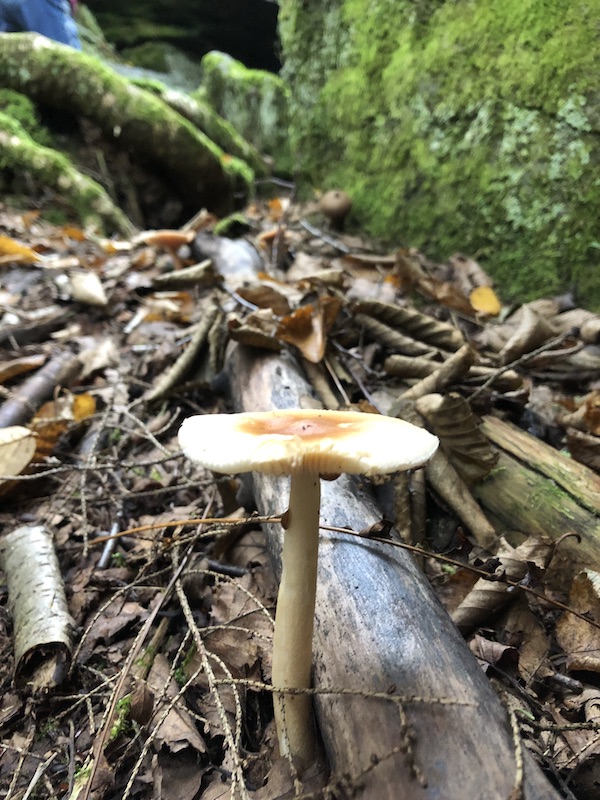 Camping at Bilger's Rocks
If you think this is an amazing place to play think of how fun it would be to camp overnight among the rock formations.
Ok, well, maybe not directly among them but very close to them.
Camping at Bilger's Rocks is rustic, but I bet the view of the stars is amazing at night.
It's only $20/night, 10 spots available.
If you want to hook up to electric it's $25/night, but there are only 2 sites available.
There are porta potties, picnic tables and fire rings.
As a nice bonus there is plenty of firewood available and FREE to use!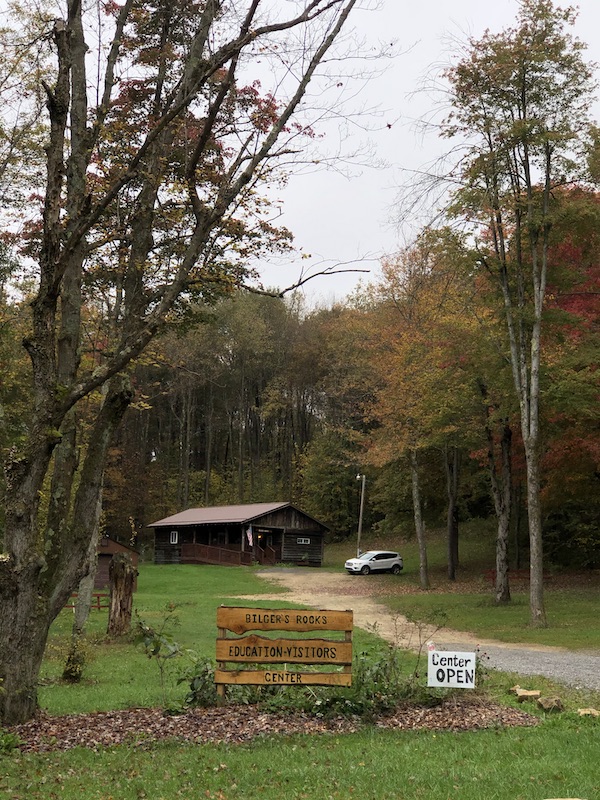 Bilger's Rocks Education Center
There is a small education center that provides environmental education about the rock formations and the ecology of the area.
The hours are currently by appointment, but it would be a good bet that they are open during special events that they hold throughout the year.
Bilger's Rock is managed and maintained by the Bilger's rocks association.
Pin Bilger's Rocks to Pinterest