Emma & I made a very quick trip to Philadelphia a week ago. Made the 12 hour drive in one day, spent 2 days in Philly, made a stop in Lancaster County, and then took 2 days to drive home. It was a bit of a whirlwind, but well worth it.
Friends kept asking why we went to Philly. I told them it was to get a Philly Cheesesteak 🙂
Actually, we had no good reason for going except we want to do something fun before we became snowed in for a long Michigan winter. Emma had been to Philly before with her Aunt and loved it and has been asking to go back so I figured it was a now or never moment.
I think more people should start saying yes a lot more and embracing life. I've spent a lot of time saying no to life's opportunities because I thought it was the responsible thing to do. In reality, I would have had a lot more fun by saying yes more often. For me, it's been a lesson that has come with age and the realization that life is really very short.
We visited some amazing places while in Philly. Here's what you can see in 2 days: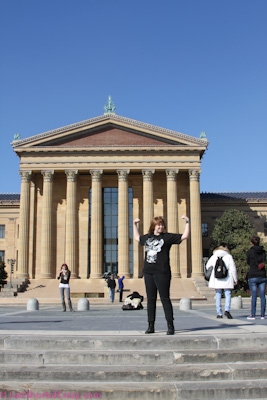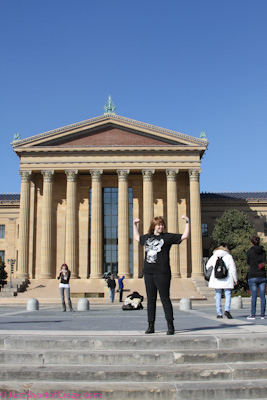 Em's Rocky pose 🙂 So much fun!
This place is HUGE! We spent a couple hours here and might have seen 25% of the museum. If/when I go back I'm definitely signing up for a tour guide. It's so overwhelming that I think a guide would be very helpful.
We visited the contemporary exhibit and just shook our heads at what is considered "art". We may be a bit uncultured, but we seriously had to wonder what the hell the curators where thinking by placing this "art" in the Philadelphia Museum. We decided that the artists spins a really great story around their "art" to gain entrance into the museum.
Adults: $16
Students: $12
Seniors: $14
Ages 12 & under: Free
Hours: Tues-Sun 10 a.m.-5 p.m.
Budget Saving Tip: First Sunday of each month, pay what you wish all day.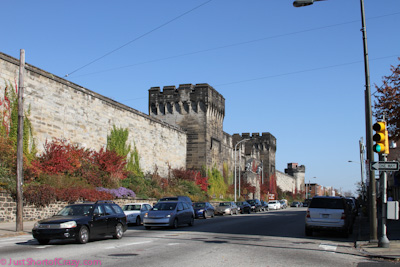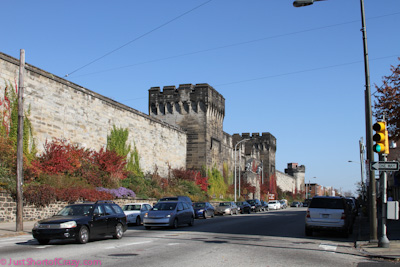 Reportedly one of the most haunted places in the U.S., which means we had to visit. This is a self guided audio tour and is very facinating. It is probably one of the highlights of our visit. Sadly, we didn't experience any paranormal activity, but we still enjoyed our visit.
Adults: $12
Students & Kids: $8
Seniors: $10
Hours: Mon-Sun 10 a.m. – 5 p.m.
Budget Saving Tip: Visit the Museum on the same day and walk to the penitentiary to save money on parking. Nice, easy walk.
An interesting pocket of culture smack dab in the middle of the city. We wandered around for a bit just taking in the sites and sounds. We did stop at the Lucky Chinese Cookie Factory to pick up a couple bags of fortune cookies. They are cheap and tasty. A big bag of fortune cookies will set you back $1.25. The factory is open daily from 8:30 a.m. to 9:00 p.m.
Budget Saving Tip: Try to find metered street parking. A lot will set you back about $15. Â Metered street parking will only be a couple bucks. You'll pay for parking at a machine located on the sidewalk (usually one per block) and then place the receipt on your dashboard. It will have your expiration time listed. Be sure to be back at your car by then.
disclaimer: this is by no means all that philadelphia has to offer, but this is a list of great attractions you can see in 2 days.