Alright folks, we finally made it, part 3 of 3 of our Holiday Gift Guide for Games. In this one we are going to go over a few games that are a lot more intense, in depth, time consuming, and expensive than any of the previous games (see part 1 here and part 2 here). Because of this i'm going to keep this list a bit shorter. So grab your favorite whiskey or beer (read whiskey unless your under 21 then read soda!) and settle in for a night of gaming fun with some friends.
I have not personally play tested all of these games. Some of them are just games that I was very interested in going into Gen Con. With that in mind my summary for some of these will be a lot smaller and I will link a more intensive guide with each. As I said earlier these games are quite a bit more expensive than others, ranging anywhere from $50-$100+, so keep that in mind while shopping.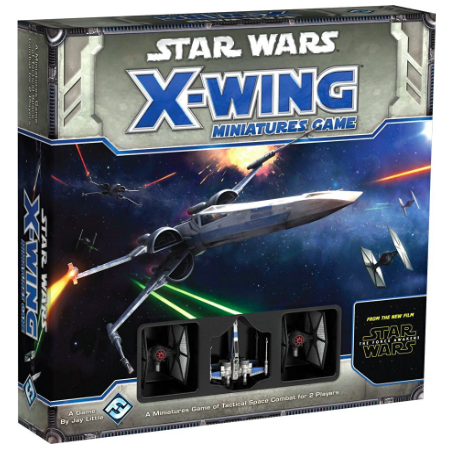 Star Wars: X-Wing Miniatures 
We'll start off with an easy one, for me at least. This isn't a new game (released 2012) but it still gets multiple expansions released each year (1 of which is always debuted at Gen Con) allowing for new experiences with each new release.
The base game itself is relatively cheap but is not really enough for 2 players to have any fun with the game after learning how to play. At the bare minimum I would recommend at least 2 starter sets if you wanted to get them for someone. With the core sets, 2 players will be able to take on the role of either the empire or the rebel scum and then go head to head in aerial dogfights set in the final frontier (oops, mixing up my references there).
If you haven't guessed already this is a miniatures game. Which means that each ship is represented by a plastic figured that is modeled and painted to an accurate "in-universe" scale. To move each ship around the game board players select a movement on a hidden dial specific to each ship and then reveal them at the same time. Each movement selected then corresponds to a movement template that comes in the core set which you line up with you ship and then place your ship on the other end of the template. From there you take turns attacking by rolling attack and defense dice until one player's ships have been eliminated (and it had better be the rebels).
Outside of the core sets there are tons of expansions for both the empire, the rebels, and a separate faction not found in the core sets: Scum & Villany. That faction encompasses characters such as the infamous Boba Fett. Now this is my final warning, this is a collectible game so it has regularly released expansions and can get expensive if you're not careful. But hey it's Star Wars, so who cares.
Available at Amazon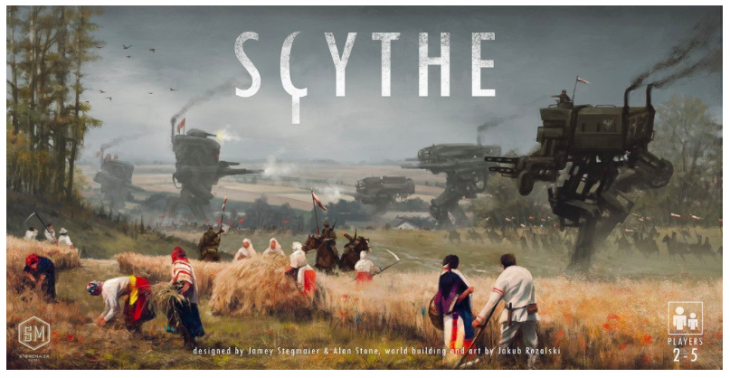 Scythe is probably the game I was most excited for going into Gen Con, but unfortunately I was not able to find the vendor until the last day (after I had spent all my game money). Turned out they were at a very small booth in a back corner that we had somehow missed the first few days. Anywho, with my sob story out of the way we can continue. When I first saw this game it reminded me of a cross between Risk and Settlers of Catan. It is both a resource management game as well as a control the board type game. And to top that off it is set in an alternate history 1920's post war Europa. What better setting for a game?
This game also has multiple starting factions that include a different main character and companion animal and also dictates a different starting area on the board. From there gameplay commences as you try to take over the world (and beat your friends into submission).
Here is a more in depth review/explanation:
Available at Amazon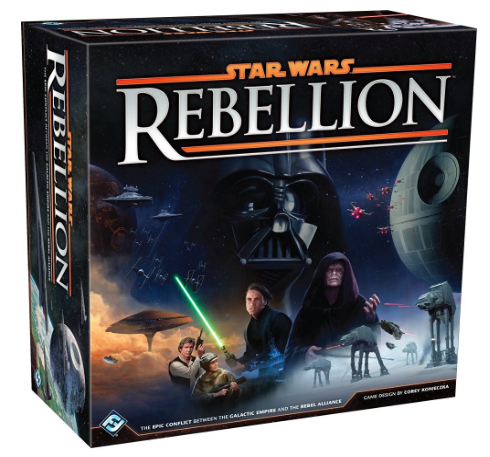 I should let you in on a small secret before we get too much farther, I'm a huge Star Wars nerd. If something says Star Wars on it odds are I'll give it a chance, and as far as I can remember have yet to be let down. At least in the board game department that is, don't even get me started on the crap video games they've been trying to pass on us for quite some time now, but I digress.
Knowing that I'm such a Star Wars fan usually makes people think that I'll like anything if it says Star Wars, but I assure you that's not the case, quite the opposite actually. I'm hyper critical on things like this. If it, to me, doesn't accurately recreate the Star Wars "feel" for me than I'm not interested. From everything I've read, seen, and talked to people about this game does just that.
If you want to control the full might of the Galactic Empire with the sole purpose of snuffing out every last rebel scum in the galaxy, you can. If you'd rather sympathize with the rebel scum and try to free yourself and the rest of the galaxy from the loving rule of the Empire, you can. #empiredidnothingwrong
As the empire your job is to search as many planets in the galaxy as you can in order to locate the rebel base. As the Rebellion your job is to sway the denizens of the galaxy to your cause in order to overthrow their elected government. This is all represented on a very large cardboard, Risk-like, map of the galaxy with each planet being a territory that can be fought over and controlled by either faction.
This game is suitable for 2-4 players. With 2 players it is simply good vs evil, one player doing everything required for their faction, but as you add more players that changes a little bit. With 4 players, you get 2 players to a side, one player on each side controls the fleets in space while the other player on each side controls the ground troops and you work together to accomplish the same goals as in 1 vs. 1.
For a more in depth look:
Available at Amazon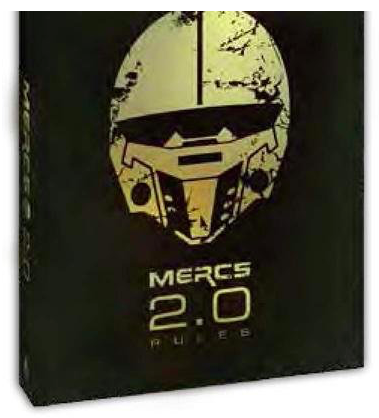 This is a very fun miniature skirmish game similar to games like Warhammer but much, much cheaper and much, much, simpler. This game is sold in separate parts called faction packs. One faction pack includes 6 figures and is enough for 2 players to learn the basics of the game. However, to play a proper game, each player will need their own faction pack and at least one person will need a core rule book.
The premise of the game is that some time in the near future massive corporations, referred to as Mega-Corps, have taken over the roles of government throughout the world and all have special black ops teams to carry out their nefarious deeds. These teams are the factions you play as on a 3×3 space (either 3d or a printed map) while trying to take out the opposing faction. This is done by using each character's card to measure out movement distance (each character moves a number of card lengths rather than having to measure it out with a tape measure) and then making attacks using a specified number of 10 sided dice.
Your attacks can be affected by yours and your opponents surroundings though. Say your target is behind a wall or at a higher elevation they would get a defense bonus. While that may sound confusing at first it is all actually really simple because all the modifiers and their numbers are marked out on the cards rather than being buried in some yuge textbook size rules guide.
Another plus for this game is that it's actually a lot cheaper than when I started. Originally the figures were cast in metal and retailed for about $70 or so and you also had to buy a $60 rulebook. Now you still have to buy a $60 rulebook, unless you can find it for free online through your own nefarious means, but the faction packs are now cast in plastic and retail for $35. The last thing i'm going to say about this game could be seen as a pro or a con. All of the miniatures are unpainted which requires you to go about painting them yourself to achieve the full effect of the game.
Available at Amazon
******PIN THIS GAMES GRAPHIC TO YOUR FAVORITE PINTEREST BOARD******