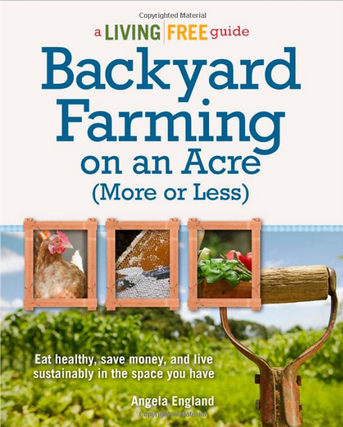 Backyard Farming on an Acre (More or Less) provides the reader with useful and handy information about farming on land that is readily available. No need to own or buy hundreds or even 1,000s of acres. The only things required to have a successful backyard farm is some knowledge, basic tools, and the desire to live a more sustainable lifestyle.
Backyard Farming covers everything you need to know from types of tool required, how to grow fruits and vegetables, to how to milk a goat and tips on making cheese. There are five parts to this book: Living Large on a Small Scale, Gardening on a Backyard Farm, Animals for a Backyard Farm, Enjoying the Bounty, and Crafting from the Backyard Farm. I love that this book covers such a wide range of topics.
Before receiving this book I was very hopeful that there would be a section on what to do AFTER you harvest your garden. I know how to freeze some foods, but I've been very curious about dry storage and drying and storing herbs. Reading through Backyard Farming, Ms. England provides easy to understand information on these topics and so much more.
If you are interested in starting and maintaining a backyard farm I really recommend Backyard Farming on an Acre (More or Less). I really enjoyed that this book is written in such a way that it feels like you are talking with a friend. Backyard Farming offers you the opportunity to have a successful go at creating a sustainable environment in your own backyard, regardless of the size.
To celebrate the launch of the book there are some really nice giveaways at BackyardFarmingGuide.com Be sure to stop over and enter.
Learn more here:
Backyard Farm online
Backyard Farm on Facebook

I received a free copy of Backyard Farming on an Acre (More or Less) to facilitate this review.

Cheers,