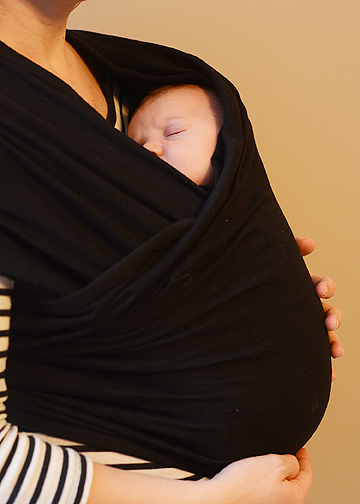 REVIEW BY NANCY
disclaimer: Baby K'Tan provided us with a baby carrier to facilitate this review.
When I had my first baby 8 years ago I purchased a baby carrier. I thought it might help so I could get things done while holding the baby. It was a great thought and it did work once I had my husband help me get the carrier on. There were so many buckles and clips it was like a puzzle to figure the thing out. Clip here snap there…it was a two person job in the beginning. It got somewhat easier but getting the baby out proved just as tricky. I decided after that to get a pouch sling carrier. I was able to use the sling myself and found it easy enough to get the baby in and out of but found there to be certain things I didn't like. One of the biggest things was it would sometimes make my back ache from being on just one shoulder.
I have always wanted to try the wrap style carriers I have seen so many Moms using but found them to be a bit intimidating. All that wrapping looks confusing to me and I just didn't want another carrier that would be tricky to get the baby in and out of.
When I saw the Baby K'Tan carrier I was really intrigued. It's sort of a combination of a sling and a wrap carrier all in one. The Baby K'Tan is a "wrap without all the wrapping" as Baby K'Tan's website so cutely puts it.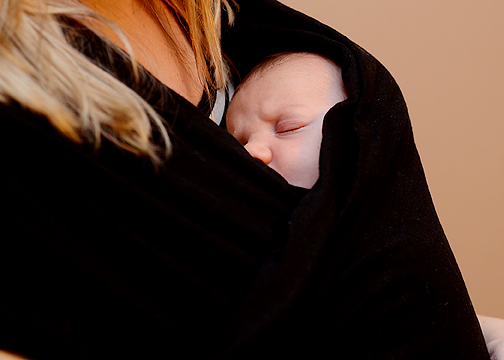 When I received the Baby K'Tan carrier I have to admit I was wondering how it was all going to work out. Would it really be so easy to use? Well within five minutes my baby was safely hanging out with me in the carrier. The Baby K'Tan website claims it's as easy at 1-2-3 and I have to say it was. My baby is only 5 weeks now so we can only use the carrier in one of the six positions but with the kangaroo position it really is that easy.
One thing that I really like about the carrier is that it is made of soft cotton knit fabric. It's a really nice and comfortable fabric to be wearing. It has just the perfect amount of stretch to it. The even weight distribution over both shoulders has made wearing comfortable as well.
The great thing about this carrier is there is room to grow. The carrier accommodates babies from 8-35 lbs and as I said before can be used in six different positions. I am looking forward to getting a lot of use out of my Baby K'Tan!!
You can learn more about Baby K'Tan carriers and purchase them on their website.