This post brought to you by Anker…thanks for helping us keep the lights on 😉
Travel is amping up during the holidays and even though a fair amount of that travel will be via air I'm sure a lot of us will be road tripping to parents or grandparents houses to celebrate Christmas and/or New Year's. Road trips usually mean the kids are watching movies or playing games on their tablets or phone while Mom or Dad does the same from the passenger seat. Long road trips means the battery dies long before you arrive at your destination and if the car only has one charger outlet, well, let's just say things can take a turn for the worse.Never fear though, Anker is here to make sure that everyone stays happy and merry during your holiday travels with their Quick Charge Dual USB Car Charger.
This Anker charger allows you to plug in TWO devices (insert angels singing here) AND quickly charges them. Quick Charge 3.0 in one port charges compatible devices up to 80% in just 35 minutes. That is pretty fast in the car charging world and makes me very happy since I'm almost always draining my battery and a drained battery is a huge bummer especially during road trips.
Oh, wondering why a drained phone battery is a bummer during a road trip? Let me share five times why you'll be very sad if your phone isn't charged.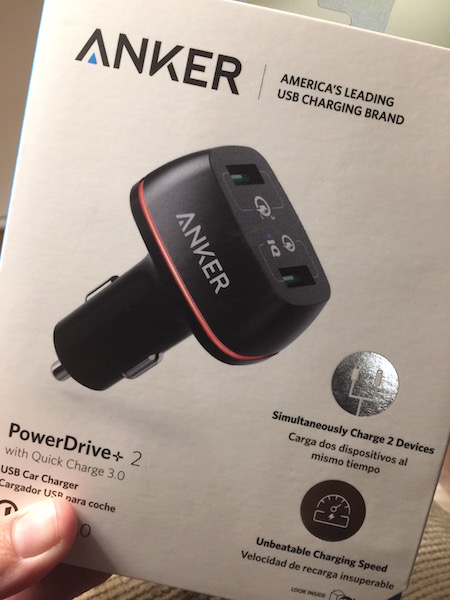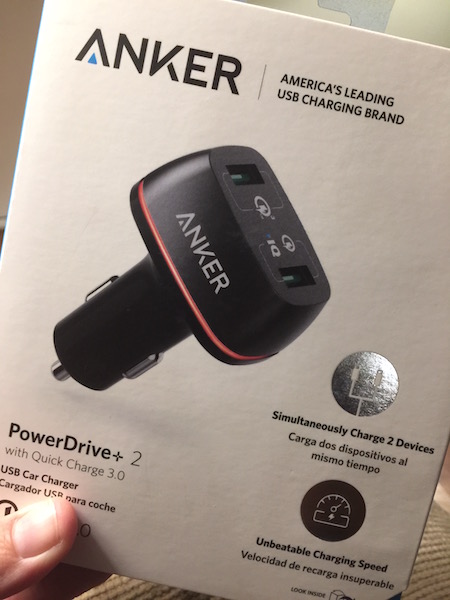 5 REASON TO LET ANKER CHARGE YOUR ROAD TRIP
1. You are driving along, enjoy the passing scenery, counting down the hours until you arrive at your destination when all of a sudden the car dies or you have a flat tire. This is NOT the time to not have a fully charged phone. Take it from someone that knows. Being stranded along side the road in a strange area is a huge bummer. Being able to call for help is such a huge relief and you'll be glad that your phone is charged.
2. How in the world will you find the best roadside attractions if you don't have your phone? Seriously, you'll miss out on some fo the best sites your trip has to offer. Everything from the World's largest fork to the World's largest ball of paint. You are going to need your phone with the directions app to get there.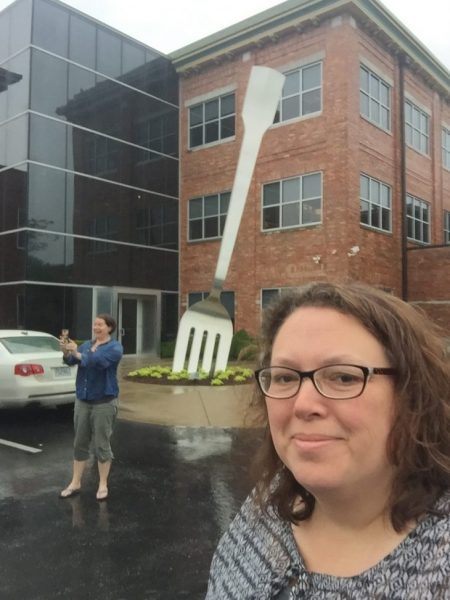 3. You made it to the roadside attraction and hopefully your phone has a nice charge because you are going to want to memorialize this moment with selfies and live Facebook video. I mean, check out my friend's expression. If my phone hadn't been charged I would have totally missed this.
4. You need to rock out to some road trip tunes. Be sure to load, at minimum, these tunes to your road trip music:
Life is a Highway
Born To Be Wild
Hit the Road Jack
Jack & Diane
Everyday is a Winding Road
Little Red Corvette
On the Road Again
I've Been Everywhere
Home
Sweet Home Alabama
Here I Go Again
Born To Run
5. Traffic issues, weather delays, cranky kids, sometimes you just want to call it and spend the night somewhere. Grab your phone and locate the nearest, affordable hotel and get some R&R before having to get back on the road.
Luckily, Anker products are available at Walmart, pick one up and make sure to charge your next road trip.
Oh, I also let Anker charge my visits to the dog park. Check out all that fun here!