It's been 6 weeks since I looked fear in the face and jumped off  cliff<<<—click link to read more.
I broke free from the prison that I had been living in and the exhilarating feeling of the free fall has been phenomenal. It's a feeling that I really can't describe. Anyone that has made the leap will understand.
It has been:
6 weeks of not having to drag myself to a job I loathed. 
6 weeks of living life MY WAY.
6 weeks of being completely responsible for my financial success or failure (scary stuff!). 
6 weeks of feeling completely ALIVE.
Financial instability was my biggest fear of quitting my job. I knew I didn't want to have to work another full-time job. So I started searching for some alternative ways to make money. I began monetizing my blog a bit and started working a few hours a week as a virtual administrative assistant for a business owner in Baltimore. It was a HUGE pay cut, but when someone said money can't buy happiness they knew exactly what they were talking about.
Since the leap I have continued with virtual admin work and also began working with Social Fabric as a campaign lead on some of their projects. All the work I do is freelance work and there is no guarantees, but was the ever any guarantees with my full-time job?? Probably not, it's just a falsehood I convinced myself to believe.
I'm still up bright and early every morning. The alarm still starts beeping around 5:00 a.m. and I'm usually in my office by 6:00 a.m. I work as long as I want; sometimes I just check my email and take care of "urgent" matters. How my day proceeds is up to me. Do you have any idea how empowering that feels? I'm still working about 40 hours a week, but those hours are anytime during the day or night. After spending my whole life having to answer to a "boss" about how I spend my time, I now only answer to myself.
The best part? I can have coffee with a friend or go on an extended road trip any time I want. No requesting time off and hoping the boss says yes. No making plans with friends only in the evening or on weekends. As long as the work I have been contracted to complete is finished it doesn't matter where on the planet I am at or what time I'm working.
The worst part? Well, I'm glad to report, there is no part of quitting my job that I regret. It has, to date, been one of the best decisions I have ever made. I am more relaxed and easy going. I am more happy. I like to think that I am becoming a better wife, parent, and friend. The stress of living a life I didn't enjoy took its toll on my entire life and everyone around me. I'm happy to report that embracing my dreams and living the life I want has had a positive effect on myself and everyone around me.
This. This is how I feel every day: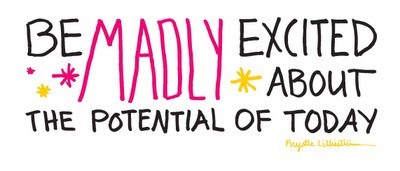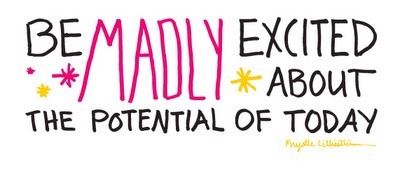 Every day has potential to be whatever I choose it to be. I can't believe it took me so long to take the leap, but I don't regret one day of it. All my past experiences have brought me to this point and I couldn't have asked for anything better.
Life. Is. Wonderful.