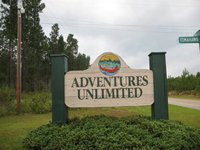 Want to spend a morning zipping through the tree tops and the afternoon floating down a river? Perhaps, you'd rather hike and bike some scenic trails. Want to camp and go on a hayride? How about all of the above? Adventures Unlimited, nestled on the western side of Florida's pan handle, offers all that and more at their family friendly outdoor center.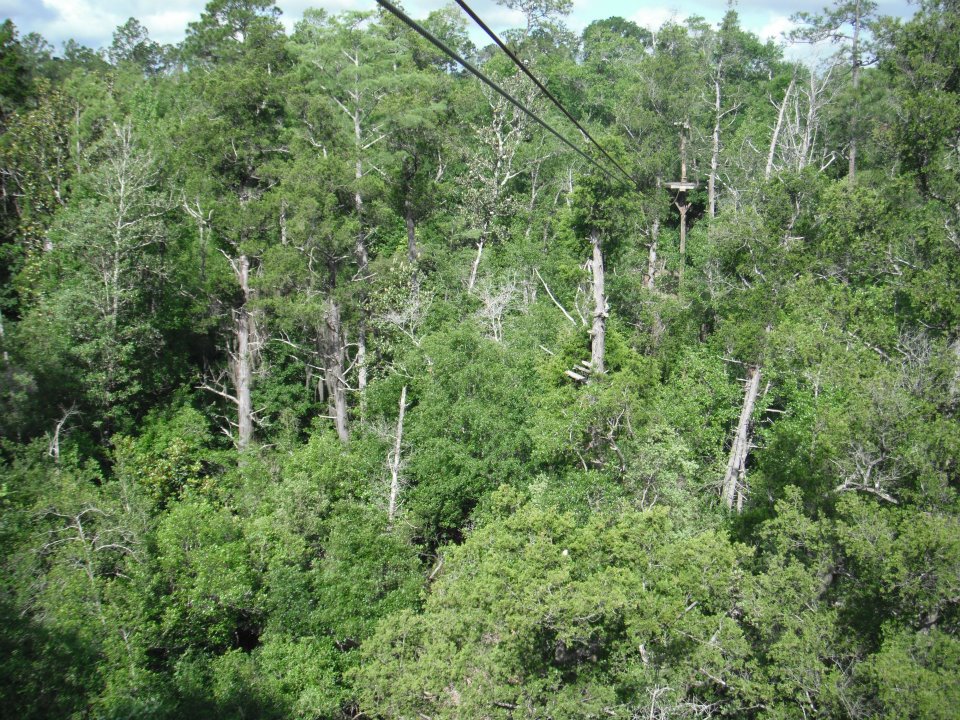 Photo (c) The Rebel Chick 
Our #Brandcation group spent the morning ziplining (well, most the group) and the afternoon tubing down Coldwater Creek. Some of our group opted out of ziplining; I'll admit, I was one of them, I just really have no desire to hang on a wire high above the ground. However, the majority of ladies did zip and they LOVED it!! I hiked around and checked out the area while they were zipping.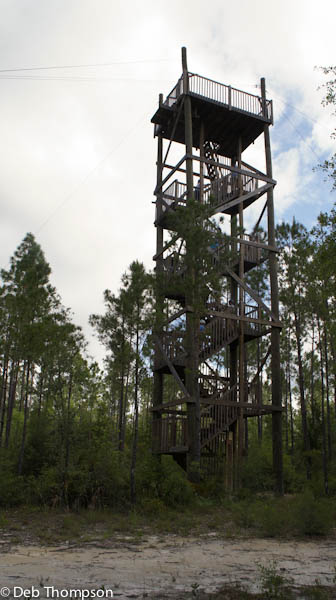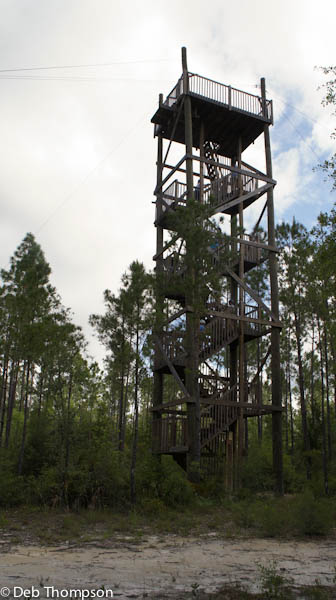 60 feet up and then you jump….eeek! Ok. maybe jump is the wrong word. I've been told its more like a slide and you just glide across the sky. Sounds like it could be fun 🙂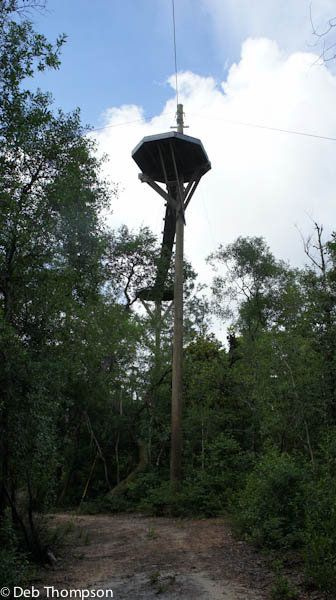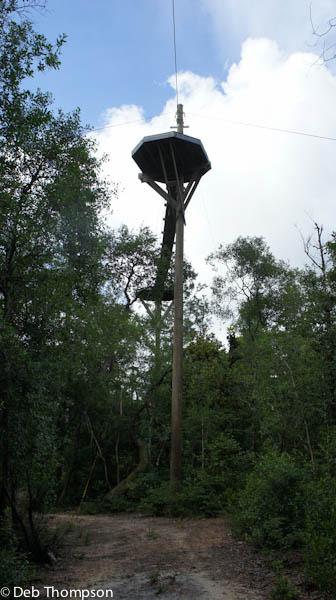 There is a hanging bridge between the two platforms. For some reason hanging bridges don't bother me at all, but the whole ziplining activity does. Go figure, I'm a bit quirky like that.
After hiking and zipping our group had a picnic lunch and then headed upstream for a 4 mile river float down Coldwater Creek.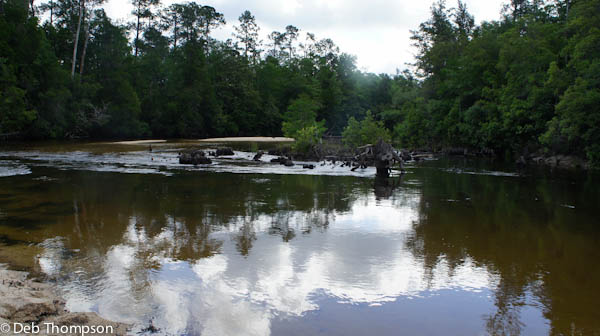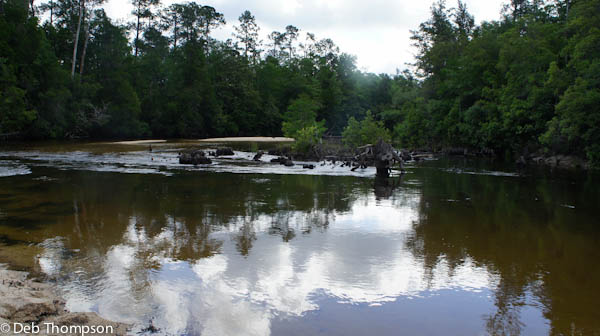 The day was unbelievably gorgeous and warm. Some of the southern girls thought the river was cold, but this northerner jumped right in. The river was warmer than the water around here on the hottest day of summer. I loved it!
We were told that the river was a bit deeper than normal due to some rainfall the week prior. It was still pretty shallow. I think the majority of the river was, maybe, maybe, up to my knees with some parts being shallower and one spot being a bit deeper. If you get tired of tubing you can just stand up and walk through the river 😉
Some river advice: There are a lot of obstacles in the river in the form of large rocks and branches. Additionally, lots of trees overhang the river. Word to the wise….spiders and other insects like to take up residence in those overhanging branches. It's probably in your best interest to avoid the shoreline. That being said, you will work while you tube down the first half of the river. Well, at least I felt like it was a lot of work. I spent a lot of time paddling to avoid the shore and to make my way around river obstacles. Either I became more skilled at avoiding things or the second half is just a lot easier, but I enjoyed the last half of my float a lot more than the first 🙂 Don't forget to take bottled water and sunscreen with you.
Some people in our group were worried about seeing snakes. During my 3 1/2 hour float I didn't see any snakes. The only thing I did spot was 2 itty bitty fish swimming by me.
Coldwater Creek is very scenic and clean with pretty clear water. The majority of the time you will be able to see the river bed. I really enjoyed the tubing trip. The trees and scenery reminded me of northern Michigan except it was A LOT warmer, which I loved. I was thrilled to be playing in the water the first weekend in May.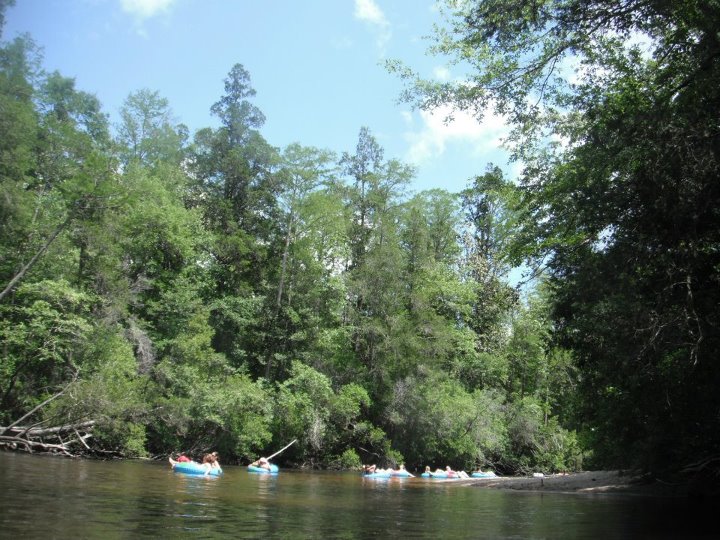 Photo (c) TheRebelChick.com

In addition to ziplining and river activities (canoeing, kayaking, tubing), Adventures Unlimited provides an array of other activities and amenities including:
~Camping
~Cabins
~Group Cabins
~Challenge Courses; both high and low courses
~Retreats
~Hayrides
~Scavenger Hunts
~Stargazing
~Orienteering
~BonFires
~Birding
~Fishing
~Hiking
~Biking
You can learn more about Adventures Unlimited at www.adventuresunlimited.com or call 850-623-6197. It's well worth a trip to Adventures Unlimited.