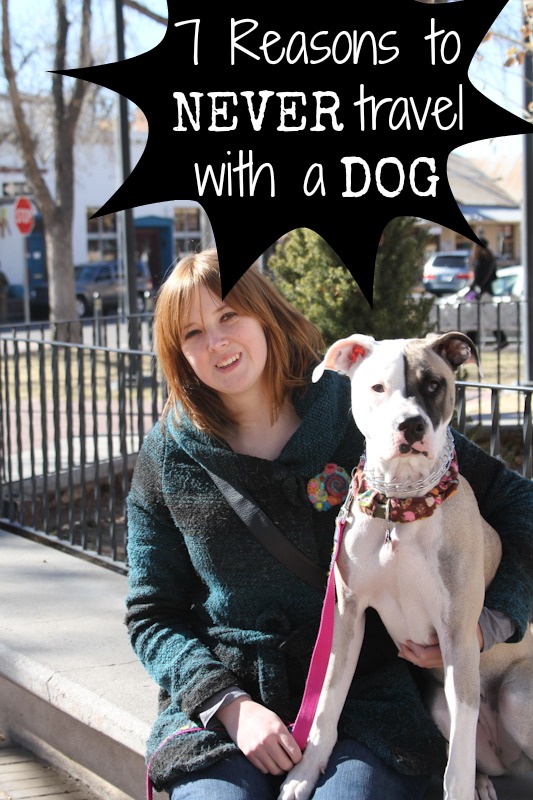 After being on the road for over 7 weeks with our dog I think I have a pretty good handle on the negative part of traveling with fido. We love our dogs, love them! Treat them like family, give them birthday parties, spoil them rotten, but bringing our dog on our snowbird adventure has been a challenge.

There were things we just didn't consider when we packed up the van and made the drive to Southern California and back. We thought it would be great to have our dog with us. A little layer of protection for 2 women traveling together, we said. It will be fun, we said. Little did we know the reality of traveling with a 50 pound dog.
7 REASONS TO NEVER TRAVEL WITH A PET
(in no particular order)
1. Finding hotels is a challenge. Some take small dogs, but even fewer take large dogs. It seems like the maximum weight for many places is 20 pounds. Red Roof Inn and Motel 6 are usually the most gracious about bringing your pet. Those are fine for a quick "gotta get some sleep" stays, but for longer durations not as fun.
2. Hotel fees. The hotels I found charge anywhere from $10 to $75 a NIGHT extra for bringing a pet. $10 seems reasonable to me, but $75 is simply insane (that was a posh resort so maybe the customers don't care).
3. Middle of the night potty breaks. Getting up and dressed at 2 a.m. to take the dog out is not any fun. Walking down long hallways to the elevator, through the lobby, and then out of the hotel in the middle of the night is not my idea of a good night's rest. I have no idea why our dog thinks she always needs to go out in the middle of the night.
4. You can't leave your dog unattended in your hotel room. The policy at most hotels is that for the consideration of other guests your dog can not be left in your hotel room while you go out and play.
5. You can't leave the dog in the car for extended periods. We are traveling through the Southwest. In January and February it's anywhere from 70-85 degrees. Inside a car, parked in the shade with the windows cracked it's still hot in the car. You can't leave your dog in those conditions. In fact, in some cities it's illegal to do so and can result in a ticket or worse.
6. Museums, attractions, zoos and tours aren't pet friendly. We learned in #4 and #5 they you can't leave your pet in the hotel or in the car so it means, as a rule, that you have to skip visiting area attractions. There are so many things I wanted to do and then I realized I couldn't because we had the dog with us.
7. Doggy day care is expensive. On occasion we would research, call around and find a doggy daycare and drop the dog for a half or full day. We paid anywhere from $11 (half day) to $50 (full day plus overnight). As a one or two time thing it's not too bad, but after paying it multiple times it really started to add up.