Y'all know I love a good haunted adventure and North Alabama definitely offers up some spine tingling opportunities.
I've searched for and found some haunted, creepy places you're going to want to visit on your next North Alabama trip.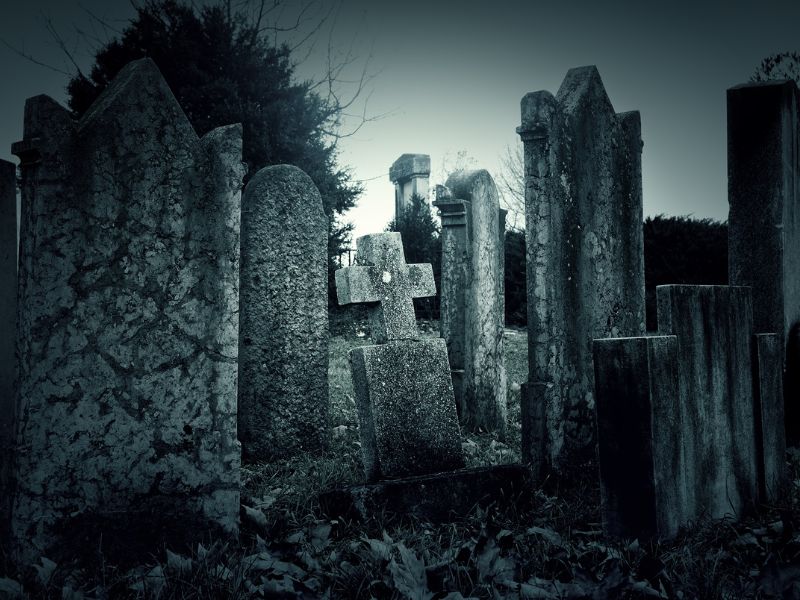 Check out these other things to do in North Alabama:
7 unique trails found only in North Alabama
12 of the best places to eat and foodie trails to take in North Alabama
7 one-of-a-kind reasons to visit North Alabama
7 memorable spots to get outside in North Alabama
5 Haunted, Creepy Places You'll Want To See For Yourself in North Alabama

Maple Hill Cemetery in Huntsville
This is the largest and oldest cemetery in Huntsville. There are over 80,000 final resting places located here. It may be the final destination for a lot of people, but there is also a lot of unexplained phenomena that goes bump in the night here. From ghostly encounters to spectra apparitions to hearing strange noise.
The one area of the cemetery that seems to be most haunted is the Dead Children's Playground. Here, there are reports of swings moving by themselves when the air is deadly still and child-like ghosts frolicking about the play area.
A playground next to a cemetery is extra creepy vibes in my opinion, but this is also the place I'd be hanging out to try to have an otherworldly encounter.
Maple Hill Cemetery Stroll
Want a bit of history with your hauntings? The Maple Hill Cemetery offers living history strolls with more than 75 costumed characters, one of the largest in the U.S., that bring the history of Huntsville to life.
This event is free and happens each fall.

More About Dead Children's Playground (aka Maple Hill Park) at Maple Hill Cemetery
So, officially, the playground isn't located IN the cemetery, but instead is right next to it. However, the story goes that the 1918 Spanish Flu Pandemic was cruel and unforgiving to the children in the area and they are laid to rest in the plots right next to the park.
So, it makes sense that if they loved a playground in life they may find some afterlife joy playing at one in spirit form. The park had old metal, creaky swing sets and stories abounded about the swings moving on their own. In my head, I can hear that eerie, bone-chilling noise of metal against metal (creeaaaaak, creeeakkk) and it sets all the goosebumps off on my skins (shudder). Apparitions I'm ok with, watching things move that shouldn't be moving kinda freaks me out.
Today, the old metal swing sets have been replaced with the new, upgraded equipment but the stories are still around of swings moving on their own and hearing kids laughter echoing across the park when there are no kids there.
Huntsville's Historic Depot
Built in 1860 the historic depot in Huntsville is reportedly haunted by Civil War soldiers. During the war, Union forces used the depot as a prison and apparently some of the soldiers have refused to leave.
It's the oldest surviving train depot in Alabama, but is now a museum where you can see graffiti from the soldiers and, if you're lucky, you might see a ghostly spirit or two.
The most haunted places in the depot appear to be on the second and third floors.
There are additional reports of a train engineer that paces the platform.
Drish House in Tuscaloosa
In the late 1800's the Drish House was not a lucky place to be. In 1867, John Drish fell down the stairs and yeeted himself right out of this reality. His wife, Sarah, kept all the candles from her husband's funeral to use at her own funeral in the far, distant future.
Unfortunately for Sarah, that future wasn't as far away as she probably hoped and she passed away in 1884. Her family knew of her wishes for the same candles to be used at her funeral, but after extensively searching the house they were unable to find them.
I can hear Sarah trying to yell through void telling her family to "look on the top shelf of the closest in the guest bedroom" or some such, but of course, they don't and the right candles don't get used and now you have a pissed off spirit on your hands. Or, at least, that may be how the story went.
It was after Sarah's death and the wrong candles being used that seemed to be the catalyst for strange happenings around the house. The weirdest being that of people seeing a fire in the third-story tower when no fire is there and ghostly light shining out of the house.
I guess she never got over her snit about the candles because weird occurrences still happen to this day.
Weeden House
There is over 200 years of history at the Weeden House which is a lot of time to build up the history to be considered one of the most haunted houses in the Huntsville area.
Stories of clocks chiming that have no working parts, to a rocking chair that moves around the house and exterior walls that the paint just peels away from and gives it a "crying" appearance.
It's thought that the house is haunted, in part, by Maria Howard Weeden who lived the entirety of her earthly life in the house. I guess she just decided her house was better than anything on the other side and she's decided to stick around.
With over 200 years of history my guess is there could be any number of ghostly spirits roaming the halls.
History tours of the house are available, but the best way to learn more is on a Huntsville Ghost Walk.
Huntsville Ghost Walk
September and October is your time to take the popular Huntsville Ghost Walk. Stories told on the walk have been thoroughly research so that you hear the local history and not a fabrication tale.
Costumed storytellers offer up tours in one of three historic districts. Twickenham (think Weeden House), Old Town (a replica of the Salem Witch house), and Downtown (around the Square).
Pick one or take all three for an in-depth haunted history tour of Huntsville.