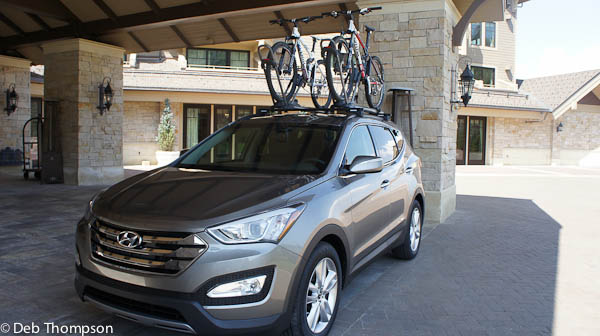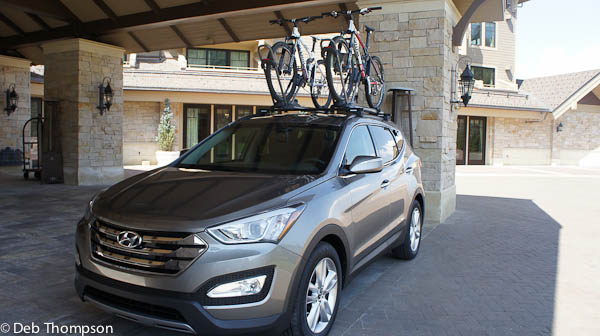 Hyundai invited me out to Park City, UT to test drive the new 2013 Santa Fe. I love test driving cars and putting them through their paces. So I was thrilled to receive an invitation to this event. A big THANK YOU to Hyundai for including me in their first ever digital media event. It was quite an honor to be there. By the way, Utah is gorgeous and the hotel was incredible. Posts on both of those coming very soon.
Before we headed out on the road in the 2013 Santa Fe, Hyundai talked to the group about what's new and improved on the 2013 and a bit about Hyundai as a company. It was great hearing tech savvy people explain the improvements in terms I understand. The Hyundai people were so approachable and easy to talk to, it really made for a fun weekend. My finger are crossed I see them at the Detroit Auto Show (or maybe before with any luck!).
Anywho, onto the Santa Fe. Here's a few things I learned and really liked about the 2013 Santa Fe:

*Panoramic sun roof so the people in the back seat can enjoy the sunroof as well.



* A cooled glovebox (genius!!)
* Heated steering wheel
* Wiper Deicer
To truly appreciate the heated steering wheel and wiper deicer I think you have to live where it drops below zero in the winter. As a northern Michigan girl I LOVE these two features!


For all the parents of young drivers you'll love to learn that Hyundai offers a subscription service to Blue Link which provides a wide array of services. However, a couple of my favorite features are the Curfew and Speed Alerts. Yep, just like they sound. If your young driver is driving the car past curfew you'll receive a text letting you know. Same with the speed alert. If speeding occurs you'll receive another text. Â There is also a Geo-Fence that you can set up that alerts you if your teen driver has driven the car into a "restricted" area. Â To be quite honest I waiver a bit that its a bit too much "big brother" for me, but I also worry about my teen drivers and this would give a bit of piece of mind.
Other great features of Blue Link include:
*Stolen Vehicle Recovery
*Stolen Vehicle Slowdown
*Vehicle Immobilization
*Turn-by-Turn Navigation Service
*POI Search by advanced voice recognition system
*Gas Station Locations and Gas Prices (ugh, you have no idea how many times I could use this!)
*Remote Door Lock/Unlock
That is just a few of the features. I would really consider adding
Blue Link
to my new vehicle purchase. Luckily, a new vehicle purchase comes with a 3 month free trial period so you can see how it fits your life. After that it ranges from $79-$279*/year based on what features you would like available.
While we were learning about all the new bells and whistles we also learned that Hyundai helps fight childhood cancer through their Hyundai Hope on Wheels program. Gotta say, I love a company that gives back.
After the presentation it was time to head outside and do a walk around the Santa Fe so that all the great features could be pointed out.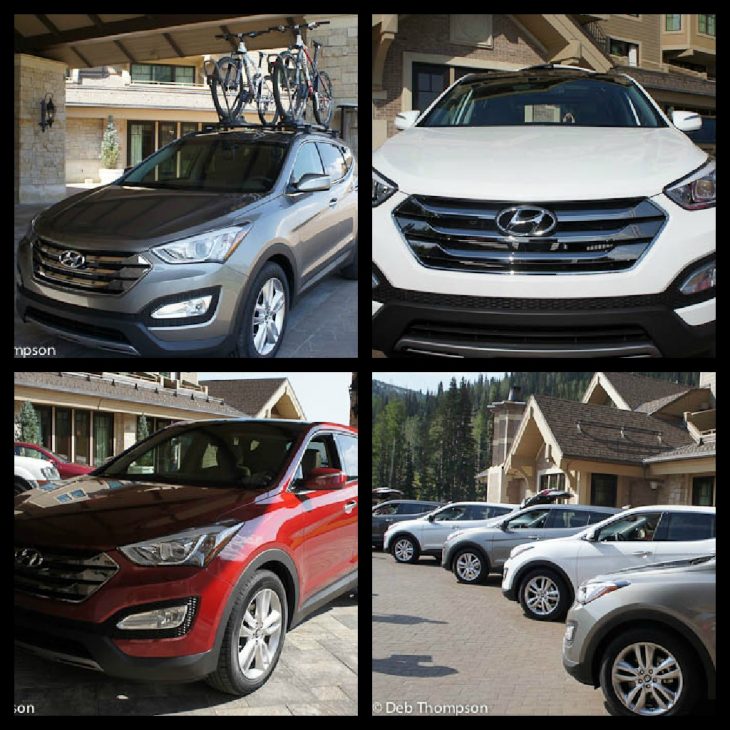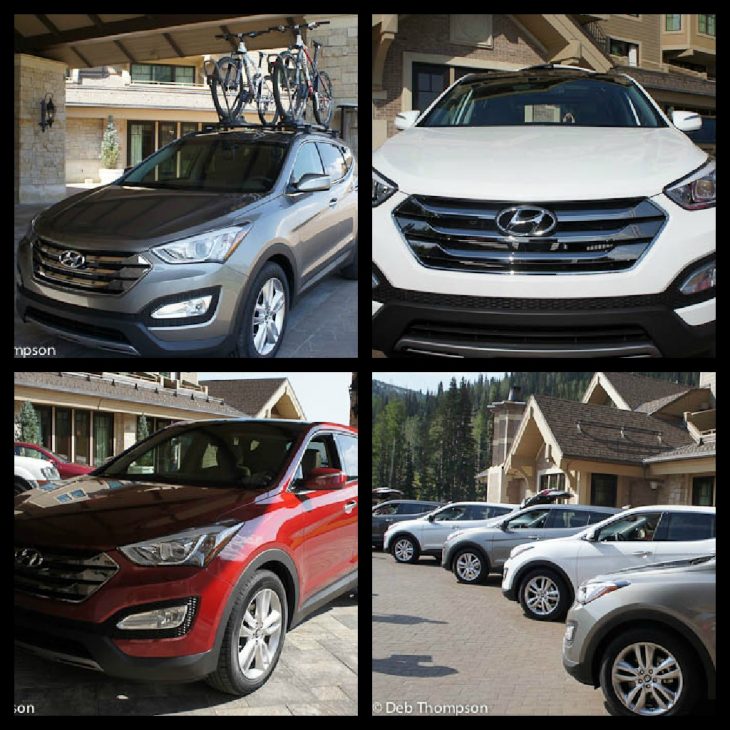 As we stepped out of the Montage Resort we were greeted with a view of brand spanking new 2013 Santa Fe cars fueled up and ready for us to drive. There was a bit of swooning going on. I'm not ashamed to admit that I get a little giddy when I have the opportunity to test drive a new car.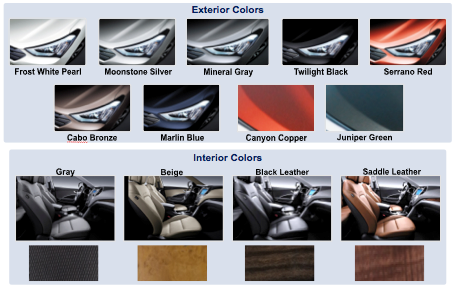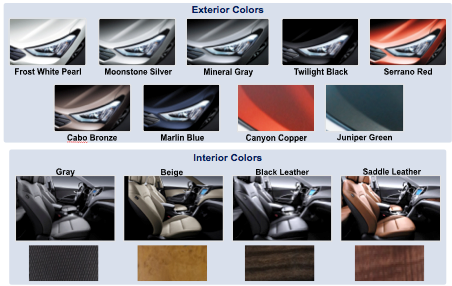 There are some great color options for the Santa Fe as you can tell from the images above. This is my favorite color though. I think it looks great on me 🙂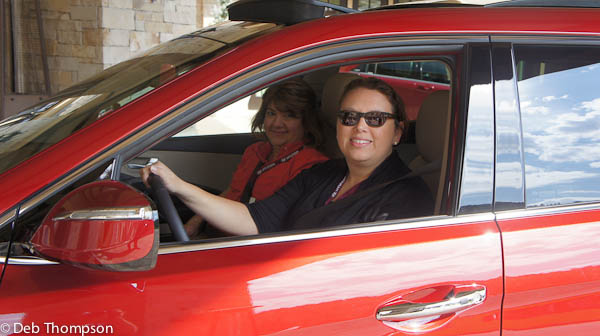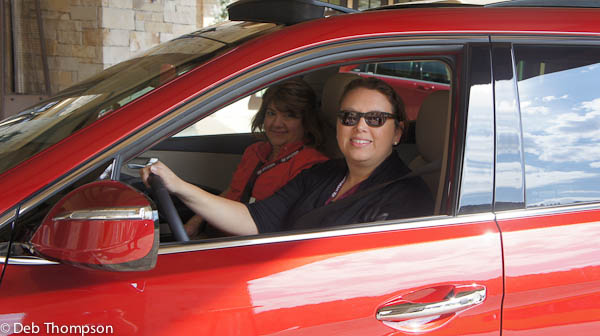 That's my driving partner, Traci (travel writer extraordinaire), in the passenger seat. I was so happy when she said I could drive first ((happy dance)).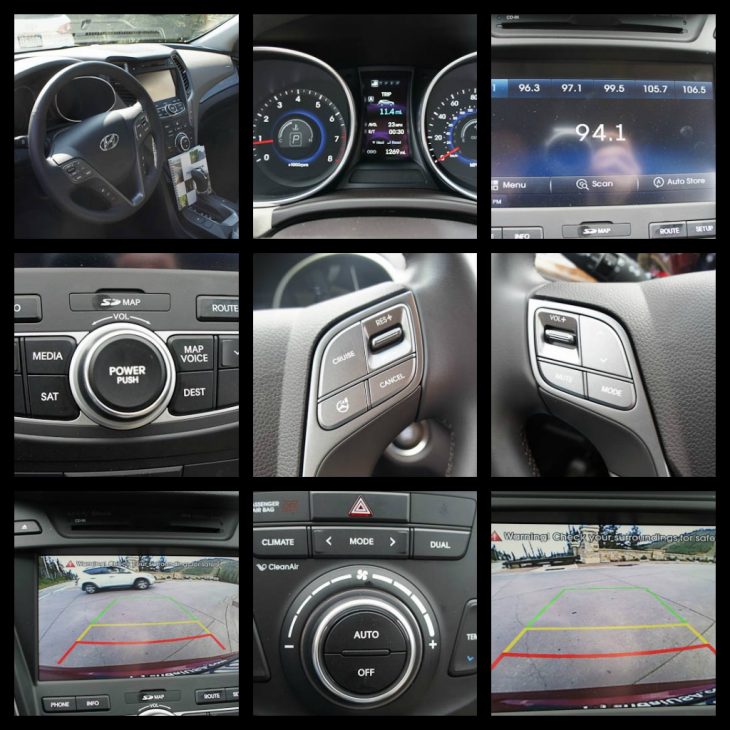 The dashboard of the car has everything you could possible need right at your finger tips. Plus, there's the awesome back up camera. I love those things.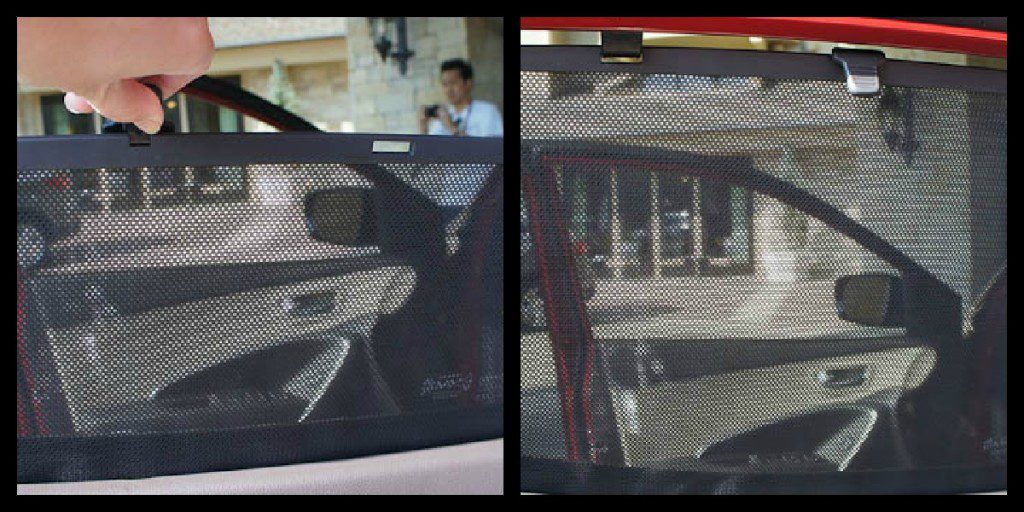 I'm just going to say that I would have LOVED these window shades when my children were young. What an ingenious idea. Just pull the shade up from the bottom of the window and attach to the top. Easy peasy.


The back seat of the Santa Fe is roomy and comfy. The center console pulls down and makes a nice arm rest and also has pull out cup holders. My only concern with the cup holders is that I think they might easily break. However, I didn't really push or tug on them much so they may be very sturdy and can stand up to the abuse of young children.


Hyundai sent us on a road trip around the area which included going off-road up and down some fairly significant hills, around some nice sharp curves, and, of course, on the highway and other paved secondary roads. The road trip took us almost 200 miles and included a stop at Sundance for lunch.
The Santa Fe was comfortable to drive. The drivers seat has a lot of options to adjust it so it's a perfect fit. Riding as a passenger is just as comfortable. I can definitely see taking this for a long road trip and being comfy the entire time. There is also plenty of cargo room for road trips.
One thing that I always try to take note of is how much road noise is noticeable in a car. Inside the Santa Fe it was nice and quite with very little outside noise. This held true during the off-road portion of the drive as well.
The Hyundai Santa Fe has good power (190 horsepower) and great fuel economy (33 mpg highway). I just paid $4.02/gal for gas so having excellent fuel economy is a must if I am going to keep taking road trips. 33 highway mpg for a crossover vehicle is the best in the industry compared to other vehicles of the same class.
Another nice feature is the All Wheel Drive which made for nice traction going around corners on dirt road. I kept waiting for the Santa Fe to kick out on the dirt road causing it to loose traction. Surprisingly, it only started to happen once and the car easily corrected and kept going around the curve. Man, I loved driving this vehicle off-road. Big thanks to Traci for being a sport and letting me drive the entire off-road route–that was awesome!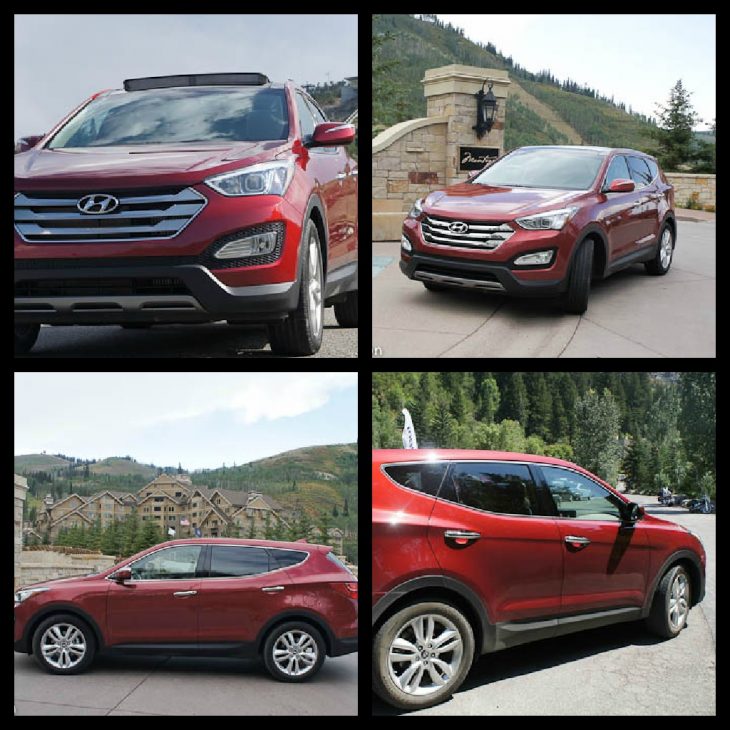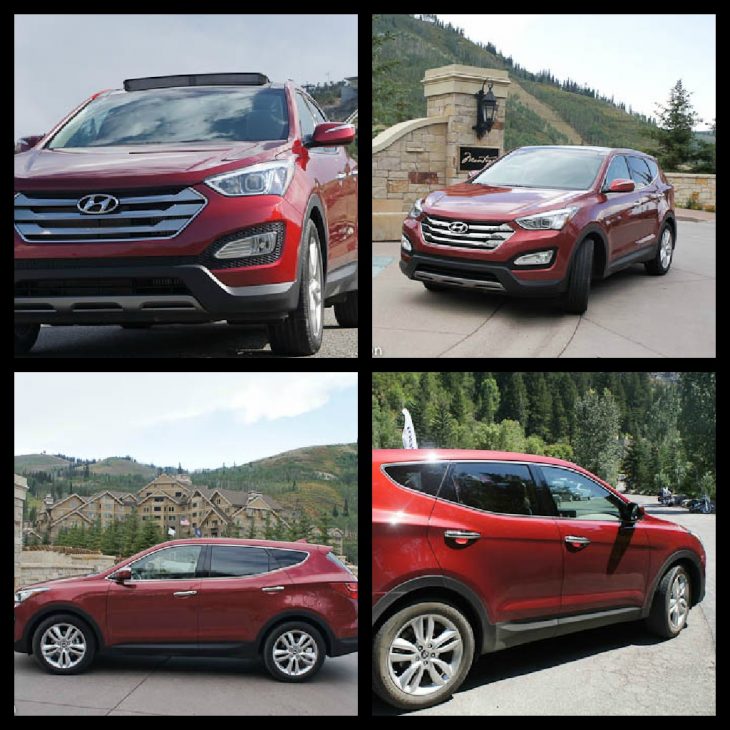 When I test drive a car there are five things that I consider before giving it a stamp of approval:
→ Curve turning performance
→ Quick acceleration
→ Low interior noise levels
→ Leg room/comfort
→ Good gas mileage
The Hyundai easily met each of the requirements and was enjoyable to enjoy. I'm happy to recommend the Hyundai Santa Fe to anyone that is looking to buy a new vehicle.
*prices and services subject to change
disclaimer: Hyundai provided travel expenses to facilitate this review.